Can you buy a home with bad credit?
FICO, the most commonly used credit scorer, will pool your financial information from three credit bureaus: Experian, Equifax and TransUnion. From there, you'll be assigned a number between 300 and 850.
On the FICO scale, anything under 670 is considered bad credit. But the "bad" range has two tiers. Credit scores between 580 and 669 are viewed as "fair," while those that fall between 300 and 579 are considered "very poor."
There's no set credit-rating requirement for all types of mortgage loans. With a "fair" credit rating, you're pretty likely to secure a loan. But once you get into the "very poor" range, especially below 500, it's difficult to be approved.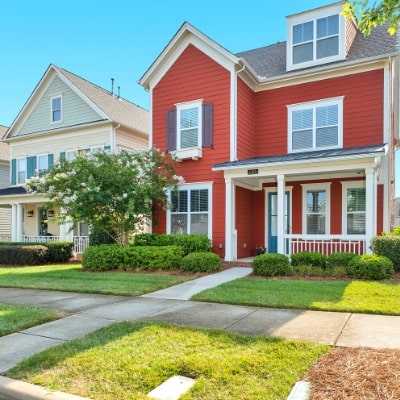 The right homeowners insurance policy protects you, your loved ones and your home.
Find the coverage you need at the most competitive rate in your area. Compare quotes from over 200 insurance companies with SmartFinancial.
Compare Now
What do lenders look for in applicants with bad credit?
When you have bad credit, the one thing you can offer a mortgage lender is more money. The more cash you can put toward your down payment, the more favorably a potential lender is going to evaluate your application.
Because there's no standard credit-rating requirements, lenders will have their own credit-score expectations. You may have to shop around, but if you've got a chunk of change to offer, you will likely find an institution willing to grant you a loan.
However, it will cost you more than just a sizable down payment. Borrowers with bad credit will not be granted with the best mortgage interest rate out there. This means you will pay more interest every month on your mortgage payments as well as over the life of the loan.
Bad credit home loan options
Most potential homebuyers have two options for home loans: conventional and government-backed.
Conventional loans are sourced through the private market, while government-backed loans are insured by the federal government.
Conventional loans typically have more demanding requirements, especially when it comes to your credit score and minimum down payment.
If you have a government loan, should you fall behind on your monthly payments, the government agency that has insured the loan will step in and repay your lender. With that knowledge, lenders are more willing to take on borrowers they consider risky.
To meet the needs of differing demographics, multiple government loans, backed by different government departments, are available.
Let's go over the options for conventional and government-insured loans for borrowers with bad credit.
Conventional loans
A conventional mortgage is one of the most common mortgage loans in the U.S., but it's also one of the most difficult to secure without a fair credit record and a generous down payment.
Generally, for this type of loan, you'll need a score of at least 620 and a minimum down payment of 5%. If you have more cash to put down, you may still qualify with a credit score slightly lower than 620.
If your score is much lower than that, your best bet would be a government loan.
FHA loans
These loans are backed by the Federal Housing Administration (FHA), which is part of the Department of Housing and Urban Development (HUD). They were created to enable more Americans to become homeowners.
To qualify for an FHA loan, you typically need a credit score of 580 and a down payment of 3.5%. If you have more money to put down, 10% or more, you could still qualify with a score as low as 500.
But with these looser credit and down payment requirements, you'll face other restrictions. For example, the home you purchase will need to serve as your primary residence (so no investment or vacation properties). You will also need to have it inspected to ensure it meets HUD's property guidelines that essentially ensure the home is safe, secure and sound.
And this loan will likely cost you more in the long run, too. With such a minimal down payment, you'll find yourself paying mortgage insurance for the life of your loan, which makes your loan more expensive over its term.
VA loans
VA loans are backed by the Department of Veterans Affairs. In addition to lower interest rates and a no-down-payment requirement, VA loans also have less strict credit and income requirements.
As its name implies, this type of loan is available to regular military personnel, veterans, reservists and National Guard personnel. It's also open to spouses of members who died on active duty or as a result of a service-connected disability.
The VA doesn't set a requirement for credit scores, but generally you'll need a score of around 620 to qualify. As with other loan types, if you have more money to put down, your lender may be more flexible here.
USDA loans
The USDA loan program makes it possible for lower-income rural and suburban Americans to secure loans. They're guaranteed by the United States Department of Agriculture and feature low, fixed-interest rates. And USDA loans don't require a down payment or mortgage insurance.
This program requires that the home be in a rural area. But you get a lot of leeway on the definition of "rural" — many suburban areas count, too.
Generally, your lender will want to see you have a credit score of at least 640 to qualify for a USDA loan.
Another factor in qualifying for this type of loan is your debt ratio. Potential lenders will look at your financial records and compare your income with all your debt payments (including your mortgage payment) to see whether you make enough to keep up with what you owe.
The more debt you have compared to your income, the less lenient your loan provider will be with its credit score requirements.
Also, borrowers with lower credit scores will face tougher underwriting standards.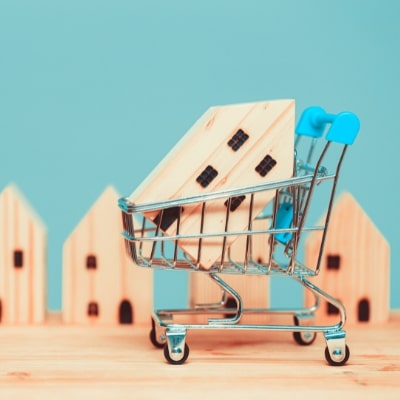 Compare current mortgage rates from top national lenders. Get the best rate for your purchase or mortgage refinance.
Compare Rates
Is there a minimum credit score you need to get a mortgage?
Technically, no. There's no magic number that will ensure you are granted a mortgage loan. Lenders consider multiple factors when evaluating potential borrowers, and credit scores are important, but they are just one number.
Each type of mortgage loan considers credit scores in a different way. Beyond that, each lender has its own thresholds for risk. It really depends on the larger picture of your financial situation and whether a lender is willing to take you on.
How to buy a house with bad credit
As a reminder, "bad credit" is a credit score below 670. Depending on your loan type, you can secure a loan fairly easily with a credit score between 580 and 640. Depending on how much money you have in your bank, that could drop to as low as 500 without ruining your chances.
But if your score is in the 500-something range, your best bet is an FHA loan. While you will still need a down payment of at least 3.5%, this option offers you the most credit flexibility.
Even if you are approved, however, being granted a loan with bad credit costs you significantly more over your loan's term. You may want to consider improving your credit score before initiating the home-buying process.
Why improving your credit is a good idea
Credit scores aren't static. You can improve your score, which will make you a better candidate for a mortgage application.
And while your goal might be simply to improve your score so you can buy a home, an improved score can affect your life in other positive ways:
You'll get better interest rates on other loans (like credit cards).
You'll have access to better car insurance rates.
You can avoid the security deposit on a cellphone contract that is required by some providers.
You'll increase your borrowing capacity — everyone's more willing to lend you money when you've demonstrated that you can responsibly repay it.
You'll have better refinancing options down the line should you ever need them.
How to boost your credit score
First, you have to know exactly where you stand. Credit Sesame is an example of a service that offers free credit scores.
If your score is low and you're not sure why, check out these five factors that influence it most. You may not even realize how your actions (or inactions) have been influencing your credit rating.
Now that you know your score, how can you improve it? Well, companies like Self credit repair can help you establish a payment history that will build your credit.
If you don't need a fix immediately, debt consolidation may be an option. When you take out a low-interest loan to pay off your high-interest debts, you may face a ding on your credit score in the short term, but carrying less debt will bring it back up in the long run.
If you want this sorted right now, you have options for boosting your credit score fast. But, essentially:
Go through your report for errors and take the time to fix them.
Get a secured credit card and use it to rebuild your credit.
Don't use all the credit space available to you on your credit card — a good ratio to aim for is no more than 30% of your available credit.
Keep steadily paying back what you owe.
Next steps
Potential borrowers with bad credit definitely have options, but taking control of your credit score before you apply is best.
We know you're itching to buy a house, but with a higher score, you'll have access to lower interest rates, which will reduce your monthly mortgage payments over the life of the loan.
It may take a little time to build up your score, but it will be worth it based on what you'll save over the next 30 years.
While you put some time and effort into that, you can shop for a mortgage and start pulling together the documents you'll need to get preapproved for a mortgage.
Sponsored
Get peace-of-mind on your home insurance
Homeowners insurance buys you peace of mind. But are you sure you're not paying too much for home insurance?
SmartFinancial compares quotes from over 200 insurance companies to check for discounts and help you find lower rates in your area.
Use SmartFinancial right now and stop overpaying for home insurance.