What is considered bad credit?
FICO, the most commonly used credit scorer, will pool your financial information from three credit bureaus: Experian, Equifax and TransUnion. From there, you'll be assigned a number between 300 and 850.
On the FICO scale, anything under 670 is considered bad credit. But the "bad" range has two tiers. Credit scores between 580 and 669 are viewed as "fair," while those that fall between 300 and 579 are considered "very poor."
There's no set credit-rating requirement for all types of mortgage loans. With a "fair" credit rating, you're pretty likely to secure a loan. But once you get into the "very poor" range, especially below 500, it's difficult to be approved.
FICO score ranges
Exceptional: 800 or higher

Very good: 740 to 799

Good: 670 to 739

Fair: 580 to 669

Poor: 579 or lower
More: How to check your credit score for free
Stop overpaying for home insurance
Home insurance is an essential expense – one that can often be pricey. You can lower your monthly recurring expenses by finding a more economical alternative for home insurance.
SmartFinancial can help you do just that. SmartFinancial's online marketplace of vetted home insurance providers allows you to quickly shop around for rates from the country's top insurance companies, and ensure you're paying the lowest price possible for your home insurance.
Explore better rates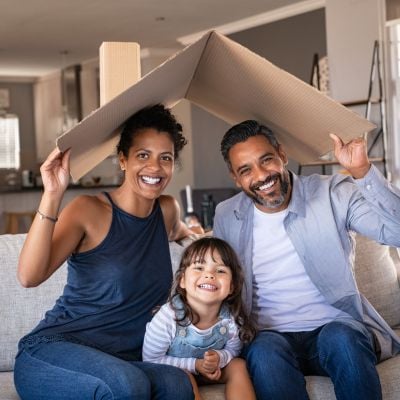 How mortgage lenders review applicants with bad credit
When you have bad credit, the one thing you can offer a mortgage lender is more money. The more cash you can put toward your down payment, the more favorably a potential lender is going to evaluate your application.
Because there's no standard credit-rating requirements, lenders will have their own credit-score expectations. You may have to shop around, but if you've got a chunk of change to offer, you will likely find an institution willing to grant you a loan.
However, it will cost you more than just a sizable down payment. Borrowers with bad credit will not be granted with the best mortgage interest rate out there. This means you will pay more interest every month on your mortgage payments as well as over the life of the loan.
Home loan options if you have bad credit
Most potential homebuyers have two options for home loans: conventional and government-backed.
Conventional loans are sourced through the private market, while government-backed loans are insured by the federal government.
Conventional loans typically have more demanding requirements, especially when it comes to your credit score and minimum down payment.
If you have a government loan, should you fall behind on your monthly payments, the government agency that has insured the loan will step in and repay your lender. With that knowledge, lenders are more willing to take on borrowers they consider risky.
To meet the needs of differing demographics, multiple government loans, backed by different government departments, are available.
More: Compare the best mortgage rates
1. Conventional loans
A conventional mortgage is one of the most common mortgage loans in the U.S., but it's also one of the most difficult to secure without a fair credit record and a generous down payment.
Generally, for this type of loan, you'll need a score of at least 620 and a minimum down payment of 5%. If you have more cash to put down, you may still qualify with a credit score slightly lower than 620.
If your score is much lower than that, your best bet would be a government loan.
2. FHA loans
These loans are backed by the Federal Housing Administration (FHA), which is part of the Department of Housing and Urban Development (HUD). They were created to enable more Americans to become homeowners.
To qualify for an FHA loan, you typically need a credit score of 580 and a down payment of 3.5%. If you have more money to put down, 10% or more, you could still qualify with a score as low as 500.
But with these looser credit and down payment requirements, you'll face other restrictions. For example, the home you purchase will need to serve as your primary residence (so no investment or vacation properties). You will also need to have it inspected to ensure it meets HUD's property guidelines that essentially ensure the home is safe, secure and sound.
And this loan will likely cost you more in the long run, too. With such a minimal down payment, you'll find yourself paying mortgage insurance for the life of your loan, which makes your loan more expensive over its term.
3. VA loans
VA loans are backed by the Department of Veterans Affairs. In addition to lower interest rates and a no-down-payment requirement, VA loans also have less strict credit and income requirements.
As its name implies, this type of loan is available to regular military personnel, veterans, reservists and National Guard personnel. It's also open to spouses of members who died on active duty or as a result of a service-connected disability.
The VA doesn't set a requirement for credit scores, but generally you'll need a score of around 620 to qualify. As with other loan types, if you have more money to put down, your lender may be more flexible here.
4. USDA loans
The USDA loan program makes it possible for lower-income rural and suburban Americans to secure loans. They're guaranteed by the United States Department of Agriculture and feature low, fixed-interest rates. And USDA loans don't require a down payment or mortgage insurance.
This program requires that the home be in a rural area. But you get a lot of leeway on the definition of "rural" — many suburban areas count, too.
Generally, your lender will want to see you have a credit score of at least 640 to qualify for a USDA loan.
Another factor in qualifying for this type of loan is your debt ratio. Potential lenders will look at your financial records and compare your income with all your debt payments (including your mortgage payment) to see whether you make enough to keep up with what you owe.
The more debt you have compared to your income, the less lenient your loan provider will be with its credit score requirements.
Also, borrowers with lower credit scores will face tougher underwriting standards.
Need cash? Tap into your home equity
As home prices have increased, the average homeowner is sitting on a record amount of home equity. Savvy homeowners are tapping into their equity to consolidate debt, pay for home improvements, or tackle unexpected expenses. Rocket Mortgage, the nation's largest mortgage lender, offers competitive rates and expert guidance.
Get Started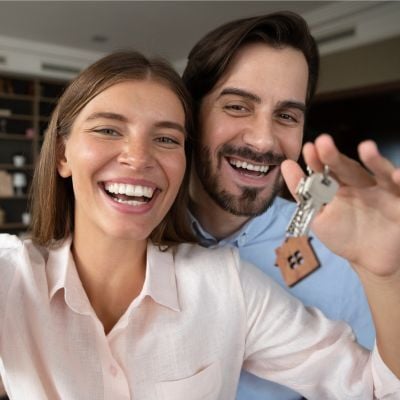 Tips to buy a house with bad credit
Now that you know it's not impossible, let's get into how exactly you'll be able to secure a mortgage with bad credit.
Shop around
Whatever your credit score, it's wise to shop around for a home loan instead of just looking at one lender.
Comparing mortgage offers will ensure you find the best terms and best interest rate, which is even more important when you are shopping with bad credit.
Any lender that's willing to work with you will probably apply a higher mortgage rate to accommodate for the risk you seem to pose. However, some will be more gentle about it than others.
First-time homebuyer programs
Depending on where you live, your state may have one or more first-time homebuyer programs to help low- to moderate-income households.
You may be able to qualify even with a low credit score and a small down payment.
Even if you've owned a home in the past, most programs include individuals who haven't owned a home in the last three years.
Down payment assistance
Most of the state-level first-time homebuyer programs include "down payment assistance" to help you cover your down payment and closing costs.
They can be loans with very favorable terms or grants that you never have to pay back.
Some of these loan programs aren't just exclusive to first-time buyers, so don't rule assistance out before looking into it.
If you can't find anything suitable in your area, ask your lender about additional support. There may be some programs your research isn't turning up. Some community associations run support programs for would-be buyers, for example.
Make a bigger down payment
With most home loan programs, lenders are willing to be flexible if you offer a larger down payment. It lowers your loan to value (LTV) ratio, which is a measurement of how much you borrow versus the home's actual cost.
The lower your LTV, the less risk your lender takes. And the less risk you pose, the more likely your lender is to grant you a loan.
More: How much should you put down on a house?
Avoid other impacts to your credit
When you're about to start the homebuying process, or if you're in the middle of it, it's a good idea to hit pause on any other big purchases and avoid taking out new credit cards or loans.
Though a long history with credit will improve your score, new applications will cause a temporary drop.
You don't want to risk further damaging your credit before you can secure a loan.
Is there a minimum credit score needed to buy a house?
Technically, no. There's no magic number that will ensure you are granted a mortgage loan to buy a house. Lenders consider multiple factors when evaluating potential borrowers, and credit scores are important, but they are just one number.
Each type of mortgage loan considers credit scores in a different way. Beyond that, each lender has its own thresholds for risk. It really depends on the larger picture of your financial situation and whether a lender is willing to take you on.
How your credit affects getting a mortgage
Credit scores aren't static. You can improve your score, which will make you a better candidate for a mortgage application.
And while your goal might be simply to improve your score so you can buy a home, an improved score can affect your life in other positive ways:
You'll get better interest rates on other loans (like credit cards).
You'll have access to better car insurance rates.
You can avoid the security deposit on a cellphone contract that is required by some providers.
You'll increase your borrowing capacity — everyone's more willing to lend you money when you've demonstrated that you can responsibly repay it.
You'll have better refinancing options down the line should you ever need them.
Tips to improve your credit score
First, you have to know exactly where you stand. You can request your credit score for free from Credit Sesame.
If your score is low and you're not sure why, check out these five factors that influence it most. You may not even realize how your actions (or inactions) have been influencing your credit rating.
Now that you know your score, how can you improve it? Companies like Self can help you establish a payment history that will build your credit.
If you don't need a fix immediately, you have options for boosting your credit score.
Go through your report for errors and take the time to fix them.
Get a secured credit card and use it to rebuild your credit.
Don't use all the credit space available to you on your credit card — a good ratio to aim for is no more than 30% of your available credit.
Keep steadily paying back what you owe.
FAQs on buying a house with bad credit
Can I buy a house with bad credit but good income?
Yes. It's possible to have bad credit but ample savings and a solid income. As always, you'll want to shop around to a few lenders to see who has the best offer for someone in your situation.
You may still find your credit score limits you to higher interest rates, but more money in the bank and more money down will help lower your risk as a borrower. The lower your risk, the more likely you can secure a decent loan.
What if I have bad credit and no money to put down?
As we saw with VA and USDA loans, it's not impossible. But it really depends on who you are and how bad your score really is.
There are a few no- to low-down-payment options for prospective homebuyers. But it's generally easier to secure a loan with at least some money down when you have bad credit.
If saving up isn't an option for you, spend some time improving your credit score. Even if you can't completely eliminate your debt or instantly extend your credit history, a few basic steps will help.
Can you buy a house with bad credit and a co-signer?
Absolutely. But as we cautioned earlier, this is something you should only attempt when you're confident you can keep up with your monthly payments.
Asking a friend or family member to potentially assume the full cost of your loan is no small favor. Make sure you both fully understand the implications of this and you're ready to shoulder the responsibility of the loan before you sign on the dotted line.
Sponsored
Follow These Steps if you Want to Retire Early
Secure your financial future with a tailored plan to maximize investments, navigate taxes, and retire comfortably.
Zoe Financial is an online platform that can match you with a network of vetted fiduciary advisors who are evaluated based on their credentials, education, experience, and pricing. The best part? - there is no fee to find an advisor.