First-time homebuyer programs in South Dakota in 2021
The state offers a variety of programs for both first-time homebuyers and repeat buyers who need a little help buying a new home or renovating their current place. The SDHDA also has down payment assistance programs that are available for everyone.
Additionally, the authority offers a number of resources for hopeful homebuyers, ranging from a mortgage payment calculator and homebuyer education, which is encouraged for first-time buyers.
And you can find the current interest rates posted on SDHDA's website.
First-Time Homebuyer
SDHDA's First-Time Homebuyer Program offers homebuyers low, fixed interest rate mortgage loans and cash assistance.
To qualify for this home loan program, you'll have to be a first-time homebuyer. SDHDA includes anyone who hasn't owned a home in the last three years in the definition of a first-timer. However, it does waive the "first-time buyer" requirement for certain veterans — your lender can help you determine if you meet the eligibility.
You'll also have to meet the income limits, and the purchase price of your home cannot exceed $275,000.
Repeat Homebuyer Program
If you already own a home or your income is higher than the first-time homebuyer program's income limits, the SDHDA has a Repeat Homebuyer Program. Your annual income must fall under $93,360 for a two-person household and below $105,420 for families of three and more. You'll also have to keep the purchase price of the home under $336,000 and have a minimum credit score of 620.
Loans through the repeat buyer program feature low, fixed rates with down payment and closing cost assistance, reduced mortgage insurance and less paperwork than you face in the usual homebuying process.
More: Estimate house affordability with maximum mortgage calculator
The Mortgage Underwriting Process Explained
A walkthrough of proven steps to getting a mortgage approval.
See Guide
Community Home Improvement Program (CHIP)
CHIP provides low-interest loans for eligible borrowers to improve or repair their current single-family home. With fixed interest rates of 2.9%, these loans have minimal costs involved in securing the loan and then feature level monthly payments.
To qualify, you'll have to fall within the following income thresholds: $90,360 for two-person households and $108,920 for households of three and more.
You can use your loan for home improvement projects ranging from additions, accessibility improvements, health and safety upgrades, and general updates. To apply for one of these loans, reach out to one of the SDHDA's participating lenders.
Down Payment Assistance
When you take one of the SDHDA's first loans, you also may be eligible for a Fixed Rate Plus loan for down payment and closing costs assistance. You can borrow up to another 3% of the amount of your first mortgage at a 0% interest rate, which you'll have to pay back only when you sell your house. There are no payments or additional fees. As with the SDHDA's other programs, reach out to your lender to find out if you qualify for this assistance and get help with your application.
Governor's House Program
This program was designed to provide access to affordable housing for low- to moderate-income seniors with disabilities. To qualify, you'll have to meet the income thresholds of $54,460 for one- and two-person households or $62,240 for households of three more. Your net worth must be under certain amounts, depending on your age bracket, and the house must be your only residence.
If you qualify, you're eligible to buy either a new two- or three-bedroom home, at prices ranging from $50,200 to $57,900. You'll have to secure the lot, obtain a building permit, lay the foundation, hook up utilities and provide your own floor coverings and appliances. In exchange, your home will be built by members of the Governor's Inmate Training Program, who are learning skills and trades.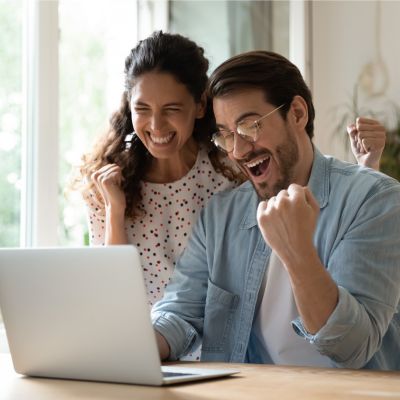 Compare current mortgage rates from top national lenders. Get the best rate for your purchase or mortgage refinance.
Compare Rates
Who qualifies for South Dakota's first-time homebuyer programs?
The SDHDA's programs are designed to help make homeownership affordable for low- and moderate-income households across the state. Each of its programs have certain income and purchase price limits. And because you don't receive the loan directly from the SDHDA, you'll have to meet the requirements for your type of mortgage from your mortgage lender.
If you're not sure if you qualify, the agency has a first-time homebuyer calculator on its website. But the best way to find out for sure about your eligibility is to simply reach out to one of the authority's participating mortgage lenders.
More: Get a free credit score and credit monitoring from Credit Sesame.
Nationwide first-time homebuyer programs
The most common way to buy a home is to go through the private market and get a "conventional" mortgage.
The barrier to entry can be pretty high. You'll usually need a credit score of 620 and a 5% down payment to get a lender on board.
More: Use these savings accounts to build up your down payment.
Many first-time buyers will have an easier time using one of these nonconventional mortgages offered by the feds.
FHA loans
The Federal Housing Administration introduced FHA loans in the mid-1930s to help more Americans buy homes. At the time, more than half the population rented. The economy was still struggling through the aftermath of the Great Depression, and homeownership was out of reach for many.
FHA loans have more lenient requirements for borrowers: You can skate by with a credit score of 580 and a down payment of just 3.5%. That said, a bigger down payment can help you avoid paying for mortgage insurance and let you in the door with a credit score as low as 500.
The FHA's Loan Requirements Explained.
A walkthrough of how to meet the FHA's requirements.
See Guide
VA loans
These loans, which are guaranteed by the U.S. Department of Veterans Affairs (VA), were introduced in 1944. Congress passed a law to grant more benefits to veterans, who had been asking for help getting affordable homes.
These loans are strictly reserved for active service members, veterans or surviving military spouses.
You'll have to pay a sizable funding fee, but you're not required to make a down payment or pay mortgage insurance.
USDA loans
These loans are guaranteed by the United States Department of Agriculture for lower-income rural and suburban Americans. As with VA loans, USDA loans don't require down payments or mortgage insurance.
Instead, you'll have to pay an upfront 1% guarantee fee and an annual 0.35% fee based off of your total loan amount. For most borrowers, those fees are still less expensive than the mortgage insurance costs associated with other types of mortgages.
But most people won't qualify for USDA loans. They have strict income limits to ensure the assistance is directed only at lower-income households.
The current income limits in most parts of the country are $86,850 for one- to four-member households and $114,650 for five- to eight-member households, but the limits may be higher if you live in an area with a steeper cost of living. You can find your region's threshold on the USDA's website.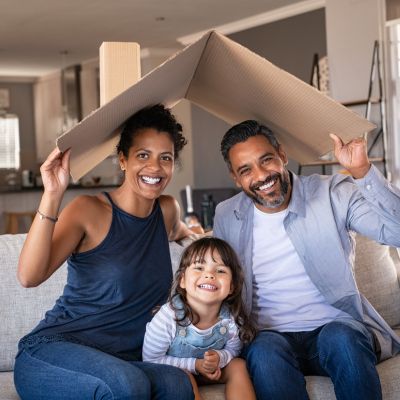 Home insurance is an essential expense – one that can often be pricey. You can lower your monthly recurring expenses by finding a more economical alternative for home insurance.
SmartFinancial can help you do just that. SmartFinancial's online marketplace of vetted lenders allows you to quickly shop around for rates from the country's top insurance companies, and ensure you're paying the lowest price possible for your home insurance.
Explore better rates
Next steps
Now that you know all about the national and state programs, you can start getting ready to qualify and actually buy a home.
First, you'll want to ensure you meet the credit score requirements for loans and support. You can get a free look at your credit score through Credit Sesame. If your score isn't going to cut it, you might look into a service like Credit Strong to help boost it.
Next? Paperwork. Make sure you have all the documents you need to prove that you have cash on hand and money coming in from a steady job.
After that, try to get pre-approved for a mortgage so you can get out there and start looking at houses.
Sponsored
Secure your retirement with a reverse mortgage
If you're low on cash savings and investments but have wealth in your home, a reverse mortgage is a great option for covering retirement expenses.
Mutual of Omaha is a trusted insurance provider that helps you make the most of your home equity.