The inflated price of borrowing
A recent report from SecureSave, an emergency savings start-up co-founded by Orman, revealed that 74% of Americans are living paycheck to paycheck, with 65% citing inflation as the factor impacting their finances the most.
That's unsurprising given the fact that the Consumer Price Index increased 4.9% over the last 12 months, according to the U.S. Bureau of Labor Statistics.
The average interest rate for a 24-month personal loan in February was 11.48%, according to data from the Federal Reserve — significantly higher than the 9.41% rate in February 2022.
To get inflation and the cost of living under control, the Fed has hiked interest rates nine times over the last year — pushing the rate from 0.75% to between 5% and 5.25%.
This — and not inflation — is what's truly impacting Americans the hardest right now, according to Orman. Interest rate hikes have made it exponentially more expensive to borrow money via a mortgage, car loan, credit cards, a home equity line of credit (HELOC), or other personal loans.
She gives the example of taking out a loan to buy a car.
"Even if it's a used car, [the challenge is] not the inflated price of the car anymore because car prices are starting to come down," Orman says. "It's the interest rate they're going to have to pay — even on a less expensive car — which makes it totally unaffordable."
She adds: "The sad part about all this is that people don't see what's about to hit them" — alluding to the fact that people are spending and borrowing money at rates they cannot afford.
Read more: 'Hold onto your money': Jeff Bezos says you might want to rethink buying a 'new automobile, refrigerator, or whatever' — here are 3 better recession-proof buys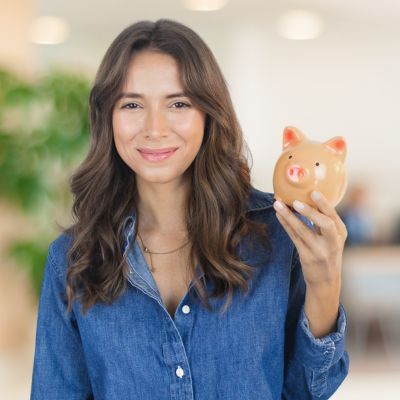 Don't let your money idle in low-interest accounts! Savvy savers are earning up to 10x more interest by keeping their hard-earned cash in a high-yield savings account. Find some of the best options here.
Get Started
Using credit cards is 'too expensive'
Higher interest rates are hurting American households at a time when many are still trying to adjust their budgets for inflation, savings rates are low and more people are leaning on 401(k) withdrawals and loans.
According to the SecureSave study, a staggering 67% of Americans would be unable to cover an unexpected $400 expense. Of those people, 21% said they would need to put an unexpected emergency expense on their credit card — an escape route that's acutely vulnerable to interest rate escalation.
Watch now: Full interview: Suze Orman and Devin Miller delve into why so many Americans aren't prepared for their next financial emergency
"Credit card debt is way too expensive to use," says Orman.
Most cards have variable APRs that can go up or down according to specific benchmarks, such as the prime rate.
The current average credit card APR is 23.98%, according to Lending Tree data, but someone with a poor credit score could face an APR of around 27.4%.
"[People] start spending on credit cards. Then … rather than spending and paying off that balance in full every month, they pay the minimum payment due," says Orman. "Then what starts to happen is they've used up all their credit limit and now they can't even pay off their credit cards. ... then [you're] in trouble."
But the personal finance expert also shared some tips on how to manage compounding credit card debts — and one simple way to avoid racking up even more of that expensive debt.
'Just cut them up'
U.S. household debt surged to a record $17.05 trillion, with consumers owing $986 billion on their credit cards in the first quarter of 2023, according to the latest date from the New York Fed.
To stop your credit card debt from spiraling, Orman says you should just have one credit card and you should cut up any extras.
But don't close the account, she says, because that can hurt your credit score.
"Just cut them up and get rid of them."
She advises people to add up all their current minimum monthly payments they need to make and set aside that amount each month. In addition to that, you should take 20% of that combined amount and put it toward your credit card balance or other debt that has the highest interest rate. When that one is paid off you repeat the process for your next highest-interest debt.
So you pay down your most expensive debt faster while chipping away at all of your balances and keeping all of your accounts in good standing.
And once you set that monthly amount, don't waver from it.
"So if you're paying $30 a month right now on a credit card [and the next month] they only want $28, you continue to pay the minimum payment due on all of those credit cards when you did this exercise, plus the 20% for the higher interest rate [card]." Orman said in her most recent interview with Moneywise.
Orman says you should continue the exercise until you're back in the black.
"That's the best way to get yourself out of credit card debt," she says "along with, stop spending money on your credit cards."
"Stop it everybody!"
Sponsored
Kiss Your Credit Card Debt Goodbye
Millions of Americans are struggling to crawl out of debt in the face of record-high interest rates. A personal loan offers lower interest rates and fixed payments, making it a smart choice to consolidate high-interest credit card debt. It helps save money, simplifies payments, and accelerates debt payoff. Credible is a free online service that shows you the best lending options to pay off your credit card debt fast — and save a ton in interest.