Top sources of personal debt
The primary source of personal debt in America can be found right in people's wallets: credit cards.
According to the Northwestern Mutual survey, credit cards account for 28% of personal debt among U.S. adults in 2023, followed by car loans (12%), medical debt (7%), home-equity loans and lines of credit (6%), personal education loans (5%) and educational expenses for family members (3%).
Credit card or unsecured personal loan balances were at or near record levels in the first quarter of 2023, according to the latest TransUnion Credit Industry Insights Report.
The credit agency says consumers are using credit to manage their household budgets as the cost of living remains elevated due to inflation and interest rate hikes.
The problem for many Americans is that recent interest rate hikes — five percentage points' worth since March 2022 — have made it exponentially more expensive to borrow money via credit cards, car loans, and so on. This is making it harder for some to pay their debt down.
"It can be a slippery slope between manageable debt and runaway debt, so it's an important time to remain extra vigilant about planning and spending," Mitchell said.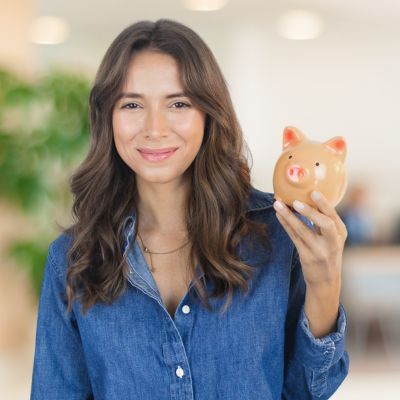 Don't let your money idle in low-interest accounts! Savvy savers are earning up to 10x more interest by keeping their hard-earned cash in a high-yield savings account. Find some of the best options here.
Get Started
Figure out your financial priorities
Should you save or pay off your debts first? It's a simple question with a less than straightforward answer.
Nearly two-thirds, or 61%, of respondents in the Northwestern Mutual survey said they prioritize paying down debt, versus 39% who put saving first.
It can make sense to prioritize paying off debt if you have a lot of high-interest debt, such as credit card balances or payday loans, which could lead to fees or even higher rates if you make late payments.
The average credit card APR is 24.24% as of July 17, according to LendingTree data, but someone with a crummy credit score could face an APR closer to 27.7%.
If you don't keep up with your monthly credit card payments, you could end up paying interest on your interest, and your balance can quickly spiral out of control.
But if your debt consists mostly of low-interest loans — like a mortgage — or you can consolidate it into a low-interest secured credit line, you may want to prioritize savings and make the most of tax-advantaged vehicles like an employer-sponsored 401(k) or an individual retirement account (IRA).
Bear in mind, though, that failing to pay your debts could drastically reduce your credit score and your ability to borrow money for other important milestone purchases, such as a home.
"It's critical to have a holistic strategy and a debt repayment plan that accounts for a diverse set of financial goals," Mitchell said.
How to pay down your debt
When it comes to paying off your debts, you have two main options: the debt snowball method and the debt avalanche method.
With the snowball method, you pay off the smallest debt (or account with the lowest balance) first and make only minimum payments on all of your other outstanding debts. Once you've paid off your smallest debt, you move on to the next smallest debt, and so on.
With the avalanche method, you pay down the debt with the highest interest rate attached to it first (no matter how much you owe) — and while doing that, you continue to make the minimum monthly payments on your other debts. Once that first chunk of high-interest debt is gone, you move on to the debt with the next highest interest rate, and so on.
To succeed at either of these methods, you will need to stick to a budget that breaks down your monthly income into necessities, wants, savings and debt repayments.
You could also try to refinance your loans to secure lower interest rates, or you might be able to consolidate your debt into one lower-interest loan.
If your debt is significant, you might need to boost your income to pay it down. You could look for a new job that offers a higher pay rate, get a side hustle, or even rent out a room or a parking spot (if you have extra space).
It's easy to get into debt and insanely difficult to get out — but with a strict plan and determination, it is possible to claw your way back into the black.
Sponsored
Streamline your debt repayment
Having a single loan to pay off makes it easier to manage your payments, and you can often get a better interest rate than what you might be paying on credit cards and car loans.
Credible is an online marketplace offering personalized loan options based on your unique financial situation.
When you consolidate your debt with a personal loan through Credible, you can roll your payments into one monthly installment. Find a lower interest rate and pay down your debt faster with Credible today.