Catch-up on late payments first
Credit card delinquency rates are on the rise across the country. So if you are one of many Americans with past-due bills, the next step to improve your credit score is to catch up on those delinquent accounts:
Payment history is the most important factor in determining your credit score. That said, one or two late payments won't ruin your score, according to myFICO, the consumer division of the company that invented the FICO credit risk score. But making sure all your payments are on time can still go a long way towards improving your credit score — and will save you from the snowball effect of stacking interest charges and late fees.
If you're in a debt hole and having trouble digging your way out, a debt consolidation loan could help you roll all those debts together into one payment and interest rate. The faster you get these outstanding debts paid off, the faster you can work your way up the credit score ladder.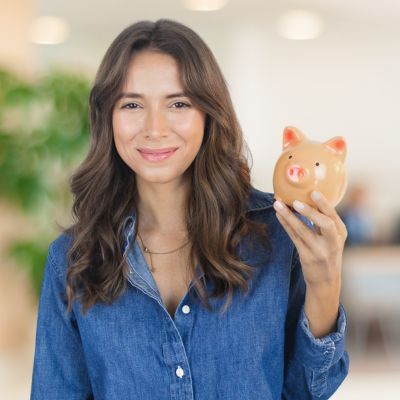 Don't let your money idle in low-interest accounts! Savvy savers are earning up to 10x more interest by keeping their hard-earned cash in a high-yield savings account. Find some of the best options here.
Get Started
Be careful how much of your credit you use
Another crucial factor that sets your FICO score is "accounts owed," or how much debt you carry. But your total debt isn't as important as the proportion of available credit you use, called your credit utilization rate.
For example, someone who carries $30,000 of debt with $60,000 of available credit is utilizing 50% of their available credit, while a person with $90,000 of available credit and $30,000 debt is only utilizing 30%.
Experts recommend keeping your credit utilization ratio below 30% but lower is not always better. You don't want a credit utilization rate of 0% because lenders want to see that you manage your available credit well.
If your credit utilization ratio is more than 30%, you can lower it by carrying less debt or getting a credit limit increase on your accounts. But be careful asking for credit limit increases as they can result in a hard inquiry, which may temporarily lower your credit score. This impact is usually less than a five point drop and only lasts for about a year. Still, too many hard inquiries can start to chip away at your score.
Also, a credit limit increase could lead to carrying more debt if you're not careful with your spending.
Don't close old accounts
The next greatest factor that determines a FICO score is your credit history. This one is harder to manipulate as you can't go back in time and open more accounts.
You can, however, refrain from closing old accounts, which may have the added benefit of increasing your overall available credit and lowering your credit utilization ratio, especially if you don't use them. Just watch the account closely to make sure no fraud occurs behind your back and no errors make their way on to your credit report. Making a habit of regularly monitoring your credit report can really pay off when it comes to making sure you're clear of errors and staying on track toward that coveted 750.
If a lack of credit history is preventing you from accessing new credit, you can also apply for a secured credit card. You pre-fund these by giving the lender a deposit as collateral. They're a common first step for individuals trying to build their credit history.
Sponsored
Kiss Your Credit Card Debt Goodbye
Millions of Americans are struggling to crawl out of debt in the face of record-high interest rates. A personal loan offers lower interest rates and fixed payments, making it a smart choice to consolidate high-interest credit card debt. It helps save money, simplifies payments, and accelerates debt payoff. Credible is a free online service that shows you the best lending options to pay off your credit card debt fast — and save a ton in interest.