While it's admirable to try to make your kids' (and parents' and co-workers' and pets') wishes come true, there's clearly a problem with the holiday debt trend.
What happened to traditional Christmas values of family time, celebrating love, valuing the simple joys of community, gratefulness, and sharing- oh yes, and the religious stuff?
You don't have to go to church if you don't want to. But for many of us, the Christmas season comes during the coldest, darkest part of the year, when we're all absolutely desperate for a little warmth. Does it really take a bunch of videogames, clothing, gadgets, and toys to warm us? Are we missing the point of Christmas? Can we do the holidays without the crazed explosion of gifts?
Yes, we totally can. And for the good of our finances, we really should.
Who are we buying holiday gifts for?
Over the years, there have been many polls on how much money people spend on Christmas shopping. But who's getting all those presents?
A survey on holiday shopping trends from RetailMeNot found that most consumers are buying gifts for their children (54%) followed by spouses/significant others (52%). Self-care is still a priority in 2022 as well with 45% of survey respondents saying they are shopping for themselves.
It's the thought of the gift that counts, right?
But there's also the tricky and awkward part of not knowing whether your babysitter or accountant will like the gift you're giving them. A mixed box of chocolates is usually well-received- but what's the actual point of giving people chocolate? How thoughtful a gift is that, really?
Actually, appreciating the thoughtfulness of a present and liking it because it has a particular value are also two different things. Economist Joel Waldfogel points out that while we're willing to spend $50 on a gift for ourselves, we don't know if the gift that we bought for the same amount for someone else will be equally valued. That is, spending $50 on a gift for someone else doesn't guarantee they'll recognize the value of the gift. Your present may end up at the back of the closet in the next year and in a Salvation Army box in a couple of years.
There's also the fact that people typically value gifts received 20% percent less than the items we buy for ourselves. If we're pricing satisfaction, then if Americans spent about $65 billion on Christmas gifts for others, then they get $13 billion less in satisfaction than if they'd spent the money on themselves.
Another strange thought is that when you give someone an unsolicited present, you're forcing them through social convention to give you something back. This is probably part of what turned giving Christmas presents to your kid into a cards-to-the-wall gift-giving competition every December.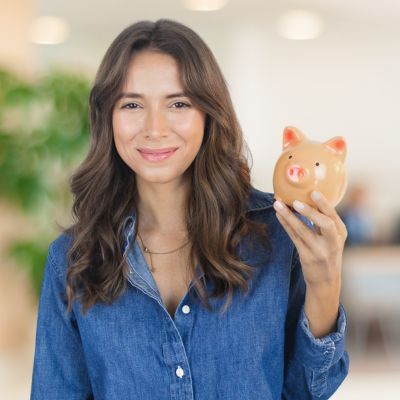 Don't let your money idle in low-interest accounts! Savvy savers are earning up to 10x more interest by keeping their hard-earned cash in a high-yield savings account. Find some of the best options here.
Get Started
In defense of giving holiday gifts
Many proponents of gift giving would say this is all wrong.
Presents represent the holiday's idea of giving. Giving even if a token gift or something we aren't even sure the receiver would like is part of the holiday spirit. Gifts are in effect an acknowledgment of the other person. As an article from The Huffington Post points out, a gift is a statement of how much we care for someone.
This viewpoint can still work if you want to cut back on your holiday spending, because if you're just trying to show someone that you care, presents don't need to be expensive or even particularly useful.
But if you're the receiver, would you really want another scarf to add to your scarf pile? Or would you rather get a shopping gift card that you can use to buy something other than a scarf?
This is why "thoughtful" and "affordable" gift-giving doesn't work: It always comes back to the dollar value and genuine usefulness of the gift.
More: Suze Orman's 12 tips to fix your holiday spending habits
Alternatives to the gift-giving frenzy
No matter how many articles warn people to spend less at the holidays, there will always be those who are obsessed with giving and those who get a high from the act of unboxing even the most worthless of Christmas presents.
The real point here is not to criticize the act and idea of gift-giving, but of the (not so) smart way we tend to give presents.
So, how can we give better gifts that will have a more economical value both for the giver and the lucky recipient? Here are a few pointers.
Choose who gets gifts - Not all forms of gift-giving are voluntary. When we think or feel that we're obligated to give gifts to certain people during the holidays, we end up spending money on presents that may have little value to the receiver, just to fulfill a social obligation.
We should simply get over our feelings of obligation to give a present-in-a-box to everyone, especially those we don't know well. Instead, why don't we get back to the basis and just give presents to children and people we actually see often and know well?
Kids are always more appreciative of gifts than adults, no matter what it is or how much it costs. Giving gifts to people we know well also means that we're more likely to buy presents that fit their likes and needs, which increases the value of the gift. People also attach a much higher sentimental value to gifts they get from the people they know well and love than to those received from people they see once a year. So, don't get taken over by the need to send everyone and your accountant chocolate. Save it for your kids and maybe their favorite teacher.
More: 10 awesome financial gifts for kids
Give gift cards instead of cash - People tend to frown upon giving cash gifts at the holidays, even though this is a pretty smart choice. Gift cards are the next best option. To stick with the Christmas spirit, you can opt for gift cards that allow unspent balances to automatically go to charity. Not only will your lucky gift-getter have the chance to buy what they want from their favorite store, but the holiday spirit of charity is preserved. If you simply must buy some of those obligatory presents, this could be a nice and practical way to do it.

Donate to a charity as a gift - Undeniably, there are certain people we're obligated to give a gift to, and where a gift card might not be appropriate. This includes bosses and superiors at work or business contacts and partners. Depending on the length and depth of the working relationship, you may not know their personal shopping preferences. Or they may be higher up on the corporate ladder, so giving a gift card would just be awkward.
If this person supports a charity, a great alternative gift option is to make a donation in their name to a group they support. There are also charity gift cards that allow receivers to pick the charity that will receive the money. Rather than adding another fancy pen to your boss's collection, a donation to charity in his/her name can give more value to your spending, fulfill that social obligation, and actually hit the Christmas spirit right on the money.
Think of non-material gifts - The main driver of gift-giving is businesses that love consumerism. Shopping malls, the media, and e-commerce sites love perpetuating the idea of a Christmas holiday spent opening boxes of presents under a tree. As a result, we often equate the idea of "a gift" with an actual tangible, material object that we give to another person.
But in a lot of ways, this undermines the nobler rationale behind gift-giving. A non-material gift can come from giving of yourself or your time. Collecting treasured family recipes in a pretty box is a priceless gift. Offering to help a friend or loved one with your creative talents or hard work might be far more appreciated than you'd expect. Giving the gift of a monthly meal date with an elderly friend or relative could be one of the nicest things you can do.
Promote non-gift holidays yourself - If you're ready to be more proactive, then consider starting a tradition of non-gift holidays yourself in your own family. The idea of going gift-free has been strongly advocated by many in an effort to move away from the commercialism of the holidays and celebrate a more "lightweight" and meaningful Christmas. Choosing to go gift-free with your family also eliminates the possibility of forcing others to get you a gift in return.
There are serious economic and social repercussions from America's obsession with the Christmas shopping frenzy. Although getting fewer gifts may not be trending right now, it's definitely worth it to consider using your money to make the people closest to you happy.
By the same token, you could probably stand to spend less on gift for the family, too. Why should one month of the year cost four times more than all the others? It doesn't make sense. If you cut your Christmas spending in half, you can use the rest of that money to take your family on vacation or spend time with those closes to you in other meaningful and enjoyable ways. Let's face it: we could all use a little warmth outside of Christmas season.
Sponsored
Kiss Your Credit Card Debt Goodbye
Millions of Americans are struggling to crawl out of debt in the face of record-high interest rates. A personal loan offers lower interest rates and fixed payments, making it a smart choice to consolidate high-interest credit card debt. It helps save money, simplifies payments, and accelerates debt payoff. Credible is a free online service that shows you the best lending options to pay off your credit card debt fast — and save a ton in interest.