What's so great about being a DINK?
Plenty of viewers reacted with words of encouragement and DINK stories of their own on Anderson's video.
"One time my husband and I were bored [at] 5 p.m. so we got tickets and flew out to Disney at 7 p.m.," recounted one commenter, while another rejoiced at being able to sleep undisturbed in the mornings.
But others had more negative responses to the video.
One viewer called Anderson and her husband "selfish" for "consuming resources" while others were flabbergasted by the amount of money the pair spent on their Costco haul as a childless couple.
Having no kids to take care of means you probably have more disposable income to splurge on lavish vacations (and grocery hauls) — but whether you actually save more money comes down to your financial habits.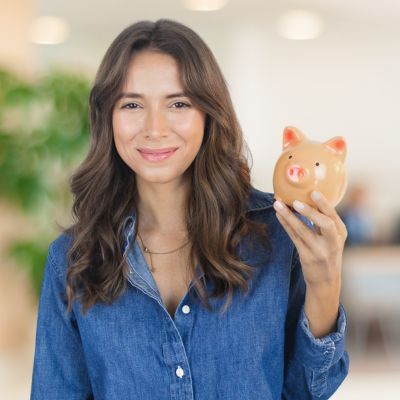 Don't let your money idle in low-interest accounts! Savvy savers are earning up to 10x more interest by keeping their hard-earned cash in a high-yield savings account. Find some of the best options here.
Get Started
Do you really end up saving more money with no kids?
As a DINK couple, you won't need to spend as much (if at all) on groceries, additional health care, child care, education, Christmas presents and birthday parties, and so on. You can even opt to live in a smaller home in order to have a cheaper mortgage or more affordable rent.
The Brookings Institution estimates that it will cost about $330,000 to raise a child from birth to the age of 17.
And keep in mind that not all DINKs are living high off the hog — having two incomes doesn't necessarily mean you're raking it in. And even if you are, it's still important to budget to ensure lifestyle creep doesn't get the better of your bank account.
Marketing campaigns often target DINKs and encourage them to purchase luxury items, like flashy cars and gourmet dining, which can quickly drive up their monthly expenses.
In another TikTok video, Anderson says she and her husband are planning on saving $60,000 this year — on top of their "sinking funds," which prioritize projects like landscaping and home improvement.
To ensure they're staying on track, the couple reviews their budget each month.
Still important to budget and save
"Even though everybody just thinks that DINKs have all this money to light on fire, budgeting is such an integral part of life for me," Anderson says.
Start tracking your spending and create a savings goal to help you get started. Make sure to put some funds aside toward your emergency savings so that you're covered for unexpected situations, like if your spouse loses their job.
And don't forget about your retirement fund. While many DINK naysayers have concerns about who's going to look after them in their golden years, consider putting some of that time, love and cash you'd invest in your children toward actual investments and get a jumpstart on your retirement plan.
Building a solid nest egg will ensure even if you haven't got friends or family to help you as you age that you'll have plenty of cash to throw at that problem.
Sponsored
Kiss Your Credit Card Debt Goodbye
Millions of Americans are struggling to crawl out of debt in the face of record-high interest rates. A personal loan offers lower interest rates and fixed payments, making it a smart choice to consolidate high-interest credit card debt. It helps save money, simplifies payments, and accelerates debt payoff. Credible is a free online service that shows you the best lending options to pay off your credit card debt fast — and save a ton in interest.