Staying anonymous after a lottery win
Unfortunately, staying anonymous after winning the jackpot isn't always possible. Only a handful of states allow lottery winners to hide their identities upon claiming their prize, and some require you to win a minimum amount first.
John, however, has managed to keep his winning status hidden from nearly everyone, except his wife and one sibling. That puts the couple in a solid position to safeguard their new fortune.
Kiss Your Credit Card Debt Goodbye
Having a single loan to pay off makes it easier to manage your payments, and you can often get a better interest rate than what you might be paying on credit cards and car loans.
Fiona is an online marketplace offering personalized loan options based on your unique financial situation.
When you consolidate your debt with a personal loan, you can roll your payments into one monthly installment. Find a lower interest rate and pay down your debt faster today.
Get Started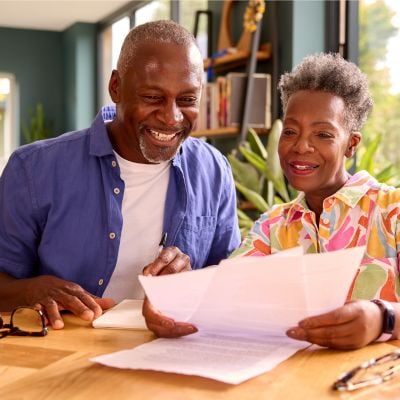 How to make the most of a windfall
To enhance his family's chances of keeping their lottery winnings, John says he hired a team to help him with investments. He and his wife also plan to live well within their means for the foreseeable future. John says he is still working because he loves his job and his wife is happy to live in the same house they paid off a few years ago.
"We just paid cash for two Toyotas before we won this," John said. "We're not looking to upgrade because they're perfectly fine cars."
Ramsey was impressed by the couple's financial discipline, despite the tremendous windfall.
"I like everything you're doing, and it's not anyone else's business," he said.
Ramsey contrasted the situation with his own, although living in the spotlight and being known for financial advice made it difficult to keep his fortune a secret. However, he says his net worth wasn't disclosed to his children until they graduated college.
"I sat down with three of my kids and two of their spouses, five of them, and we started unpacking what our estate plan looks like because they're adults at that point," he said. "I said, 'Listen, here's the deal … are you going to continue to be productive and generous people, or are you going to be … a waiter? Because if you're a waiter, you're not going to get access to any of this.'"
Ramsey said his goal was to impart to his children the importance of using wealth to maximize the good they could do in the world. And he had a similar message for John, who to this point has, by his own admission, been very tight with his newfound riches.
"I think you need to increase the enjoyment of this money and increase the generosity factor."
Sponsored
Follow These Steps if you Want to Retire Early
Secure your financial future with a tailored plan to maximize investments, navigate taxes, and retire comfortably.
Zoe Financial is an online platform that can match you with a network of vetted fiduciary advisors who are evaluated based on their credentials, education, experience, and pricing. The best part? - there is no fee to find an advisor.