An 'epic commute'
When Bill found out he got into UC Berkeley, he says he told his colleagues he might commute to school by air "just to save money and avoid paying Bay Area rent."
They thought he was joking — but for Bill, the math made sense.
He checked the price of student housing near the Berkeley campus and found he'd have to pay around $1,600 a month plus utilities for a single room — and the rental contract would be 12 months when his graduate program was technically only eight months long.
Over a year — if Bill paid an estimated $100 a month for utilities on top of rent — his total living costs would be around $20,400. That's before the cost of graduate tuition, fees and student health insurance of around $27,300 for California residents — plus other personal expenses like food and transportation, though the latter might be a wash if he ate at airport food courts and tallied his travel to and from them.
But thanks to his "crazy idea" — plus a mix of frequent flier points, airline promotions, credit card hacks and some savvy ticket booking tactics — Bill says he only ended up paying $5,592.66 by flying to school. In the end, that means he may have saved himself around $12,000 to $15,000.
But considering the number of days spent on his commute, at a $25/hour salary, he also forfeited $10,550 in possible income.
His flight habit — while thrifty — drew the ire of some climate-conscious Reddit users, with one commenting, "Climate change loves this guy," while another said, "bro personally added a degree to the world temps."
Bill says he "wouldn't recommend anyone to attempt" a similar "epic commute." He admits that the money-saving part was just him convincing himself — but "the real incentive is the cool story and amazing trip."
Here are some simpler ways to reduce your housing costs — without ruining your carbon footprint or waiting forever in a TSA line.
More: Best travel credit cards of 2023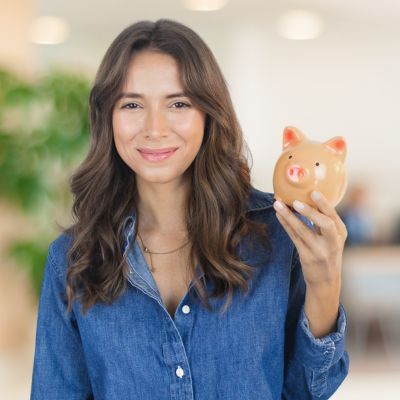 Don't let your money idle in low-interest accounts! Savvy savers are earning up to 10x more interest by keeping their hard-earned cash in a high-yield savings account. Find some of the best options here.
Get Started
Limit your financial burden
One of the easiest ways for renters to save money is by finding a roommate to split costs. While you'll give up some privacy, you'll also enjoy significant savings you can use to pay off debt or even put toward buying your first home.
If money's tight, you may also need to compromise on where you live. Typically, the further away you are from a major school (in Bill's case) or a downtown core, the cheaper your rent will be.
One Reddit user who commented on Bill's post pointed that out: "You could've just lived a bit further away from campus or gotten a roommate... absolutely insane to burn through miles like that."
Of course, your commute will be longer if you live further out from school or work — but likely nowhere near as extreme as Bill's 8-hour daily roundtrip.
It's also important to be strict with your housing budget. The "30% rule" is a popular standard for budgeting — meaning you limit your housing costs like rent, utilities and insurance to no more than 30% of your monthly income.
If you're really not into the idea of getting a roommate, there are other ways to generate income that can help you cover your housing costs.
For instance, if you have some disposable income, you can always make a little extra cash by investing in real estate.
That used to require thousands of dollars to get your foot in the door. But now, there are simple online investment platforms available that don't require heaps of cash to get started.
Sponsored
Kiss Your Credit Card Debt Goodbye
Millions of Americans are struggling to crawl out of debt in the face of record-high interest rates. A personal loan offers lower interest rates and fixed payments, making it a smart choice to consolidate high-interest credit card debt. It helps save money, simplifies payments, and accelerates debt payoff. Credible is a free online service that shows you the best lending options to pay off your credit card debt fast — and save a ton in interest.