When getting a personal loan makes sense
People, businesses and governments borrow money all the time to pay for things they need. Often, paying for a big purchase over time makes sense because you spread the cost out. A house is a great example of "good borrowing." If you had to pay the entire amount upfront with cash, only the super-rich would be able to buy one. So here are a few examples of times when it makes sense to borrow money.
1. Buying something that will last
A home is an obvious example of something you'll own for a long time. But so are cars, major appliances and essentials such as furnaces, which also last for years.
2. Borrowing to improve your situation
Paying for continuing education or training for a new skill is a solid reason to take out a loan if it leads to earning more money, including the needed income to pay back that loan on time. Or perhaps you need to invest some cash to create a side-gig. Either way, a short-term investment in yourself can lead to lifelong rewards when you borrow sensibly.
3. Borrowing now to save money over time
Using a personal loan to pay off high-interest-rate credit card balances can result in a smaller, single payment each month. But it only makes sense if you avoid loading up those cards again.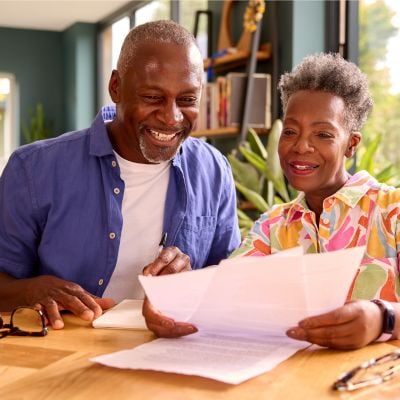 Having a single loan to pay off makes it easier to manage your payments, and you can often get a better interest rate than what you might be paying on credit cards and car loans.
Credible is an online marketplace offering personalized loan options based on your unique financial situation.
When you consolidate your debt with a personal loan through Credible, you can roll your payments into one monthly installment. Find a lower interest rate and pay down your debt faster with Credible today.
Find your rate
When are personal loans a bad idea?
Borrowing money to pay for something you won't own for very long can set you up for months or years of frustration and regret. Watching payments trickle out of your bank account with nothing to show for them is no fun.
Here are three examples of times when borrowing is a bad idea.
1. You're buying a one-time experience
Borrowing to take a trip with your friends can seem like a great idea when you're imagining the fun you'll have. But the loan payments might prevent you from going on any more adventures for years.
2. Your payments will prevent you from saving
If your loan payments make it impossible to save any money for the future, build an emergency fund, or have any fun, the thing you're buying might not be worth it.
3. You're paying too much for something
Just because you qualify for a personal loan doesn't mean you should use the full amount you're eligible for or shop for the most expensive stuff. Buying used goods, from cars to appliances, will save you money and your payments will be smaller.
Personal loan basics
If you've decided that a personal loan is right for you, choose an amount that will still allow you to make progress on all of your other financial goals.
But before you click the "apply now" button, know what you're getting yourself into. Here are the answers to some commonly asked questions about personal loans.
How much can I borrow?
How much you can borrow is based on your income, your credit score, and whether you have collateral (assets) to guarantee the loan.
How long do I have to pay back the loan?
Usually, you can choose the length of your loan. Terms from six months to five years are common. The longer you take to pay it off, the more you'll pay in interest.
How much will a personal loan cost?
There are typically no set-up fees on basic personal loans. The only cost is the amount of interest you pay over the life of the loan. Experimenting with an online loan calculator will help you estimate your payments based on various interest rates.
Getting the best possible interest rate is the best way to keep costs down.
What can I use as collateral for a personal loan?
Collateral is something that you promise to give the bank if you fail to pay off your loan. A loan that requires collateral is called a secured loan.
Common forms of collateral include:
Sponsored
This Company Will Help Nearly Anyone Get Rid of Credit Card Debt
Do you feel like paying off your credit card is a constant grind, with no end in sight? You're not alone. A personal loan offers lower interest rates and fixed payments, making it a smart choice to consolidate high-interest credit card debt. It helps save money, simplifies payments, and accelerates debt payoff.
Credible is a free online service that shows you the best lending options to pay off your credit card debt fast — and save a ton in interest.