20. Elon Musk: Then The New York Times / YouTube
Before he was a billionaire entrepreneur and tech icon, Elon Musk came from humble beginnings in Pretoria, South Africa.
At age 12, he taught himself to code and sold a game he wrote called "Blastar" for $500.
Musk also revealed on a podcast that when he first came to North America he lived on $1 a day, eating hot dogs and oranges to get by.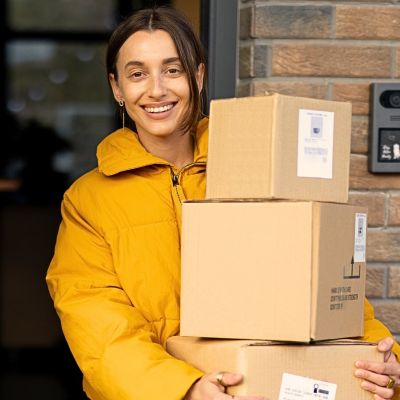 Capital One Shopping's browser add-on automatically applies coupon codes as you shop online. It's absolutely free – plus it takes only two clicks to install. Add the Capital One Shopping browser extension today and start earning discounts of up to 50% on the things you already buy.
Install for Free
Elon Musk: Now Kathy Hutchins / Shutterstock
Even before he established his $19.9 billion net worth, Musk showed that he had the ambition and talent to become a success from a young age.
Musk eventually went on to found or co-found PayPal, Tesla, and SpaceX.
19. Mark Zuckerberg: Then CNBC / YouTube
Mark Zuckerberg has been running and remodelling Facebook since 2004. Like so many of us he lived frugally, finding cheap apartments on Craigslist and cutting his spending wherever possible to pursue his dreams.
Even though he started at Harvard with a reputation as a self-taught, programming prodigy, Zuckerberg was a long way from becoming one of the most successful entrepreneurs in history and Time's Person of the Year.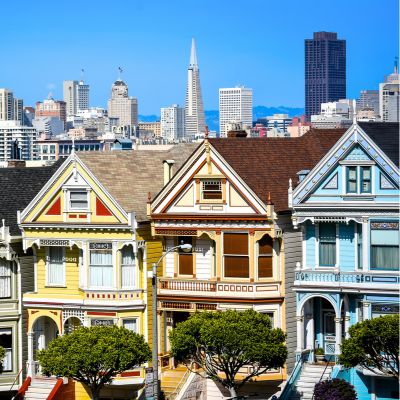 Believe it or not, you don't need millions, or even hundreds of thousands to invest in real estate. Arrived is an online platform where you can invest in shares of rental homes and vacation rentals without the headaches of being a landlord.
Learn More
Mark Zuckerberg: Now catwalker / Shutterstock
Despite the fact that his net worth has recently dropped to $50 billion, he's still listed by Forbes as the eighth richest person in the world.
Zuckerberg is so wealthy that he only takes a yearly salary of $1.
18. J.K. Rowling: Then BBC News / YouTube
In the span of publishing seven books, author J.K. Rowling went from receiving welfare benefits in Edinburgh to generating hundreds of millions of dollars in personal wealth.
Before the global success of Harry Potter, Rowling was living paycheck to paycheck, often choosing between buying food or writing supplies.
J.K. Rowling: Now landmarkmedia / Shutterstock
Although Rowling has tried to keep her personal wealth a secret, research carried out by Forbes and the New York Times have estimated her earnings as sitting over a billion dollars at its peak.
Her books have generated $7 billion in sales and she's thought to have a current net worth of $1 billion, amassing more wealth than the Queen of England.
17. Jack Dorsey: Then CNN Business / YouTube
Jack Dorsey is co-founder and CEO of both Twitter and Square, two game-changing companies that helped establish his fortune.
Dorsey had to work hard to prove himself as a worthy entrepreneur. He told 60 Minutes that in high school he landed his first tech job at a taxi dispatch company by hacking into its system and then emailing the company to tell them about it.
Jack Dorsey: Now Jstone / Shutterstock
Even though he was fired from Twitter in 2008, Dorsey returned to the company as its CEO in 2015. Since then he's cemented a reputation as a tech innovator with a flair for the eclectic.
His net worth currently sits at $2.1 billion.
16. Biz Stone: Then PBS NewsHour / YouTube
Twitter co-founder Biz Stone has had a pretty remarkable turnaround.
He went from dropping out of two different colleges to teaching Masters classes at Oxford University, and from crippling credit card debt to starting companies valued at billions of dollars.
Before teaming up with Dorsey to launch Twitter, Stone was forced to move into his mother's basement due to his financial struggles.
Biz Stone: Now SuperNova / YouTube
Aside from co-founding Twitter, Stone's status as a startup guru comes from his growth of other sites like Xanga, Blogger, Odeo, The Obvious Corporation and Medium.
He's published two books, appears as a frequent columnist for The Atlantic and has a net worth currently sitting around $250 million.
15. Oprah Winfrey: Then reelblack / YouTube
Born into poverty in rural Mississippi, Oprah Winfrey overcame horrible abuse and discrimination to get where she is today. For decades now she's been a beloved cultural icon and activist.
Not only does she have the highest rated talk show in television history, Oprah became the first woman to both own and produce her own show.
Oprah Winfrey: Now Tinseltown / Shutterstock
Her meteoric rise began with her job as a news anchor and her universal appeal and hard work helped her establish her own TV show and TV network (OWN).
Oprah has donated over $400 million to charity and received the Presidential Medal of Freedom in 2013. Today, Oprah's net worth is in the billions.
14. Mark Cuban: Then Starting from the Bottom/Evan Carmichael / YouTube
Growing up as a kid, Mark Cuban's first job ever was selling garbage bags.
Before he bought the Dallas Mavericks and earned his spot as an investment wizard on Shark Tank, Mark Cuban was broke and sleeping on the floor of a three-bedroom apartment that he shared with five other guys.
Mark Cuban: Now Jaguar PS / Shutterstock
The 61-year old has been a lifelong entrepreneur, only instead of selling garbage bags door to door like he used to, he now owns an NBA team, Magnolia Pictures, and has more than 60 other companies attached to his name.
He even holds a world record for the largest single e-commerce transaction when he bought a $40 million jet. His net worth sits at $4.1 billion.
13. Peter Thiel: Then The New York Times / YouTube
You probably know Peter Thiel best as the co-founder of PayPal alongside Elon Musk.
Before Thiel earned his billions as an investor (his net worth is $2.3 billion) he actually got a bachelor's degree in philosophy and a law degree from Stanford University.
Originally from Germany, Thiel has worked his way to the top of the investing world and been recognized internationally for his accomplishments.
Peter Thiel: Now Tinseltown / Shutterstock
You probably didn't know that Thiel's been on the ground floor of investing in other massive tech companies like Facebook, LinkedIn, and Yelp.
In recent years Thiel has turned towards the future and has spent millions investing in artificial intelligence, 3-D printing, and anti-aging research.
12. Ellen Degeneres: Then Funnystuffcollector / YouTube
Raised in a family of Christian scientists, Ellen blazed her own trail as a comedian and moved to New York to pursue her career.
Before she was named Showtime's Funniest Person in America, Ellen worked odd jobs to get by. She was a waitress and even sold vacuums for a living.
Ellen Degeneres: Now Tinseltown /Shutterstock
Even though she's been a comedian for nearly 40 years, Ellen Degeneres had to struggle against homphobic discrimination and work tirelessly to get to where she is today.
Ellen has racked up a total of 33 Daytime Emmy awards, been awarded the Presidential Medal of Freedom, and her net worth sits at $490 million.
11. Jeff Bezos: Then Evan Carmichael / YouTube
Long before he was the richest man in the world, Jeff Bezos was raised by a single mother in New Mexico and Texas, and had plans to become a theoretical physicist.
As a child he had dreams of becoming an inventor. As an adult, he founded Amazon and has changed the way the modern world purchases personal goods.
Jeff Bezos: Now Summit / YouTube
With his net worth sitting at $114 billion according to Forbes, even considering his fortune's significant fluctuations, Bezos has more wealth than the Gross Domestic Product of Iceland, Costa Rica, and Afghanistan combined.
He makes about $2,489 per second and has been a billionaire since 1998.
10. Reed Hastings: Then Business Casual / YouTube
Reed Hastings is the man behind the streaming service renaissance. As CEO of Netflix, Hastings has revolutionized the way that creators and viewers use TV.
Even before his success with Netflix, Hastings had invested in Facebook and Microsoft and was fascinated with tech and computer science from a young age.
Reed Hastings: Now catwalker / Shutterstock
With nearly 160 million subscribers, Netflix has cemented Hastings's fortune and helped grow his net worth to $3.5 billion.
He did have a bit of a head start on his wealth, seeing as he's the great-grandson of Alfred Lee Loomis, the world renowned physicist and banker, but Hastings has come a long way from his days as a door-to-door vacuum salesman.
9. Richard Branson: Then Grunge / YouTube
Billionaire Richard Branson has established a reputation as an idiosyncratic and outspoken public figure.
But before all that, he struggled with dyslexia and dropped out of school at the age of 16.
In 1987 he crossed the Atlantic Ocean in a hot air balloon, becoming the first ever person to do so.
Richard Branson: Now Sergei Bachlakov / Shutterstock
Branson is best known as CEO of the Virgin Group, which owns Virgin Airlines and Virgin Records, and for his eccentric and well publicized lifestyle.
Since founding his first Virgin entrepreneurial endeavour in 1970, Branson has accumulated a net worth of $5.1 billion.
The 69-year old holds various world records and is a reputed adventurer.
8. Martha Stewart: Then WatchMojo.com / YouTube
Martha Stewart has been in the public spotlight since age 13, when she began modelling in order to save up money and put herself through college.
Stewart isn't just famous for her recipes and home decor. Stewart became a billionaire in a single day after turning her personal catering business into an internationally renowned brand and multimedia empire.
Martha Stewart: Now Sterling Munksgard / Shutterstock
After her conviction for securities fraud and her brief stint in prison in 2004, Stewart's brand and wealth significantly dropped off. However, this lapse was short-lived and Stewart soon returned to global renown.
Her net worth is now $300 million, a far cry from the $2 billion that slipped through her fingers.
7. Lady Gaga: Then toptenfamous / YouTube
Stefani Joanne Angelina Germanotta, better known as Lady Gaga, is a musical superstar who has been singing and writing music since the age of four.
Gaga struggled professionally and financially in college before she made it. She worked nights as a waitress while in school and eventually dropped out of NYU.
Fellow students even made a Facebook group called "Stefani Germanotta, you will never be famous" to taunt her.
Lady Gaga: Now Andrea Raffin / Shutterstock
It's hard to believe "Bad Romance" came out in 2010, sold over 11 million copies, and won two Grammy awards.
In the last 10 years, Gaga has skyrocketed to the highest levels of fame and success. She became the first woman to win an Oscar, Grammy, BAFTA and Golden Globe in the same year, and her net worth currently sits around $320 million.
6. Dwayne Johnson: Then Calgary Stampeders / Twitter
Dwayne "The Rock" Johnson wasn't always the dashing, successful movie star that he is today. By the time he was 17, Johnson said he'd been arrested nine times.
As the son of a professional wrestler, he moved constantly growing up as a child and struggled to fit in. His admitted poor eating and subsequent weight gain even made other kids at his schools think he was an undercover cop.
Dwayne Johnson: Now Kathy Hutchins / Shutterstock
Johnson just recently tied the knot with his long-time girlfriend and partner, Lauren Hashian, in August of this year.
In less than 10 years, Johnson's net worth grew from $30 million to $320 million. He started his own production company and landed several starring roles, most recently as Luke Hobbs in the hit film "Hobbs and Shaw."
5. Tom Cruise: Then toptenfamous / YouTube
Tom Cruise might be one of the biggest stars in Hollywood, but his accomplishments are even more impressive considering he was diagnosed with dyslexia from a young age.
Cruise wanted to be a movie star his whole life, but only began acting after suffering an injury in high school which prevented him from wrestling on the school team.
Tom Cruise: Now JStone / Shutterstock
The 57-year-old has a unique reputation. He performs many of his own stunts, has been the lead man in dozens of blockbusters, and he remains an outspoken advocate of Scientology.
Cruise's net worth is $570 million which is due, in large part, to the success of the Mission Impossible films.
4. Jim Carrey: Then Missy Logo / YouTube
Canadian-born comedian Jim Carrey spent years as an unsuccessful stand-up in Toronto's comedy scene. Although he was eventually discovered by Rodney Dangerfield, Carrey still struggled to break into the industry.
As a teenager, he and his siblings worked in a factory to help make ends meet after their father passed away.
Jim Carrey: Now s_bukley / Shutterstock
Carrey eventually established himself as one of Hollywood's funniest — and best paid — leading men. Even at the age of 10 he wanted to be a comedian; Carrey wrote into The Carol Burnett Show asking for a job on the set.
He recently turned towards creating visual art and has a net worth of $150 million.
3. Mariah Carey: Then retorhythms / YouTube
Mariah Carey overcame a lot to establish herself as the best selling female artist in the history of the Billboard charts.
She was a frequent subject of discrimination while growing up in New York due to her mixed African and Venezuelan heritage.
Carey also worked years as a waitress and backup singer before being discovered by a Columbia Records executive.
Mariah Carey: Now Everett Collection / Shutterstock
Carey has sold more than 200 million albums worldwide and has more number one hits than Elvis Presley.
She's become infamous for her luxurious spending habits, including flying her dogs on a private jet for thousand-dollar spa treatments. Carey has a net worth of $300 million.
2. Jay-Z: Then Jimmy Kimmel Live / YouTube
Jay-Z, real name Shawn Carter, grew up dirt poor and without a father in the Marcy Projects of Brooklyn, New York. He actually went to school with future rappers Notorious B.I.G. and Busta Rhymes at one point.
Jay-Z grew up loving music and his mother said he often woke everyone up in their two bedroom loft — drumming beats into the kitchen table and rapping.
Jay-Z: Now s_bukley / Shutterstock
On top of his renowned hip-hop career, Jay-Z also has a reputation as a savvy investor and money manager.
Some of Jay-Z's business ventures have included owning a stake in the NBA's Brooklyn Nets, Uber, and investing in real estate, liquor, and art.
The rapper even started Tidal, a music streaming platform valued at over $100 million. His net worth is a staggering $1 billion.
1. Rihanna: Then toptenfamous / YouTube
Rihanna was born and bred in Barbados, but grew up in a household strained by her father's vices and temper. She used to work with her father to sell clothes from their street stall.
The 31-year old has been a pop star since she was 16 when she left Barbados and her former life behind her.
Rihanna: Now JStone / Shutterstock
Despite popularizing herself as a pop icon and actress, Rihanna has recently become a makeup and fashion entrepreneur.
She co-owns Fenty Beauty, a cosmetic company valued at around $3 billion.
Her net worth may seem a bit low at $400 million, given her stake in Fenty, but Rihanna brings in around $70 million a year and her career is far from over.
Sponsored
Kiss Your Credit Card Debt Goodbye
Millions of Americans are struggling to crawl out of debt in the face of record-high interest rates. A personal loan offers lower interest rates and fixed payments, making it a smart choice to consolidate high-interest credit card debt. It helps save money, simplifies payments, and accelerates debt payoff. Credible is a free online service that shows you the best lending options to pay off your credit card debt fast — and save a ton in interest.