Gold
As a classic safe-haven asset, gold has helped investors preserve their purchasing power for centuries. The yellow metal largely traded sideways in 2021, but Alden still likes it as downside protection in specific economic scenarios.
"I think it's a reasonable hedge, basically, that would be a play on the Fed not being able to tighten as much as they're forecasting," Lyn said. "If that event starts to occur, you probably would expect a weaker dollar, stronger gold."
Geopolitical risk, such as the one posed by the ongoing conflict between Russia and Ukraine, is another reason why Alden suggests looking into gold.
"Gold tends to move on these crisis events."
One of the easiest ways to invest in gold is through ETFs like the SPDR Gold Shares and the iShares Gold Trust.
Individual gold mining stocks are another option. When the price of gold increases, miners like Barrick Gold, Newmont and Freeport-McMoRan typically thrive.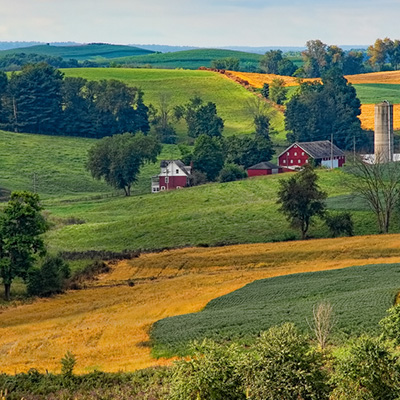 Farmland is one of the top asset classes capable of insulating your money from volatile market conditions. Learn how you can use FarmTogether to safeguard your portfolio.
Diversify now
Bitcoin
Bitcoin continues to be one crazy rollercoaster ride: It traded around $32,000 at the start of 2021, surged to over $68,000 in November, but is now down to $41,000.
That kind of volatility isn't for everyone. But for the next few years, Alden is "structurally bullish" on the world's largest cryptocurrency. Specifically, Alden believes that the mainstream adoption of bitcoin will persist in 2022 and beyond.
"So first, it was peer to peer. And then it was the early exchanges that had trouble getting bank access, and then it was the more regulated exchanges. And then it was the more institutional-grade custodians and larger pools of capital coming in. And I think that trend is still intact."
It's very easy to get exposure to the crypto world these days.
Investors can buy bitcoin directly, hold the ProShares Bitcoin Strategy ETF or consider companies that have tied themselves to Bitcoin.
Enterprise software technologist MicroStrategy, for instance, holds a total of 125,051 bitcoins — a stake worth over $5.1 billion. When the price of bitcoin moves, MicroStrategy shares tend to follow suit.
Energy
Commodity prices are commonly believed to be a leading indicator of inflation. So it should come as no surprise that one of Alden's favorite ways to fight red-hot inflation is through the commodities sector.
"If you have inflation, generally you're getting inflation in energy and other key industrial commodities. I think that remains an attractive environment."
While the stock market has pulled back in 2022, the upward momentum in energy prices remains strong.
Year to date, WTI crude oil has risen 21.5%. And that directly benefits energy stocks: The Energy Select Sector SPDR ETF — composed of S&P 500 companies in the energy production, equipment and services industries — is up double-digits in 2022.
Alden primarily focuses on defensive values in the sector, such as energy transportation companies, infrastructure businesses and master limited partnerships.
If you don't want to pick individual names, you can gain exposure to a portfolio of energy infrastructure MLPs through funds like the Alerian MLP ETF and the Global X MLP ETF.
Sign up for our Moneywise newsletter to receive a steady flow of actionable ideas from Wall Street's top firms.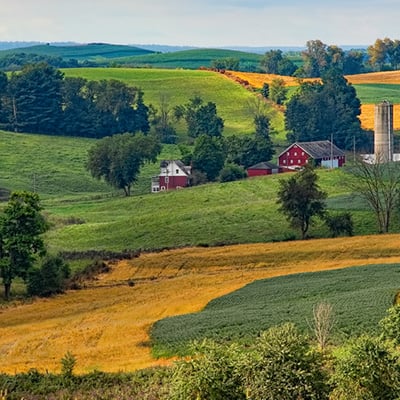 Farmland is one of the top asset classes capable of insulating your money from volatile market conditions. Learn how you can use FarmTogether to safeguard your portfolio.
Diversify now
More from Moneywise
Sponsored
Diversify your investments with farmland
You don't have to own a farm to profit off farmland.
Farmland has proven to be one of the most stable assets of the past few decades — and with FarmTogether, you're able to invest today. FarmTogether's platform gives accredited investors access to this exciting market, and one of the highest-yielding asset classes on a risk-return basis.
Sign up for FarmTogether to start investing in farmland.