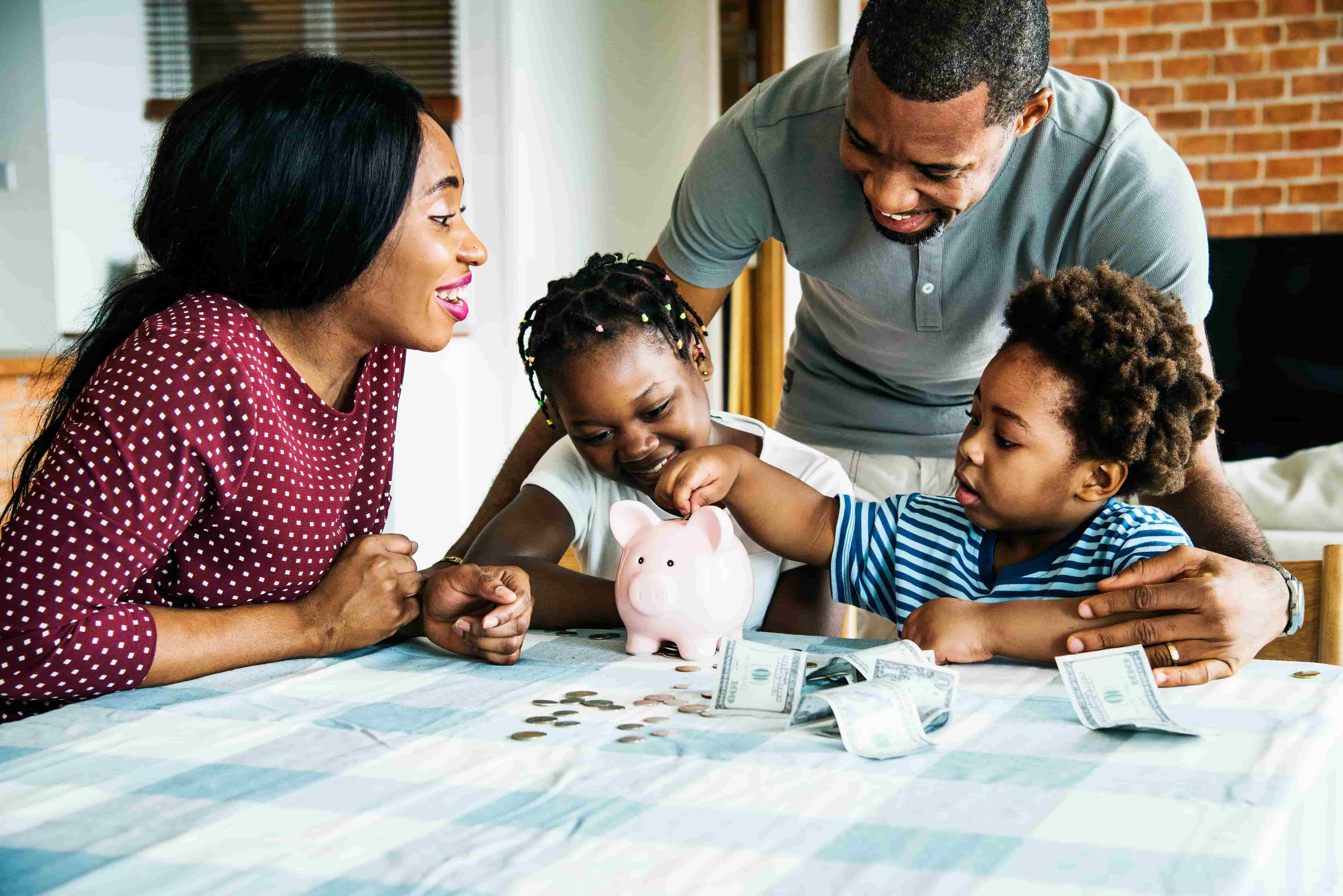 UNest review: A simple app to invest in your child's future
Rawpixel.com / Shutterstock
🗓️
Updated: October 30, 2023
We adhere to strict standards of editorial integrity to help you make decisions with confidence. Please be aware that some (or all) products and services linked in this article are from our sponsors.
We adhere to strict standards of editorial integrity to help you make decisions with confidence. Please be aware that some (or all) products and services linked in this article are from our sponsors.
Helping your child invest for the future is an immense gift. It's the sort of strategy that can help your kid buy their first car, graduate without debt, or chip away at a down payment.
And with UNest, investing in your child's future is incredibly simple. Its app lets you invest in a UTMA account for your kid with recurring contributions and one-time deposits. And you can invite your friends and family to contribute as well.
However, there are significant differences between investing in a UTMA account versus a 529 plan. And a UNest investment account may not be the best for every family if you want to avoid fees.
Our UNest review is covering exactly what these differences are and how to decide if it's right for you and your child.
About UNest
UNest is a mobile app that makes it easy for parents to open a custodial investment account for their kids. The company was founded in 2018 with the goal of helping families save for their children's futures. UNest Advisers, the main company, partners with UNest Securities which is a FINRA registered broker-dealer to securely manage investments.
Parents and other family members or friends can make one-time and recurring contributions to a child's UNest account. And because UNest uses UTMA accounts, which I'll cover below, there's the flexibility to invest in asset classes like mutual funds, ETFs, stocks and bonds.
UNest pros and cons
Pros
Very easy sign-up process
Invest in low-fee Vanguard ETFs with five portfolio options
Get a lower marginal tax rate (kiddie tax) by using a UTMA account
Easy for friends and family to contribute
UTMA accounts can be used for expenses other than education unlike 529 plans
Cons
Expensive monthly fees if your child's custodial account is small
UTMA accounts can reduce potential financial aid your child receives
UTMA accounts have fewer tax advantages overall versus 529 accounts in exchange for being more flexible
What is a UNest account?
UNest is not a 529 account, rather it invests and manages funds within a Uniform Gift/Transfer to Minor Account (UTMA). This investment account is like a regular brokerage account but is custodial, meaning your child gets control of the account when they reach the age of majority in your state. Typically, this happens at 21 years old. At that point, UNest converts the custodial account into a regular brokerage account.
There are several advantages to investing through a UTMA account for your child's future. The first is that your child can use the funds in their account for any expense in the future. In contrast, a 529 plan must be used for education, which is more limiting.
As UNest explains on its website: "Both 529 plans and UNest custodial accounts provide a great tax-advantaged way for parents and others to help save for a child's tuition and other educational expenses. UNest's Investment Account for Kids offers a significant benefit to parents that are looking for a flexible way to save for all the future life stages your child will experience. This may or may not include education."
The trade-off is that you get fewer tax advantages with a UTMA than you do with a 529 plan.
For starters, you fund a UTMA account with after-tax dollars. As for tax benefits, the first $1,150 of your child's unearned income is tax-free. The next $1,150 of unearned income is taxed at the kiddie tax rate. Anything above this amount is then taxed at the parents' marginal tax rate.
The IRS does allow an exclusion from the gift tax of up to $16,000 per person as of 2022, which includes gifts to minors. So, you can theoretically gift your child up to $16,000 per year without paying gift taxes. And the income they earn above $1,150 per year is taxed at the kiddie tax rate, which should be much lower than your marginal tax rate.
How does UNest work?
Getting started with UNest just takes a few minutes and five simple steps:
1.

Download the UNest app for Android or iOS and open an account

2.

Connect your bank account to UNest through its integration with Plaid

3.

Enter a monthly contribution amount and savings goal (there's a $25 minimum monthly contribution requirement)

4.

Make additional one-time contributions or receive gifts from friends and family

5.

Watch your child's portfolio grow over time, pause or edit contributions, and change your portfolio strategy
As for what you're investing in, UNest offers five portfolios that are all based on various Vanguard ETFs. The two main portfolios are:
Conservative: Invests in fixed income and bond ETFs.
Aggressive: Invests 100% in equities through Vanguard equity index ETFs.
There's also an age-based investing option that uses three portfolios: conservative, moderate, and aggressive. This strategy begins with the aggressive portfolio when your child is younger but gradually changes its asset allocation as your child ages to become more conservative. The goal is to maximize returns but limit risk as your child reaches the age of maturity to reduce volatility risks.
According to its website, you can also ask to create a custom portfolio by emailing support@unest.co. But overall, the service is similar to using a robo-advisor like Betterment or microsaving apps like Acorns where you invest in portfolios but don't have control over individual assets.
Other UNest features
Your monthly contributions and receiving gifts from friends and family are the two main ways to grow your child's wealth. But there are several other features that you can use to invest and earn rewards.
UNest crypto: While its crypto program currently has a waitlist, UNest will support crypto investing in the future. It's not clear what assets are going to be supported, but Bitcoin and Ethereum seem like likely candidates given the teasers we've seen from the company.
UNest rewards: Shop at over 150 brands within the UNest app shopping section and earn cash-back rewards.
Referral program: UNest regularly runs referral promotions like a "give $15, get $15" promo that pays you $15 for inviting new members to the app. Past promotions have paid up to $50 for inviting new members, and you can check the app for details on the latest referral promotion.
Personally, I wouldn't invest in my child's future with crypto given how volatile markets are, but this is a great feature if you believe major cryptos will appreciate over the next two decades.
UNest fees and pricing
UNest costs a flat rate of $4.99 per month (or $39.99 per year). You can manage one or multiple accounts easily through the app.
This might sound like an inexpensive service, but it's important to think about UNest's fees as a percentage of assets under management.
For example, if you stick with the lowest $25 monthly contribution, you contribute $300 to your child's custodial account in one year. But with the $4.99 monthly fee, you're paying 19.96% for UNest to invest your money. This is an absurdly high fee, and it means UNest is only viable (in our opinion) for much larger account balances.
And even then, nothing stops you from opening a custodial account with an online broker like Ally Invest or Fidelity. Both brokers offer commission-free stock and ETF trading, and you can invest in the same Vanguard ETFs as UNest or branch out into more options.
>Hit the ground running: Best stock broker promotions right now
Is UNest safe?
According to its website, UNest uses bank-level security and encrypts data to keep your custodial investments and personal information safe. The app connects to your bank accounts with Plaid, which is the same account connection and aggregation service many major FinTech apps use. And since UNest works with UNest Securities, a FINRA registered broker-dealer, you get up to $500,000 in SIPC insurance.
Ultimately, these security practices and the SIPC insurance means UNest is safe to use. However, performance isn't guaranteed, so keep this in mind.
How do I contact UNest?
You can contact UNest by calling 818-275-0041 or by emailing support@unest.co. There's also a contact page on its website where you can submit questions.
Best alternatives to UNest
There are numerous UNest alternatives that helps parents invest in their child's future. For example, microsaving apps like Acorns have Acorns Early, an automated investment account for kids. And apps like Stockpile let you or family members give the gift of stock by buying fractional shares for your kids.
All of these apps, including UNest, are excellent options for getting the ball rolling. But if it were me, I'd probably open a custodial account through an online broker like Ally Invest or Fidelity.
Going the DIY route keeps fees low and also opens up more investing opportunities. I think it's great that UNest invests in low-cost Vanguard funds, but you can do the exact same thing for your child on your own.
Again, UNest keeps things simpler, and it makes gift giving from friends and family very straightforward. But for the long-run, consider using a commission-free broker so you have more options and don't pay monthly fees.
Is UNest worth it?
UNest is worth it if you want a completely hands-off way to invest in your child's future and don't want to specifically save for their education with a 529 plan. This is because UTMA accounts are much more flexible than 529 plans. But if you're only investing for your child's education, a 529 plan can offer more tax-benefits.
And, as UNest mentions on its website, a UTMA account can reduce financial aid by up to 20% since it's reported as the student's assets on the FAFSA. Plus, some states consider 529 plan contributions deductible, so you might be able to push your tax savings further.
Ultimately, consider how expensive UNest would be from a percentage perspective. Paying $2.99 per month might seem inconsequential, but this is a very steep fee for small portfolios. However, getting started with UNest is extremely easy, and its five different portfolio options are useful if you're new to investing and don't know where to start.
Bottom line
With UNest, you don't get as many tax benefits as investing through a 529 plan, but you gain the flexibility UTMAs offer. Plus, UNest makes it easy for your friends and family to contribute as well. And if you're brand new to investing, the pre-built portfolios are a selling point.
I still prefer the DIY route with an online broker, and when I have kids, that's probably what I'll do. However, as long as you're okay with the fees, UNest is an excellent option to invest in a custodial account for your children.