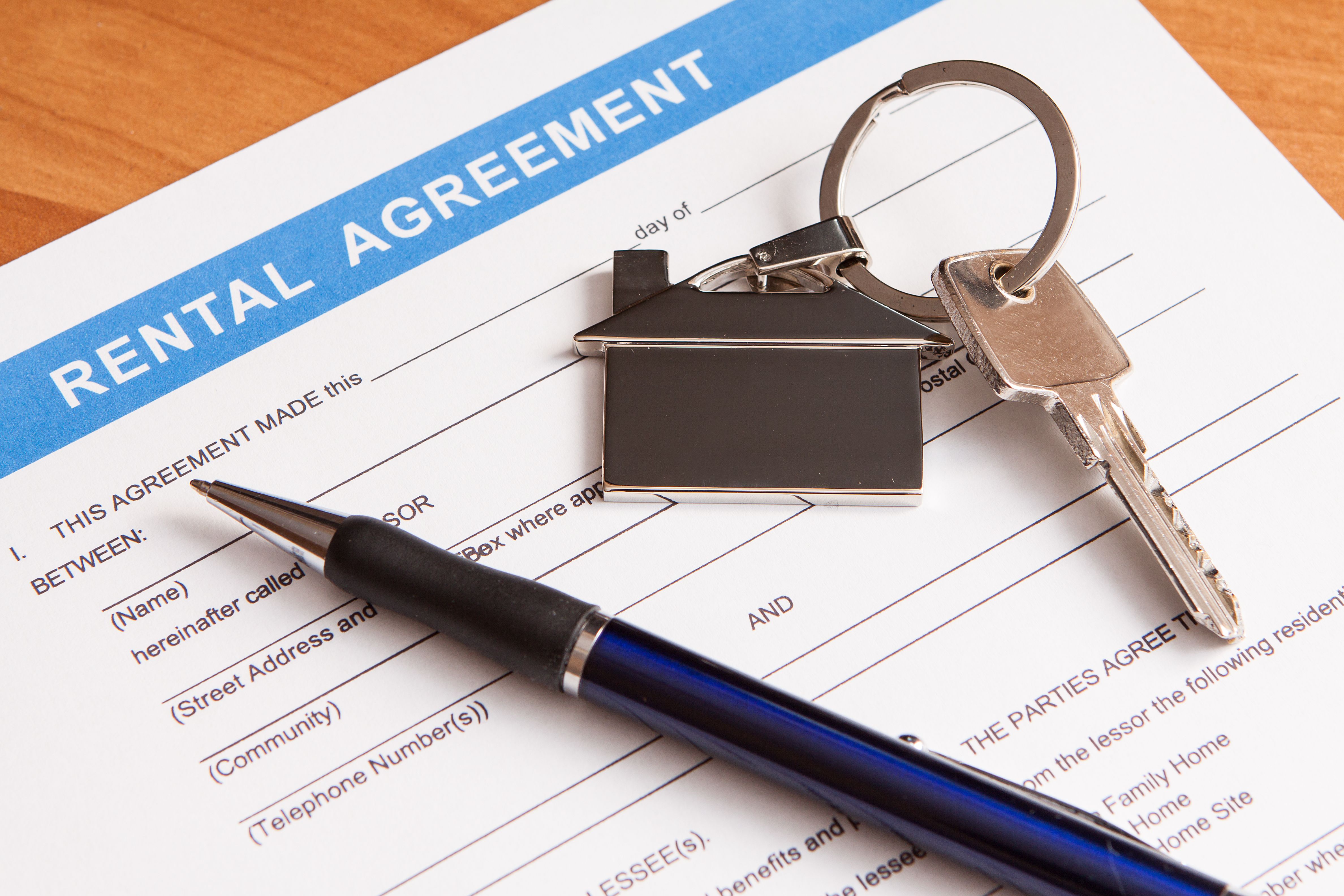 Landa review 2023: Invest in rental properties with $5
REDPIXEL.PL / Shutterstock
We adhere to strict standards of editorial integrity to help you make decisions with confidence. Please be aware that some (or all) products and services linked in this article are from our sponsors.
We adhere to strict standards of editorial integrity to help you make decisions with confidence. Please be aware that some (or all) products and services linked in this article are from our sponsors.
The Landa app lets you invest in income-generating rental properties, and shares start at only $5. This makes it an incredibly beginner-friendly option in the world of real estate crowdfunding.
However, as a newer company, Landa doesn't have an extensive track record. Plus, its annual fees are much higher than many of the more established crowdfunding options.
Our Landa review is covering exactly how this app works, its pros and cons, and what your best alternatives are.
Pros
Low $5 investing minimum
Earn monthly dividends from rental income
Completely passive income
No accreditation requirement
Cons
Limited track record and no historical performance data
Very few opening listings
Very high property management fees
No REIT or commercial real estate options
Complaints from users about app glitches
High-risk investment
What is Landa?
Landa is a real estate investing app that lets you buy shares of rental properties starting at just $5. The company relaunched in 2021 after originally launching in 2019 and currently owns rental properties in Georgia and New York state.
Unlike many other real estate crowdfunding sites, Landa is very hands on. It sources properties to invest in, acquires them, and then manages tenants and maintenance with its own team of property managers. This means your investment is completely passive, but you have to pay several fees to cover all the expenses.
Who is Landa for?
According to its website, you must be an accredited investor or not invest more than 10% of your annual income or net worth to invest in Landa. But since shares start at just $5, this platform is really a way for beginner investors to add income-generating real estate to their portfolio.
If you want a crowdfunding platform with more inventory and a proven track record, Landa isn't for you. This is a new company with very few properties and no historical earnings reports on its website at the time of writing.
How does Landa work?
When Landa purchases a property, it converts it into a limited liability company (LLC) and offers up to 10,000 shares for single-family homes and up to 100,000 shares for multi-family properties. After buying shares, you earn a fraction of profits the property generates from rental income in the form of dividends.
However, Landa works a bit differently from many major real estate crowdfunding sites since its own team manages the rentals you're investing in, as well as the tenants.
Here's how the entire process works:
1.

Sourcing: Landa's team identifies promising investment properties to purchase.

2.

Leasing: Landa finds tenants for its new properties. The entire renter-side of the business is also managed through the app, and tenants sign lease agreements and make payments right from their phones.

3.

Dividend Payments: Dividend distributions are made on the first of every month based on rental income from the previous month.

4.

Maintenance: Local Landa teams handle maintenance of properties so your investment is passive.
Listings highlight the average price per share, and you can start investing in many properties at around $5 per share. The dividend-per-share calculation depends on factors like rental income minus any loans and other property expenses. Some rental income is also kept as a cash reserve, but Landa doesn't outline what percentage.

You can also sell shares on Landa's secondary marketplace, and you set whatever share price you want. This is also a way to buy shares from fully-funded properties if you missed the initial offering.
At the time of writing, Landa has numerous open properties for investing. Most of the properties are in Georgia, although Landa recently expanded to New York. The hands-on approach Landa takes means it only operates in a few markets currently, so don't expect investment opportunities across the country.
Landa fees and pricing
To make money, Landa charges up to 8% in property management fees once a property has a tenant. It also charges a one-time acquisition fee of up to 6% to cover operational and administrative costs. You don't pay withdrawal or deposit fees, membership fees, or asset management fees.
Other companies like Arrived Homes also charge sourcing fees. And crowdfunding platforms like Fundrise and Streitwise have annual management fees as well. But Landa is on the higher-end of fees, and this is one of its main disadvantages.
Historical performance
Unfortunately, Landa doesn't have historical performance data on its website or information about average dividend yields.
However, if you read the latest SEC filings from June 30th, 2022, you get an inside look at Landa's current rentals and cash flow. According to the filings, Landa has about 20 rental units, with six units just having signed a lease on July 1st, 2022. The average monthly rental income from these new units is around $1,200.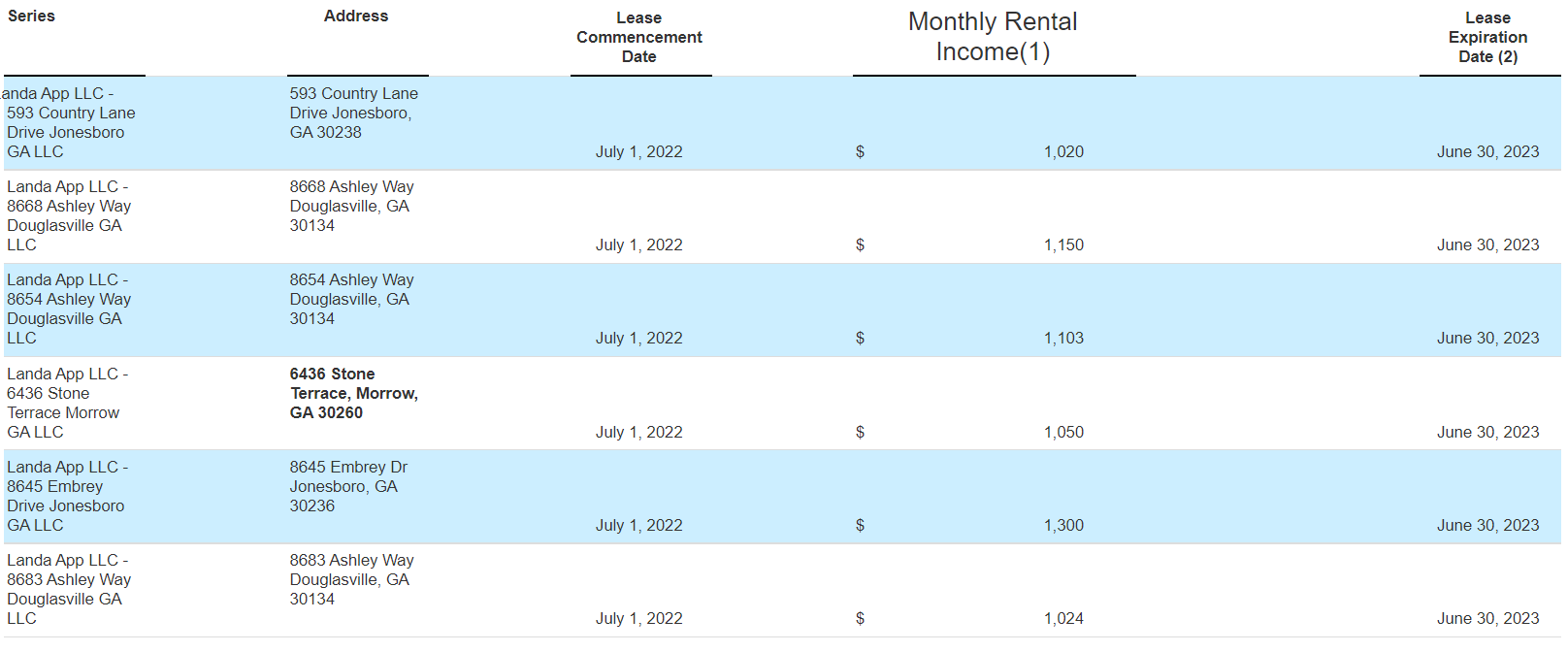 For 6436 Stone Terrace, the unit that's bolded, the filing states that "The tenant…vacated the property prior to the lease expiration date. The Property is currently unoccupied. As of the date of this report, the Manager has not identified a new tenant to enter into a Lease Agreement for this Property. This Property will not earn any income and the Manager will not earn its Management Fee until the Manager enters into a new Lease Agreement with a tenant for this Property."
Tenants leaving properties and violating leases is a risk for landlords, including Landa. And if you scroll farther into the SEC filings, you also see what type of distributions per share Landa pays for various properties: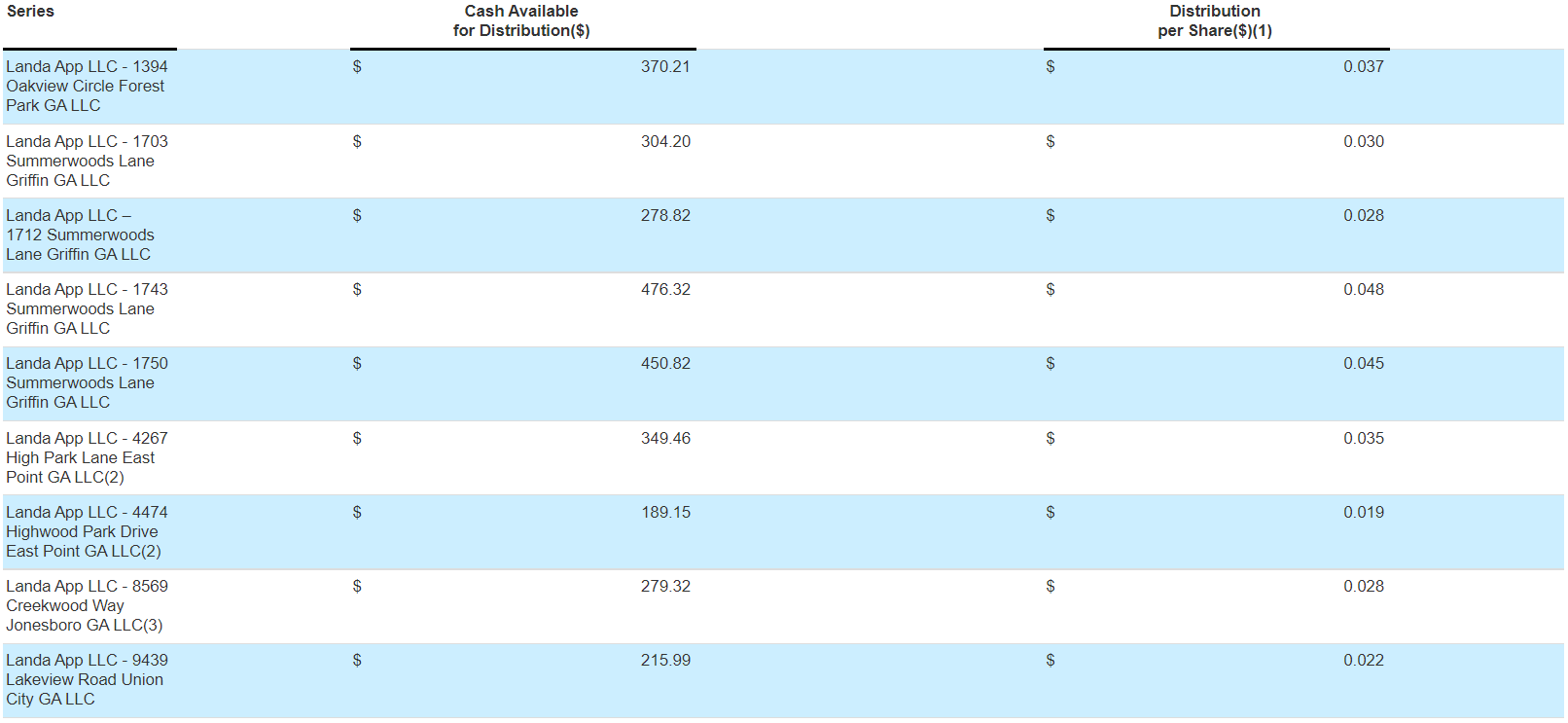 This isn't a significant cash flow, and distributions are low. Granted, shares often start at around $5, and this doesn't factor in potential property appreciation.
I think the greater risk is that Landa doesn't have that many properties. It's truly a startup in the world of real estate crowdfunding, so investors should proceed with caution due to its limited track record.
Liquidity
One advantage of Landa is that you can sell your shares to other investors on its secondary marketplace. You set your own share price, and Landa doesn't charge fees for selling your shares. This helps improve liquidity, which is often one of the main drawbacks of using crowdfunding platforms.
However, Landa doesn't guarantee liquidity. If other investors don't trade on the marketplace, you're stuck with your shares. And Landa is the one that decides if and when to sell properties, so a potential exit could be years away.
Is Landa safe and legit?
As Landa explains in its offering circular, "investment in the shares involves a high degree of risk, and investors should not invest any funds in these offerings unless they can afford to lose their entire investment." This is the high-risk nature of investing in rental properties, especially through a startup.
That said, Landa looks like a legitimate company. It submitted its SEC filings and jumped through hoops to turn rental properties into LLCs, which also protects individual investors from being sued by tenants.
Many of the recent reviews on the app store do complain about glitches or the fact that the secondary marketplace doesn't have high trading volume. Once again, this is the nature of investing through a new crowdfunding platform. Overall, it seems like a safe and legitimate investment, albeit a risky one with some user experience issues.
How to contact Landa
You can reach Landa's customer service by emailing hi@landa.app or by using the in-app chat feature.
Best alternatives
For the closest Landa alternative, we suggest looking into Arrived Homes. It's also a newer player in the crowdfunding space that lets you buy shares of rental units. The main difference is that Arrived Homes has more inventory and a longer track record. There's a $100 investing minimum, but this is still an effective way to invest in real estate without much money.
However, both Arrived Homes and Landa are young companies. If you want to invest through crowdfunding platforms with longer track records, you have plenty of other options.
| Highlights | Fundrise | RealtyMogul |
| --- | --- | --- |
| Rating | 4.5/5 | 4.5/5 |
| Minimum investment | $10 | $5,000 |
| Account fees | 1%/year | 1.1.25%/year asset management fee |
| Private REIT | ✅ | ✅ |
| - | Sign up | Sign up |
| - | Read review | Read review |
Fundrise is our favorite alternative since it only requires $10 to start investing. You get paid quarterly dividends, and the annual management fee is just 1%, which is much lower than Landa. Plus, there's a secondary marketplace where you can sell shares for extra liquidity. RealtyMogul and CrowdStreet are also excellent alternatives if you want to explore private real estate deals and REITs. The main downside is that the investment minimums are much higher than Landa.
This is a testimonial in partnership with Fundrise. We earn a commission from partner links but all opinions are our own.
The bottom line
From an investing perspective, having more choice is great news. So, the fact the real estate crowdfunding world has become so crowded in recent years is certainly a good thing.
However, I think investing through Landa is a tough sell versus some of the more established players. Its main advantage is that you get monthly dividend payments, whereas many platforms pay quarterly or upon property sale in several years. But Landa's lack of historical performance data and limited listings are two significant risks.
If you want to diversify your portfolio with real estate, you're better off using companies like Fundrise. It only requires $10 to start which is similar to Landa, and you get a proven track record and more investment opportunities.