'Overaction' by the Fed
Historically, commercial real estate has been a "very stable" asset for investors, according to Cardone. Over 25 years, the category has outperformed the S&P 500 with average annual returns of 10.3%, according to Forbes.
Cardone believes there's only been a few instances "over hundreds of years" where that stability has wavered: the Great Inflation of the 1970s, the crash of the dot-com bubble in 2000, the 2008 global financial crisis and "this moment right now."
"They all have one thing in common … the credit market," he says. "Real estate is very much tied to whether or not you can acquire debt [and] the banking system is clearly very fragile right now."
Since March 2022, the Fed has raised interest rates 10 consecutive times — in total amounting to five percentage points — in an effort to cool the highest U.S. inflation in four decades.
Experts believe this has damaged the sector by making it more expensive for borrowers to finance or refinance commercial real estate — leading to a precipitous drop in demand for properties.
Uncle G says the "unprecedented raises in interest rates" is a prime example of "overaction by the Fed to somehow control this thing called inflation."
He believes the government's economic policies have caused further damage to a market desperately trying to shake off pandemic-driven trends. For instance, remote work is leaving office buildings empty; the acceleration of online shopping has retailers scrambling to find an edge; and hotels have yet to return to their pre-COVID occupancy rates.
Despite these issues, there remains one real estate niche that still gets Cardone's vote of confidence.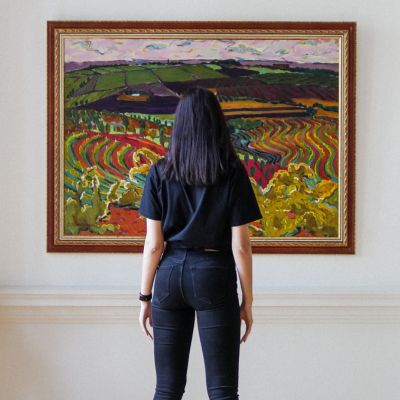 Contemporary art has outperformed the S&P 500 by 131% for the past 26 years. Join the exclusive platform to invest in million-dollar works by artists like Banksy, Basquiat, and more. Get started today and diversify your portfolio with art.
Learn More
Safe bet in commercial real estate?
Although Cardone says the commercial real estate market is "fragile right now," he believes a "real estate correction is now fully in place" — which presents a great opportunity for buyers.
"This is the moment," he says. "These are the opportunities where people can actually make real big money in real estate."
Cardone himself made his millions by investing in multifamily real estate. Cardone Capital's real estate portfolio consists of 11,903 apartment units across 36 multifamily properties, valued at around $4 billion.
As a long-term investor with a bullish attitude in this space, Cardone has been able to navigate temporary disruptions in the commercial real estate market.
"I invest for generations," he says. "When I buy something in 2023, I'm thinking about its value in 2033 and 2043 and 2053. If I never sold any of this real estate, it wouldn't bother me. I want the cash flow [and] the tax write-offs.
"It's a simple business. It's not complicated. It has created tremendous amounts of wealth for hundreds and hundreds of years. It cannot be easily replaced by cryptocurrencies or changes in governments or even technology advances."
The value proposition of multifamily real estate is fairly straightforward, says Cardone: "People will always need a place to live."
"Apartments are a winner over offices [where] you've got to have a business [and] you've got to have a good economy," Cardone adds. "The hotel business depends on discretionary income. Retail depends on [people going] there to shop and trade, and I have the risk of Amazon disrupting that space.
"But, apartments — 1,000 square feet, $2,000 a month, with a nice swimming pool and a theater and security — if it's a nice property, people will find value in that."
If you're keen to follow in Cardone's investing footsteps, here are some ways to get in on the action.
How to invest in multifamily real estate
These days, you don't need to buy a multifamily property outright or deal with the hassles of being a landlord to invest in real estate.
Instead you can invest in a residential real estate investment trust (REIT), which are publicly-traded companies that collect rent from tenants and pass that rent to shareholders in the form of regular dividend payments.
You may also consider crowdfunding platforms — a process championed by Cardone — that allow everyday investors to pool their money to purchase property (or a share of property) as a group.
With these easy-to-use platforms — which are often backed by a team of experts who can help you build your ideal portfolio — you can browse curated deals or join funds invested in diversified real estate portfolios that will maximize your returns while keeping your fees low.
The most important thing, according to Uncle G, is to back properties that generate cash flow, which you can invest and grow over time.
Sponsored
Meet Your Retirement Goals Effortlessly
The road to retirement may seem long, but with WiserAdvisor, you can find a trusted partner to guide you every step of the way
WiserAdvisor matches you with vetted financial advisors that offer personalized advice to help you to make the right choices, invest wisely, and secure the retirement you've always dreamed of. Start planning early, and get your retirement mapped out today.