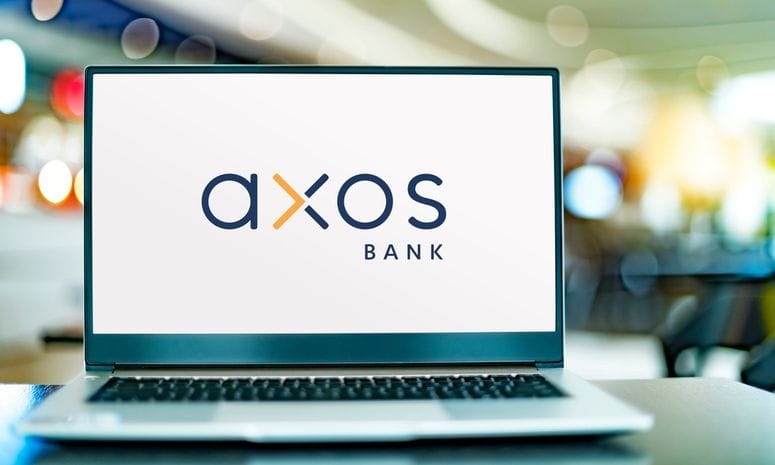 Axos Bank review: Pros and cons, features and Fees
MoneyWise / MoneyWise
We adhere to strict standards of editorial integrity to help you make decisions with confidence. Please be aware that some (or all) products and services linked in this article are from our sponsors.
We adhere to strict standards of editorial integrity to help you make decisions with confidence. Please be aware that some (or all) products and services linked in this article are from our sponsors.
Axos Bank is one of the older online-only banks out there. And with incredibly low fees and an excellent range of checking accounts, it's a popular online bank for good reason. Customers also get competitive interest rates, a high-yield savings account, and can invest on their own or through managed portfolios.
However, Axos falls a bit short compared to some larger banks for trading fees and investing options. In our Axos review, we're covering the pros and cons of this online bank, its main account types, and how to decide if it's right for you.
What is Axos?
Axos is a full-service online bank that offers checking and savings accounts, direct and automated investing, loans, money market accounts, CDs, and even small business banking options. The company began in 2000 and has its headquarters in San Diego, California.
This digital bank was formerly known as Bofl Federal Bank before rebranding. These days, Axos is incredibly popular for its high-interest checking account and numerous other checking accounts.
Who should use Axos?
The main selling point of Axos is its range of no-fee checking accounts. Axos has a checking account for every customer, including teens, cash-back fans, and those who want to earn high interest rates. It also has a competitive high-yield savings account and money market account.
If you want more comprehensive investing options, other online and major banks are better choices. But currently, this online bank has some of the leading rewards checking accounts on the market.
What does Axos Bank offer?
Since Axos is a full-service online bank, you have access to numerous bank account types as well as a few investing options. And if you're looking for low or no-fee checking accounts with rewards, it's an excellent choice.
Here's a breakdown of Axos' main features as well as some of its other services.
Axos checking accounts
One of Axos' main offerings is its range of personal checking accounts. Currently, there are five different personal checking account options:
Essential Checking
Rewards Checking
Cashback Checking
First Checking
Golden Checking
Each checking account targets a different type of customer depending on your cash balance, age, and the type of rewards you're looking for.
Essential Checking: This no-fee checking account provides early direct deposit and unlimited ATM fee reimbursements. There's no minimum balance requirement or overdraft fees either. If you're looking for your first checking account or a bare-bones option, this is it.
Rewards Checking: This account pays up to 3.30% APY on balances up to $50,000. Balances past this amount don't earn interest. The base APY is 0.40% if you receive monthly direct deposits of at least $1,500. From there, you increase your rate by spending with your debit card and by trying other Axos products, like Axos Invest or adding loan payments. You need $50 to open an account and there aren't monthly fees or balance requirements.
Cashback Checking: Earnup to 1% backon signature-based purchases and enjoy unlimited domestic ATM fee reimbursements. You don't pay monthly maintenance fees, and the minimum balance to open an account is $50.
First Checking: This account is for children and teens between the ages of 13 and 17.It doesn't charge monthly or overdraft fees, and there's a $100 cash and $500 debit daily transaction limit. Plus, Axos First Checkingpays0.10%APY, so your kids can still earn some interest. And this account provides up to $12 in domestic ATM fee reimbursements per month.
Golden Checking: This is Axos' checking accounttargeting customers aged 55 and up. It pays0.10%APY, doesn't charge monthly fees, and requires $250 to open. However, the only case for opening a Golden Checking account is if you can't qualify for earning interest with Rewards Checking and don't spend enough for Cashback Checking to be worth it.
High-yield savings account
The Axos High-Yield Savings account is a competitive high-yield savings account that currently pays 0.61% APY. There's no minimum balance requirement or monthly fees. You also get a free ATM card upon request, and the minimum balance to open an account is $250.
Your APY remains at 0.61% up to $25,000. Afterwards, your interest rate varies depending on your cash balance.
The lack of requirements to earn the maximum APY is a plus. If you want even higher interest rates, we suggest checking out Aspiration and Juno for more online banking options.
Money market account
Another Axos product you can use to earn interest on your cash is its money market account (MMA). A money market account is similar to a savings account and lets you earn interest on deposits. These accounts generally pay far more than regular savings accounts and also let you write checks and have debit-card capabilities.
Axos' High-Yield Money Market account currently pays 0.25% APY on all balance tiers.It's FDIC-insured like other Axos products. There isn't a minimum balance requirement, which isn't the case for every MMA. You also get check writing privileges and can access your savings with your debit card. The only catch is the minimum balance to open an account is $1,000.
If you're interested in a MMA, we also recommend looking into Ally since it currently pays a much higher APY.
Managed and self-directed investing
If you want to start investing and keep your banking and brokerage accounts under one roof, Axos could be for you. And the best part is that Axos offers two investing products to cater to active and passive investors:
Self-Directed: Trade stocks and ETFs without paying commissions plus invest in over 10,000 mutual funds at $9.95 per trade. You can also trade options for $1 per contract. Individual, joint, and IRA account options are available as well. And you can upgrade to Axos Elite for $10 per month to get real-time market data, TipRanks research, extended market hours, margin trading, and lower trading fees.
Managed Portfolio: This robo-advisor service from Axos builds portfolios of low-cost ETFs to match your investing goals and risk tolerance. There's a $500 minimum account requirement, and you pay 0.24% in annual management fees. Axos also uses features like automatic rebalancing and tax-loss harvesting just like leading robo-advisors. Plus, investors can pick certain ETFs to include in their portfolios as well, so it's a bit more flexible than some robo-advisors.
The main draw of using Axos to invest is that you can keep your investing and bank accounts under one single company. And if you're mostly trading stocks and ETFs, Axos holds up with other online brokers. But for trading options, we prefer TD Ameritrade or investing apps like Robinhood that charge lower fees.
As for its robo-advisor, Axos is actually cheaper than industry leaders like Betterment and Wealthfront. However, Betterment has a $0 account requirement and offers more ESG investing options. And Wealthfront has more portfolio customization than pretty much any robo-advisor out there, although it also has a $500 minimum requirement.
Read our full review of Axos Invest here
Certificates of deposit (CDs)
If you want predictable returns and low risk, CDs have always been a popular option. And with Axos, you can currently earn 0.20% across a range of CD terms. In fact, terms range from three to 60 months, and you don't pay setup or maintenance fees. Cash is also FDIC-insured and there's a $1,000 minimum to open an account.
You can possibly find higher CD rates if you create a CD ladder with other banks, but it's nice that Axos offers both short-term and long-term CD terms.
Other Axos Bank features
There's a range of personal banking features you can utilize with Axos. Plus, this online bank also offers other products and services like:
Small business banking options
Mortgages and mortgage refinancing
Commercial loans
Personal loans
Home equity loans
Auto loans
World Checking & Savings accounts for frequent travelers ($75,000 minimum balance requirement)
Axos Bank fees and account minimums
Most Axos personal accounts don't charge monthly fees, overdraft fees, and also reimburse your ATM withdrawals. You pay management fees with managed investing portfolios and trading fees on mutual funds and options with Axos Invest. But overall, Axos is an excellent low-fee online bank.
How to contact Axos Bank
You can contact Axos customer support by sending a message once you're logged into your bank account. Customers can also call 844-999-2967 to reach 24/7 personal banking customer support. There's also a live chat widget on Axos' website you can use to get in touch with support.
Note that currently, Axos Bank has a 1.7 star rating on Trustpilot. Many users like Axos for its high interest rates and variety of checking accounts. But slow customer support times and long deposit times for checks are two common complaints.
Is Axos Bank safe and insured?
All deposits with Axos Bank are FDIC insured up to $250,000 through Axos Bank, which helps improve the safety of your funds. It also takes numerous steps to protect your personal and financial information like:
Using SSL encryption
Monitoring banking activities for potential fraud
Using a firewall to prevent unauthorized access
Offering biometric login and two-factor authentication
Overall, we believe Axos is a safe and secure bank that follows the same security practices as other major banks. But you should still use a strong and unique password and monitor your account activity regularly as with any other bank.
Best alternatives
For an online-only bank, Axos has a comprehensive number of products and services. And if you're looking for your first checking account or high APYs for checking and savings accounts, it's an excellent banking option.
That said, if you're interested in a bank with more comprehensive investing options, Axos alternatives like Ally and TD Ameritrade might be superior.
| Highlights | Ally Bank | TD Bank |
| --- | --- | --- |
| Rating | 4/5 | 3.5/5 |
| Accounts | Savings, Checking, Money Market, CDs | Savings, Checking, Money Market, CDs |
| Online deposits | ✅ | ❌ |
| Physical branches | ❌ | ✅ |
| FDIC insurance | ✅ | ✅ |
| ATM reimbursement | ✅ | ❌ |
We like Ally for its high-yield savings account, money market account, and lower investing fees. Its checking account pays a far lower APY than Axos' Rewards Checking can, but for investing through your bank, Ally is one of the best options.
TD Ameritrade is a similar story. It offers more investing options and lower fees than Axos. And the fact you can walk in to a physical location pretty much anywhere in the country is a selling point on the customer service side.
Bottom line
The world of online banks and neobanks is competitive and it seems like new banks spring up overnight. But Axos is a more established player in the space, and its range of checking accounts is a main selling point.
Between these accounts and its competitive high-yield savings and MMA, there are plenty of reasons to consider banking with Axos.
We still prefer some competitors for the investing side of things. But if anything, you can use Axos to open a checking account for your teen, or an Essentials or Rewards checking account, to dodge painful bank fees and earn rewards.