Housing market dynamics
Real estate isn't a complex asset class. Prices are driven by three key factors — mortgage rates, income and inventory. The reason housing dynamics are skewed right now is that one factor has changed rapidly (mortgage rates) while the other two haven't budged much.
The average 30-year mortgage rate in October 2021 was roughly 3%. In October 2022, the average rate surged to 6.66%— more than double. This swing in interest rates has certainly begun to cool demand in the market, with sales of existing homes down over the last seven months consecutively. In August 2022, sales dipped to their lowest level since the pandemic.
However, listings have dropped rapidly too. Many homeowners who locked in low rates for 30 years are reluctant to put their homes on the market and switch to higher rates. As of September, the number of home listings across the U.S. was 42.6% lower than the pre-pandemic average from 2017 to 2019.
Meanwhile, the annual income of the typical American family is stagnant. That means housing has been pushed further out of reach for low-income families while high-income households are bidding on a limited inventory of homes.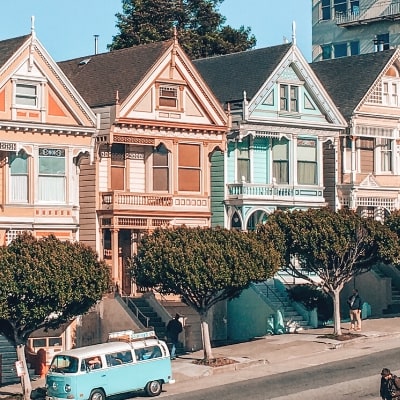 Fundrise helps you invest in real estate without having to buy a house. Let their state-of-the-art technology and in-house experience open the door to new opportunities today.
Sign Up
That leaves two options: move or wait
The current situation leaves just two options for potential homebuyers.
This first is to move. While inventory is tight in most places, 36 out of 50 of the largest metros in the U.S. saw inventory surge last month, according to data published by Realtor.com.
Inventory rose fastest in Phoenix (167.3% higher than last year), Raleigh (166.1% higher), and Nashville (125.3% higher). This could indicate that some parts of the U.S. are likely to see a flood of supply and lower prices.
Exploring more affordable parts of the country may be the key to achieving homeownership.
The second option would be to wait it out. Right now, economists are divided about what comes next for home prices. Skylar Olsen, chief economist at Zillow, told Money.com he believes prices are likely to remain stagnant or rise modestly by 2023. Considering the tight supply currently, Nadia Evangelou senior economist & director of forecasting at the National Association of Realtors seconded Olsen's forecast.
However, other economists at Moody's told Fortune they anticipate house prices could drop by 15%, while some of the most overvalued real estate could see declines as deep as 30%. A correction that severe would certainly have a positive impact on housing affordability. And if it coincides with a much-anticipated "Fed Pivot" on interest rates, affordability could rapidly improve.
There's no way to know for sure. But if you're optimistic about home prices declining, it could be a good idea to wait for better affordability next year.
Sponsored
Get a piece of commercial real estate
Enhance your portfolio with high-return commercial real estate
First National Realty Partners is the #1 option for accredited investors seeking superior risk-adjusted returns in the grocery-anchored necessity-based retail space.
While commercial real estate has always been reserved for a few elite investors, outperforming the S&P 500 over a 25-year period, First National Realty Partners allows you to access institutional-quality commercial real estate investments — without the leg work of finding deals yourself.
Invest with First National Realty Partners now.