'A lot of risk'
Homeowners are getting increasingly tempted by HELOCs.
RubyHome, a luxury real estate brokerage, analyzed web traffic data and found that searches for the term "HELOC" were up 305% over the past year.
In Ramey's opinion, taking out a HELOC is just "moving debt from one pile to another, with a lot of risk."
The risk is the potential of losing the home. HELOCs are backed by the value of the underlying real estate, so failing to pay back the loan could result in foreclosure. And it's not as if HELOCs necessarily come cheaper than traditional mortgages.
For one thing, their interest rates are variable. "You know what they base the interest rate on?" Ramsey said on another recent episode of his show. "Whatever they feel like. It's completely variable and not indexed to any outside thing."
Sure enough, recent data supports Ramsey's objections: the average interest rate on a HELOC is 9.02% while an average 30-year fixed mortgage is less than 8%, according to the Federal Reserve.
Stop overpaying for home insurance
Home insurance is an essential expense – one that can often be pricey. You can lower your monthly recurring expenses by finding a more economical alternative for home insurance.
SmartFinancial can help you do just that. SmartFinancial's online marketplace of vetted home insurance providers allows you to quickly shop around for rates from the country's top insurance companies, and ensure you're paying the lowest price possible for your home insurance.
Explore better rates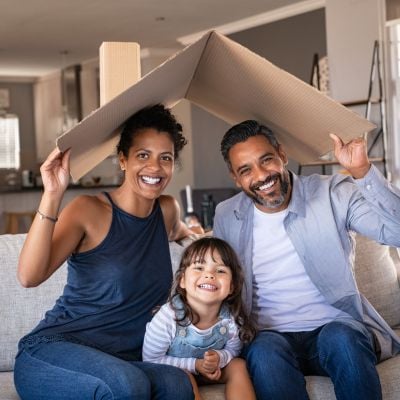 Why are HELOCs so popular?
A report by the Urban Institute suggests that HELOC lenders could still be benefiting from the recently lapsed cheap-credit era. Homeowners who in previous years locked into ultra-low long-term mortgage rates don't want to give those rates up by selling their homes.
So those who want to access their accumulated equity may be more likely to seek other methods — namely, temporary lines of credit at higher rates — so as to protect their cheap primary mortgage.
Ramsey doesn't buy that thinking. In fact, he's not a fan of any housing debt. He advises people to limit their lifestyle upgrades and pay in cash for property when possible.
"Ultimately we want to be 100% debt-free," he said during the episode. "Instead of figuring out a time when debt is OK, let's figure out a way to avoid it."
Indeed, about 23% of homeowners in the U.S. own their property free and clear without any mortgage. These lucky households are insulated from the credit cycle. Higher mortgage rates don't impact them. They also have the flexibility to sell their home and buy another for cash, which is what Ramsey suggests most people aspire to.
Sponsored
Follow These Steps if you Want to Retire Early
Secure your financial future with a tailored plan to maximize investments, navigate taxes, and retire comfortably.
Zoe Financial is an online platform that can match you with a network of vetted fiduciary advisors who are evaluated based on their credentials, education, experience, and pricing. The best part? - there is no fee to find an advisor.