Truebill vs. Mint 2023: Which budgeting app is best?
🗓️
Updated: July 07, 2022
We adhere to strict standards of editorial integrity to help you make decisions with confidence. Please be aware that some (or all) products and services linked in this article are from our sponsors.
We adhere to strict standards of editorial integrity to help you make decisions with confidence. Please be aware that some (or all) products and services linked in this article are from our sponsors.
There are plenty of personal finance apps out there that can help you create a budget and track your spending. Truebill and Mint are two popular examples and you may be trying to pick the right app between the two.
Both Mint and Truebill let you create custom budgets and monitor your monthly spending. But there are massive differences in pricing. Plus, Mint almost solely focuses on budgeting whereas Truebill has other features, like subscription cancellations and a bill negotiation service.
To help you make the right choice, we're breaking down everything you need to know about Truebill vs. Mint.
About Mint
Mint.com is a free personal finance and budgeting app that began in 2006. The platform was acquired by Intuit in 2009 and has continued to be one of the most popular budgeting apps on the market.
With Mint, you can consolidate all of your financial accounts under one roof, getting a comprehensive view of your finances. Plus, it has excellent free budgeting tools to help you plan and track your monthly spending.
About Truebill
Truebill is a budgeting and bill negotiation app that began in 2015. The premise of the app is to help its users monitor their spending and to automatically put money aside every month by using AI. And through its concierge team, Premium users get perks like bill negotiation, potentially reducing monthly expenses like phone and cable bills.
According to its website, Truebill has helped its 3.4+ million users save over $245 million. It's also helped cancel $155+ million in unused subscription fees for these members as well.
Truebill vs. Mint: feature comparison
Mint is a budgeting app first and foremost, whereas Truebill is a personal finance app with budgeting, credit reporting, and bill negotiation features.
This means Mint is more comprehensive for creating custom budgets and managing your spending, but Truebill has more features overall.
| Feature | Mint | Truebill |
| --- | --- | --- |
| Free custom budget categories | Yes | No |
| Bill payments | No | No |
| Subscription monitoring and canceling | No | Yes |
| Credit reports and monitoring | Yes | Yes |
| Bill negotiation | No | Yes |
| Investment tracking | Yes | No |
| Price | Free | Free or $3-$12 for Truebill Premium |
| Best for | Free budgeting and spending tracking | Reducing monthly spending and lowering bills |
Our Truebill vs. Mint breakdown is going to examine what features these apps have in common as well their unique features.
Budgeting
Both Mint and Truebill have budgeting features, but Mint certainly focuses on helping you create a budget whereas this is just one aspect of using Truebill.
With Mint, you start by syncing your bank account to the app so it can download all of your transactions and account values. From there, transactions get automatically assigned various categories, like entertainment, rent, and food. You can also create additional categories to make your budget more specific and edit any automatically-assigned values that are inaccurate.
What's nice is that Mint's app shows a total breakdown of your monthly budget, how much you've spent, and how much room you have remaining. It also lets you break down spending by category so you know if you're spending within your means or not.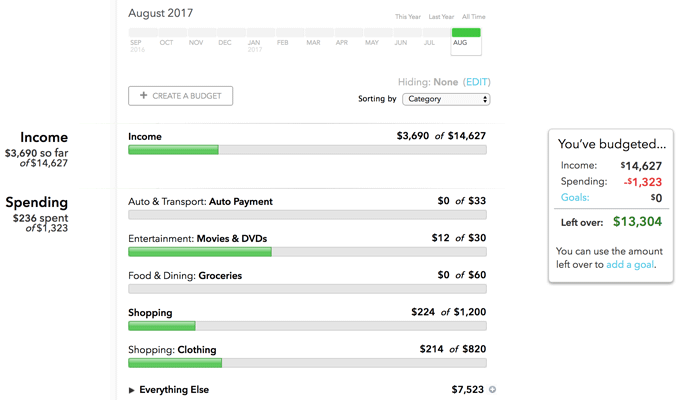 Truebill has a similar budgeting system to Mint. Once you connect your bank account, the app automatically categorizes spending into various categories. It also highlights historical spending patterns, so you can spot if you're spending too much on a certain category. The app calculates "spending allowances" as well to help avoid monthly overspending on different categories.
Overall, budgeting features are similar between both Truebill and Mint. Just note that Truebill is mobile-app focused and has a pretty sparse desktop version. In contrast, Mint works similarly on your phone and on your computer.
Also note that the free version of Truebill doesn't let you create unlimited budgets or custom budget categories, which is a significant downside versus Mint.
Winner: Mint has more free budgeting tools than Truebill.
Goal setting
Alongside budgeting, Mint and Truebill let you work towards different savings goals in addition to creating an overall budget.
With Mint, the goal system is very simple. You create goals like saving up for a vacation or becoming debt free and then track your progress towards these goals. You can assign goals to different accounts, like a high-yield savings account you have connected, or leave goals unassigned.
In contrast, Truebill takes a more granular approach to helping you reach different financial goals. Its spending insights tool breaks down your monthly income, bills you've paid, current spending amount, and total amount of discretionary spending you have left.
Premium users can then create goals within its Smart Savings account, and there are three types of goals you can create:
1.

Emergency fund: This goal helps you build an emergency fund of $1,000 as fast as possible.

2.

Safety net: Once you create an emergency fund, this goal helps you save three months worth of expenses.

3.

Custom: Create your own goal, like buying a new car or saving for a wedding.
What's nice is that Truebill provides two ways to fund your new goals. The first is to use Smart Savings which uses AI to transfer small amounts of money from your checking account to your Smart Savings account when it makes sense. This is similar to microsavings apps like Digit, and Truebill doesn't transfer more than you can afford to save to avoid overdraft fees. Alternatively, the second funding method is to set up custom transfers.
Winner: Mint has better goal setting tools since Truebill requires paying for Smart Savings.
Credit score reports and monitoring
One perk of Mint is that you can get free credit score reports through its partnership with TransUnion. You also get free monitoring, and Mint sends you updates whenever TransUnion receives new credit information.
Premium Truebill users also get credit reports and real-time alerts for changes impacting your credit score. But we prefer Mint over Truebill for credit reporting and monitoring since it's free.
Winner: Mint offers free credit reports and monitoring.
Pricing and paid plans
One of the main differences between Mint and Truebill is that the majority of Mint features are free whereas Truebill Premium unlocks many more budgeting and saving tools.
With Mint, you get pretty much every feature for free. You can upgrade to Mint Premium for $4.99 per month. This plan removes ads and provides some more data visualization tools and breakdowns. You also get a bill negotiation service through its partnership with BillShark. But for most users, there's no point in paying for Mint.
In comparison, Truebill Premium costs between $3 and $12 per month, and you choose how much you pay with its "pay what's fair" model. If you pay $3 or $4, you pay annually, but it's monthly billing otherwise. The perks you get with Truebill Premium include:
Unlimited budgets and custom budget categories
Premium customer support
Smart Savings accounts to automatically save for your goals
Real-time balance syncing
Credit reports and monitoring
Bill cancelation service
Unfortunately, you really have to pay for Premium if you want to get the most out of Truebill. You can get away with the free plan if you don't care about budget customization or some of the other automatic tools, but it's not nearly as comprehensive as Mint when it's free.
Winner: Truebill has more diverse features but Mint is better if you want to stay free.
Unique Mint features
The main reason to use Mint is its budgeting tools. But this leading budgeting app also has several other useful features like:
Investing & crypto tracking: You can connect your investment accounts to Mint to monitor your investment portfolio. And Mint now partners with Coinbase to let you track Bitcoin holdings.
Net worth tracking: Once you connect all your accounts, you can use Mint to track your net worth.
Bill tracking: You can set up bill monitoring with Mint and have it alert you when due dates are approaching or if funds are low in your account so you don't incur overdraft fees.
Unique Truebill features
Unlike Mint, Truebill doesn't just focus on budgeting. The app has several other unique features that it uses to help cut down on monthly spending:
Cancel subscriptions: One of Truebill's selling points is that it monitors your monthly subscriptions and highlights them so you don't pay for services you don't use. Premium members can have Truebill's concierge team cancel subscriptions on their behalf as well.
Bill negotiation: Premium members can ask Truebill to negotiate better rates for monthly bills like cell, cable, and car insurance payments. All you have to do is add a photo of your bill to the app and ask Truebill to look for a better rate. It never downgrades or removes services to save money. Instead, it tries to get lower rates or account credits. If Truebill finds savings, it charges a success fee of 30% to 60% of the found savings, and you choose how much to pay.
Truecard credit card: Truebill launched a new credit card that premium members can apply to. This card aims to keep credit utilization low and to keep you on track with payments to slowly build your credit score. Cash-back rewards are also coming to the card in the future from select brands.
Mint pros and cons
Pros
The free version of the app includes almost every feature
Create custom budget categories with the free plan
Includes an investment and Bitcoin tracker
Lets you easily track your net worth
Very user-friendly mobile app and also works on desktop
Cons
Account syncing issues are a common complaint and reason people use Mint alternatives
Lacks the money-saving features like bill cancelation and negotiation that Truebill offers
Truebill pros and cons
Pros
Helps you monitor monthly subscriptions to avoid paying for services you don't use
Provides useful spending insights
Can help premium users save money by negotiating better rates on monthly bills
Cons
You have to pay for Truebill Premium to unlock the best features
Not as comprehensive for budgeting as Mint, especially if you stick with the free plan
Truebill vs. Mint: Which budgeting app should you choose?
If you just need a budgeting app to help you monitor your spending and to stay on track, Mint is better than Truebill. The free version of the app has everything you need, including budget category customization which the free version of Truebill lacks. Being able to monitor your investment portfolio and also track your net worth are perks as well.
In contrast, Truebill is better than Mint if you want to start cutting back on monthly spending and need a serious helping hand. The app is useful for keeping on top of subscriptions, and it can help you get lower rates on certain monthly bills. However, be prepared to spend at least $36 per year for the Premium version if you want most of what Truebill offers.
Of course, Mint and Truebill are just two options you have at your disposal. Small business owners might find software like Quicken is superior, especially since it supports bill payments unlike these two apps. And you can also use Empower to track your net worth, budget, and analyze your investment fees.
Hopefully, our Mint vs. Truebill breakdown at least helps you choose a winner between the two services or pick an alternative. If you have experience with either app or a preference, you can let us know in the comments as well!