What is cash stuffing?
The cash stuffing trend isn't anything new, despite going viral on TikTok and making headlines last year. You may have even heard it referred to as the envelope system by money gurus like Dave Ramsey before.
The budgeting method involves taking out cash when you get your paycheck and dividing it into envelopes that are labeled based on your different needs.
This could include your weekly and monthly expenses, like groceries and rent, as well as emergency savings and debt. You can also allocate a certain amount for fun things, such as travel and dining out.
This ensures that you stick to your budget limits instead of simply tapping with your credit card and potentially accruing more debt.
Say you have $150 budgeted for groceries this week. You'll take that cash out of your "groceries" envelope and bring it with you to the store. If your bill ends up above $150, you will be forced to put some items back.
While this process can sound overly simple, it actually works.
According to the Credit Karma study, 89% of Gen Zers have been able to bolster their savings while another 70% have reduced their overall monthly spend by using cash stuffing to manage their money.
Read more: 3 big mistakes people make with cash back credit cards that cost them every time they swipe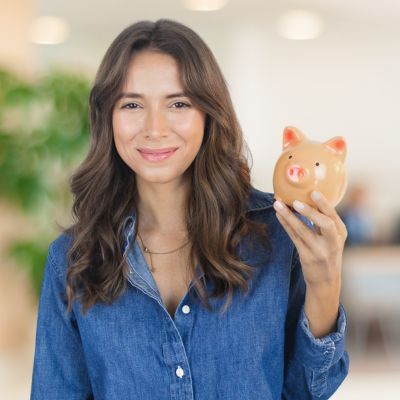 Don't let your money idle in low-interest accounts! Savvy savers are earning up to 10x more interest by keeping their hard-earned cash in a high-yield savings account. Find some of the best options here.
Get Started
How to use this budgeting hack wisely
While cash stuffing can be an incredibly useful tool, there are some downsides to paying with cash instead of a card.
One-in-five study respondents reported using cash more often because it feels like "free money" with no digital trace of the transaction.
Since there's no digital record, like a credit card statement, it can be easy for consumers to fall into the dangerous habit of overspending by taking cash from other envelopes to cover purchases outside of that cash's allotted purpose.
In other words: Stick to the plan.
That said, you'll still avoid pesky fines like bank overdraft charges since you're not spending more than what you have on hand.
Keeping your spending organized this way can help you save for big purchases or even free up money to start investing or to further build your portfolio.
Living an all-cash lifestyle also has the downside of not being tracked by credit bureaus.
It's still important to use a credit card for certain things, since banks and lenders look at your credit score and history when you apply for things like a mortgage, loans or lines of credit.
You may want to consider keeping your credit card for fixed expenses that you would usually pay online like your phone bill and any recurring subscriptions. By using your card in this way, it can be easier to pay off that amount every month so you keep up a good payment history but avoid carrying a high-interest balance over long periods of time.
Sponsored
Kiss Your Credit Card Debt Goodbye
Millions of Americans are struggling to crawl out of debt in the face of record-high interest rates. A personal loan offers lower interest rates and fixed payments, making it a smart choice to consolidate high-interest credit card debt. It helps save money, simplifies payments, and accelerates debt payoff. Credible is a free online service that shows you the best lending options to pay off your credit card debt fast — and save a ton in interest.