The (expense) monster under the kids' beds
Asked to dig deeper, Dave from Philadelphia revealed some eyebrow-raising kiddo expenses: at least $50,000 in daycare tuition for two, plus before- and after-school care, along with paying a nanny in the summer months.
Maybe you're thinking what Ramsey said: "Are they going to Harvard? What the crap!"
The caller admitted it was a pretty fancy school, especially given that his kids were still pre-school age. The average cost of child care in Philadelphia is just above $17,000 per child, slightly more in the suburbs, according to child care website TOOTRiS.
"We're going to take out student loans for the four-year-old," Ramsey teased. "That's what we're coming down to."
Budgeting for cost-effective child care is even more critical considering the expenses many Americans can't readily escape, such as gas, insurance, groceries and utilities. Budgets can play a crucial role in bringing things under control — especially if you start by tallying your last three months of spending. What's costing the most? What are the non-negotiables? Where can painless, sensible cuts be made?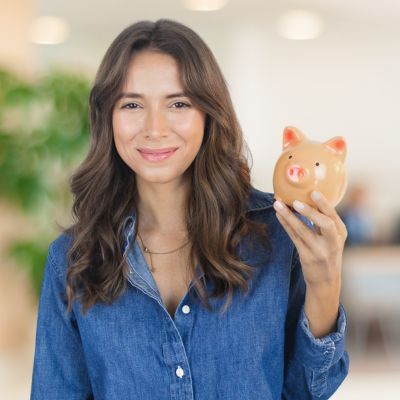 Don't let your money idle in low-interest accounts! Savvy savers are earning up to 10x more interest by keeping their hard-earned cash in a high-yield savings account. Find some of the best options here.
Get Started
What about Ramsey's 'Option C'?
As Ramsey suggested, income from added work can countervail the dollar figure of a loan. Ramsey recommends staying away from loans in general, as taking on a side hustle or even a part-time job while you create an emergency fund can turn the numbers in your favor.
These days, a side hustle can be as simple as renting out an empty room in your home, an unused shed as storage space or even a parking space you might have but don't need.
When to consider a loan
Dave from Philadelphia clearly needed a reality check on his children's child care costs. His family's $180,000 income has relatively little financial drag, and represents more than twice the median income of nearly $71,000 nationwide as of 2021, according to the Census Bureau.
Would a combination of cost cutting and a smaller loan make sense for the time being, then? Perhaps — but only if you avoiding borrowing at a high interest rate. If it's a personal loan you have in mind, shop around. Banks and other loaning agencies want your business, so make them compete to give you the best rate.
Of course, married people who sit down with a neutral party — in this case, a professional financial adviser — will get a much clearer picture in terms of separating needs from wants and waste. After all, no one wants to stay stuck in financial pre-school.
Sponsored
Streamline your debt repayment
Having a single loan to pay off makes it easier to manage your payments, and you can often get a better interest rate than what you might be paying on credit cards and car loans.
Credible is an online marketplace offering personalized loan options based on your unique financial situation.
When you consolidate your debt with a personal loan through Credible, you can roll your payments into one monthly installment. Find a lower interest rate and pay down your debt faster with Credible today.