1. Acknowledge what's outside of your control
In the spirit of her business today — which is all about financial empowerment, specifically for women — Dunlap ended up selling her gumball vending machine business 11 years later. She sold it to another budding entrepreneur, a 10-year-old who also happened to be named Tori.
"I thought everybody knows not to overspend on credit cards and everybody knows how to manage money. Only then did I realize … that financial education was a privilege," she reflects. "For me, that privilege came with a responsibility to start and grow Her First $100K."
Being entrepreneurial and building wealth may seem tricky at a time when many Americans are still feeling the sting of 11 interest rate hikes since March 2022 as the Federal Reserve worked to tame rampant inflation.
The country's collective household debt rose by $16 billion to reach $17.06 trillion in the second quarter of 2023, according to the New York Fed's quarterly debt report, as people struggle to cope with inflation, elevated interest rates and the high cost of living.
Dunlap says it's important to understand those systemic socio-economic challenges and keep things in perspective
"A trillion dollar student debt crisis, rising house prices, stagnating minimum wage, lack of paid family leave — all of these issues have a much bigger impact on your money than your day-to-day choices, whether you know how to budget or not," she explains.
"That's the first thing I always like to acknowledge. … Give yourself a lot of grace and understand that a lot of these things are outside of our control. Only through systemic change do these things actually get better."
Instead of dwelling on those big-ticket items, Dunlap says you should focus on the things you have more control over, like your income and career and how you manage your money.
Kiss Your Credit Card Debt Goodbye
Having a single loan to pay off makes it easier to manage your payments, and you can often get a better interest rate than what you might be paying on credit cards and car loans.
Fiona is an online marketplace offering personalized loan options based on your unique financial situation.
When you consolidate your debt with a personal loan, you can roll your payments into one monthly installment. Find a lower interest rate and pay down your debt faster today.
Get Started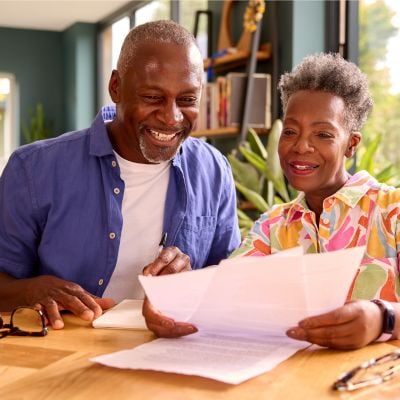 2. Diversify your income
In the same way that businesses seek multiple revenue streams to increase their financial stability and spread out their risk — you should consider diversifying your personal income, according Dunlap.
That doesn't have to mean taking on a second job or a side hustle, at the cost of your spare time or your mental health. Instead, there are lots of financial tools and accounts you can use to put your money to work and generate passive income.
Dunlap says a good place to start is with a high-yield savings account because you'll earn a lot more interest on your money and benefit from greater compound interest — when you earn interest on your interest — than you would with a traditional savings or checking account.
"A lot of people don't think of a savings account as another form of income, but it is — it's passive income," Dunlap explains. "If you can put … even a small amount of money in a bank account with a higher interest rate, you can start growing your wealth.
"Compound interest works regardless of how much money you have, and regardless of your age," she adds. "It's what makes debt suck so hard and what makes investing so magical."
Dunlap says the best way to "build long-term, lasting wealth" is to invest your money — and the earlier you can start doing that, the better. She says tax-friendly investment vehicles like a 401(k) account if your employer offers one, or an individual retirement account (IRA), are great "foundations" for building sustainable wealth.
There are many other accessible ways to invest. For instance, you can invest in individual stocks, or index funds, or even alternative assets like gold or real estate. Whatever investments you choose, Dunlap says it's important to have the right mindset.
"Investing is not a day-to-day thing," says Dunlap. "Investing shouldn't be sexy, it shouldn't be exciting. It should be stable, consistent and over a long period of time. And so, the focus is not perfection, the focus is not getting a bunch of money overnight, the focus should be consistency."
3. Be your own hype person at work
The average person will spend at least one-third of their life at work — so why not turn that to your advantage? One way to be entrepreneurial with your finances is to treat your career like a personal business, according to Dunlap.
If you want to be the standout person at work who is always considered for wage raises, promotions or opportunities, you have to "be your own hype person," she says.
"You are your own business that you're pitching on Shark Tank," Dunlap adds. "You are the brand [and you get to determine] how you present yourself, how you execute and what you stand for.
"It's really important that you acknowledge and showcase to your superiors when you're doing great work — and if that work is not being acknowledged anymore, or not being rewarded, it's time to find a new situation."
Dunlap doesn't buy into the common narrative that job hopping is bad for your career. In fact, she says switching jobs is "one of the only ways you're going to be able to get ahead" in the current labor market.
"It's okay if you're only staying in jobs for two years in this current landscape," she says — stressing that you need to take control and be the boss of your career. "If a career situation is no longer working for you, you're allowed and encouraged to find something different."
Sponsored
Follow These Steps if you Want to Retire Early
Secure your financial future with a tailored plan to maximize investments, navigate taxes, and retire comfortably.
Zoe Financial is an online platform that can match you with a network of vetted fiduciary advisors who are evaluated based on their credentials, education, experience, and pricing. The best part? - there is no fee to find an advisor.