Biden's new move for student loan forgiveness
Biden's new plan to discharge student debt isn't quite the same as his original one.
In fact, the $39 billion in debt being wiped is a result of "fixes" in the count of qualified payments toward the 20-25 year IDR forgiveness finish line. Those whose debt is being forgiven were borrowers enrolled in IDR plans who qualified for forgiveness but didn't receive it earlier.
"For far too long, borrowers fell through the cracks of a broken system that failed to keep accurate track of their progress towards forgiveness," Secretary of Education Miguel Cardona said in a press release.
Biden is also replacing the old Revised Pay As You Earn (REPAYE) IDR plan with the new Saving on a Valuable Education (SAVE) plan. Other student borrowers in repayment will be eligible to enroll in the SAVE plan in late summer, before any monthly payments are due.
The White House says the new plan could cut borrowers' monthly payments from discretionary income in half (10% to 5%). Forgiveness will also be ensured after just 10 years (instead of 20-25 years) for borrowers with original loan balances of $12,000 or less. It also won't charge unpaid interest if you're making your monthly payments and raises the amount of income that is considered non-discretionary and is protected from repayment.
While loan payments resume on Oct. 1, Biden is initiating a 12-month "on-ramp," in which borrowers won't be considered delinquent or reported to credit bureaus if they don't make payments until September 30, 2024 — but will still have their interest accrue.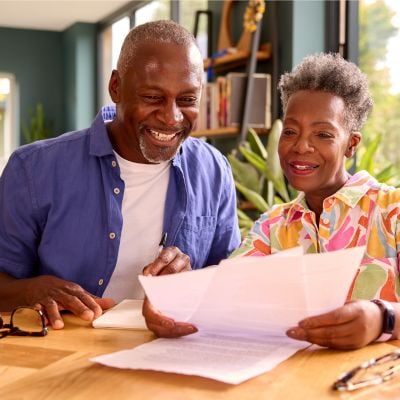 Having a single loan to pay off makes it easier to manage your payments, and you can often get a better interest rate than what you might be paying on credit cards and car loans.
Credible is an online marketplace offering personalized loan options based on your unique financial situation.
When you consolidate your debt with a personal loan through Credible, you can roll your payments into one monthly installment. Find a lower interest rate and pay down your debt faster with Credible today.
Find your rate
Ramsey wants borrowers to get rid of their debt ASAP
Ramsey warns you could be saddled with debt "for the rest of your life" with an IDR plan, and doesn't believe borrowers should be left paying for decades before forgiveness.
Instead, Ramsey proposes that borrowers figure out how much they owe, put themselves on their own repayment schedule and get rid of their debt as soon as possible.
As an example, he says if you owe $10,000 and want to pay off your debt in one year, you'd need to set aside about $833 a month.
He urges borrowers to find the funds and start making their payments as soon as possible — whether that's by tightening your budget or making extra income.
"Leave the cave, kill something and drag it home and get this dadgum thing out of your life," Ramsey said.
When should you stick with an IDR
Getting rid of your student loan debt may not be as simple as Ramsey makes it sound.
The average student loan debt among borrowers who graduated in 2020-21 with a bachelor's degree amounted to $29,100, according to the most recent data from the nonprofit organization CollegeBoard. And that doesn't account for any other debts they may owe, like on their credit cards, cars or even mortgages, which may also come with higher interest rates.
More than 1-in-13 student loan borrowers are behind on other payment obligations, according to the Consumer Financial Protection Bureau (CFPB). Additionally, prior research has indicated that many borrowers deprioritize their student loan payments in favor of other debts.
Low-income borrowers are also more likely to have a non-student loan delinquency compared to moderate- and higher-income borrowers.
"Student loan borrowers who are already having difficulty with their other payment obligations are especially likely to struggle with their student loan payments if they don't get some sort of payment relief like enrolling in an IDR plan," the CFPB said.
Sponsored
This Company Will Help Nearly Anyone Get Rid of Credit Card Debt
Do you feel like paying off your credit card is a constant grind, with no end in sight? You're not alone. A personal loan offers lower interest rates and fixed payments, making it a smart choice to consolidate high-interest credit card debt. It helps save money, simplifies payments, and accelerates debt payoff.
Credible is a free online service that shows you the best lending options to pay off your credit card debt fast — and save a ton in interest.