Microsoft (MSFT)
Microsoft is heavily involved in the AI boom. The tech giant has been an investor in OpenAI, the company that developed ChatGPT, since 2019.
In January, Microsoft announced an extension of its partnership with OpenAI through a "through a multiyear, multibillion-dollar investment."
The online search market has experienced significant disruption in 2023, with the launch of several competing AI chatbots. In February, Microsoft launched Bing Chat, which runs on ChatGPT-4 technology.
After a shaky start — with the accuracy of its findings being called into question — Bing Chat has been in heated competition with Google parent company Alphabet's AI chatbot called Bard — and both bots are up against the original ChatGPT.
Microsoft enjoyed a strong final quarter in 2022, with its revenue increasing by 2% to $52.7 billion. As of April 13, Microsoft's stock performance improved by 4% year over year.
Upon announcing its latest financial results, Microsoft CEO Satya Nadella said: "The next major wave of computing is being born, as the Microsoft Cloud turns the world's most advanced AI models into a new computing platform.
"We are committed to helping our customers use our platforms and tools to do more with less today and innovate for the future in the new era of AI."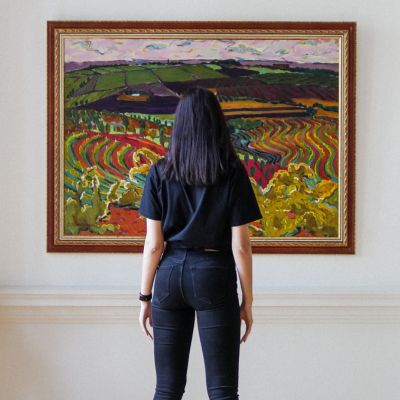 Contemporary art has outperformed the S&P 500 by 131% for the past 26 years. Join the exclusive platform to invest in million-dollar works by artists like Banksy, Basquiat, and more. Get started today and diversify your portfolio with art.
Learn More
Nvidia (NVDA)
Nvidia creates microchips that power AI software and services, with a focus on business solutions.
"AI is at an inflection point, setting up for broad adoption reaching into every industry," said Jensen Huang, founder and CEO of NVIDIA. "From startups to major enterprises, we are seeing accelerated interest in the versatility and capabilities of generative AI."
The Santa Clara-based chipmaker has been touted by some of America's financial giants including Bank of America, Morgan Stanley and Barclays as a top AI stock for 2023.
While Nvidia's revenue for the fiscal year 2023 remained flat from a year ago, at $26.97 billion, the company's stock performance is up 26% year over year, as of April 13.
In October 2022, Nvidia announced a multi-year partnership with Oracle, giving the cloud computing company access to Nvidia's full AI platform, including chips, systems and software.
Oracle Cloud Infrastructure is a key competitor to Amazon Web Services. The e-commerce giant Amazon is another AI stock worth considering, as it uses the technology in its online store and via Alexa, the virtual assistant in Echo devices.
Adobe (ADBE)
Adobe is an American multinational computer software company, headquartered in San Jose, California.
The tech company had a strong start to 2023, achieving record revenue of $4.66 billion in the first quarter.
Adobe stock performance has dropped 10% in the past 12 months — but it remains a top tech stock pick for many analysts.
In September 2022, Adobe acquired the design platform Figma, which expanded its suite of essential designer tools.
Last year, the company announced new AI and machine learning capabilities in its Experience Cloud product, a marketing and analytics suite, and it continued its journey into generative AI, which enables people to prompt technology to create text, images, or other media.
Sponsored
Meet Your Retirement Goals Effortlessly
The road to retirement may seem long, but with WiserAdvisor, you can find a trusted partner to guide you every step of the way
Wiseradvisor matches you with vetted financial advisors that offer personalized advice to help you to make the right choices, invest wisely, and secure the retirement you've always dreamed of. Start planning early, and get your retirement mapped out today.