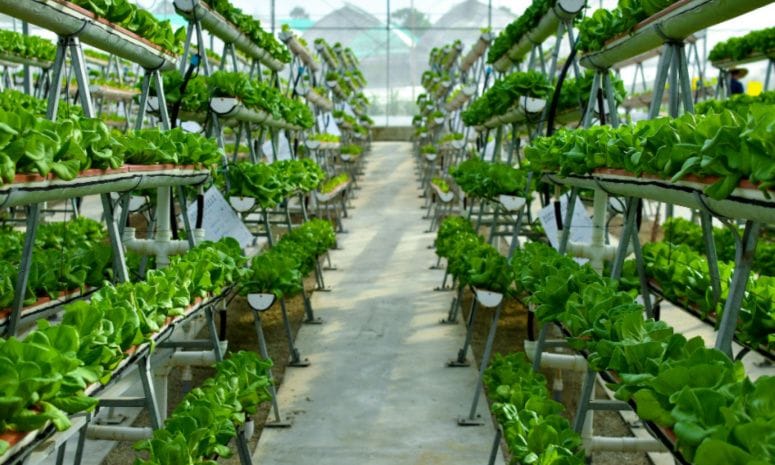 4 best vertical farming stocks to invest in feeding the world
🗓️
Updated: August 04, 2023
We adhere to strict standards of editorial integrity to help you make decisions with confidence. Please be aware that some (or all) products and services linked in this article are from our sponsors.
We adhere to strict standards of editorial integrity to help you make decisions with confidence. Please be aware that some (or all) products and services linked in this article are from our sponsors.
Have you ever seen a farm in real life? They're even longer and flatter than the pictures would indicate. And soon, we're going to run out of land to make more of them.
Thankfully, science has found a way to grow food on the earth's Y axis. "Vertical farms" require significantly less land, water, fertilizer, pesticides, and power — and are clearly the future of food production for humanity.
According to a trend analysis by Grand View Research, the global vertical farming market is expected to grow (heh) from $5.37 billion in 2021 to $33.02 billion by 2030.
That's a CAGR (compound annual growth rate) of 25.5%, vastly outpacing the S&P 500's projected CAGR of just 6% during the same period.
But the companies driving this growth are still new. Heck, there's not even a vertical farming ETF yet. So which are the best vertical farming stocks to buy today? Let's take a look.
4 best vertical farming stocks
AppHarvest
Appalachia-based indoor farming giant already has multiple facilities and relationships with Target, Costco, Kroger, and Walmart
Hydrofarm Holdings
"Shovel supplier to the vertical farming gold rush" designs, manufactures, and distributes a wide array of vertical farming equipment and is already experiencing rising sales.
GrowGeneration
Cannabis farm supplier already showing record growth and sales is poised to profit further from the vertical farming revolution.
Village Farms International
Company with 33 years of experience operating mega greenhouses is expanding into vertical farming while keeping one foot rooted in its existing profit center: cannabis.
1. AppHarvest (APPH)
Vertical farming giant AppHarvest is the brainchild of 36-year-old Jonathan Webb — a former solar tech who isn't shy about his company's ambitions.
"Everybody watch out for Central Appalachia," he told CBS News in 2021, referring to the company's base in the southeast region of the U.S. "We are absolutely going to be one of the largest fruit and vegetable suppliers in the U.S. in the decades to come."
In 2020, AppHarvest launched a 60-acre indoor farm where it now cultivates 800,000 healthy plants — mostly Beefsteak tomatoes — via a hydroponic system that drips nutrients directly into the plants' roots.
Business-wise, Webb's ambitions are already bearing fruit (pun intended). According to Forbes, the company already supplies Target, Walmart, Kroger, Costco, and other major buyers of fresh produce. Furthermore, the company will complete three additional indoor farms by EOY 2022 and plans to have 12 total by 2025.
Granted, the company faces cash flow questions in the interim — questions which surely contributed to its currently-suppressed stock price. Shares of APPH peaked at $35.70 in February 2021 but have since tumbled to around $4.
But the fundamentals (operational success, customers with deep pockets, etc.) seem to indicate a highly undervalued vertical farming stock. After all, once those 12 facilities are operational, the revenue could pour in and make AppHarvest the first big winner of vertical agriculture.
2. Hydrofarm (HYFM)
An old proverb in investing states, "During a gold rush, invest in shovels."
Well, if vertical food production is the next gold rush, Hydrofarm Holdings will be the ones supplying the shovels. The company designs, manufactures, and distributes special equipment and supplies for controlled environment agriculture (CEA).
Even to the layperson, the stuff they make is pretty intriguing. And from an investing perspective, it highlights their understanding and preparedness for the vertical farming revolution. Check out some of the newer Hydrofarm products from a 2021 press release:
Rock Rootinator fortifies plants against negative environmental stress and helps bring sick plants back to health with its updated version of the classic root boosting Super Charge Root Tonic.
Plant Success King Crab increases yields, maximizes phosphorus uptake, and adds life to the root zone.
Roots Organics Terp Tea Microbe Charge delivers beneficial bacteria, mycorrhizal fungi, and a nutrient charge to support vigorous root systems in heavy-feeding, high-yield plants.
And so on.
In terms of sales, Hydrofarm reported Q4 2021 net sales of $110.4 million or 26.3% higher than the prior year period. Furthermore, the company's adjusted EBITDA increased 123.4% to $47.1 million compared to $21.1 million.
In November 2021, Hydrofarm even acquired and cannibalized a competitor: Innovative Growers Equipment, Inc, which supplies horticulture supplies and LED lighting.
Despite the strategic acquisition and a healthy EBITDA, Hydrofarm's stock has absolutely tanked since the December 2020 IPO. The company released shares at $59.90 each, and after a promising pandemic-era rally, they've fallen to $3.35.
But given the company's apparent understanding of vertical farming requirements — and proven ability to supply all the rising contenders in the space — share prices are unlikely to stay that low for long.
3. GrowGeneration (GRWG)
GrowGeneration is like the Home Depot of hydroponic farming supplies. You can head to their online store right now and browse some of their first- and third-party products, from nursery pots to nutrient packages.
The company also operates 64 brick-and-mortar locations in 15 states and plans to continue expanding its physical presence until all 50 states are covered.
True to its name, GrowGeneration is also experiencing some seriously impressive year-to-year growth. Revenue more than doubled from 2020-2021 to $422.5 million, and the company's adjusted EBITDA for the twelve months ended December 31st, 2021, was $34.5 million — an 82% increase from the prior year.
GrowGeneration has also been scooping up other companies, including Indoor Store, LLC, the largest hydroponics retailer in New Mexico, and MMI Agriculture, which specializes in mobile shelving.
So how can a company specializing in vertical farming generate a half-billion in revenue so early in the VF game? Well, here's a hint: most of its customers are in California and Oregon.
Yep, cannabis growers love GrowGeneration, and their patronage has enabled the company to secure a vast early lead in vertical farming supplies for next-generation food production. And considering the company's aggressive expansion moves and heavy investment into its own supply chain, it appears that GrowGeneration is ready to seize the initiative.
4. Village Farms International (VFF)
Village Farms International is a grizzled veteran among fresh-faced greenhorns in the vertical farming world.
The company launched in 1989 and rapidly mastered the art of Vertically Integrated Controlled Environment Farming — or, in simpler terms, building and maintaining "mega greenhouses."
The company's facilities use 97% less land and 86% less water than outdoor growing, generating 20 to 30 times the yield. If that weren't enough to sate the ESG crowd, they primarily source their electricity from renewable methods. And they cycle all carbon dioxide back into the greenhouse for the plants to convert into oxygen.
Judging by the slide below from their Q1 2022 investor relations presentation, Village Farms seems well aware that the short-term demand for vertically-farmed produce is still somewhat unknown. After all, for the moment, North America's top grocers can still source most of their produce from traditional farming methods.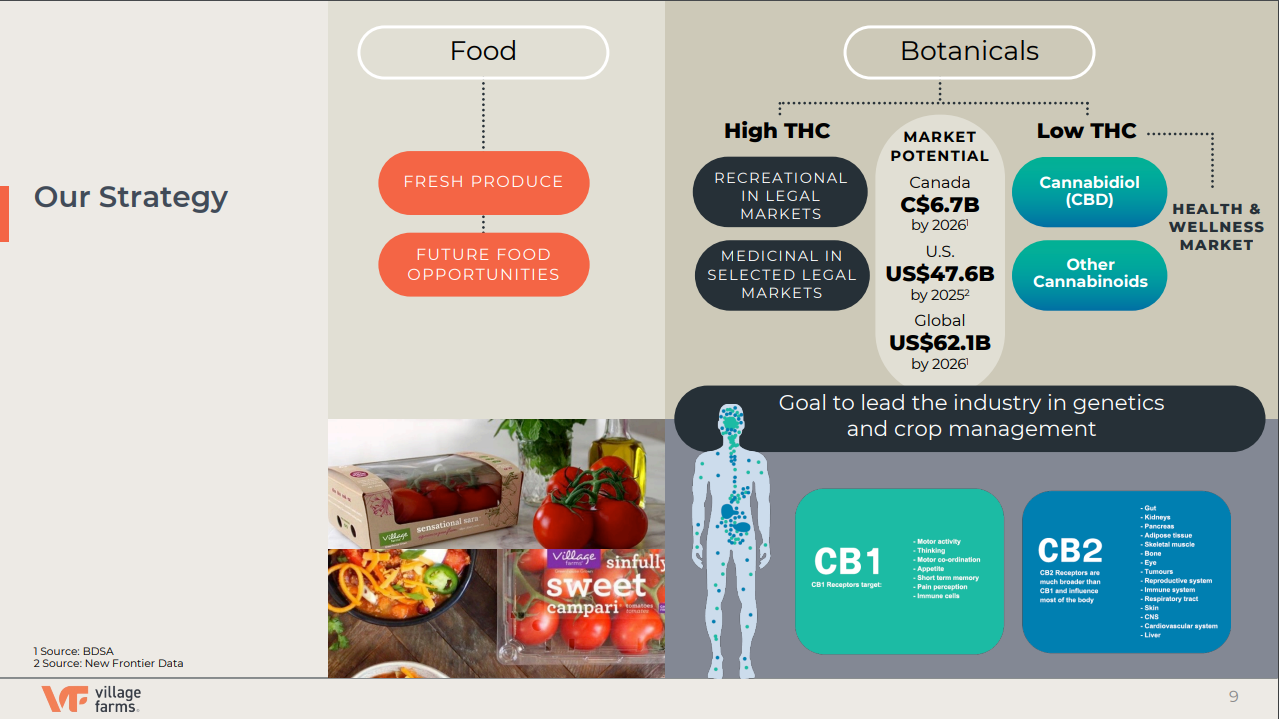 That's why they're going to keep one foot firmly planted in their existing profit center — botanicals — as the vertical farming revolution unfolds. As illustrated on the slide, the total global market potential for cannabis will grow to $62.1 billion by 2026. And with hundreds of acres of ultra-efficient indoor (and legal) THC operations, Village Farms is poised to share in that growth and rebound from its slumped share price of just $3.17.
What is vertical farming?
In its simplest form, vertical farming is exactly what it sounds like: farming up instead of out.
The concept was born in 1999 when Dr. Dickson Despommier, professor of Public and Environmental Health at Columbia University, designed a "skyscraper farm" with his students that could theoretically feed 50,000 people.
According to the UN, the total population of the human race will explode to 9.7 billion by 2050. So, to feed everyone, Dr. Despommier estimates that we'll need another 10 hectares worth of farms (roughly 1.2x the size of Brazil).
But where are we going to find it? After all, 80% of the world's arable land is already being farmed, says Dr. D.
It's time to look up.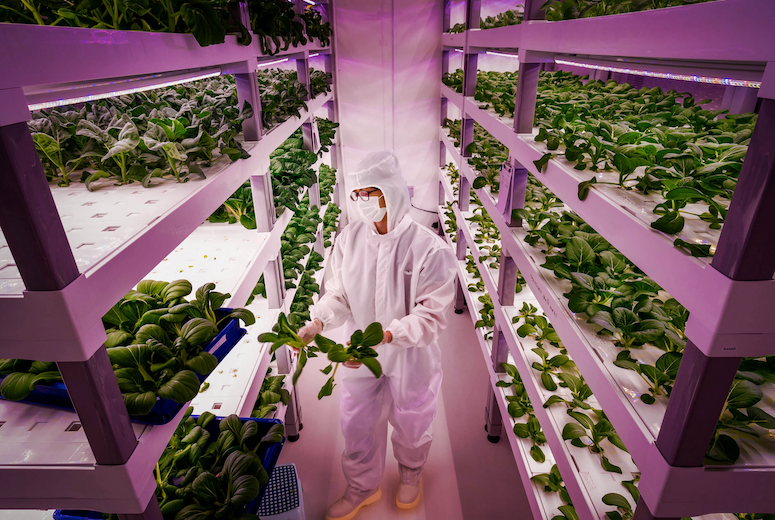 Dr. Despommier's concept of "skyscraper farms" caught on quickly, and between 2014 and 2020, over $1.8 billion was invested into vertical farming startups.
These companies are experimenting with methods including:
Hydroponics: the practice of growing plants without soil by submerging them in a nutrient-rich solution.
Aquaponics: the practice of adding marine life to a hydroponic farm for a "closed loop" where the fish fertilize the plants, and the plants create a healthy environment for the fish.
Aeroponics: a NASA-borne alternative to hydroponics, uses misting techniques instead of submerging the plants in liquid solution.
So far, none of the three main vertical farming methods seems objectively superior. A 2017 study published in the American Academic Scientific Research Journal for Engineering, Technology, and Sciences found that each method had its pros and con.
But the critical takeaway is that all three methods "require less water, less fertilizer and less space which will increase the yield per unit area." In essence, vertical farming seems to work even better than intended.
This raises another big question…
Should you invest in vertical farming stocks?
To echo points from the intro, the vertical farming market's projected CAGR (compound annual growth rate) is expected to explode, averaging 25.5% through 2030. That's 4.25 times the expected CAGR of the S&P 500.
That said, projected sector growth doesn't always translate to individual asset growth. Since vertical farming is so new — and so many players are still private — you might be wary of investing in some of these trailblazers. Some might even say that investing in NEW companies playing with NEW tech falls under speculative investing.
But on the flip side, vertical farming is about as ESG as it gets. And historically speaking, investing in ESG companies isn't just good citizenship; it's a good investing strategy.
Say what you will about BlackRock, but they're darn good at investing and trend analysis. They say, "We believe that a key component of the outperformance we predict will be driven by a vast reallocation of capital toward sustainable assets and strategies in the coming years."
Here are some alternatives if you buy into vertical farming but are nervous about exposing your portfolio to the ups and downs of individual assets, especially spendy young companies with low EBITDA.
Other ways to invest in vertical farming
How else can you invest in vertical farming without too much exposure to a growing but untested market?
Blue chips that invest in vertical farming
An indirect investment in vertical farming through the blue chips that support them can serve two purposes.
First, it insulates your portfolio from the staggering ups and downs of the vertical farming market. Bluntly speaking, investors who bought into vertical farming at its pandemic-era peak could now face a 95% loss. Blue chips rarely fall that far.
Second, it enables you to get a little indirect exposure to vertical farming companies that have yet to go public. Many companies have no choice but to solicit nine-figure seed rounds from big corporations because of the significant upfront costs of establishing a vertical farm. In turn, these companies get early access to a new form of food supply and a glowing ESG PR boost.
A perfect example is Walmart's (WMT investment in Plenty. I think this sound byte from Charles Redfield, Wally World's chief merchandising officer, sums it up perfectly:
"At Walmart, we are focused on identifying and investing in innovative food solutions to bring our customers the freshest, highest-quality foods at the best prices. We believe Plenty is a proven leader in a new era of agriculture, one that offers pesticide-free, peak-flavor produce to shoppers every day of the year."
Food and agriculture ETFs
While there's no vertical farming ETF available yet (although I'm sure the SEC has a few proposals on their desk), here are a few food/tech/agriculture ETFs to consider.
First, there's the closest thing we have to a vertical farming ETF: the VanEck Future of Food ETF (YUMY). The fund tracks the "agricultural transition," Its daily holdings include two vertical farming stocks: AppHarvest and Hydrofarm.
There's also the Global X AgTech & Food Innovation ETF (KROP), which includes AppHarvest, Hydrofoam, Beyond Meat (BYND), and more.
The bottom line
Humanity needs vertical farming and, by extension, the growth and expansion of the companies on this list. Investors who buy shares of these intrepid companies will support the future of the planet. And they may enjoy some serious returns in the process.
Looking to Invest in Socially-Responsible Portfolios? Check Out These Robo-Advisors and Digital Wealth Managers.
| Highlights | Empower | Betterment | Wealthfront |
| --- | --- | --- | --- |
| Rating | 4.8/5 | 4.5/5 | 4.5/5 |
| Minimum to open account | $100,000 | $10 | $500 |
| 401(k) assistance | ✔️ | ✔️ | ❌ |
| Two-factor auth. | ✔️ | ✔️ | ✔️ |
| Advice options | Automated, Human Assisted | Automated, Human Assisted | Automated |
| Socially responsible investing | ✔️ | ✔️ | ✔️ |
| Sign up | Sign up | Sign up | Sign up |
| Review | Empower review | Betterment review | Wealthfront review |
Further reading: