Buy physical nickel
Nickel plays an essential role in our daily lives and is used in coins, mobile phones, medical equipment, transportation and in the production of stainless steel and other alloys.
It is an important commodity and a good investment opportunity for those who aren't phased by cyclical pricing swings and peaks and troughs due to changes in supply and demand.
The most direct way to invest in nickel is to buy the actual nickel bullion in the form of coins or bars.
Nickel prices averaged $26,728 per metric ton in February, according to Focus Economics, up 11.3% year over year, but down 5.5% from January's average price of $28,271.
The global nickel market is projected to grow from $36.27 billion in 2021 to $59.14 billion in 2028 at a compound annual growth rate of 7.3%, according to Fortune Business Insights.
While buying physical metal might be tempting, it's important to remember that storing nickel of any material value would likely be challenging.
Nickel is a heavy metal which is low in value compared to its weight, so you would need a large storage facility with good security.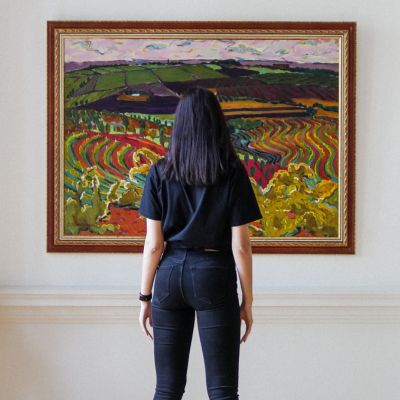 Contemporary art has outperformed the S&P 500 by 131% for the past 26 years. Join the exclusive platform to invest in million-dollar works by artists like Banksy, Basquiat, and more. Get started today and diversify your portfolio with art.
Learn More
Invest in nickel stocks
You can invest in nickel without the hassle of physically owning and securing it by purchasing shares of nickel mining companies on the stock market.
One nickel producer to consider is mining giant Vale S.A. (VALE), a mining conglomerate headquartered in Brazil, which also mines in Canada, Indonesia, and New Caledonia.
Vale claims to be the largest nickel producer in the world — a title it gained following sanctions on Russia-based Nornickel. The company also mines copper and cobalt minerals, both of which are essential in the production of electric cars.
BHP Group (BHP) is one of Vale's close competitors, with nickel mining and production stretching across five continents: Asia, Europe, Australia, and North and South America.
In addition to nickel mining and production, BHP also mines iron ore, gold, copper, and many other metals.
You can easily invest in commodity stocks through any number of investing apps — a few will even give you a free stock just for signing up.
Invest in nickel ETFs
Nickel production companies are acutely sensitive to changes in supply and demand — and some companies are able to handle dips better than others.
To avoid the uncertainty that comes with investing in a particular company, you might consider buying into a nickel exchange-traded fund (ETF) to get wider market exposure.
Generally, ETFs have low management fees, and sometimes you can save more money by buying into funds through an investment app.
One mega fund to consider is the SPDR S&P Metals & Mining ETF (XME), which has $2.1 billion in assets under management and annual fees of just 0.35%.
This ETF is made up of 33 stocks that feature in the S&P metals and mining subindex, so it allows you to invest in other metal production stocks in addition to nickel.
If you're most interested in mining stocks, then the iShares MSCI Global Metals & Mining Producers ETF (PICK) might be a good option for you.
With $1.3 billion of assets under management and annual fees of 0.39%, this ETF features 251 stocks, including the leading nickel miners BHP, Glencore and Vale.
Sponsored
Meet Your Retirement Goals Effortlessly
The road to retirement may seem long, but with WiserAdvisor, you can find a trusted partner to guide you every step of the way
Wiseradvisor matches you with vetted financial advisors that offer personalized advice to help you to make the right choices, invest wisely, and secure the retirement you've always dreamed of. Start planning early, and get your retirement mapped out today.