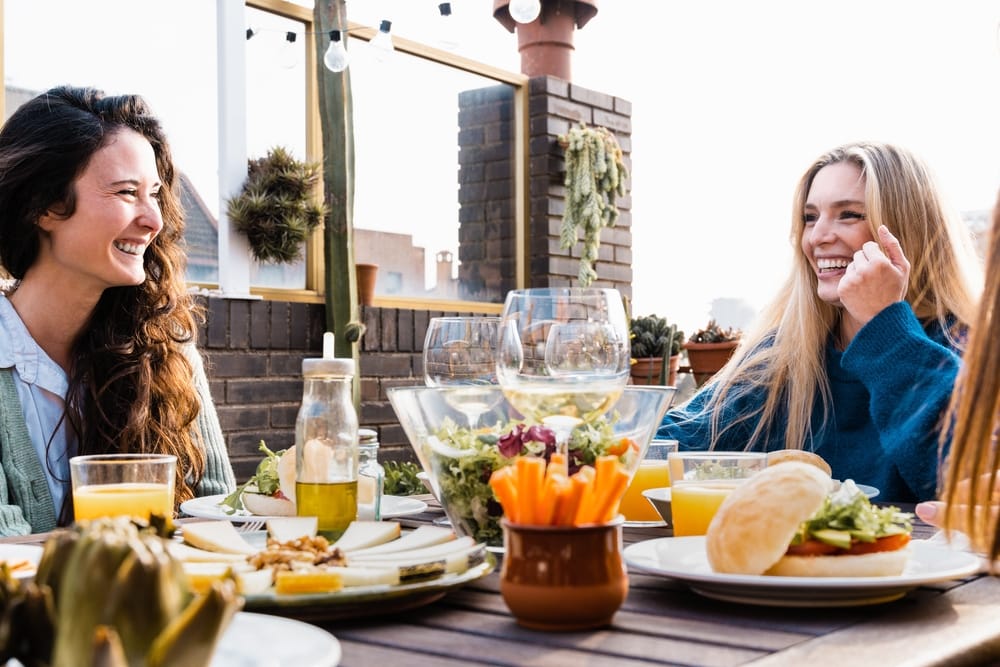 5 best vegan stocks to invest in plant-based foods
Nuva Frames / Shutterstock
We adhere to strict standards of editorial integrity to help you make decisions with confidence. Please be aware that some (or all) products and services linked in this article are from our sponsors.
We adhere to strict standards of editorial integrity to help you make decisions with confidence. Please be aware that some (or all) products and services linked in this article are from our sponsors.
Experts predict that we're on the cusp of a vegan food revolution.
The plant-based food market – valued at $29.4 billion in 2020 – is projected to explode to $162 billion by 2030. Already, many suppliers in this space are seeing record sales numbers. Meanwhile, partnerships they planted with major mainstream retailers in the mid-2010s are finally bearing fruit.
It appears that vegans and non-vegans alike are starting to seriously appreciate plant-based food. Vegetarians, flexitarians, pescatarians, and omnivores like myself are all seeing the value in cutting meat, from improved health to increased animal welfare, to slowing the effects of climate change.
But which companies will be at the forefront of the vegan food revolution?
Here are five plant-based food stocks to invest in before the revolution takes off.
Note: all stock prices are as of market close on June 13, 2023.
The five best vegan stocks
Beyond Meat
With share prices currently suppressed by bad PR, this plant-based titan could rapidly recover thanks to lucrative new partnerships.
Else Nutrition
Israeli maker of vegan baby food is experiencing soaring sales even before capitalizing on new retail partnerships.
Impossible Foods
While likely overvalued on new issue day, Impossible Foods shares' will likely soar long-term given the company's expansive retail/distribution network.
Odd Burger
This fast-growing Canadian fast food chain has plans for U.S. expansion and could become the vegan McDonald's.
Oatly
After falling 90% since its IPO, the king of oat milk could rebound after a nine-figure marketing campaign.
1. Beyond Meat (BYND)
Current price: $13.42
12-month high: $38.26
12-month low: $10.35
1-year target: $10.67
Market capitalization: $857.099M
Despite backing from Bill Gates — and enthusiastic support from Snoop Dogg and Leonardo DiCaprio — plant-based food titan Beyond Meat had an abysmal 2022. The meat packing industry (which also handles plant-based meats) hasn't fully recovered, the McPlant was a McFailure, and one of their top executives bit a man on the nose.
And yet, the fact remains that no other supplier of plant-based alternative meat has the partnerships or distribution channels already in place to dominate the vegan food revolution. Beyond Meat has existing relationships with Yum Brands, PepsiCo, and McDonald's, and although the stock is currently on life support, it could easily spring out of the teens as soon as the market is more hungry for meatless meats.
If meaty meat stocks are more your speed >>> How to invest in lab-grown meat: 5 best companies to invest in
2. Else Nutrition (BABYF)
Current price: $0.56
12-month high: $0.93
12-month low: $0.39
1-year target: N/A
Market capitalization: $62.293M

I almost never include penny stocks on these lists for a variety of reasons, some of which you've probably heard on Wolf of Wall Street. They're speculative, less regulated, and the companies listed don't have to provide the same rigorous financials that NYSE-listed companies do.
And yet, for $0.56 a share, Else Nutrition could be worth the inherent risk. Simply put, this Israeli company makes vegan baby food. And it's not a bad time to be in the vegan baby food business, considering the number of vegans in the U.S. has increased by 3,000% over the last 15 years — and they're starting to have children.
Looking to get ahead of the trend, Walmart, Kroger, and Sprouts have all started offering Else food products.
With an early lead in a hot niche, Else could be many investors' first Canadian penny stock.
3. Impossible Foods
Beyond Meat and Impossible Foods are the Coke and Pepsi of plant-based meat. They're direct rivals with similar products, networks, and goals of world domination. However, while Beyond Meat went public back in May of 2019, Impossible Foods has remained private since 2011, living off $2.1 billion in VC/angel funding.
But despite sitting on a pile of cash, CEO Pat Brown has announced his intent to go public ASAP, giving the "millions of non-billionaires" who support the company a chance to share in the spoils. And spoils are there to be had, with 50% revenue growth in 2022 according to the company.
As with most IPOs, shares of Impossible Foods may be overvalued at launch. I bet a few VCs will even short it if they can find willing lenders.
But in the long term, things will heat up. It's worth repeating that the vegan market is only going up: Bloomberg Intelligence estimates the vegan food market will explode from 29.4B in 2020 to $162B by 2030. And considering Impossible Foods' cash flow, partnerships, and aggressive R&D, the stock is poised to vindicate long-term holders.
Current price: $0.11
12-month high: $0.50
12-month low: $0.11

1-year target: N/A
Market capitalization: $10.513M

One of the most-cited reasons for bearish sentiment towards vegan stocks is a perceived lack of consumer interest. After all, McDonald's McPlant was a huge flop, , sales of the Impossible Whopper are trailing off, and Cracker Barrel's Impossible Sausage has been called "overly woke" for the Southern chain.
But the problem is simple: Vegans don't like supporting chains that also sell meat (for obvious reasons).
Why is Odd Burger thriving in Canada?
Like the Five Guys of vegan food, Odd Burger has a simple, plant-based menu that's resonating with vegans and curious diners alike. Having nailed a proof of concept in 2017, the company has laid the groundwork for a major expansion. Through partnerships with Starke Investments and Sai-Ganesh Enterprises, they're on track to open 92 total locations in Canada, with plans for U.S. franchises in the future.
The company also operates its own manufacturing division under the name Preposterous Foods, so retail sales and partnerships aren't impossible.
All things considered, Odd Burger has the potential to become the first vegan fast food chain to go global, feeding plant-minded diners in airports, stadiums, and the drive-thru at 2 a.m. And considering you can currently buy 20 shares for less than the cost of their Famous Burger, the penny stock could be a lucrative long-term investment.
Related: Best platforms for penny stock trading
Current price: $2.06
12-month high: $4.10
12-month low: $1.36

1-year target: $4.53
Market capitalization: $1.185B

Vegan food stocks seem to fall into one of two categories:
1.

Canadian penny stocks that could explore, or

2.

U.S. IPOs that tanked 90%.

Oatly falls squarely in the latter category. Having IPO'd at $17 in May, 2021, shares of Oatly have been skiing down a black diamond ever since. As of this writing, shares are trading for just $1.96.
So what happened to the Sweden-based king of oat milk?
Most point to a grim Q2 2022 earnings report with rising costs and widening losses. Supply chain woes and stalled adoption rates remain headaches for Oatly, as dairy drinkers are less keen on trying a pricy alternative – especially during high inflation.
It all led to an EBITDA (earnings before interest, taxes, depreciation, and amortization) loss of $62.6 million compared to $43.5 million in the prior year period, and a fresh wave of bearish sentiment.
But one could argue that Oatly's woes are temporary. After all, the global plant-based milk market is expected to expand from $35 billion in 2021 to $123.1 billion by 2030. And Oatly's supply chain could become untangled just in time to take pole position, maximize their existing partnerships with Starbucks and supermarkets, and become the vegan world's go-to dairy alternative.
Other ways to invest in vegan/plant-based food companies?
Between penny stocks and floundering IPOs, you've probably gathered that vegan stocks are pretty speculative at this point. So how can you invest in the vegan food revolution without stepping outside of your risk tolerance?
Vegan ETFs
If you're looking for an ETF that contains all natural plant-based ingredients, look no further than a vegan ETF. At the time of this writing you have two choices:
The VegTech Plant-Based Innovation & Climate ETF (EATV) contains 41 holdings chosen for their dedication to weaning society off of animal products and greenhouse gases. Four of five stocks on this list are included, with the obvious exception of privately-held Impossible Foods.
The US Vegan Climate ETF (VEGN) has 252 holdings and a slightly lower expense ration than EATV (0.60% versus 0.75%). I'd call it the more conservative pick of the two, considering most of its top holdings are blue chips invested in vegan/climate initiatives, such as Tesla and Google. Still it'll lend some measurable vegan stock exposure to an otherwise omnivorous portfolio.
ESG Portfolios
The other alternative is to simply invest in the ESG (environmental, social, and governance) portfolios curated by your preferred trading platform or robo-advisor. It's becoming increasingly in vogue for brokerages to offer these portfolios, given the rising demand from young investors for more socially-responsible investing opportunities.
These ESG portfolios aren't just a cynical attempt to placate Gen Z, either; experienced investors know that ESG companies tend to outperform the market. So if you're seeking some exposure to vegan stocks, see if your brokerage offers a food-oriented ESG portfolio.
Should you invest in vegan/plant-based food companies?
Though both are heavily ESG, vegan stocks and vertical farming stocks are different in one key way:
With vertical farming stocks, the demand for product and innovation vastly outpaced the supply. With vegan food stocks, it's the other way around.
Big players like Impossible Foods and Beyond Meat simply showed up too early to the party, when nobody outside of, well, vegans could appreciate what they were bringing to the table. Pea-based burgers aren't just good for your digestion; they're good for the earth.
Now that demand is finally rising, these companies are poised to experience meteoric growth. They already have the products, partnerships, and supply chain ready.
All they need is hungry clients.
So, in a word, yes; now is a good time to buy vegan stocks, especially while other investors mistakenly think they're flatlining.
Related: How to tell if the market is overvalued or undervalued
The bottom line: the planet's going plant-based, with profits to follow
Vegan stocks are a niche with ESG investing that shouldn't be overlooked. Many expect demand for plant-based food to soon skyrocket worldwide. And, so far, the companies listed above are doing the best jobs of proving they'll be able to meet it.
Other stocks to invest in the future: