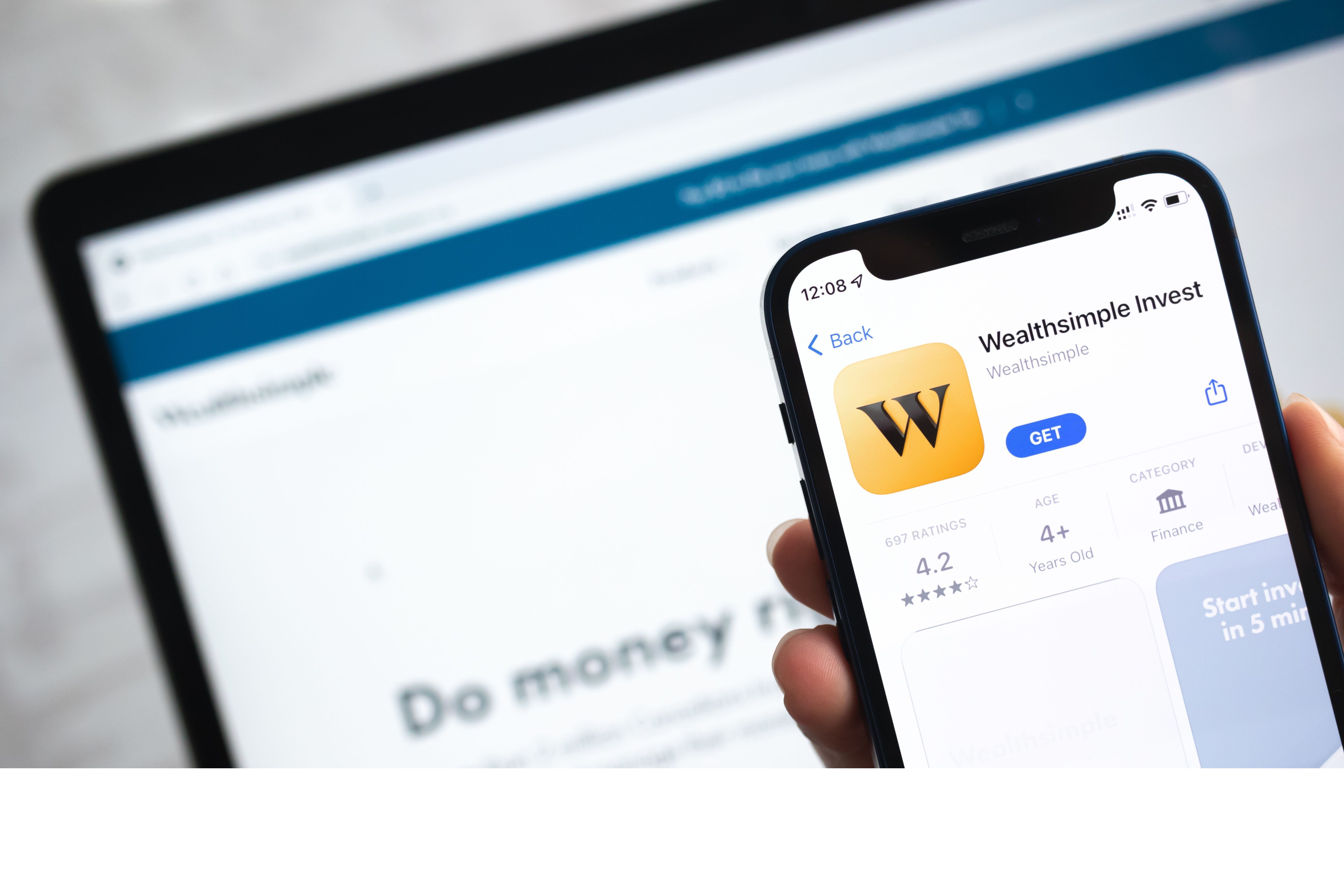 Wealthsimple review | Automated investing with human advice
FellowNeko / Shutterstock
We adhere to strict standards of editorial integrity to help you make decisions with confidence. Please be aware that some (or all) products and services linked in this article are from our sponsors.
We adhere to strict standards of editorial integrity to help you make decisions with confidence. Please be aware that some (or all) products and services linked in this article are from our sponsors.
Please note: Wealthsimple is no longer available to U.S. residents and its U.S. accounts have been bought by Betterment. If you're a current Wealthsimple customer, your accounts will be transferred to Betterment. If you're looking for alternatives, check out our guide to the best robo-advisors.
Wealthsimple is an automated investing service — or robo-advisor — and the largest such service in Canada. It was launched in 2014 and made available to U.S. clients on Jan. 31, 2017, after six months of beta testing. (It's also available in the U.K.) The company is based in Toronto, with offices in New York and London. It now has more than 120,000 global clients and over $4 billion in assets under management.
Wealthsimple is backed by a team of world-class financial experts and some of Silicon Valley's best technology talent. The company has raised $78 million in capital. Its staff is made up of software engineers, designers and data scientists who have previously worked at such companies as Amazon, Google and Apple.
Note to our Canadian readers: please see this review of Wealthsimple. Moneywise's review of Wealthsimple is for U.S. users only.
What Is Wealthsimple?
Wealthsimple provides world-class, long-term investment management with no account minimums. Your account is invested in a diversified portfolio of exchange-traded funds (ETFs) that focus on low-cost index funds. This enables the development of a portfolio that is invested in thousands of different companies and across many major sectors around the globe.
The service includes automatic rebalancing, dividend reinvesting and tax-loss harvesting. In addition, Wealthsimple's financial advisors are available to you whenever you need them. This can be an exceptional platform, particularly for new and small investors, who historically have been unable to afford access to these services.
Wealthsimple Features
Fees
$0 to $100k – 0.50%/year; $100k+ – 0.40%/year
Accounts
-Taxable-Joint-Traditional IRA-Roth IRA-Rollover IRA-SEP IRA-Trusts-401(k) guidance
Automatic deposits
✅ Weekly, biweekly and monthly
Customer service
Phone: M-F 9A-5:30P ET; Email
Portfolio review — Wealthsimple offers a portfolio review service, which is a free, objective evaluation of your non-Wealthsimple financial accounts. They'll evaluate the fees you're paying, the tax efficiency of the account and the portfolio allocation of any third-party accounts you have.
Halal investing portfolio (New) — A simple and low-cost portfolio that aims to grow your money for the long term while complying with Islamic investing principles.
Smart savings (New) — With Wealthsimple's new fixed-income portfolio, you can earn interest. There's no minimum account size, and the platform allows for unlimited, free transfers.
Free stock trades for Canadians (New) — With the new Wealthsimple Trade app for iOS and Android, Canadian investors can now buy and sell more than 8,000 stock and ETFs on major Canadian and U.S. exchanges for $0 in commissions. This brokerage service is currently available only to Canadians
Roundups for Canadians (New) — Similar to the services offered by microsavings apps such as Acorns and Qapital, Wealthsimple's Roundups take the spare change from a purchase and invest it in your savings or investment account.
Investing master class (New) — Enjoy a 10-video educational course designed to teach you the basics of investing in just 45 minutes.
Free retirement calculator (New) — Wealthsimple has unveiled a free retirement calculator designed specifically to help Canadians understand how much they need for retirement.
How does Wealthsimple work?
Wealthsimple's investment approach is based on Modern Portfolio Theory. That's an investment theory developed by Nobel Prize-winning economist Harry Markowitz, who demonstrated that you can minimize risk and maximize return by diversifying your investments. Wealthsimple's automatic rebalancing and dividend reinvesting complement that strategy.
The sign-up process includes a short risk assessment questionnaire to determine your initial risk profile, after which you are given a recommended portfolio mix. Your portfolio is based on your financial goals, time horizon, risk tolerance, past investment experience and level of investment knowledge.
However, when these change, you may want to adjust your portfolio accordingly. You may even want different portfolios for each account, as you may have different time horizons and goals. Wealthsimple allows clients to call or email to discuss these and to make changes to their portfolio based on their desires.
Wealthsimple competitors
There are a number of alternatives to Wealthsimple, but one of its biggest competitors is Betterment.
Like Wealthsimple, Betterment is a robo advisor which offers a variety of investment ETF portfolios at an affordable price. In addition to their regular portfolios, which are based on modern portfolio theory, they also offer an SRI portfolio called the Broad Impact portfolio. This portfolio focuses more on companies that meet specific social, environmental and governance goals. Plus, if you want to focus more on the environment or social issues, you can with Betterment's new Social and Climate Impact portfolios.
Betterment also offers financial advice from a human advisor. If you need specific advice, like about college planning or just need a financial checkup, you can get a one-on-one call with a licensed financial expert for a one-time fee.
Wealthsimple pros & cons
Pros
Socially responsible portfolio
Live support
Portfolio review
No minimum
VIP airline lounge access
Fee-Free stock trading for Canadians
Cons
No goal setting
High fees
Best for
1. Beginning investors
2. Intermediate investors
3. Young investors
4. Low minimums
5. Smartphone users
6. Human assistance
Easy sign-up process
Signing up for Wealthsimple is a simple three-step process:
1. Complete the online application, with some basic information, as well as answering a few questions about your previous investment experience;
2. E-sign one or more Investment Management Agreements;
3. Bank verification — via online by entering your account information
Once completed, your account should be up and be running within five business days.
Portfolio
Wealthsimple's portfolios are comprised of varying positions in low-cost index-based ETFs. There are three portfolios, including conservative, balanced and growth. The conservative portfolio is a 65/35 stock/bond split, while the growth portfolio is 80/20 favoring stocks, and the balanced portfolio is a 50/50 split.
Stocks
Vanguard US Total Stock Market
Vanguard Mid-Cap Value ETF
WisdomTree Japan Hedged Equity Fund
Vanguard FTSE Emerging Markets ETF
Bonds
iShares National Muni Mond ETF
Vanguard Total Bond Market ETF
VanEck Vectors Fallen Angel High Yield Bond ETF
Socially responsible
Wealthsimple provides this option for investors who are interested in feeling good about their investments. The socially responsible portfolio prioritizes low carbon emissions, advances clean-tech innovation and promotes sustainable growth in emerging markets.
iShares MSCI ACWI Low Carbon Target
PowerShares Cleantech Portfolio
Socially responsible US companies
iShares MSCI KLD 400 Social Index Fund
PowerShares Build America Bond Portfolio
Halal portfolio
A new option for Muslim investors, this portfolio adheres to Islamic Halal rules (debt-based investments and companies that profit from gambling, alcohol, pork, etc., are excluded).
Canadian National Railway Co.
Potash Corp. of Saskatchewan
Wealthsimple screenshots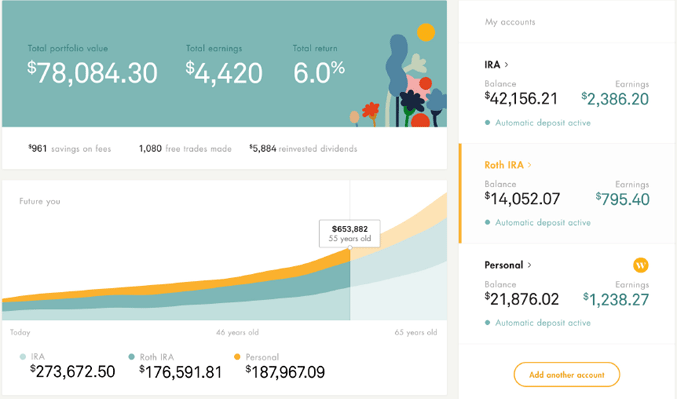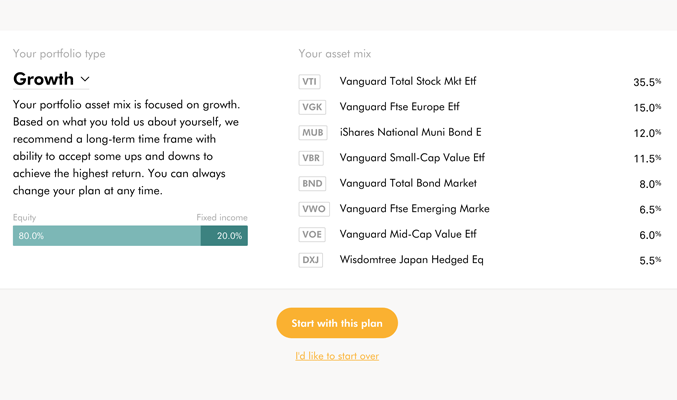 Wealthsimple Black Program
Wealthsimple offers the Black Program for investors with higher account balances. With $100,000 or more, you will enjoy the following perks:
A reduced annual management fee of 0.40%.
A financial planning session with one of Wealthsimple's expert advisors to help you meet your financial goals.
VIP access to more than 1,000 airport lounges in more than 400 cities; this will include a Priority Pass membership for you and one traveling companion.
Additional tax-efficiency features, including tax-loss harvesting and tax-efficient funds.
This kind of investment service level is typically available to investors with much larger portfolios and at much higher annual fees at traditional investment brokers and advisors.
Wealthsimple Generation
For high-net-worth investors serious about growing and preserving wealth, Wealthsimple now offers a third-tier called "Generation."
Generation requires a minimum deposit of $500,000 or more. Clients will receive access to a dedicated team of financial advisors who will provide advice on call for a 0.40% management fee. Your advisory team will design a personalized financial report to help them establish a long-term strategy.
Along with all the benefits of the Black plan, Generation members will receive:
In-depth financial planning
Asset location
Access to a team of advisors
A personalized financial report
Tailor-made portfolios
50% off a Medcan health plan
Summary
The basic portfolio model of Wealthsimple is solid and not unlike that offered by other robo investing platforms in its mix of index ETFs invested in both foreign and domestic stocks and bonds. But like some other robo-advisors, the service can benefit by adding investments in commodities and real estate investment trusts in order to provide even broader diversification.
Wealthsimple excels in that it has no minimum required account balance and that it provides ongoing live customer support. The socially responsible option is also an attractive choice for investors who want their investing activities to match their personal beliefs.
Where Wealthsimple comes up short is in its pricing. The annual management fee of 0.50% on balances under $100,000 is at the higher end of the robo advisor fee range. That's virtually double the fees charged by Betterment and Wealthfront. Wealthsimple doesn't offer a product sufficiently strong enough to justify charging twice the fee of the primary competition. This is especially true since it's a newcomer to the U.S. market.
The platform does, however, become more competitive on account balances over $100,000, with a 0.40% management fee. This matches Betterment's Plus program and is lower than the fee on Betterment's Premium plan. In addition, Wealthsimple provides tax-loss harvesting to all U.S. clients, making it a complete investment service.
We recommend investigating Wealthsimple if you have at least $100,000 to invest. Smaller investors will be better served by checking out other robo advisors that have lower fees.
Moneywise.com receives cash compensation from Wealthfront Advisers LLC ("Wealthfront Advisers") for each new client that applies for a Wealthfront Automated Investing Account through our links. This creates an incentive that results in a material conflict of interest. Moneywise is not a Wealthfront Advisers client, and this is a paid endorsement. More information is available via our links to Wealthfront Advisers.
Wealthsimple Disclaimer: Moneywise has entered into a referral and advertising arrangement with Wealthsimple US, LTD and receives compensation when you open an account or for certain qualifying activity which may include clicking links. You will not be charged a fee for this referral and Wealthsimple and Moneywise are not related entities. It is a requirement to disclose that we earn these fees and also provide you with the latest Wealthsimple ADV brochure so you can learn more about them before opening an account.