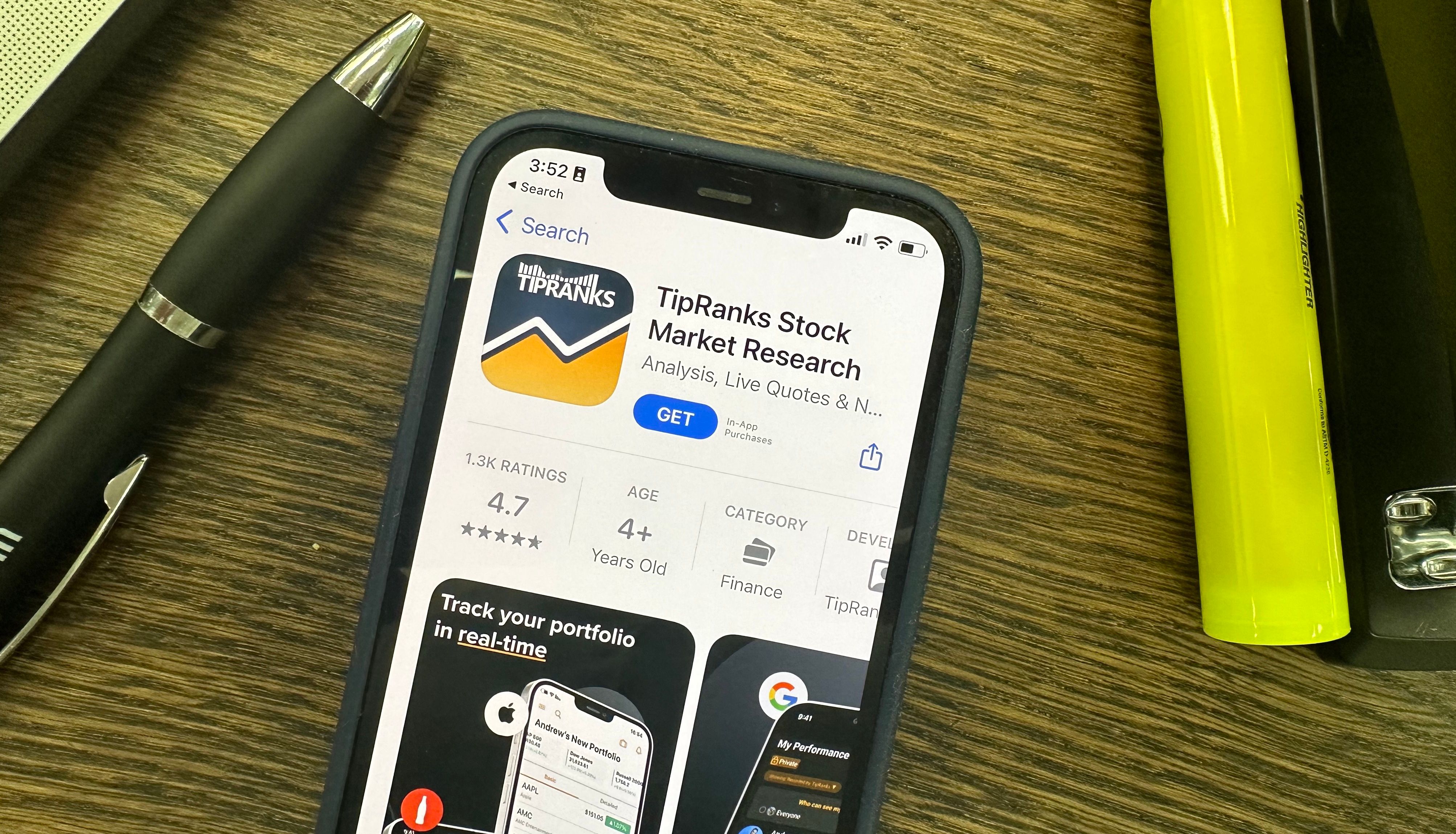 TipRanks / TipRanks
We adhere to strict standards of editorial integrity to help you make decisions with confidence. Please be aware that some (or all) products and services linked in this article are from our sponsors.
We adhere to strict standards of editorial integrity to help you make decisions with confidence. Please be aware that some (or all) products and services linked in this article are from our sponsors.
If you're serious about investing and want to pick individual stocks but you don't want to do it blindly, then you should know about a product called TipRanks. This platform helps you analyze stocks in one easy-to-use place.
Let's dive into this TipRanks review to find out whether it makes sense for your investing needs.
What is TipRanks?
TipRanks was founded in 2012. It aggregates data from a variety of resources and puts it into one centralized and easy-to-understand dashboard.
TipRanks takes information from Wall Street analysts, financial bloggers, hedge funds, corporate insiders, individual investors and investment advisors. It brings it all together in a nice clean package so you can research stocks in a way that you've never done before.
It also uses natural language processing algorithms to aggregate and analyze financial data online. This allows it to take those various resources and package them into a clean and easily navigable dashboard for investors.
TipRanks features
TipRanks has various features within the platform. Following are some things you can expect to see within the platform after you sign up.
Research tools
TipRanks has various research tools for you to analyze stocks that you're interested in. For example, it has a section called "Top Stocks." You can look at Smart Score stocks, analyst recommendations, top picks, hot stocks and more. This gives you a shortlist of stocks to research if you don't know where to start.
It also has a smart score. This is an algorithm that TipRanks uses to assign a specific rating to individual stocks. And this gives you a good starting point for diving deeper into research.
The next research tool it offers is daily feeds. Within daily feeds, you can see daily stock ratings and daily insider transactions. You can see whatever is happening each day with stocks that you're interested in buying or stocks you already own.
The research tools also feature comparisons so you can compare different stocks. You can look at high dividend stocks, bitcoin, coronavirus stocks, electric vehicle stocks and more. It even has a variety of comparison charts for you to look at if you're looking at a specific type of stock or sector.
You also get access to in-depth screeners. Stock screeners allow you to filter by a variety of inputs. It also has a new penny stock screener if you're interested in investing in penny stocks.
Finally, there's the TipRanks newsletter, called "Smart Investor." It provides news alerts and more in-depth information about the stocks you're interested in.
Smart portfolio
The Smart Portfolio is a section of TipRanks that allows you to input the holdings you have. It then analyzes them through the TipRanks platform.
TipRanks lets you view of all of your holdings in one place. TipRanks analyzes your portfolio and even adds crowd insights. It takes all those inputs and applies them to your portfolio. This shows you whether or not you need to buy or sell certain types of stocks to get a more well-balanced portfolio.
Smart Portfolio also has a My Community feature. This shows the performance of your portfolio compared with those of other people.
You can also make your profile public. This shows others what you're buying and selling. And TipRanks shows how your portfolio ranks with others'.
Top experts
The Expert Center allows you to find and follow experts you like from top firms as well as individual experts that you've discovered through your research. It also groups the top 25 Wall Street analysts, top 25 financial bloggers, top 25 corporate insiders and top 25 hedge fund managers.
TipRanks recently added the top individual investors. These individuals have made their profiles public and share about what they buy and sell. TipRanks then ranks their portfolios by profitability.
News
TipRanks has aggregated a ton of news information. There's a variety of categories and trending topics. These include Market News, Insights & Ideas, and Stock Analysis. It also offers TipRanks Labs, which provides TipRanks' own updates and insights as well as information that doesn't quite fit the other categories.
You'll also find trending topics. These presently include Coronavirus Stocks, Dividend Stocks, Penny Stocks, and FAANG Stocks.
Calendars
TipRanks offers a variety of calendars. These include Earnings Calendars, IPO Calendars, Dividend Calendars, and Stock Market Holidays. This lets you see in one place all the upcoming events related to investing.
Pricing and Fees for TipRanks
The pricing for TipRanks is straightforward. It offers three plans: Basic, Premium and Ultimate. Basic is free and it gives you access to an account with limited options.
The most popular plan is the Premium plan. This costs $29.95 a month, billed annually. You get access to most TipRanks features. You can also upgrade to the Ultimate plan and get full access to all TipRanks features. This costs $49.95 a month, billed annually.
Here's a breakdown of TipRanks' three plans and the features you get:
| - | Ultimate ($49.95 Per Month) | Premium ($29.95 Per Month) | Basic ($0 Per Month) |
| --- | --- | --- | --- |
| Stock analysis | Full access | Advanced | Limited |
| Investment ideas | Full access | Advanced | None |
| Smart portfolio | Full access | Advanced | Limited |
| Research tools | Full access | Advanced | Limited |
| Daily insights | Full access | Advanced | Limited |
| Top experts | Full access | Advanced | Limited |
| Email alerts | Unlimited | Up to 30 stocks | Up to 5 stocks |
| Customer support | Top priority | Priority | None |
| Export data | PDF + CSV | PDF only | None |
You can also vew the breakdown of all its plans and what you get in each here.
But it is amazing how many features and articles you can access and read without even signing up. The main downside is that free customers don't get specific investing ideas, customer support, and can only get email alerts for up to five stocks.
Signing up for TipRanks
Signing up for TipRanks is easy. You can start with a free account. From the home page, simply click "Join For Free" (top right corner). Enter your email address and confirm it, then click the hyperlink in the email you receive to open your free account.
From there, you can either upgrade your account to a paid plan or just browse with the free account. Either way, it takes only about two minutes to set up an account with TipRanks.
TipRanks security
TipRanks provides the same level of security you expect from any subscription-based website. View its privacy policy and terms of use for more information.
TipRanks collects your information but doesn't sell it. And your information is secured through SSL security.
You're not putting any financial information out there for anyone to see. The most information you show is your stock picks and only if you make your investor profile public. Otherwise, it's simply a subscription-based research tool.
Customer support
TipRanks has two direct options for contact. You can either send a note through its contact page online or call toll-free (866) 388-7782. Customer service is available 24 hours a day, seven days a week, which is better than many websites offer.
Or contact TipRanks through social media platforms including Twitter, Facebook and LinkedIn. It also has a profile on StockTwits.
Pros
Extensive research —TipRanks provides ample amounts of research aggregated from a multitude of sources. As an investor, you can gather a ton of information you wouldn't be able to get from, say, your online broker.
Unique screeners and filters —TipRanks offers a screener that allows you to filter stocks by a variety of information. Whether you're looking for a new stock to invest in based on specific criteria or want to check out a particular sector or look at analysts' top recommendations, you can get as specific as you wish with its screener.
Quick recommendations — If you don't want to go super detailed, you can get quick recommendations from top analysts just by specifying a stock. Say you're interested in investing in Apple. You can look at the top Apple analysts and see what they are saying and decide from there.
Affordable pricing — If you're an active investor, even the most expensive plan at $49.95 per month is a steal based on the information that TipRanks is giving you. If you're someone who picks one or two stocks a year, it probably wouldn't be worth it. But anyone who actively invests will find a lot of value in TipRanks.
Cons
It can be overly complicated — The information that TipRanks provides could be too much for an average investor just looking for a couple of stocks. The website offers a lot of information, which could be overwhelming for some.
Risk of blind trust — As I've said, there is a lot of information, and you'll find top analysts providing buy and sell recommendations on stocks. So it's easy to just take the advice of the leading analysts and move on. However, you increase your risk by not doing your due diligence before buying a stock. What is a good stock for a top analyst may not be the best stock for you. So it's best to use TipRanks to supplement your research instead of replacing it.
Alternatives
Motley Fool Stock Advisor
The Motley Fool Stock Advisor program is a little bit different from TipRanks. It costs $199 per year and gives you two stock picks each month as well as access to its previous stock picks.
The Motley Fool owners research and provide picks and in-depth analysis on those picks each month. Motley Fool also has a variety of add-ons, including stock recommendations for owner Tom Gardner, and a retirement guidance program.
Motley Fool's strategy is to pick stocks for you and take the research out of your hands. If you're looking for straightforward recommendations, Motley Fool could be a good option for you. It's different from TipRanks in that TipRanks requires you to do your own research.
Visit Motley Fool
Morningstar Premium
Morningstar Premium is a little bit more like TipRanks than is Motley Fool. It is well known in the space of stock investment research. Its Premium program allows you to screen stocks, see analyst ratings on stocks, review research and go in-depth on almost any stock you want.
The key difference is that Morningstar provides information from its analysts. While it's useful and often accurate, it doesn't aggregate data from various sources like TipRanks does.
If you're interested in getting good stock research and using Morningstar anyway, check out Morningstar Premium. But having used both, I think TipRanks is far superior.
Visit Morningstar
Zacks trade
Zacks is like a hybrid between The Motley Fool and Morningstar. It serves up a handful of stocks each day for you to look at and invest in. And it provides research as to why it made each recommendation.
You can also dig a little bit deeper with individual stocks with Zacks Ultimate as it offers a ton of in-depth analysis. Zacks is probably best for someone who is an active trader and wants frequent and timely recommendations of a handful of stocks to buy.
But if you pick one or two stocks each month or every couple of months, it could be too much information too fast.
Who is TipRanks best for?
TipRanks is best for someone who wants to pick their stocks and wants to do their own research. Unlike the alternatives I mentioned above, TipRanks will not serve up stock picks for you to invest in. You have to do your independent research.
You can follow the picks of analysts and other investors if you want to. But the person who will get the best use out of TipRanks is someone who generally knows the stocks they want to invest in and just wants to do more research on those stocks before making an informed decision. This is more similar to a website like Seeking Alpha and less similar to an actual stock picking service like The Motley Fool.
TipRanks allows you to load your stock portfolio into the system so you can monitor how your stocks are performing and see analysis and news related to those stocks. This allows you to make more informed buy and sell decisions.
Someone who does not want to do research and would rather have stocks picked for them would probably not benefit from TipRanks. Nor would someone who doesn't want to invest in individual stocks. For them, exchange-traded funds (ETFs) would be best.
What others are saying
I feel like TipRanks is a hidden gem though many people have written reviews on it. And most reviews are very positive. I think that is because TipRanks doesn't try to sell you on individual stocks or create a facade that you will get rich with its program. It merely aggregates information for you to make your own informed investment decisions.
For example, TipRanks has a "Great" rating on Trustpilot. As of this writing, there are 78 reviews, and it has a 4-out-of-5-stars rating, with 65% of the reviews on Trustpilot ranking TipRanks as "Excellent" and 14% as "Great." The most recent review I read talks about how great it is to have all that data in one place. People point out that all of the stuff that I've talked about in this review is a significant benefit.
The negative reviews on Trustpilot seem a little extreme. Some people say that the service was dishonest and wouldn't provide a refund. Read through the Trustpilot reviews before you move forward with TipRanks. But overall, it seems like the sentiment online is very positive.
Final thoughts
In reviewing TipRanks, I actually fell in love with individual stock investing again.
I previously spent years investing in individual stocks, and my entire educational background is in stock investing. However, for a variety of reasons, I moved to index fund investing. But TipRanks makes me want to go back to picking individual stocks again just because of the information available on its platform.
I like that it doesn't try to sell you individual stocks to invest in. Still, it pulls together available information in a friendly, clean dashboard so you can make more informed investment decisions.
If you're an active investor or you want to pick individual stocks, I strongly recommend looking into TipRanks as a starting point for doing more in-depth research. Even its middle plan at $29.95 per month should provide more than enough information for the average investor to make better informed decisions.
In contrast, if you need more of a helping hand with stock picks, services like The Motley Fool's Stock Advisor or Rule Breakers services might be of interest.