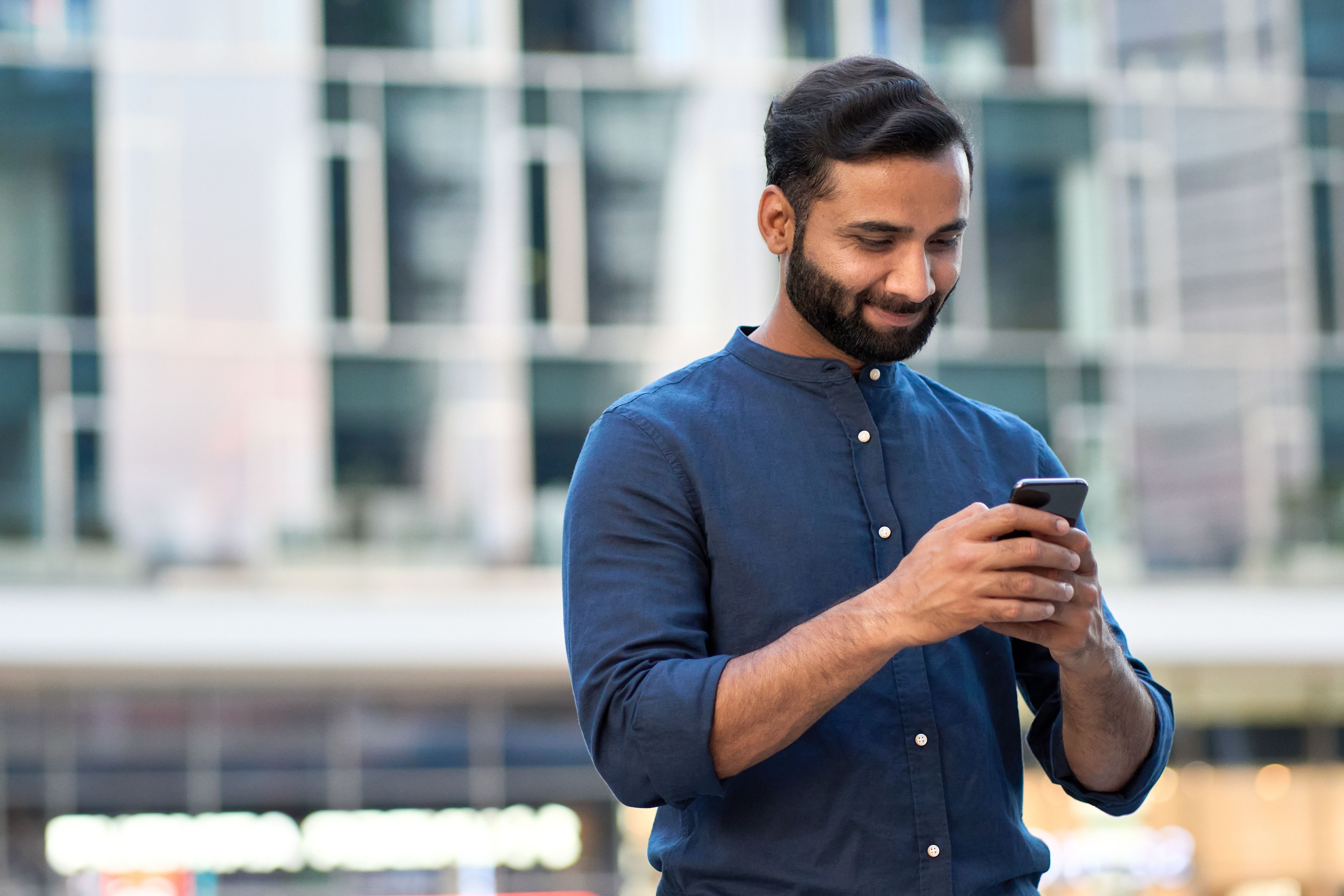 Stansberry Research review 2023: Does it live up to the type?
insta_photos / Shutterstock
🗓️
Updated: December 01, 2022
We adhere to strict standards of editorial integrity to help you make decisions with confidence. Please be aware that some (or all) products and services linked in this article are from our sponsors.
We adhere to strict standards of editorial integrity to help you make decisions with confidence. Please be aware that some (or all) products and services linked in this article are from our sponsors.
One of the biggest challenges for self-directed investors is choosing which stocks to invest in. Fortunately, there are investment advisories available to help. Stansberry Research is one of the most popular options. They offer a wide range of investment advisory services, with prices ranging from free to several thousand dollars. You can start with the free version, then decide if you want to move on to one or more of its premium services.
Stansberry Research also offers an extensive range of investment categories. Whether you choose a specialized newsletter or a full-fledged portfolio model, Stansberry Research can help you find investment opportunities in everything from commodities to options to cryptocurrencies. And if you're interested in more conventional investment strategies, it also covers income generation, value stocks, and capital growth.
What is the Stansberry Research Investment Advisory?
Stansberry Research is an investment advisory service started by Frank Porter Stansberry in 1999. The newsletter recommends covers types of investing, including value and dividend investing. But there's a particular emphasis on alternative assets, including energy and precious metals, as well as options trading and cryptocurrencies.
Despite emphasizing alternative investments and investment strategies, Stansberry Research claims more than 1 million subscribers. They provide independent financial research from a team of more than 30 editors and analysts.
Stansberry Research offers two broad investment services: Portfolios and newsletters. In all, it offers four portfolios and 24 newsletters. Each keeps a focus on a unique investment sector or strategy.
Although the portfolios and newsletters are premium services, you can sign up for Stansberry Research free of charge. That will give you access to portfolio tools and plenty of free information and updates.
Who should subscribe to the Stansberry Research Investment Advisory?
The Stansberry Research Investment Advisory is best for investors with more extensive portfolios. The portfolio models suggest a minimum of $100,000 in investable assets to get the most benefits.
The cost of the services will certainly impact your decision to use Stansberry or not. For example, while a newsletter at $199 per year might make sense if you're managing a $50,000 portfolio, a $5,000 newsletter would hardly be justified by the expected gains. It's hard to justify paying for the higher-priced newsletters, even with $100,000 to invest.
It may also be a good choice for any investor looking for out-of-the-box investment strategies, the kind that isn't available with a typical robo-advisor. For example, if you want strategies to invest in cryptocurrencies, value stocks, options or commodities, Stansberry Research has services that can help.
Read more: Buy and hold vs. active trading
Biases and controversies
Stansberry Research does appear to be a bit controversial, at least as their marketing goes. They advertise using methods that lean toward scare tactics, which is a popular way to draw readers to their ads. The ads are along the lines of "A train wreck is about to happen, and we know how you can beat it."
The service itself isn't quite as controversial. In fact, much of the advice is incredibly mainstream, with strategies like income and value investing.
But in 2003, the Securities and Exchange Commission accused Porter Stansberry of fraud while editing newsletters published through Agora, Inc. In 2007, the court found Agora guilty and ordered them to pay fines. A 2009 appeal upheld the original court decision.
Is the Stansberry Research Investment Advisory worth it?
Many businesses and individuals claim to provide winning investment selections. But any source offering a consistent supply of winning picks will charge a fee for that service. However, Evaluating the value of investment recommendations provided by investment newsletter services can be challenging.
Whether Stansberry Research delivers consistent winners isn't clear. And, it would be hard to find out short of signing up for the service and implementing its picks consistently. However, it does offer 30-day free trials for some of the services.
Unfortunately, 30 days isn't sufficient time when it comes to investing. But at least with the monthly subscriptions, you can cancel the service at any time without the obligation to pay for the balance of the year.
Like any other investment advisory, the primary advantage is the steady source of recommendations so that you can manage your portfolio. You essentially pay a fee to Stansberry Research to save time and effort to research your own investment picks.
Performance of Stansberry's recommendations
Stansberry provides some results from three of their comprehensive portfolio recommendations:
For Total Portfolio it claims the following returns, though no timeframe is provided:
293% and consumer electronics
265% in digital businesses
189% in cryptocurrencies
103% in comfort foods
It provides the following returns for the Income Portfolio, though once again, no timeframe is provided:
10.1% from a market-leading mortgage real estate investment trust
8.2% from a "great income generator with lower volatility than the overall market."
7.1% from a cyclical heavyweight in plastics processing
4.9% from a major fixed-income market fund
Capital Portfolio has produced six triple-digit winners (as of the middle of 2021), including:
500% onSea Limited (SE) in just over one year
300+% from DocuSign (DOCU) in less than two years
200% on bitcoin (BTC) in less than one year
Once again, these results are provided by Stansberry and not verified through any third-party source. And like most investment advisory sources, it doesn't offer a list of the recommendations that went in the wrong direction.
Is the Stansberry Research Investment Advisory safe and legitimate?
Stansberry Research has a Better Business Bureau rating of A+, the highest on a scale of A+ to F. Eighty-six complaints have been filed against the company with the agency in the past three years, and Stansberry has provided a 100% response rate.
The company has a rating of 2.2 out of five stars – or "poor" – with Trustpilot. However, this rating is based on reviews by only nine individuals.
Stansberry Research does offer mobile app access, though there isn't much participation. The app scored 3.5 stars out of five among 55 Android users on Google Play and 2.6 stars out of five among 63 iOS users on The App Store.
The company website does advise that SEC regulations prohibit Stansberry Research from giving personalized investment advice. They are financial journalists, not investment advisers or licensed brokers. The purpose of the service is to alert you of investment opportunities; it's up to you to decide whether to invest.
What do you get with an investment advisory membership?
Stansberry Research offers many services. You can sign up for the free version, which will give you access to the platform and provide investment tools and free information. But if you want more specific investment recommendations, you can sign up for one of the premium newsletters or portfolio models.
The newsletters cover a wide range of investment topics, like real estate, commodities, cryptocurrencies, retirement investment strategies and much more. As you'll see in the table further down in this review, those newsletters are available starting at $199 per year.
If you want more comprehensive information, choose one of the four model portfolios Stansberry provides. The company doesn't provide direct portfolio management. Instead, they offer portfolio recommendations. That can include 20 or more individual stocks or funds, subject to change on an ongoing basis.
One of the advantages of Stansberry Research is that you're free to choose whichever level of investment guidance you prefer.
Investment Advisory Stock Advisor vs. other Stansberry research services
Stansberry Research offers four fully allocated model portfolios and no fewer than two dozen premium investment newsletters.
The allocated model portfolios are as follows (annual fees for each portfolio are not available on the website; you must call for a quote):
Total portfolio
This portfolio model is designed for conservative investors. It maintains positions in approximately 40 securities and is designed for those with at least $100,000 to invest. The recommended portfolio is designed to be less volatile than the S&P 500 but with market-beating results.
The monthly service recommends investing in super high-quality, capital-efficient companies. There is an expected holding period of between one and three years for each position in the portfolio.
With Total Portfolio, you'll also have access to about 20 of the firm's newsletters, a complete list of which appears in the next section. You'll also get immediate access to the Capital and Income Portfolios described below.
Income portfolio
As the name implies, this portfolio focuses on income generation. It recommends investments of the highest quality, biggest dividend-paying stocks, high-yielding corporate bonds and hybrid securities to provide above average fixed income returns. Overall, it's the lowest-risk model portfolio Stansberry offers.
The Income Portfolio issues 13 newsletters each year. You'll be advised to maintain a portfolio of between 25 and 30 securities, with a recommended holding period of one to three years. Investors should have at least $100,000 in assets to get started.
The Income Portfolio will also provide you access to the Capital Portfolio and a dozen Stansberry newsletters.
Capital portfolio
The Capital Portfolio is Stansberry's starter-level portfolio and is recommended for everyone. The portfolio's focus is capital appreciation, which is generated by blue-chip companies. However, portfolio recommendations are primarily ETFs to make it easy to buy such stocks in bundles.
The portfolio will contain about 20 positions. It's generally considered a conservative portfolio with a typical holding period of one to three years. You should have at least $100,000 in investable assets to participate.
With the Capital Portfolio, you'll also have access to 10 Stansberry newsletters.
Defensive portfolio
The Stansberry Research website lists this as a fourth portfolio option to generate extra monthly income. However, no details or page links are supplied. This product may have been discontinued but has not yet been removed from the main page.
Stansberry Research services
Here's a comprehensive list of Stansberry Research's services and fees.
Stansberry Investment Advisory
How to profit from promising emerging trends and influential economic forces
Safe, alternative investments
How to live a millionaire lifestyle on much less
Investing in deeply discounted, out-of-favor stocks
Investments in energy, metals, and other natural resources
Stansberry Innovations Report
Invest safely in emerging technology revolutions
Stansberry's Financial Survival Program
Protecting your portfolio with gold, commodities, insurance, growth stocks and more
Focus on the top companies for the 2020s
Investing in micro-cap stocks
Increased gains with less risk in retirement
Advanced investment strategies
Stansberry Venture Technology
Investing in small-cap companies
Stansberry Credit Opportunities
Identifying opportunities in distressed corporate bonds
Maximizing income and total returns
Short- and medium-term trading ideas
Recommended investments to earn 10x return in 3 - 5 years
Course and live trading ideas using intelligence option trades for higher gains
Crypto currencies investment opportunities
Opportunities to earn high yields with crypto
Investing in gold and gold stocks
Matt McCall's MegaTrend Investor
Focus on the top companies for the 2020s
Identifying 10 top-performing stocks on an ongoing basis
Does the Stansberry Research Investment Advisory offer other investment and financial advice?
Even if you don't choose to subscribe to one or more of Stansberry Research's premium portfolios or newsletters, you can get free access to a more general and limited service. You can access five free research publications, personalized portfolio monitoring and analysis tools, and daily video updates.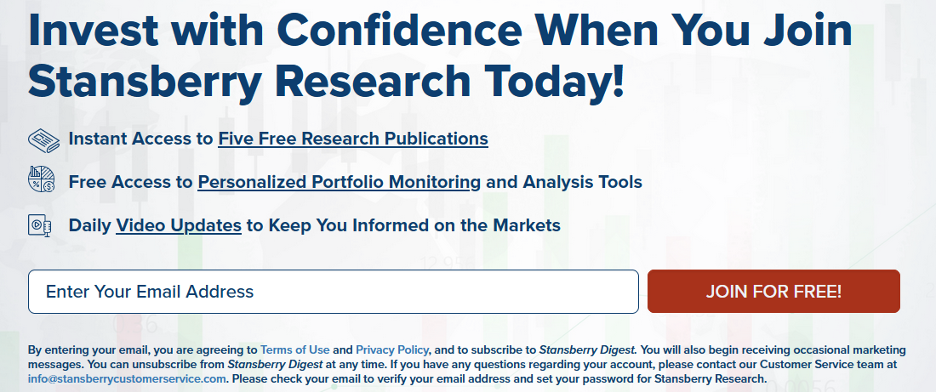 When you sign up, you'll be able to access the service from any device, anywhere in the world. You'll have access to a personalized newswire and can customize alerts and your watchlist.
Stansberry Research also provides a wealth of resources you can subscribe to for free, including: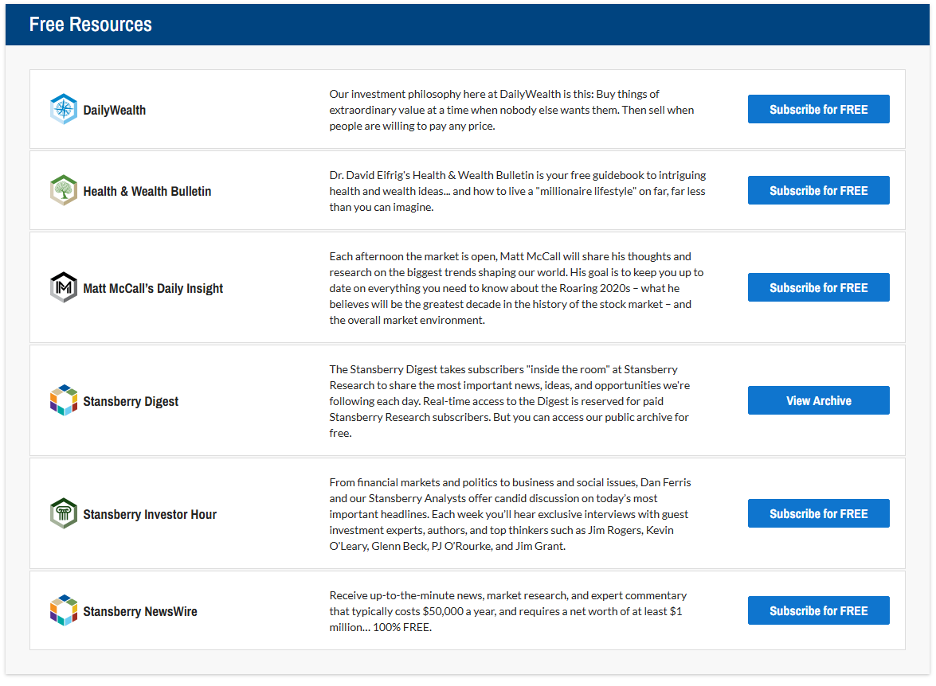 The advantage to the free subscription and resource access – in addition to the investment information it will provide – is that it will allow you to test if Stansberry Research premium products may be worth paying for.
The Stansberry Research Investment Advisory pros and cons
Pros
Offers multiple portfolio models and investment newsletters to accommodate different investors and investment styles.
Stansberry Research has been providing investment advisory services for over 20 years. They also boast more than 1 million subscribers.
Even if you decide not to pay for one of the premium services, you can sign up for Stansberry Research free and receive access to several services.
Some Stansberry Research products offer a 30-day free trial.
You can cancel your service anytime, paying for only the months you've used.
Unlike some investment advisories, you won't get ads for third-party services.
Cons
The cost of many of Stansberry Research's plans and services can make them prohibitive for small investors.
Stansberry Research is not a portfolio management service. They make investment recommendations, which are updated periodically, requiring you to make ongoing adjustments within your portfolio.
The service doesn't provide investment returns for their portfolio models, only sample returns on the best investment picks.
Designed for semi-active investors, not passive, buy-and-hold investors.
The Stansberry Research Investment Advisory alternatives
Stansberry Research is hardly the only investment advisory available. If you don't think Stansberry Research is a good fit for you, there are plenty of alternatives.
Motley Fool Stock Advisor
Motley Fool Stock Advisor is one of the industry's most popular Stock advisory services. The company claims its portfolios have outperformed the S&P 500 by a wide margin.
Subscribers get two new stock picks each month, with access to about ten recommended stocks at any time. The service also comes with an excellent package of investor resources, like allocation and simulator tools, a watchlist, and access to the Motley Fool community.
A subscription comes with a 30-day free trial refund period, $99 for the first year, then $199 per year. The service has been around since 1993, which is even longer than Stansberry Research. Meanwhile, The Motley Fool is a common and well-respected source of investment information and analysis by the entire industry.
Morningstar Investor
Morningstar Investor is another very popular investment advisory service. In fact, the parent company, Morningstar, is one of the top sources of information and analysis on investments and individual securities.
But Morningstar doesn't provide individual investment picks. Instead, they provide extensive analysis of stocks, mutual funds and ETFs, as well as comparative benchmark performances. You can make your own investment choices based on that information.
Morningstar Investor is available for $249 per year. In addition to taking advantage of the tools offered on the website, you'll receive newsletters providing the latest investment research and recommendations.
Seeking Alpha
Seeking Alpha is another well-respected investment information service frequently quoted throughout the industry. They provide access to advanced investment information, tools and resources. You can select from one of three different plans, including one that's free.
Seeking AlphaPremium provides all the services of the free version and unlimited access to premium content and investing ideas, stock ratings, performance ratings, earnings and conference calls, alerts on upgrades and downgrades of securities in your portfolio, and much more.
Seeking Alpha PRO includes all the services of the Premium version but also adds top ideas, PRO content and newsletters, VIP service and more.
The Premium version is available for about $239 per year, while PRO is an annual subscription at $499.
The Stansberry Research Investment Advisory customer service
You can reach Stansberry Research customer service by phone, either in the U.S. or internationally. You can also contact the company by either in-app email or by emailing info@stansberrycustomerservice.com.
And if you prefer, they do offer mail contact at:
Stansberry Research1125 N. Charles St.Baltimore, MD 21201
The bottom line: Is the Stansberry Research Investment Advisory worth it?
The hard, cold reality is that choosing an investment advisory is no less a speculation than any security you may invest in. That's as true of Stansberry Research as any other investment advisory.
Short of trying out the service, there's no way to know if Stansberry Research will be the right choice for you. Their recommendations may prove successful in a rising market but do no better than the general market in a falling market.
But Stansberry Research does have the advantage that you can begin using the service free of charge. If you like what you see with the free version, you can move on to one of the premium services, which can be available for as little as $199 per year. That may be a small price to pay if you're not partial to choosing your stocks.
Further reading: