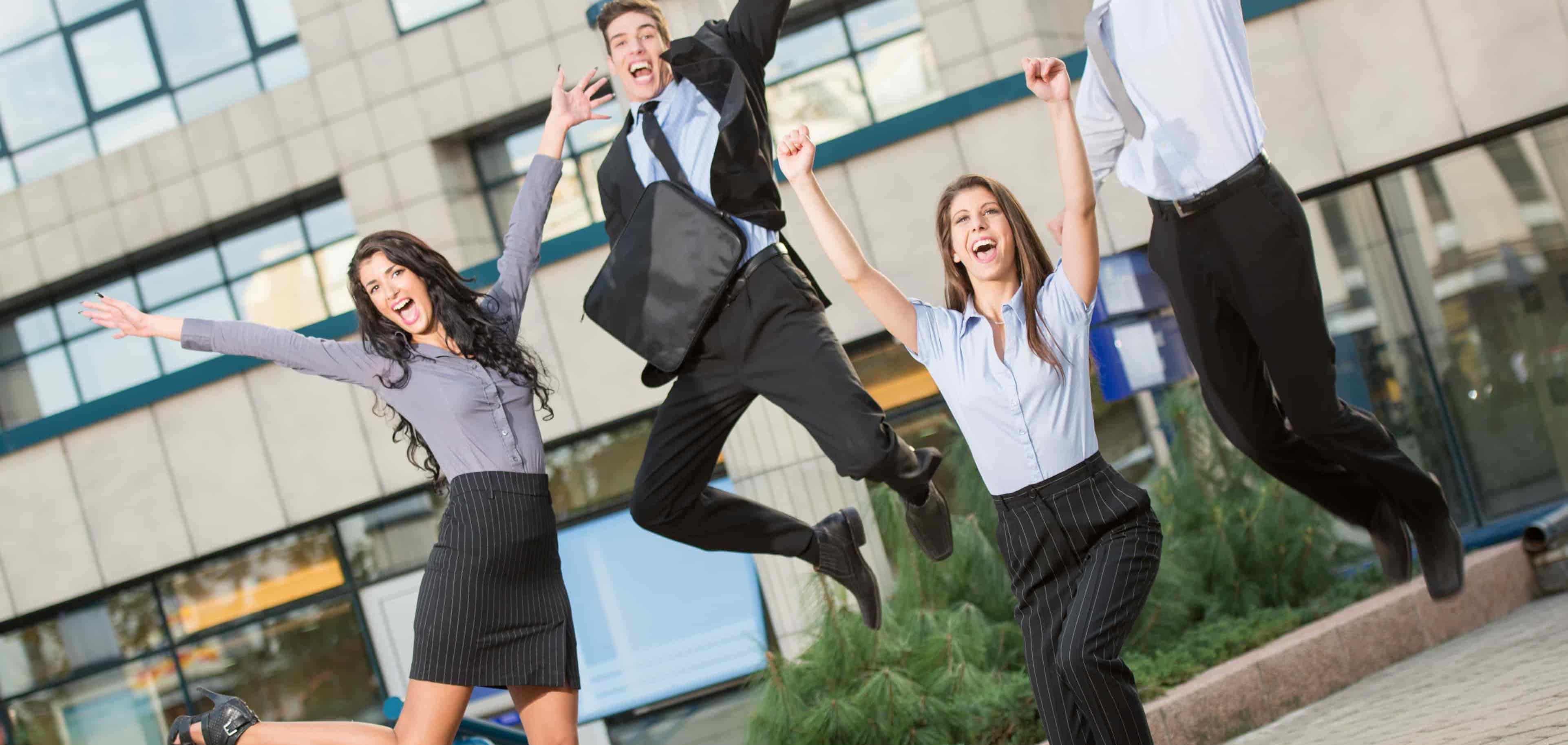 MilanMarkovic78 / Shutterstock
🗓️
Updated: February 23, 2023
We adhere to strict standards of editorial integrity to help you make decisions with confidence. Please be aware that some (or all) products and services linked in this article are from our sponsors.
We adhere to strict standards of editorial integrity to help you make decisions with confidence. Please be aware that some (or all) products and services linked in this article are from our sponsors.
Imagine being a successful commercial real estate investor… pulling in enough income that you can relax by the pool, rather than slaving away in a cubicle.
That is, until the phone starts ringing because one unit's heating system has broken… someone slipped on the ice in the parking lot… and your most valued tenant has decided he's going out of business.
If you're not much of a risk taker, this doesn't sound like such a good scenario.
Luckily, there's a solution. Since Congress passed the JOBS Act in 2012, hundreds of real estate crowdfunding platforms have sprung up. Many of them allow investors to take advantage of the commercial real estate market without such a huge risk of breaking the bank or losing their shirts.
Not all crowdfunding platforms are made equal, though. Each one seems to have a different strategy, not to mention unique product offerings and management teams.
That last point can be crucial. Some of these crowdfunding platforms are, first and foremost, technology companies run by Silicon Valley types who "happened" to enter the real estate space.
Others were started by experienced real estate professionals who have harnessed technology to start new businesses and expand their customer bases.
EquityMultiple is among the latter. The company was founded by experienced real estate professionals who tapped into technology to provide convenient and low-cost access to deals that were previously unavailable to individual real estate investors. (However, you should know that to take advantage of EquityMultiple's opportunities, you MUST be an accredited investor.)
With many competing platforms on the market, it can be difficult to determine which one is right for you. I took a look into EquityMultiple to evaluate it. Here's what I found.
EquityMultiple features
| Feature | Details |
| --- | --- |
| Minimum investment | $5,000 |
| Account fees | Common equity investments: 0.5-1.5% annually, plus 10% of all profits upon exit |
| Time commitment | 12 Months |
| Accreditation required | ✅ |
| Private REIT | ❌ |
| Offering types | Debt, equity, preferred equity |
| Property types | Commercial |
| Regions served | 50 states |
| Secondary market | ✅ |
| Self-directed IRA | ✅ |
| 1031 exchange | ✅ |
| Pre-vetted | ✅ |
| Pre-funded | ❌ |
What is EquityMultiple?
Charles Clinton was a real estate lawyer working with big private-equity clients like Blackstone and KKR prior to launching EquityMultiple. He co-founded the company with Marious Sjulsen, a 10-year veteran of the real estate private-equity industry.
EquityMultiple may be the only commercial real estate investing crowdfunding platform backed by a leading national real estate capital markets firm: Mission Capital Advisors.
Clinton believes Mission Capital's backing gives EquityMultiple a competitive advantage, because "they have been ideal partners with insights in terms of strategy while providing an incredible network of sponsors, lenders and investors for EquityMultiple to leverage growth." Several of the Mission Capital's senior executives personally invested in EquityMultiple at the beginning.
As a commercial real estate investing platform, EquityMultiple offers debt, equity and preferred equity deals. The company takes its name from the commonly used term "equity multiple," which is calculated as total cash distributions divided by total equity invested.
In simpler terms, it basically means how much money you got back versus what you put in. If an investment doubles your initial contribution, for example, it would be an equity multiple of 2.
Get started with EquityMultiple today
How EquityMultiple works
EquityMultiple focuses on institutional commercial real estate and offers a range of opportunities across the country from experienced lenders and sponsors.
For debt deals, management works only with experienced lenders (rather than operating as a lender itself). For equity deals, EquityMultiple's primary compensation is a 10% participation in project profits, which the company receives only after the full initial investment has been returned to all investors.
EquityMultiple's target minimum is currently around $500,000 per deal, although it has done single deals as large as $6 million. The platform focuses on fixed-rate offerings that deliver returns in the 8%–14% APR range and, with an in-house underwriting team and exacting diligence measures, accepts only around 5% of the deals it considers.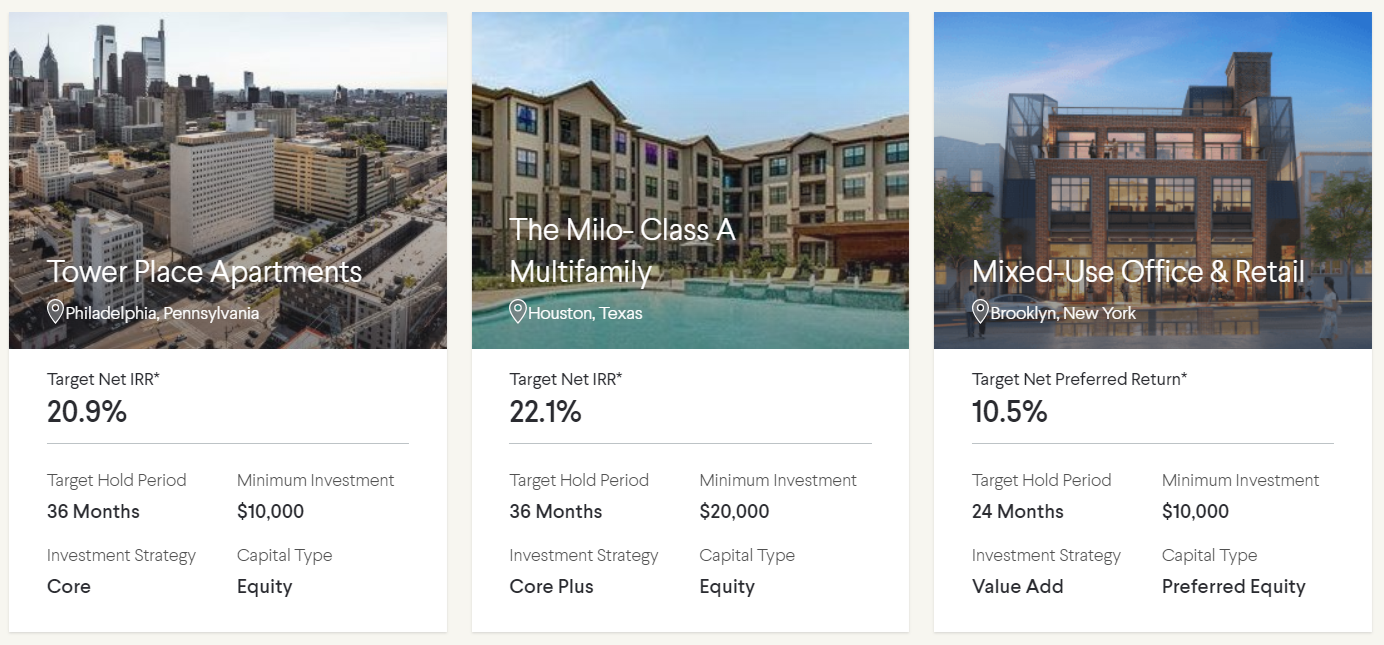 To date, EquityMultiple's average annual return on cash-flowing equity and debt offerings is just over 9%. It's still early in the term for many of its equity offerings (which rely on a sale or refinance for a large portion of the return distributions), so management expects this aggregate figure to increase substantially over the next year. According to the company, in late 2019, the aggregate IRR on fully realized investments was 17.3%.
Distribution schedules vary by deal and are typically either monthly or quarterly. Debt deals typically offer a fixed rate of return throughout the loan's term and a return of principal at maturity of the loan. Similarly, preferred equity offers a fixed rate of return throughout the term of the investment and may provide for an additional accrued return when the investment is paid off and the principal is returned. Equity deal cash flow is generally not fixed, and the frequency and amount will vary based on the performance of the underlying investment.
For each investment opportunity, EquityMultiple creates a separate LLC. When you invest in a particular deal, you're actually purchasing an ownership interest in the deal-specific LLC, which in turn invests in the underlying project. As a partner in that LLC, you're entitled to your share of any income (or losses) generated by its investment in the underlying deal. This structure provides a layer of protection for investors, as it helps insulate each investment from financial issues related to other investments or the parent company.
Getting started with EquityMultiple
One of the big benefits of crowdfunding platforms is the ease and convenience of investing and managing your investments online. With EquityMultiple, the entire process takes place on the online platform. It works like this:

1. Register for the platform.
2. Browse live offerings.
3. Review investment details and choose a deal that fits your investment objectives.
4. Complete your account setup and link your bank account to fund investment choices and receive distributions.
5. Complete the investment "checkout" process: E-sign documents, verify your accreditation and fund your investment.
Once you've invested, you can:
Monitor your investment performance on the "My Portfolio" page.
Receive regular asset management on all your investments through the "My Activity" feed.
Receive earnings directly through ACH bank transfer.
View quarterly investor updates on asset performance.
EquityMultiple's niche
EquityMultiple focuses on opportunities projected to deliver attractive risk-adjusted returns for investors. Its niche is to look for:

1. Commercial properties in thriving markets with current cash flow,
2. Short-term senior loans with robust APR to investors and a promising exit strategy, and
3. Value-add projects with construction components and more aggressive business plans.
The screening process selects around 5% of the submissions EquityMultiple reviews. For projects that survive the initial due diligence, the company performs a stress test with underwriting assumptions, reviews key legal documents and third-party reports and considers the transaction structure. Only a select few make the final cut.
EquityMultiple does not pre-fund deals. Some, but not all, investment offerings are secured by the underlying real estate. Project-dependent note offerings are not directly secured by the underlying real estate. Rather, as a note holder, you are entitled to your pro-rata share of principal and interest earned by the underlying project investment.
Most offerings on EquityMultiple are tied to an underlying preferred equity or mezzanine debt project investment, but some may be common equity or senior debt. Investors participate in these investments in one of two ways:

1. By purchasing an interest in an EquityMultiple-directed LLC that in turn invests in the property, or
2. By purchasing a project payment dependent note, the proceeds of which are invested in the project.
EquityMultiple fees
You can register, browse deals and initiate an investment for free. Once you make an equity investment, EquityMultiple charges a small annual fee — typically 0.5% of the total amount invested — that is paid periodically to cover ongoing investor reporting, tax preparation and communications relating to the investment.
EquityMultiple also receives 10% of investor profits after investors have received all of their initial investment back. That gives the platform the motivation to find and fund projects that deliver compelling risk-adjusted returns beyond the expected profits — and to monitor them for the life of the project. So management is motivated to make you money.
For preferred equity and debt investments, EquityMultiple receives a servicing fee in the form of a "spread" between the interest rate being paid to them by the sponsor or originating lender and that being paid to investors. EquityMultiple also charges the lender an origination fee and other charges typically associated with initiating a real estate loan or preferred equity investment.
EquityMultiple short-term notes
One newer offering from EquityMultiple are its short-term notes. This is a savings product that's ideal if you're looking for a short-term place to park some cash that still generates meaningful returns. At the time of writing, EquityMultiple's Alpine Note Series is paying 6% APY for a 6 month term. There's also a $5,000 minimum investment like the regular offers.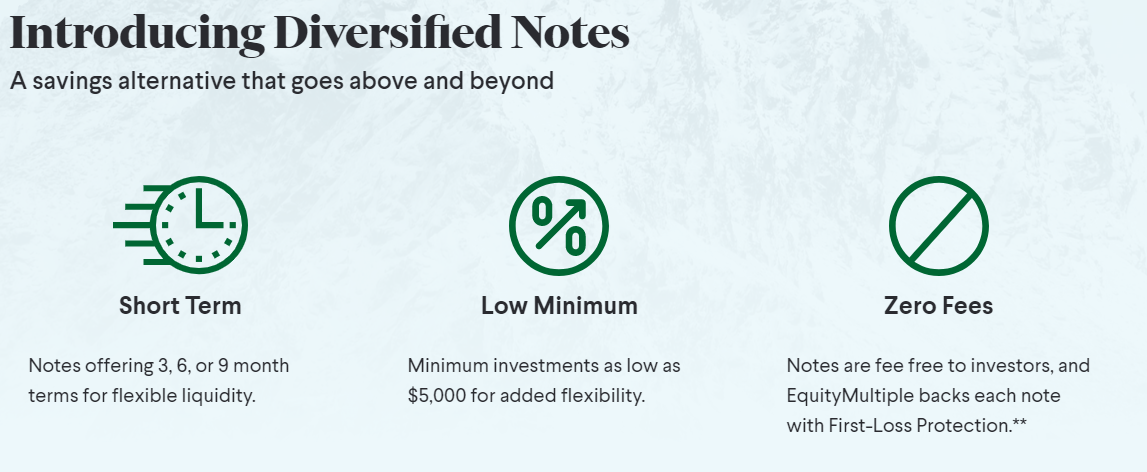 These notes are similar to corporate bonds or CDs, except the term lengths are generally around 180 days and the returns are much higher. Investors receive monthly distributions, and the notes are backed by EquityMultiple's own real estate holdings. The company takes a first-loss position to protect investors.
This new savings altenative has higher returns than pretty much any high-yield savings account as well. And, the short term lengths mean you're not locking up your money for years to get a high interest rate.
EquityMultiple alternatives
EquityMultiple is one of the best real estate crowdfunding platforms if you're looking for institutional-quality deals and a strong track record. But it's far from the only fractional real estate investing platform out there. And, some alternatives might be superior depending on how much capital you're investing and the types of deals you're looking for.
Fundrise is one of our favorites for new investors since it has low fees and lets you invest without much money. As for CrowdStreet and Origin Investments, both platforms offer more individual deals that cater to investors looking to invest larger amounts into real estate.
This is a testimonial in partnership with Fundrise. We earn a commission from partner links on Moneywise. All opinions are our own.
EquityMultiple pros and cons
Pros
Institutional-quality deals: EquityMultiple's projects are exclusively larger commercial projects sourced from national and regional real estate companies with significant experience and lenders with low default rates.
24/7 customer service: Reach out to EquityMultiple at any time.
High upside potential: Unlike some other platforms, investments in individual equity projects offer unlimited upside and the opportunity to earn high rates of return if projects perform well.
Mission capital's backing: The company's relationship with Mission Capital, an experienced and well-connected real estate advisory firm, gives EquityMultiple a powerful and well-financed partner.
Detailed offering pages: EquityMultiple provides a plethora of details on each investment opportunity page, which is intuitive and easy to navigate.
Cons
All investors must be accredited: You'll need to be a high-income or high net worth investor to access EquityMultiple's offerings.
Higher minimum than some competitors: Deals at EquityMultiple have a minimum investment of $5,000, higher than Fundrise and a few other platforms out there.
Less deal flow: EquityMultiple is ramping up, but as of this review, it does not have as many deals on the platform as others.
Get started with EquityMultiple today
Summary
Unlike Fundrise and RealtyMogul, EquityMultiple is not moving in the "eREIT" direction. EquityMultiple's focus is on distinct, institutional-grade commercial real estate projects.
What does that mean? Well, if you're a beginning investor, you might prefer to start with a platform that offers a REIT, such as Fundrise or RealtyMogul. EquityMultiple would better serve a slightly more experienced investor who likes the satisfaction of owning a piece of specific assets and can enjoy a greater range of return/risk profiles. EquityMultiple provides the flexibility to diversify your portfolio of real estate investments across markets, asset classes and project types.
To date, EquityMultiple has closed 119 offerings, amounting to more than $131 million in assets under management, in real estate projects that total over $1 billion in total capitalization. That's substantial growth in a short period of time. According to Marketing VP Soren Godbersen, "We're expecting to close 2019 at about 134% growth in dollars invested through the platform versus 2018."
I was particularly impressed with EquityMultiple's offering pages, which I found to be very detailed and transparent. Again, while this makes the service a good choice for an experienced (and accredited) investor, someone who's new to real estate investing might find all of this detail a bit overwhelming.
However, if you're looking for sheer number of investments to choose from, you won't find as many here as you will with other platforms such as PeerStreet or Patch of Land.
I also got the impression that the company is dedicated to giving its investors the "white-glove treatment" (or as much as you can get from an online platform). EquityMultiple offers customer support 24/7, which is rare. Associates also appear happy to spend time in lengthy conversations with prospective investors. Responses to my emails were both immediate and thorough and were promptly followed up by a personal phone call. From what I can tell, the company takes transparency and responsive customer service to a higher level.
Overall, if you're an accredited investor looking for opportunities to invest in commercial real estate, EquityMultiple should definitely make your shortlist.