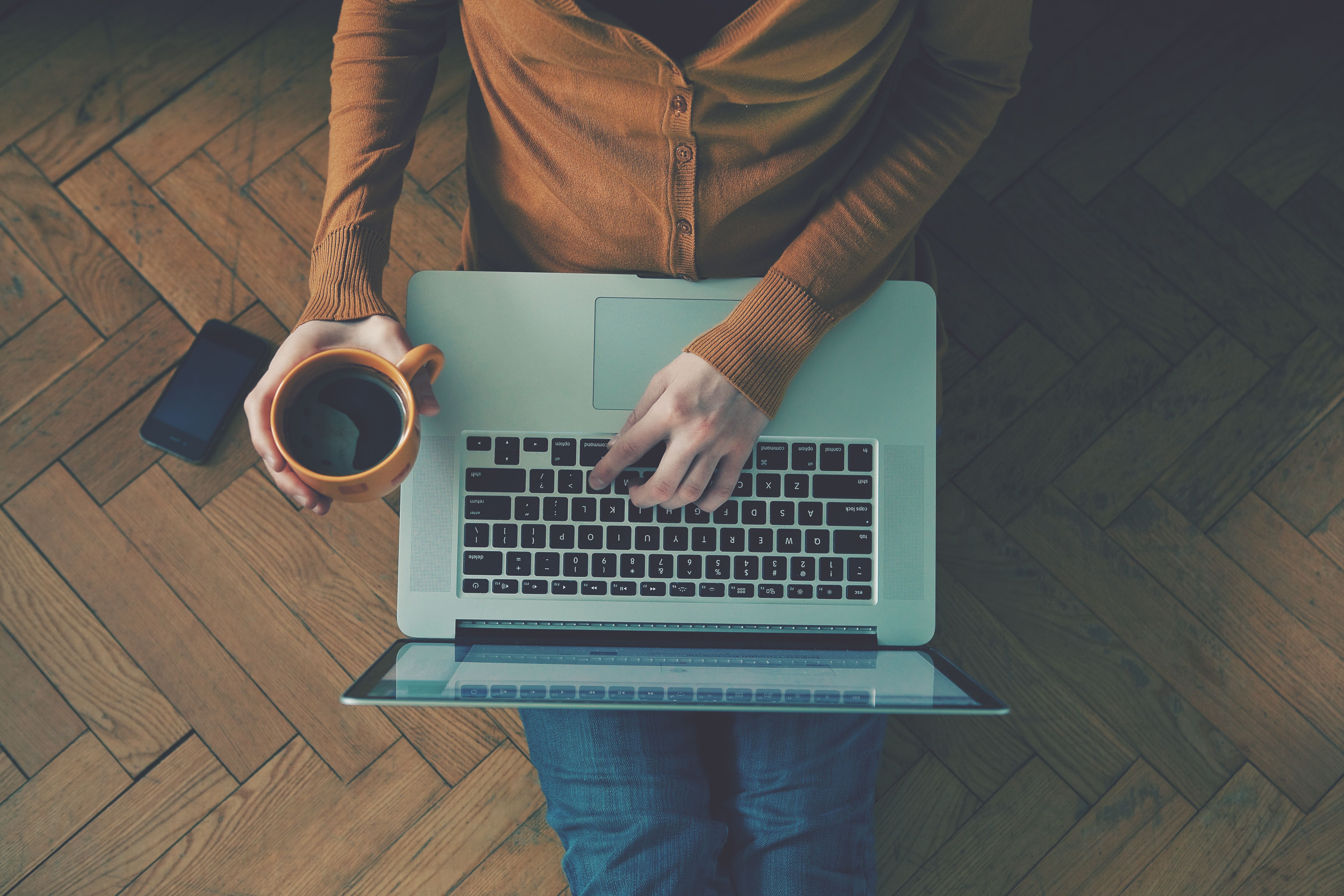 Ivan Kruk / Shutterstock
We adhere to strict standards of editorial integrity to help you make decisions with confidence. Please be aware that some (or all) products and services linked in this article are from our sponsors.
We adhere to strict standards of editorial integrity to help you make decisions with confidence. Please be aware that some (or all) products and services linked in this article are from our sponsors.
Ellevest has made a name for itself as an investing tool for women. The company is known for incorporating an "algorithm that factors in important realities in women's lives, such as pay gaps, career breaks and longer average lifespans". This Ellevest review will provide an overview of what to expect, as well as the benefits of its Money Membership program.
What is Ellevest?
Ellevest offers a suite of investing and banking* products and services, along with access to financial planning and career resources. In addition to helping you invest your money, you can get one-on-one financial planning meetings, as well as free resources related to various financial and career topics. Ellevest's investment methodology will help make sure you account for gender pay gaps and a longer lifespan when helping you plan out your future.
In general, Ellevest is aimed at those who identify as women. The company claims to use an algorithm that tweaks asset allocation and other models to account for issues like the fact that women are more likely to take career breaks and start out their careers with lower pay.
Ellevest features
Ellevest Features
Details
Taxable, Joint, Traditional IRA, Roth IRA, Checking, Savings
Phone and email 9 AM- 6PM EST Monday- Friday
Account minimum: $0
Account types: Taxable investment, retirement, banking
Customer service: Phone, email
Access: Web-based, iOS
Fees: Tiers based on membership — $1, $5 or $9 per month
Investment: Robo advisor
How does Ellevest work?
In the past, Ellevest worked similarly to other robo advisors. You'd sign up for an account, and then you'd be charged an annual fee based on your account size. Recently, though, Ellevest has revamped its model to be subscription-based. Now you choose which features you want and pay a monthly fee, and Ellevest takes care of the rest.
You can sign up for Ellevest through the website and choose your level of services. When signing up, you need the usual identifying information, and also need to link your bank account to pay for your membership and fund your accounts when you're ready.
In addition to the ability to start investing, Ellevest offers a debit card with "enhanced banking"* features. You cannot spend directly from your investment account – the debit card is linked to your spend and save accounts. But you can seamlessly transfer funds between accounts. All accounts come with the spend-and-save option.
Investing
Like many robo advisors, Ellevest will consider your risk tolerance and goals when putting together your portfolio. However, the company also takes into account specific challenges around identifying as a woman in today's financial world. The robo advisor mainly uses exchange-traded funds (ETFs) to build and manage your portfolio. It also invests in stocks, bonds, and alternatives funds.
Ellevest also offers its Impact Portfolio as an option to select instead of the core portfolio. The Impact Portfolio is geared more toward socially-responsible investing. And you can get access to automatic rebalancing and tax minimization strategies when using Ellevest to invest.
Note that Ellevest states that while it doesn't require a minimum balance for an Ellevest membership, there are portfolio-specific minimums that range from $1 to $240. It also explains that you might not recieve the entire recommended portfolio until your account balance meets the portfolio minimum.
Spend and save
Ellevest accounts come with a Mastercard debit card that you can use for spending. The card also includes contactless tap to pay, ID theft resolution, extended warranty, and a satisfaction guarantee. On top of that, it's possible to round up your purchase amounts and deposit the difference in a save account. This allows you to save in an FDIC-insured account**** without thinking about it.
The company doesn't charge overdraft fees or minimum balance fees and offers free card replacement. You can also receive ATM reimbursement on domestic ATM fees when you set up direct deposit and a deposit has been made in the prior 30 days.**
The banking products are provided by Coastal Community Bank, which is a FDIC member, so your accounts are insured up to $250,000 per depositor.
On-demand learning
In addition to these financial services, Ellevest provides the option to learn about important career and financial topics. You have to pay separately for a session with a financial planner, but being an Ellevest Money Member provides you with a discount on 1:1 services.
However, you can get access to free live workshops. There are also email courses available to learn about different topics on your own time. These benefits are included based on the membership level you choose.
Ellevest fees
There are three membership levels with Ellevest:
Ellevest Essential ($1 per month): You can open an investing account and take advantage of spend-and-save benefits. Plus, you get access to on-demand learning and 20% off when you meet with a financial planner or career coach.
Ellevest Plus ($5 per month): On top of everything that comes with the Essential plan, you get personalized help with retirement planning. And you can get help transferring your accounts from other custodians. The one-on-one planning and coaching discount is 30% with this membership.
Ellevest Executive ($9 per month): You can access different personalized portfolios for different goals, such as starting a business or buying a home. And you get one free 1:1 review session and a 50% member discount on future sessions.
These fees include the robo advising and portfolio rebalancing services. However, it's also important to understand that the ETFs used will have their own expense ratios.
Other Ellevest features and resources
Here are some of the resources available with Ellevest:
Investment accounts: You can open taxable or retirement accounts to invest for various goals. The retirement accounts are only available with Ellevest Plus and Executive membership levels.
Debit card: Access to banking services via debit card and fee reimbursement for using ATMs.**
Save account: FDIC-insured**** savings account.
Educational materials: Access to workshops, courses and other materials that can help you learn about various topics ranging from beginning investing to salary negotiation.
Coaching: You can meet with a financial planner or career coach to help you figure out how to make your next move, although you will need to pay extra for it. Some of the sample sessions include negotiation training and sessions with a CFP professional on your retirement goals.
Different goals: At the Ellevest Executive level, you can save for different goals, including starting a business, buying a home, retirement, and even a vacation. Or you can work toward paying down debt.
Private Wealth Management: Clients looking to invest $1 million or more can use Ellevest's Wealth Management service. This involves working with Ellevest's team to build a custom portfolio that meets your goals and values.
Customer service
Ellevest offers customer service access via phone during traditional business hours. It's also possible to connect with Ellevest via email at support@ellevest.com. And of course, there are FAQs as well.
Ellevest also offers one-to-one meetings with experts, but those are managed separately and could be subject to an additional cost. For 401(k) transfers you can get one-on-one assistance included with your plan including things like calling your provider together.
Security
Like other financial services companies, Ellevest makes use of bank-level security and encryption and engages in best practices designed to keep your data as secure as possible.
Plus, Ellevest's bank product accounts are FDIC-insured****, and investment funds are SIPC-insured.
Best alternatives
In the crowded robo advisor world, Ellevest sets itself apart from the competition. It's the largest robo advisor that focuses on helping women increase their net worth and improve their finances. And in reality, it's one of the more gender-aware FinTech companies out there that focuses on underrepresented investors.
Your portfolio options and Ellevest's tiered pricing model are also different from many of its competitors. But depending on how much you have to invest and your goals, certain Ellevest alternatives may be superior.
Here's how Ellevest compares to Betterment and Personal Capital, two other leading robo advisors and wealth management services.
Highlights
Empower
Betterment
Ellevest
Two-Factor Authentification
Automated, Human Assisted
Automated, Human Assisted
Socially Responsible Investing
Like Ellevest, Betterment doesn't have any account minimums. And the advantage of Betterment over Ellevest is that it offers far more portfolios for you to invest in. Options include ESG and social-impact portfolios as well as core, fixed-income, and technology-focused portfolios. You pay 0.25% in annual fees, and Betterment includes features like tax-loss harvesting that are missing from Ellevest.
As for Empower, it offers a Wealth Management service if you have at least $100,000 to invest. This helps you build a custom portfolio of investments to match your goals and risk tolerance, although fees start at 0.89% annually. Plus, Personal Capital has a host of free tools, like an investment fee analyzer and numerous budget planning tools
We still like Ellevest for its lack of account minimums and the wealth of resources it offers. The fact you can also get discounted financial planning and coaching are also selling points. But it's always important to consider your options so you find the right investing platform to meet your goals.
Ellevest pros and cons
Pros
Account minimums: No account minimums
Account types: Tax-advantaged and taxable accounts
Educational resources: Learn as you go or talk with a real live person
Financial planning: Access to discounted financial planning and coaching
Fees: Relatively low fees
Cons
Escalating fees: More personalized help requires higher fees
Customer service: No live chat
Investment options: Limited investment choices
Tax-loss harvesting: Ellevest doesn't offer automatic tax-loss harvesting
The bottom line
If you're looking for a robo advisor that focuses on those who identify as women and a more personal touch, Ellevest can be a good choice. Ellevest offers services designed to take into account the challenges you face as a woman, including a pay gap, an employment break, and the fact that, statistically, you're likely to live longer than a man.
If you're trying to figure out how to get started investing and you want help learning how to fit investing into your long-term financial plan, Ellevest could be a good choice. However, it is a robo advisor. If you want to make individual trades and invest in a wide variety of individual stocks, it might not work for you.
Carefully consider your needs, and then figure out whether Ellevest is the right choice as you start investing and learning to more effectively manage your money.
Disclosures
*Banking products and services are provided by Coastal Community Bank, Member FDIC, pursuant to license by Mastercard International.
**Domestic ATM transaction fees will be reimbursed if a payroll direct deposit has been received within the prior 30 days of the ATM transaction settlement. International ATM withdrawal fee of $5 will apply.
***If you opt in to the Roundup Program for debit card purchases, each settled (i.e. fully completed) purchase transaction made with your Ellevest Debit Card will be rounded up to the nearest whole U.S. dollar. The Roundup amount will be transferred from your Spend account to your Save account. Foreign purchases are rounded up to the nearest whole dollar after the purchase is converted to U.S. dollars. ATM withdrawals and transactions in whole US dollars, e.g. $20.00 are excluded from the Roundup program. If, at the time of settlement of a purchase, your Ellevest Spend Account has insufficient available funds to cover the full amount of the Roundup transfer, the Roundup Transfer will not be made. If a purchase is canceled or reversed for any reason (including disputes), the corresponding Roundup Transfer will not be reversed. You can opt out of the Roundup Program at any time.
****The Ellevest Spend and Save accounts are FDIC-insured up to $250,000 per depositor through Coastal Community Bank, Member FDIC.