Higher-risk and more patience
Times have changed when it comes to investing.
While there used to be more conventional ways of investing your money, now there are more personal approaches that dictate how you handle your wealth.
Candice Dziedziejko, an investment advisor with BMO Nesbitt Burns, observes that now, it's about looking at an individual's investment interests and what their risk tolerance is.
"Younger generations, they tend to be more comfortable with this volatility," she observes.
This ability to ride out the valleys of the market leads to Gen Z seeing greater returns in the long run. "By staying invested, as long as you have great investments, you tend to reap the benefits throughout that volatility by holding on."
Dziedziejko notes that when the market is volatile, Gen Xers are "more concerned and want to sell out their portfolio."
Countering this, Gen Z "tend[s] to continue to stick to their plan and invest through that volatility as well as take it as an opportunity or a tool to add more to their portfolio."
McDonald echoes this feeling. He observes "the Gen Xers… they're about to become the beneficiaries of the largest transfer of wealth in the history of the world." This awareness affects their approaches to investing. "I wouldn't say they're risk averse. But I think it's still controlled risk."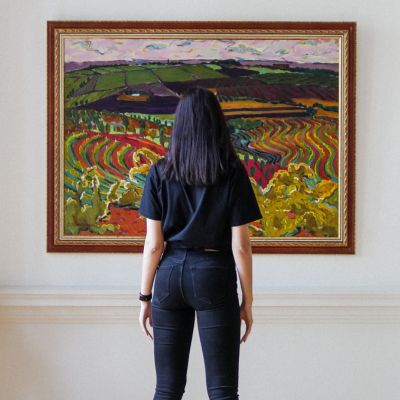 Contemporary art has outperformed the S&P 500 by 131% for the past 26 years. Join the exclusive platform to invest in million-dollar works by artists like Banksy, Basquiat, and more. Get started today and diversify your portfolio with art.
Learn More
Different ages, different worries
Part of the reason for Gen Z's greater risk tolerance may be due to teachings from older generations. Dziedziejko theorizes that younger investors may grow up hearing about the market's volatility from other people directly or from the media.
From Dziediziejko's personal experience, even millennial investors are showing less risk tolerance in recent years. She suggests this may be due to their feeling they have less time to invest before retirement.
Gen X in particular may feel like they have a shorter window of opportunity, which will lead to less risk tolerance.
"And they feel as though they're less comfortable as retirement approaches with this volatility, where they really could learn from the younger generations by just investing through the volatility and being rewarded more handsomely in time."
Think differently for bigger payoffs
Changes to traditional approaches to finances are part of everyday life for Gen Z.
McDonald says that looking beyond convention "goes to the very core of what [Gen Z'ers] are. A little bit more risk taking… I think it's forming those biases that should be malleable, rather than being a permanent state."
Disruption is a symptom of the gig economy that permeates Gen Z's lives. "Disruption" refers to changes in the traditional way of doing business, such as the way Airbnb added new competition for hotels.
"There's lots of choices," notes McDonald, adding that disruption "is like a permanent thing that's occurring."
"Look at what you're doing, or when you look at an opportunity, can it be disrupted?" advises McDonald. "Can you double down and reinvest in it?"
McDonald notes that Gen Z is still interested in traditional companies to invest in, but also want to explore alternative avenues. For instance, in Q4 2021, Tesla was the top stock held by Zoomers, while shares in companies like Roblox and Meta Platforms Inc. rose in popularity.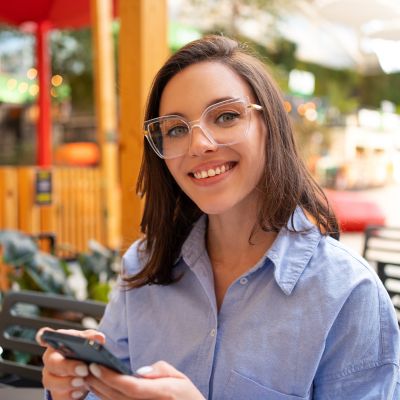 Acorns rounds your everyday purchases to the nearest dollar and invests your spare change. That means any spare change from your daily spending – gas, coffee or groceries – will go towards building your wealth. Get up to $20 when you sign up with this special link.
Get Started
Pay attention to the world around you and ask questions
"There is value in listening," says McDonald. "I love interacting with Gen Z's for that."
Gen Z has grown up with technology and change all around them, and have come to embrace a certain healthy paranoia.
McDonald recognizes this, commenting that "understanding innovation, and the fact that innovation is very important" is key to recognizing investment opportunities, such as the rise of Uber.
"You don't want to become obsolete."
When it comes to investing, Dziedziejko observes that "the savviness of these individuals is much more elevated than I had seen years ago."
"Be it due to social media, be it due to information being more transparent from a global perspective through our news outlets, or just their level of interest. But I would say they tend to ask more thoughtful questions and have a better general understanding of investing, even just walking through the door."
Gen Z offers a fresh perspective on investing. By taking cues from their habits and listening to their insights, you can revise your own investment strategy and refresh your portfolio — creating new opportunities for financial growth.
More: Check out the best investment apps
Sponsored
Meet Your Retirement Goals Effortlessly
The road to retirement may seem long, but with WiserAdvisor, you can find a trusted partner to guide you every step of the way
WiserAdvisor matches you with vetted financial advisors that offer personalized advice to help you to make the right choices, invest wisely, and secure the retirement you've always dreamed of. Start planning early, and get your retirement mapped out today.