Sunsetting insurance in the Sunshine State
On Monday, July 10, the Florida Office of Insurance Regulation said it received a "market reduction notice" from Farmers Insurance Group. Details were not provided because the information is considered trade secrets based on Florida insurance statutes.
However, this wasn't the first sign of retreat from Farmers. A month ago, the company announced it would stop issuing new homeowners' policies in the sunshine state. "This business decision was necessary to effectively manage risk exposure," said the group's director of public relations, Trevor Chapman in a statement issued about the latest move to cut back.
The move is expected to impact 2% of Floridian homeowners — or about 100,000 people.
Regulators such as Florida Insurance Commissioner Michael Yaworsky said they were "disappointed by the hastiness in this decision." Meanwhile, CFO Jimmy Patronis indicated that the dispute could be ramped up. "My office is going to explore every avenue possible for holding them accountable," he said in a Tweet.
In a press release, Patronis indicated that "woke" political ideology could have played a part in Farmer's latest move.
"While they're bad at helping people, they're good at virtue signaling…I sincerely believe that with today's actions, Farmers Insurance is well on its way to becoming the Bud Light of insurance."
However, Farmers isn't just retreating from Florida. It's also cutting back operations in (famously woke) California. At the same time, other insurance giants cut back too. This all indicates that there's a more significant trend playing out.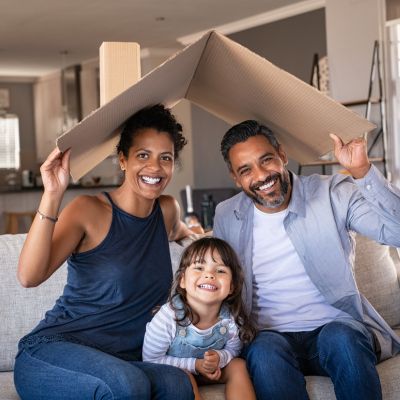 Home insurance is an essential expense – one that can often be pricey. You can lower your monthly recurring expenses by finding a more economical alternative for home insurance.
SmartFinancial can help you do just that. SmartFinancial's online marketplace of vetted lenders allows you to quickly shop around for rates from the country's top insurance companies, and ensure you're paying the lowest price possible for your home insurance.
Explore better rates
Climate change
Three major home insurers left Florida before Farmers Insurance — including AAA which said it would no longer renew some policies in the state. "Unfortunately, Florida's insurance market has become challenging in recent years," AAA said in a statement. "Last year's catastrophic hurricane season contributed to an unprecedented rise in reinsurance rates, making it more costly for insurance companies to operate."
Florida has always been prone to hurricanes but the severity of weather-related issues has ramped up in recent years. Record-breaking temperatures in the Atlantic Ocean coupled with an El Nino event are expected to make this hurricane season particularly troublesome.
Climate risk is reflected in the premiums homeowners pay. Floridians pay an average of $6,000 to insure their home, compared to the national average of $1,700. Environmental risk has also pushed State Farm and Allstate out of the insurance market in disaster-prone California.
The entire industry could be on the verge of a "crisis of confidence around the ability to predict loss," according to Aon PLC President Eric Andersen. Weather patterns are becoming less predictable and the insurance industry is based on predictability.
"Just as the U.S. economy was overexposed to mortgage risk in 2008, the economy today is over-exposed to climate risk," Andersen told a Senate committee during a recent hearing.
Sponsored
Unexpected vet bills don't have to break the bank
Life with pets is unpredictable, but there are ways to prepare for the unexpected.
Embrace Pet Insurance offers coverage for treatment of accidents, illnesses, prescriptions drugs, emergency care and more.
Plus, their optional wellness plan covers things like routine vet trips, grooming and training costs, if you want to give your pet the all-star treatment while you protect your bank account.