Hurricanes, storms and flooding
Florida's insurance crisis is down to both natural and man-made causes.
More than three-quarters of Floridians live in areas near the two coastlines, which are acutely vulnerable to hurricanes, tropical storms, flooding and other natural disasters — all of which are contributing to the insurance crisis.
For instance, three major hurricanes have devastated parts of Florida in recent years — Irma in 2017, Michael in 2018 and Ian in 2022 — causing billions of dollars worth of damage and a surge of costly home insurance claims.
The challenge that insurers have faced is that, until very recently, Florida policyholders could take up to three years to file a claim. This led to a phenomenon known as "loss creep," where claims costs have increased over time, often beyond the insurance company's initial expectations.
Insurance companies estimate claims costs to help set their premiums. If the actual claims in a given year turn out to be much higher than the estimates due to loss creep, insurers could suffer financial losses, which they try to recoup by raising their premiums.
This difficult dynamic has proven too much for some Florida home insurers. Seven property insurance companies have gone bust since the beginning of 2022.
In February, Farmers Insurance became the latest to announce it would no longer write new property insurance policies in the state, citing "historically high" catastrophe costs as a main driver.
"Housing prices are increasing, and inventory supply and demand, lumber prices and costs of labor are contributing to the increase," the insurer wrote in a memo sent to Farmers agents and obtained by News 6. "These issues also are increasing the costs of claims, which in turn drives down profitability."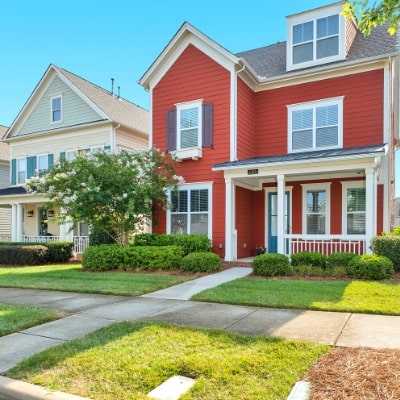 The right homeowners insurance policy protects you, your loved ones and your home.
Find the coverage you need at the most competitive rate in your area. Compare quotes from over 200 insurance companies with SmartFinancial.
Compare Now
Man-made catastrophe
Extreme weather challenges have been exacerbated by man-made problems — namely, fraudulent roof replacement schemes and excessive insurance litigation.
Florida is said to account for 79% of all homeowners insurance lawsuits over claims filed nationwide — yet Florida's insurers receive only 9% of all U.S. homeowners insurance claims, according to the Florida governor's Office.
Many of those lawsuits revolve around roofing scams, insurers say, where contractors allegedly file fraudulent insurance claims for storm-related roof damages on behalf of unsuspecting homeowners. The contractors then sue insurance companies if they dispute those bogus claims, at which point it would often become cheaper for the insurers to settle.
In 2022, JD Supra, citing the Florida Office of Insurance Regulation, reported that $51 billion had been paid out by Florida insurers over the previous decade, and 71% of that total went to attorneys' fees and public adjusters — highlighting the true extent of the litigation problem.
To combat that, home insurers have hiked their prices about 57% since 2015, according to LexisNexis Risk Solutions via the Miami Herald, which is nearly triple the national average of 21%.
Citizens Property Insurance is the state-backed insurer of last resort for Floridians unable to get home insurance through the private market because their risk is deemed too high. The number of Floridians using Citizens has doubled in two years from about 610,000 to over 1.3 million.
Citizens announced it would be seeking average rate increases of 13.1% in 2023 — meaning that homeowners in the Sunshine State today could face double-digit price hikes in the next year.
The impact on real estate
Some people might be wondering how these insurance challenges might impact their real estate investments in the state.
You are not legally obligated to buy home insurance in Florida, but any third parties with a financial interest in your home — such as mortgage or home equity loan lenders — will require you to have insurance (no matter how expensive it is) because they want to protect their investment.
"Much of Florida just basically became worthless," one fed-up YouTube user mused after suggesting that people won't be able to sell homes that are difficult to insure.
As high mortgage rates and insurance premiums erode affordability in the Sunshine State, some Americans may want to consider a new haven to live out their golden years.
Sponsored
Unexpected vet bills don't have to break the bank
Life with pets is unpredictable, but there are ways to prepare for the unexpected.
Embrace Pet Insurance offers coverage for treatment of accidents, illnesses, prescriptions drugs, emergency care and more.
Plus, their optional wellness plan covers things like routine vet trips, grooming and training costs, if you want to give your pet the all-star treatment while you protect your bank account.