Retirees are saving big by choosing Baldwin
Baldwin County was the fastest growing county in Alabama between 2010 and 2020 with a population growth of more than 27%, according to Census Bureau data.
Plenty of that growth can be attributed to older Americans being priced out of South Florida, says Ken H. Johnson, an economist at Florida Atlantic University in Boca Raton. There's no sacrificing climate for cost, either. Residents get the best of both worlds.
"Baldwin County is right on the water, and the beaches look like sugar," Johnson told the Journal. "It's tailor-made to catch these retirees."
Baldwin County boasts an average home value just above $365,000, according to Zillow, while having one of the lowest median property tax rates across the country, per Tax-Rates.org.
Plus, homeowners who are 65 or older are exempt from paying state property taxes altogether.
Another retired couple, Kathy and Ashley Gordon, were seemingly able to add to their nest egg by making a move. They relocated to a three-bedroom, cottage-style home in a golf course community in Fairhope of Baldwin County for $543,000, according to the Journal, selling their previous home in Florida for $875,000.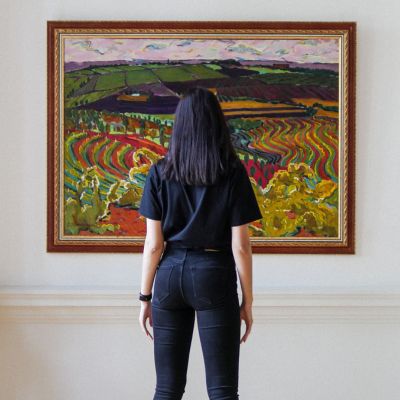 Contemporary art has outperformed the S&P 500 by 131% for the past 26 years. Join the exclusive platform to invest in million-dollar works by artists like Banksy, Basquiat, and more. Get started today and diversify your portfolio with art.
Learn More
3 ways to afford a comfortable retirement
While moving to a less-expensive spot can be a great way to enjoy your golden years without breaking the bank, there are other ways you can afford a comfortable retirement, too. Here are three tips to help you get started.
1. Start saving early
If you haven't begun saving for retirement yet, now's the time to make some headway in a tax-advantaged account.
Maximize contributions to your IRA or 401(k) as much as you can. If you're saving on your own, look into automating your monthly transfers to keep you on track.
And remember, once you turn 50, you can start making yearly catch-up contributions.
2. Generate passive income
Instead of delaying your retirement and working longer, try to find ways to make some easy cash on the side of your regular 9-to-5.
You could rent out your garage or an unused parking space, or become an Airbnb host by renting out a spare room in your home.
Consider also growing your money in a high-yield savings account or a certificate of deposit (CD), which could get you better returns than a traditional savings account.
3. Make smart investments
While the stock market has certainly gone through its ups and downs, you could benefit from a well-balanced, diversified portfolio.
If you're new to investing, consider beginning with a robo adviser that will automatically rebalance your portfolio as the market fluctuates.
And if you can't put hundreds of dollars toward your stock picks, there are services that will let you start small with your spare change and work your way up once you get more comfortable.
Sponsored
Follow These Steps if you Want to Retire Early
Secure your financial future with a tailored plan to maximize investments, navigate taxes, and retire comfortably. Zoe Financial is an online platform that can match you with a network of vetted fiduciary advisors who are evaluated based on their credentials, education, experience, and pricing. The best part? - there is no fee to find an advisor.