Before you switch banks
Like most people, you're probably receiving deposits and paying at least some bills directly from your bank account. With a little planning, you can close your account, open a new one and avoid missing deposits or incurring any late payment fees.
To do this, make a list of the bill payments, direct deposits (such as paychecks from your employer), linked accounts, subscriptions, mobile apps and other relationships tied to your current account.
Many recurring payments happen on or around the same day each month, so check your past three monthly bank statements to see when your payments and deposits tend to occur.
Later, with a good list in hand, you'll be able to check off each direct deposit and automatic payment as it's successfully moved to your new account.
Try to time the switch to your new account right after most of these electronic payments are completed for the month. That way, you'll give yourself, your employer and your payees a few weeks to change things over.
Streamline your debt repayment
Having a single loan to pay off makes it easier to manage your payments, and you can often get a better interest rate than what you might be paying on credit cards and car loans.
Fiona is an online marketplace offering personalized loan options based on your unique financial situation.
When you consolidate your debt with a personal loan through Fiona, you can roll your payments into one monthly installment. Find a lower interest rate and pay down your debt faster with Fiona today.
Find your rate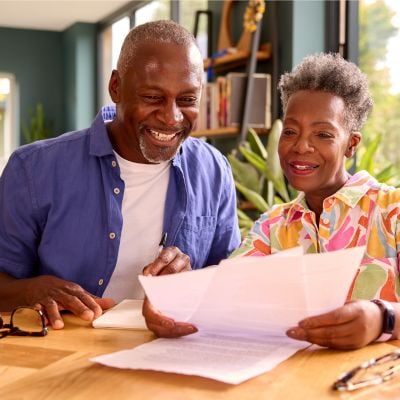 7 steps to switch banks
Here's how you can switch banks quickly and seamlessly.
1. Choose a new bank
Before you close down your existing checking or savings account (or both), take the time to compare banks or credit unions.
Check out the bank's website, or make an appointment at a nearby location, to learn about online banking features, overdraft protection, automatic payment scheduling and any recurring monthly fees.
Make sure to inquire about competitive interest rates on savings accounts, checking accounts with low fees, and any minimum deposit requirements. Consider opening a high-yield checking account to earn a better return on your money.
If you're relying on a credit card that's tied to your old bank, don't forget to ask about credit card offerings, too. It's often easier and faster to pay credit card bills using online banking from an account at the same bank.
Finally, look for a bank that has branches and ATMs located conveniently close to you.
More: Best banks of 2023
2. Open a new bank account
Once you've found a new bank, it's time to open an account. Make sure you know which product you want, whether it's a checking account, high-yield savings account or one of your other bank account options.
The fastest way to open an account is on the bank's website. When you search for the site, sure to type in the bank's name correctly, so you won't be directed onto a fake website with a similar name.
Once you're on the bank's site, just follow its steps for opening a new account.
You also can open an account in person by going to your chosen bank during the day with your government-issued ID, your Social Security number (or equivalent), proof of your address, and some money to deposit upon opening the account. But not all accounts need you to make an initial deposit, so check in advance.
Finally, fill out the bank's paperwork, and read your agreement carefully before signing it.
3. Link your bank accounts
In order to transfer money and payee information quickly from your old account to your new one, you'll need to link the two accounts.
You can do this on the website or mobile app of the bank you're leaving, by choosing the option to "add an account" or "link account."
Enter the new bank account's routing information, and do a tiny money transfer by sending a few pennies from your old account to your new account.
Within a day or two, your soon-to-be old bank will confirm that the small transfer was successful and that the accounts are linked.
4. Update any automatic payments
Next, you'll want to set up your new account to accept direct deposits and pay recurring bills tied to your existing account.
If your employer pays you using direct deposit, inform your workplace of your new bank account information. This can be found on a blank check or on your online banking page. The switching process can take one or more pay cycles, so it's best to update your bank information for direct deposits as soon as possible.
Make sure to cover all income sources, including Social Security benefits, pensions, investments and annuities.
While transferring automatic payments over to your new account, turn off payments from your old one. This way, you won't accidentally pay a bill from the wrong account.
Activate automatic payments with your new bank account as the bills become due. This ensures you'll remember to schedule all your bills and will save you from possible overdrafts or late fees if something goes wrong during the switching process.
Don't forget to update your banking information for online payment systems such as PayPal and Venmo. Some take a few business days to verify new accounts.
5. Wait a month
Some of your automatic bill payments may not move over to the new account right away. Payees may take one billing cycle (usually a month) to make the transition.
This means it's a good idea to wait a month for all of your automatic payments to complete one successful transfer from your new account before completely closing your old one.
Once all of your payees and deposits have successfully completed a transfer to or from your new account, you'll know it's safe to close up your old account without any confusion about linked deposits or bill payments.
6. Transfer the bulk of your money
Once you have your bills and outstanding debts taken care of, you can safely transfer the majority of your money, including your emergency funds, to your new bank. If you have investment accounts or a high-yield savings account, make sure you get these rolled over into equivalents at your new bank.
It's generally best to leave a small cushion in the old account in case there are transactions you've missed or forgotten about.
Depending on the banks, making an electronic payment is the cheapest option aside from physically taking the money to the new bank.
However, if you want immediate access to your funds, a bank wire transfer or a service such as Zelle is the fastest method. A wire transfer typically incurs a fee, so keep that in mind when deciding how to proceed.
Make sure you keep up with the minimum balance requirements of your old bank so that you won't accidentally trigger a penalty when you're transferring money out of your account.
7. Close your old account
Once you're confident that all of your outstanding bills, checks and debits have cleared, and that your new account is fully functional, it's time to formally close your old one.
You can do this by phone or by visiting a bank branch. If you're going in person, you may want to call ahead to find out which documents you'll need to close your account. The bank may charge a fee, so be prepared for that as well.
Ask the bank to provide written confirmation of the closure.
Consumer Reports publisher Consumers Union strongly recommends taking the extra step of getting written confirmation, so there's a paper trail in case the account is ever reactivated for any reason.
Tip: Beware of the 'zombie account'
Consumer banking experts warn that you should be on the lookout in case your old account turns into a "zombie account."
This is when a bank reopens an account without informing you, typically because of a check or payment coming through. The bank can then charge late fees, penalties and overdraft fees that will pile up without your knowledge.
If you've properly and successfully transferred all of your bills over to your new account, you should have no reason to worry about a zombie account putting the bite on you.
Sponsored
Follow These Steps if you Want to Retire Early
Secure your financial future with a tailored plan to maximize investments, navigate taxes, and retire comfortably.
Zoe Financial is an online platform that can match you with a network of vetted fiduciary advisors who are evaluated based on their credentials, education, experience, and pricing. The best part? - there is no fee to find an advisor.