Cashing a personal check
When a check is written out to you, the first step in cashing it is to endorse the check by signing the back of it with your name.
In order to cash it, you'll need to take identification or your bank card with you to a location that can cash the check.
If you'll be depositing the check directly into an account, you'll want to write your account number on the back of the check, too — right below your signature.
Streamline your debt repayment
Having a single loan to pay off makes it easier to manage your payments, and you can often get a better interest rate than what you might be paying on credit cards and car loans.
Fiona is an online marketplace offering personalized loan options based on your unique financial situation.
When you consolidate your debt with a personal loan through Fiona, you can roll your payments into one monthly installment. Find a lower interest rate and pay down your debt faster with Fiona today.
Find your rate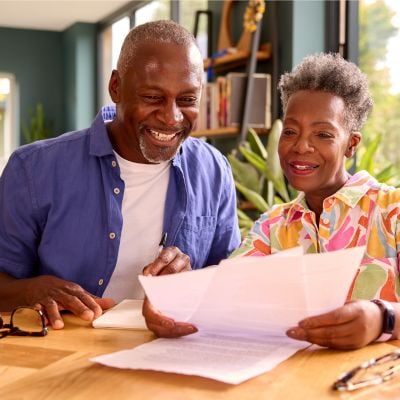 How to cash a check
The next step is to take the check to a place that will cash it.
Not all banks and credit unions cash checks for noncustomers. Those that do may offer this service only for people who have accounts elsewhere, or for certain types of checks, such as payroll checks or government checks.
Checks with guaranteed funds, such as certified and cashier's checks, may be preferred by banks.
Cashing a check at a bank
If you want to cash a personal check, the best option is to go to the bank that issued the check. To find the issuing institution, just look for the bank's name or logo on the check.
Keep in mind that banks will charge you to cash a check if you are not an account holder. You might have to pay: a flat fee of about $6 to $10; or the greater of either a minimum fee or a percentage of the check amount, such as 1%.
Banks will typically cash a check for up to $5,000, but there may be a lower limit, depending on the bank — and financial institutions often charge a higher fee for checks above $5,000.
Make sure to call ahead before going to a bank where you don't have an account. Also, bring several pieces of ID, so the bank will be certain the right person is getting the cash. Most accepted forms of ID include:
Driver's license
Passport
Goverment-issued photo ID
Cashing a check if you don't have a bank account
If you don't have a bank account, you may still be able to cash your check at a bank.
Some banks will allow you to take out a prepaid debit card, instead of giving you cash. Getting the card would make you a bank customer and eligible for free or very low-cost check cashing services.
If you choose this option, the bank will cash the check and put the money onto your new card, so you can withdraw it at a bank branch or ATM.
Be aware that prepaid debit cards may come with monthly fees — for example, a Wells Fargo card has a monthly fee of $5. As with other debit cards, you also may be charged a fee for withdrawing money from out-of-network ATMs.
The prepaid debit card option makes sense if you need to cash checks regularly, especially for larger amounts of money.
More: How to open a bank account
The best place to cash a check
The best place to cash a check is at your own bank or credit union, especially if you've got a nifty high-yield checking account that pays better interest.
Depositing your check into a checking account should be free, and your money will be available to withdraw from a bank branch or ATM within a day or two.
Mobile banking makes depositing quick and easy from the comfort of your home. Just take a picture of a check with your smartphone to deposit it straight into your account using the bank's mobile app.
If you need the money in hand quickly, account holders can go straight to a bank branch and request to have the check deposited and cashed right away. A teller may give you the money on the spot.
While banks often charge monthly fees of a few dollars to keep a checking or savings account open, some banks offer no-fee checking accounts that won't cost you a cent.
More: Credit union vs. bank: Which is better for you?
Stop overpaying for home insurance
Home insurance is an essential expense – one that can often be pricey. You can lower your monthly recurring expenses by finding a more economical alternative for home insurance.
SmartFinancial can help you do just that. SmartFinancial's online marketplace of vetted home insurance providers allows you to quickly shop around for rates from the country's top insurance companies, and ensure you're paying the lowest price possible for your home insurance.
Explore better rates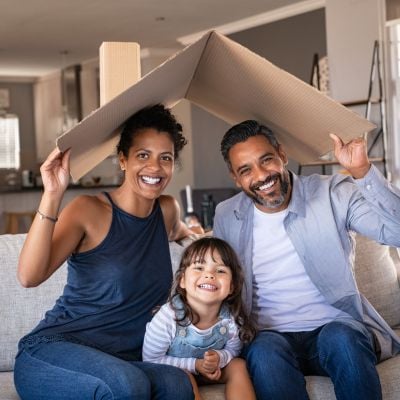 3 alternative ways to cash a check
Many retailers cash checks, but their fees vary. Here are a few options:
1. Check cashing stores make it their business to cash checks that banks won't touch if you don't have an account. Those often include small-business checks, personal checks, insurance checks and money orders.
The stores' fees may be capped by the state at around 2.5% or 3%. Always ask about fees before cashing any check.
2. Payday advance stores can cash your check, but this is probably your most expensive option. If you have a check for $800, the store might take $80 of that as the fee. You would be left with just $720.
These payday lenders may charge percentage fees as high as 10%, or steep flat fees.
3. Major retailers such as Walmart, grocery stores and pharmacy chains including CVS also cash checks and money orders. The fees are usually less than $10, making this a more cost-effective option. For instance, Walmart charges a maximum fee of $4 to cash checks up to $1,000.
Some retailers also can load your cash onto a prepaid debit card, so you can carry and spend it securely — although again, the cards may come with monthly fees or withdrawal fees if you use them at ATMs.
Beware of check fraud
Fake check scams are one of the most common types of fraud, the American Bankers Association says — so before cashing a check, you'll want to make sure it's legitimate.
When you cash a fake check, the bank puts the "funds" into your account. The funds may be released before the bank realizes what's happened — and if you use any of this money, you'll be on the hook to repay the bank, and you may be hit with an overdraft fee.
How to make sure your check is good:
Inspect the check for mistakes such as spelling errors, a faded or missing bank logo, or no street address for the bank — just a P.O. box, or the wrong ZIP code. A real check would not have these mistakes.
Inspect the numbers on the check. If the check number is missing from the top right corner, then it's a fake. Or, the check is bogus if the routing number along the bottom is written in a shiny ink (they are supposed to be printed with a matte magnetic ink), or if the number is too short or too long. Call the bank to find out its routing numbers if you have doubts.
Inspect the paper quality. If a check feels flimsy or like it's printed on regular printer paper, it's very likely a fake. Also, real checks often have at least one rounded or perforated edge. Beware of checks with all smooth edges, which indicate they were printed, rather than torn from a real checkbook.
Inspect the signature for fading, missing spots or if it looks photocopied rather than written with a pen. These all indicate a forgery.
Call the issuing bank to find out if it has a record of the check, or if you have any other questions. But don't call any number that's printed on the check — look on the bank's official website for the official phone number.
If the check is for less than $5,000 or if it arrived unexpectedly in the mail, definitely call the bank. Letter carriers rarely bring free money — and fraudsters will almost always send under $5,000 because banks tend to release smaller amounts without inspecting the check first.
More: Compare the best banks
Sponsored
Follow These Steps if you Want to Retire Early
Secure your financial future with a tailored plan to maximize investments, navigate taxes, and retire comfortably.
Zoe Financial is an online platform that can match you with a network of vetted fiduciary advisors who are evaluated based on their credentials, education, experience, and pricing. The best part? - there is no fee to find an advisor.