Advertising & Editorial Policies
The college experience is all about studying, making new friends and heading to the stadium on fall Saturdays to cheer on the football team.
Some college teams play in iconic shrines. Think Michigan Stadium, the Ohio State "Horseshoe" and Notre Dame Stadium. But others have home fields that probably remind fans of high school, or worse.
We're focusing on those. We count down to our pick for the very worst stadium at college football's top level — the NCAA Division I Football Bowl Subdivision, or FBS — based on attendance, online comments and more.
25. University of New Mexico: Dreamstyle Stadium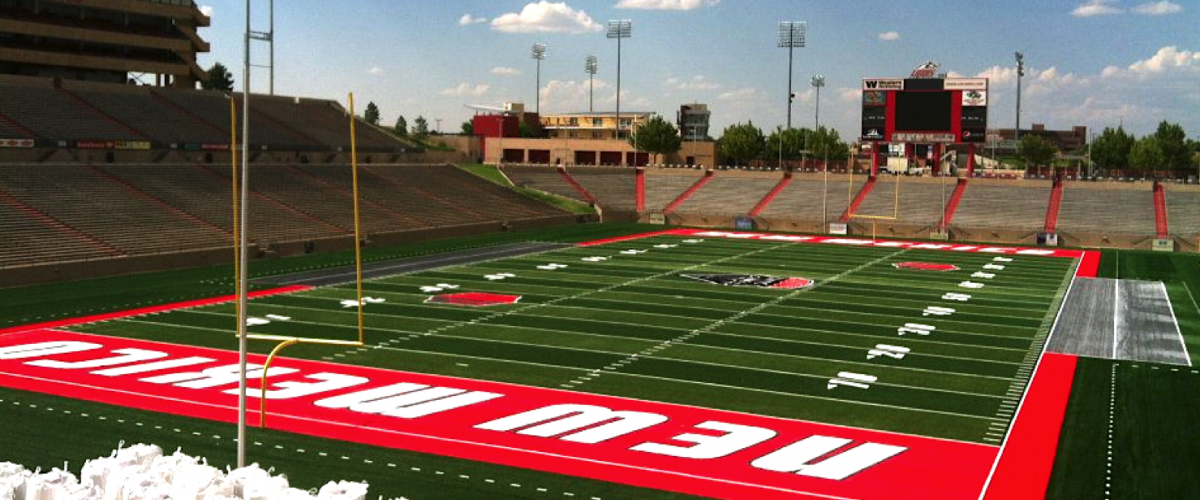 Albuquerque, New Mexico
Home of the Lobos, Dreamstyle Stadium has not seen many wins. The New Mexico program hasn't won a conference title in over four decades, which doesn't make for a great game day atmosphere.
The stadium's amenities are just OK, but the views from the top rows during a New Mexico sunset are worth the price of admission.
"It has bench seats, so you might want to bring a cushion. The team you watch there isn't the best either. But it is good for Saturday entertainment," writes one reviewer on Google.
24. Washington State University: Martin Stadium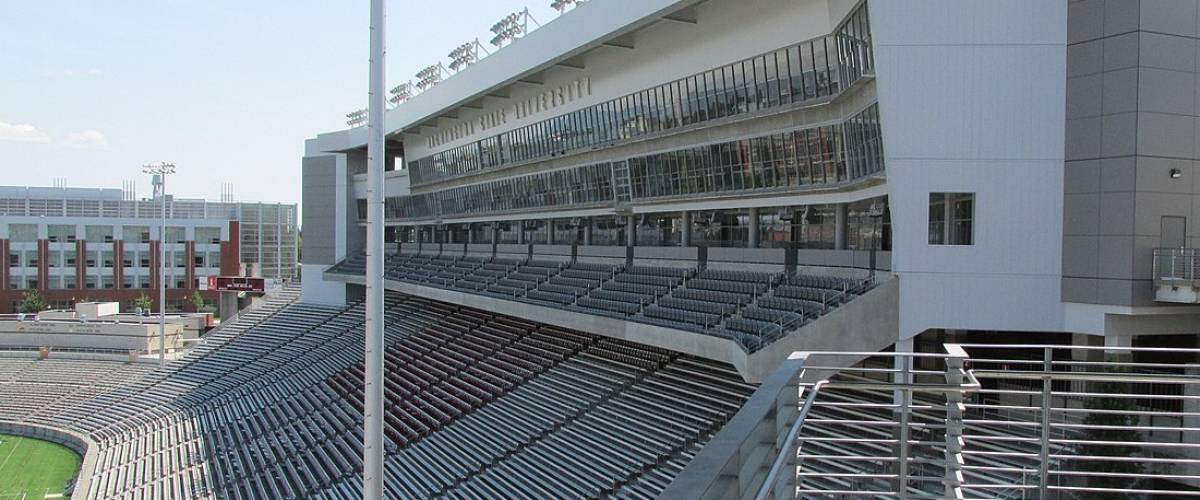 Pullman, Washington
The Cougars have had winning seasons the last few years, but their home hasn't been much for fans to cheer about. The smallest stadium in the Pac 12 conference (with a capacity under 33,000) has been looking sadly dated, even after recent construction.
As one reviewer writes on TripAdvisor, "The seating bowl is completely antiquated. Most of the seats are metal. Metal, in cold-weather stadiums? Sounds like a terrible idea."
However, with more renovations planned, a nationally ranked team and ESPN's College GameDay finally making the trip to Pullman, Martin Stadium could find itself off this list in no time!
23. Duke University: Brooks Field at Wallace Wade Stadium Durham, North Carolina
Though recent renovations to the Blue Devils' nearly 90-year-old stadium added five stories of luxury suites and a mammoth LED videoboard, Brooks Field is just average in many ways.
As one Yelp user remarks, "It looks and feels like an oversized high school stadium. I mean, it seemed nice and all, but it didn't feel like college football."
The more than 40,000-seat stadium is normally only about half full, the amenities are nothing special, and the team that plays on it is typically running a .500 year.
22. Northwestern University: Ryan Field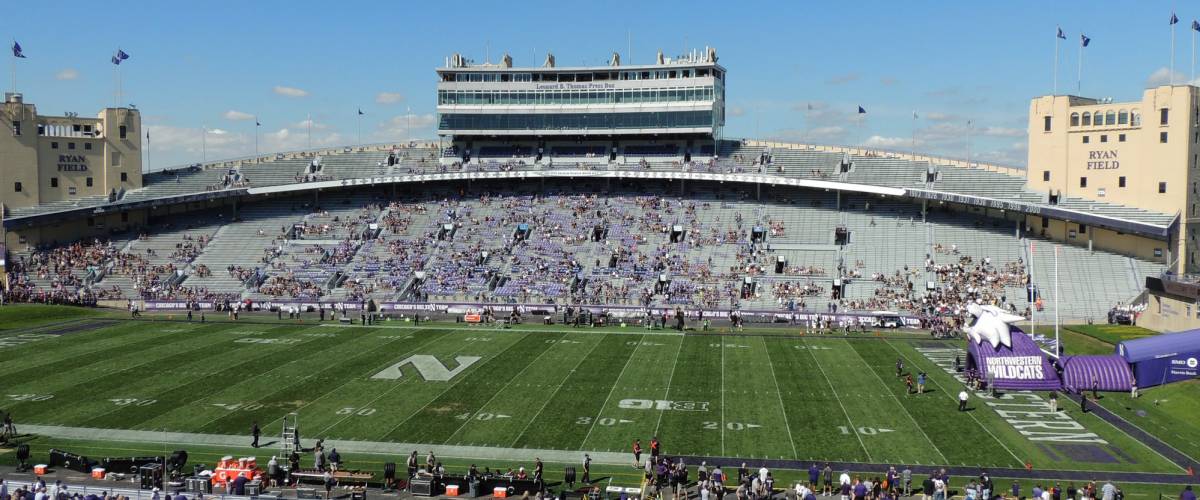 Evanston, Illinois
Northwestern brings some of the best teams in the nation to historic Ryan Field, and yet the stands are often half empty.
The stadium has some of the best sightlines in the Big Ten, but some fans say Ryan — which opened in 1926 — is old, outdated and needs better amenities.
"Concessions? Oh, they have anything you want to eat — as long as it's a hot dog," writes one TripAdvisor reviewer.
21. University of Kansas: David Booth Kansas Memorial Stadium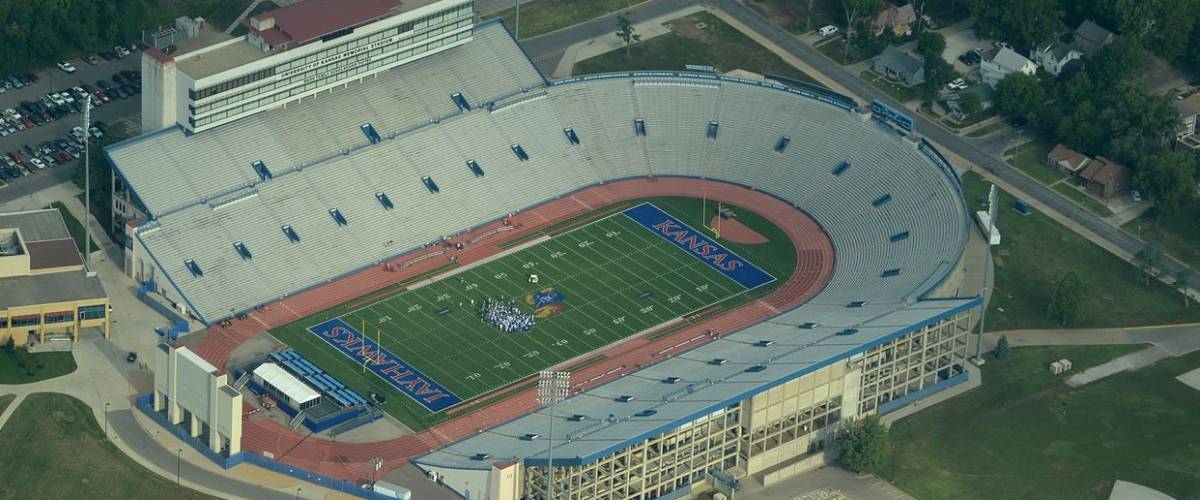 Lawrence, Kansas
Kansas Memorial is one of the oldest stadiums in college football — it was built in 1920 and dedicated to students who were killed in World War I. It has history and gorgeous architecture, but the place needs some attention, fans say.
Writes one, in a Google review: "Very old stadium that badly needs an upgrade. The bathrooms were not even air conditioned. Uncomfortable bench seating."
Others say the game day atmosphere is lacking. It doesn't help that the Jayhawks have gone from a powerful annual bowl team to a powderpuff squad in the tough Big 12.
20. University of Nevada Las Vegas: Sam Boyd Stadium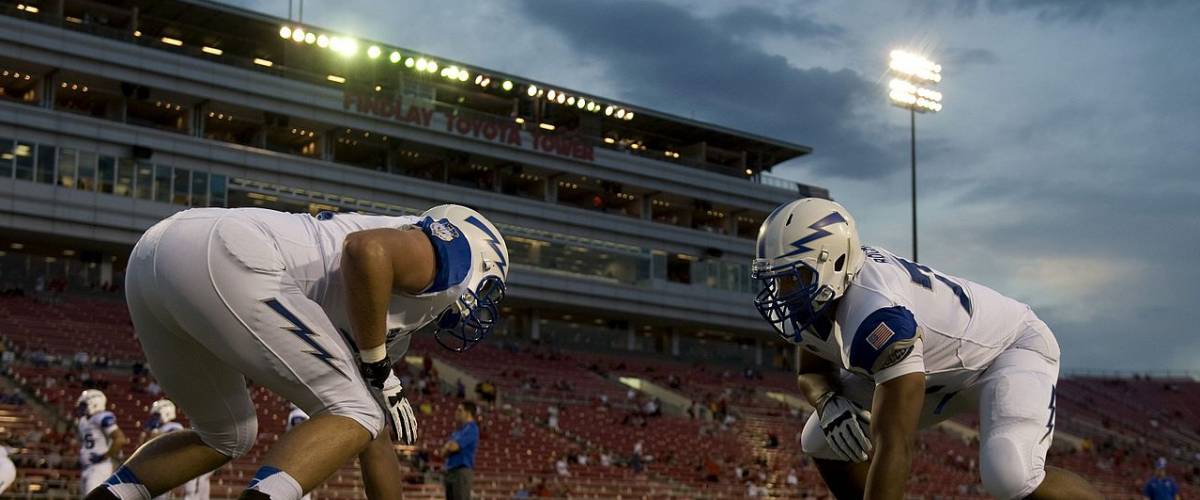 Las Vegas
The home of the UNLV Rebels has been discussed as a possible temporary home for the NFL's Raiders, who are leaving Oakland for Las Vegas. But this stadium, built in 1971, is short on parking and other amenities.
"The lines [for] food were 20-40 minutes, and for a cold $6 hot dog," complains one TripAdvisor reviewer. "I would never attend another event at this stadium unless I could arrive by helicopter and eat before I arrived."
And, given UNLV's losing record year over year, game days at Sam Boyd Stadium can feel a little deflated.
19. University of Northern Illinois: Huskie Stadium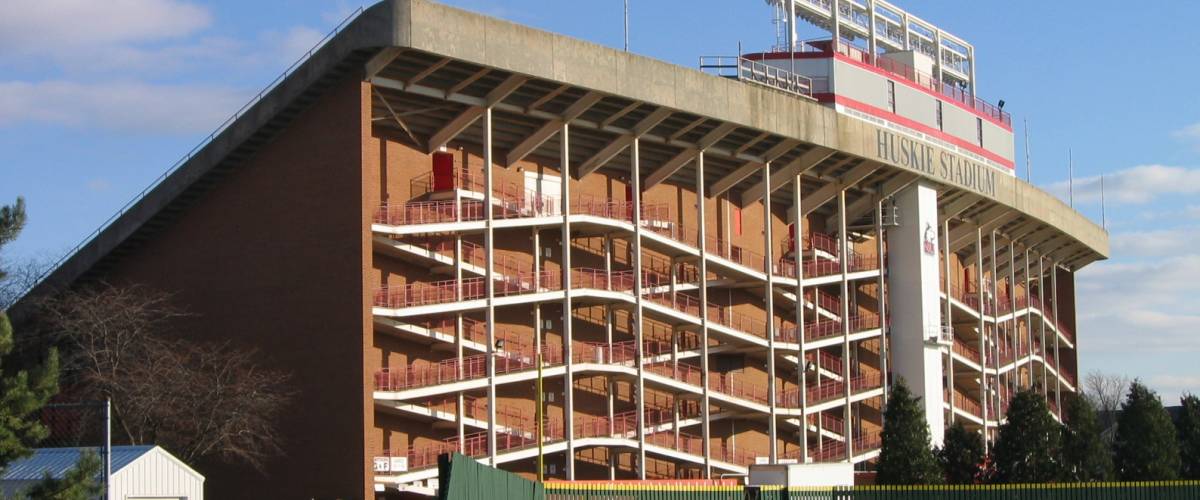 DeKalb, Illinois
The Huskies are a solid team in the MAC, but they have a lackluster stadium to play in. Even fans who have nice things to say about their game experience say the venue needs a refresh.
"Has that old stadium feel. Concessions don't take card and the ATM was out of money," says one Google reviewer, who adds: "Over all had a good time."
Huskie Stadium is due for some upgrades. It was built in 1965 and has a capacity south of 25,000.
18. Tulsa University: Skelly Field at H.A. Chapman Stadium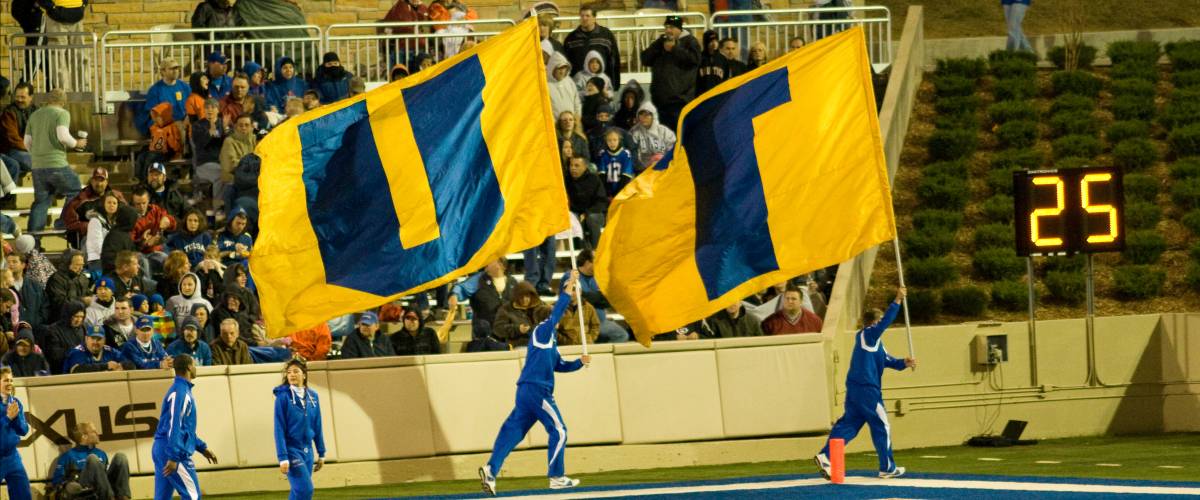 Tulsa, Oklahoma
Admiring fans describe this stadium with phrases such as "great little football field" — which is telling.
Skelly Field at H. A. Chapman Stadium has seating for 30,000, dates back to 1930 and lacks modern amenities. Plus, game day spirit has been strained by a couple of bad seasons.
"Nice stadium. Would be a 5 star experience if they could win," writes one Google reviewer.
17. University of Massachusetts: Warren P. McGuirk Alumni Stadium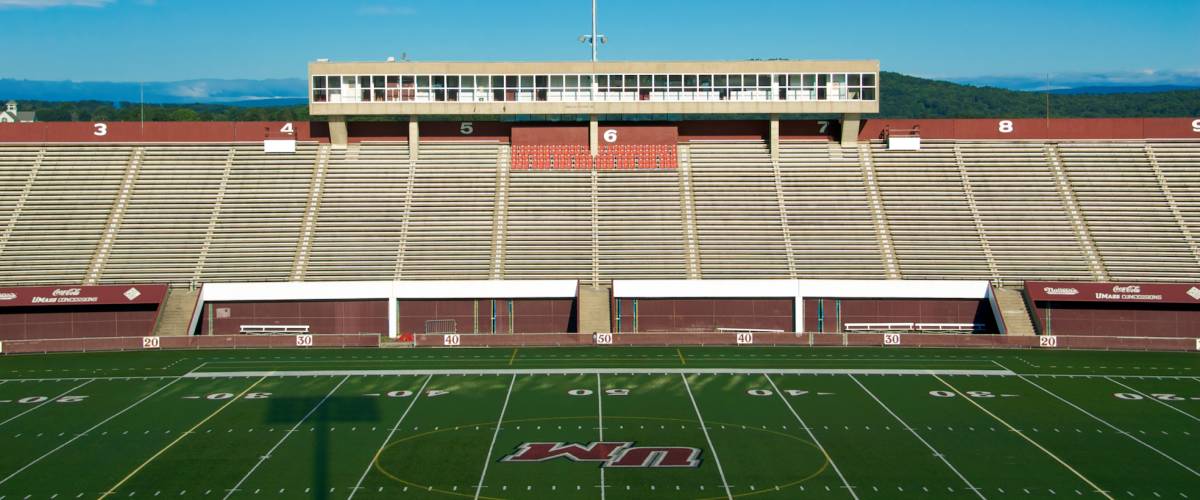 Hadley, Massachusetts
McGuirk Alumni Stadium is relatively puny, holding only 17,000 fans. And yet the place is often a little empty, as UMass struggles on and off the field.
It's an OK place to watch a game, but it can be downright miserable in any weather, particularly on cold autumn nights in central Massachusetts.
The more than 50-year-old stadium received a decent renovation in 2014 but is still showing its age. One Google user's review is just one word: "Yuck."
16. University of North Carolina at Charlotte: Jerry Richardson Stadium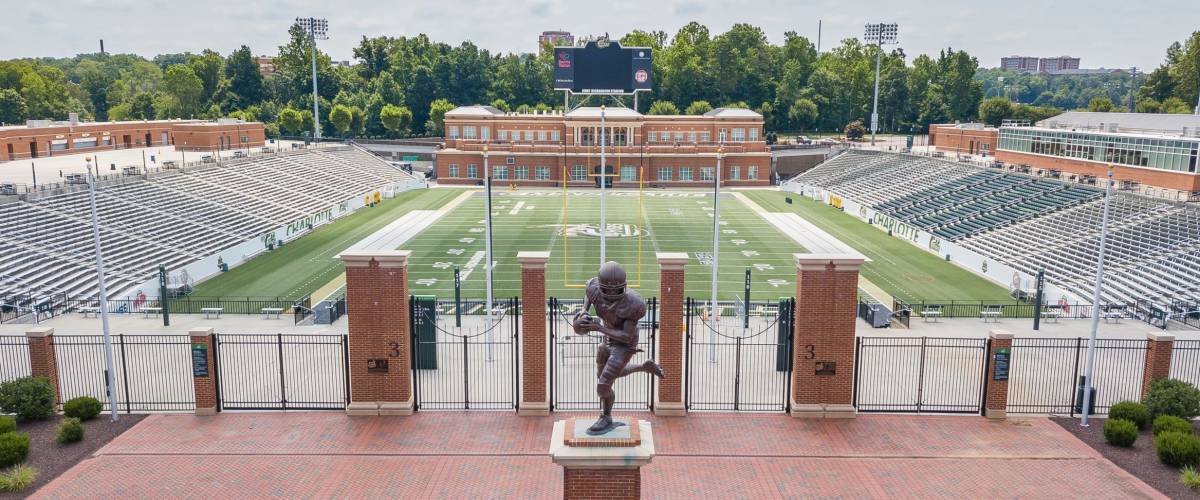 Charlotte, North Carolina
Although the 49ers pack this stadium for their Conference USA games, there are high schools with bigger homes.
With a capacity of only around 15,000, this small stadium is below NCAA standards. But expansion plans under consideration would add luxury boxes and seating for nearly 25,000 more spectators.
Here's how one fan sees the size issue, in a Google review: "Beautiful stadium, not very big but that makes the experience that much better."
15. Ball State: Scheumann Stadium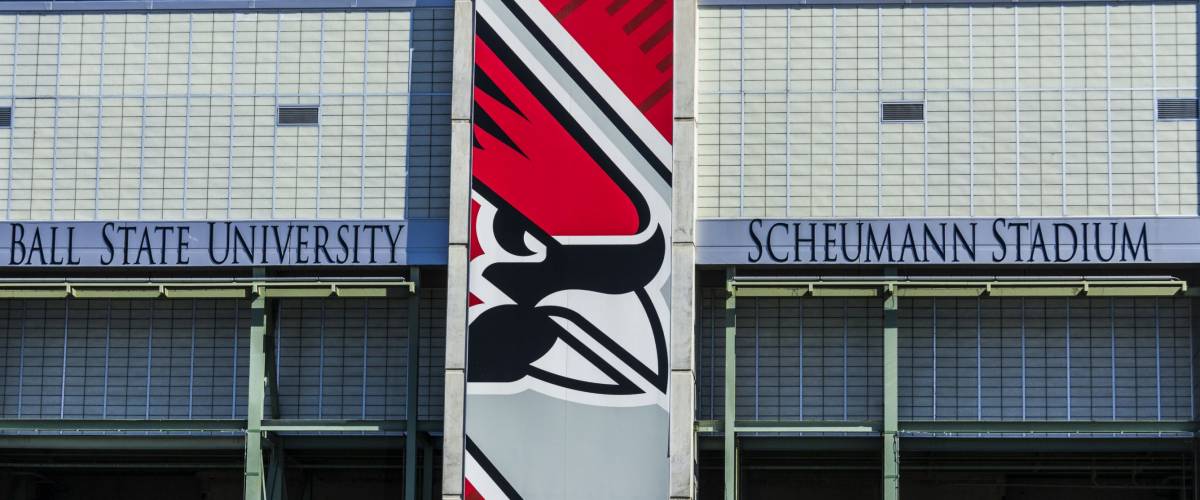 Muncie, Indiana
Scheumann Stadium would never make a Top 10 list from Ball State alum David Letterman.
The nearly 50-year-old venue underwent a major renovation in 2007, so the building itself isn't bad. But the atmosphere on game day can be abysmal, because the Cardinals have struggled for years with attendance and with attracting top-name players and opponents.
"Parking is far and walking necessary," writes one Google reviewer. "Could improve fan participating and hype."
14. University of Akron: InfoCision Stadium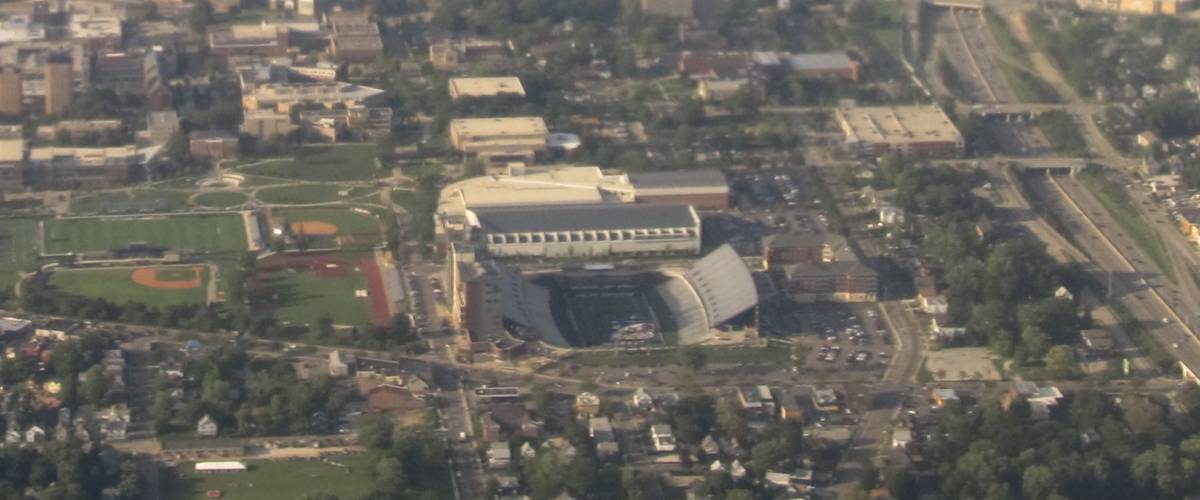 Akron, Ohio
The Akron Zips have been trying to rebuild their attendance numbers that sank following some terrible seasons, including three straight — from 2010 through 2012 — that ended with only one win and 11 losses.
Fans and team spirit can still be lacking at InfoCision Stadium-Summa Field. Several Google reviewers write about how the lack of fan support ruins the experience.
"I would honestly love going there if they actually had a fan base," says one. "Almost every time I went there it was me and the marching band being the only people in the stands."
13. University at Buffalo: UB Stadium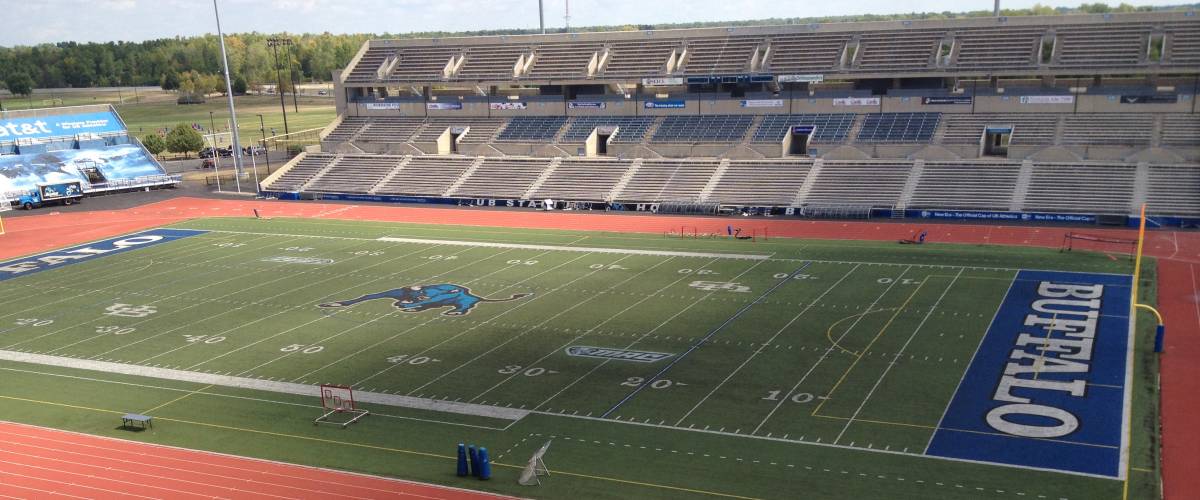 Buffalo, New York
UB Stadium can hold more than 30,000 fans, but the Bulls drew only 11,500 for the 2017 home opener against Colgate. The team's 25-year-old field may have something to do with their lackluster attendance.
"People rave about how wonderful this stadium is, and honestly it's a load of Bulls," cracks one Yelper, who calls the venue "uncomfortable" and "pretty average."
The Bulls say in their marketing that their goal is to provide a more family-friendly football experience at UB Stadium.
12. University of Louisiana-Lafayette: Cajun Field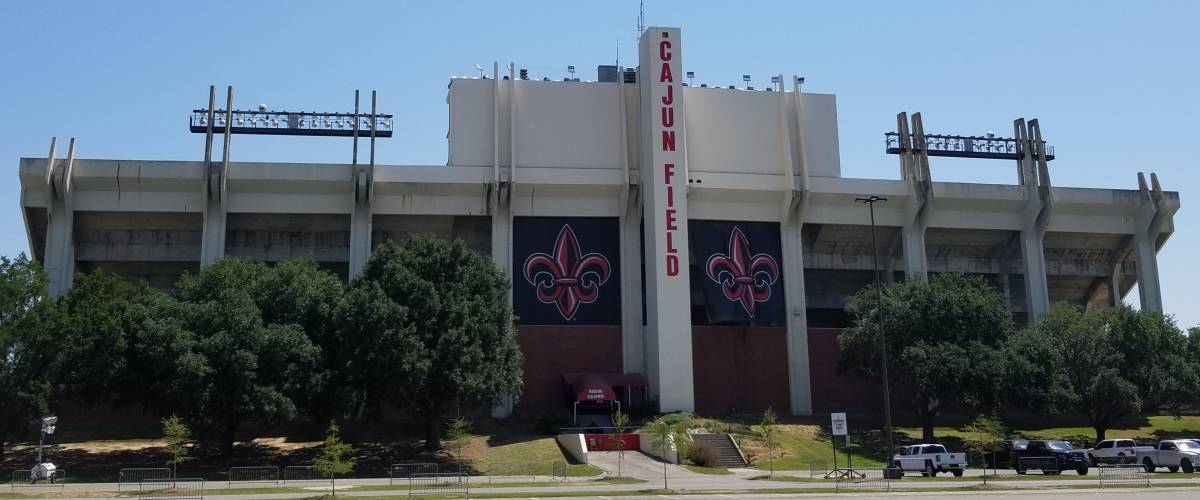 Lafayette, Lousiana
Home to the Ragin' Cajuns, Cajun Field has been known for its lack of a student section, which contributes to a ho-hum game day experience.
The muted enthusiasm levels might help explain the Cajuns' relatively poor attendance numbers in a football-loving state.
While the stadium does get five stars on Yelp, there are only two reviews. "Only thing it could have used was some shade, so hot!" writes one fan.
11. University of Idaho: Kibbie Dome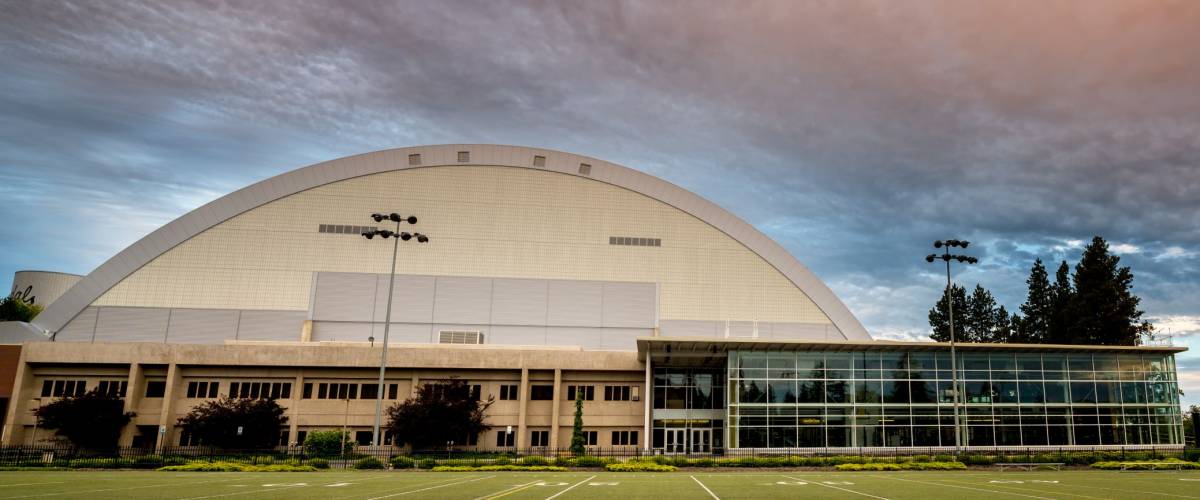 Moscow, Idaho
The Kibbie Dome is one of the smallest and most unusual venues in the NCAA. The 43-year-old stadium seats fewer than 16,000 and has a domed roof made of wood.
An opposing coach once famously said the barrel-arched building looked like "a Campbell's Soup can cut in half."
The Vandals find it hard to attract great talent to field a competitive football program in Moscow, in northern Idaho. And the attendance figures tend to be well below FBS minimums.
10. Miami University (Ohio): Yager Stadium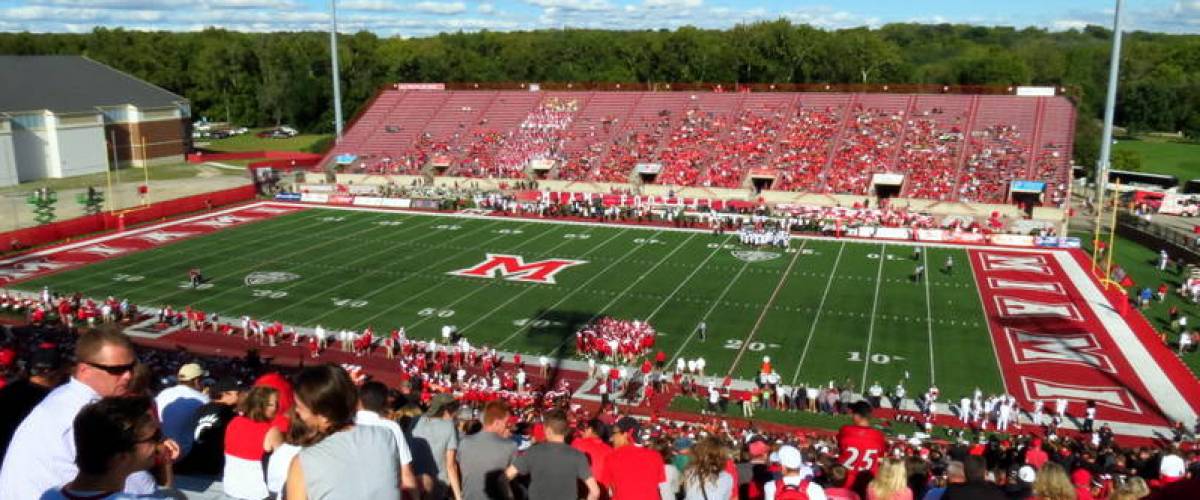 Oxford, Ohio
Miami of Ohio may have an active student body, and a vibrant fraternity and sorority scene. But none of that translates to a lot of excitement for football home games.
The Redhawks haven't had a winning season since 2010, which may be one reason for the team's poor attendance. Their field may be another.
One Google reviewer calls the stadium one of "the blandest" in the Midwest. Another says, and not meaning it in a good way: "The atmosphere reminds you of a high school football game."
9. Central Michigan University: Kelly/Shorts Stadium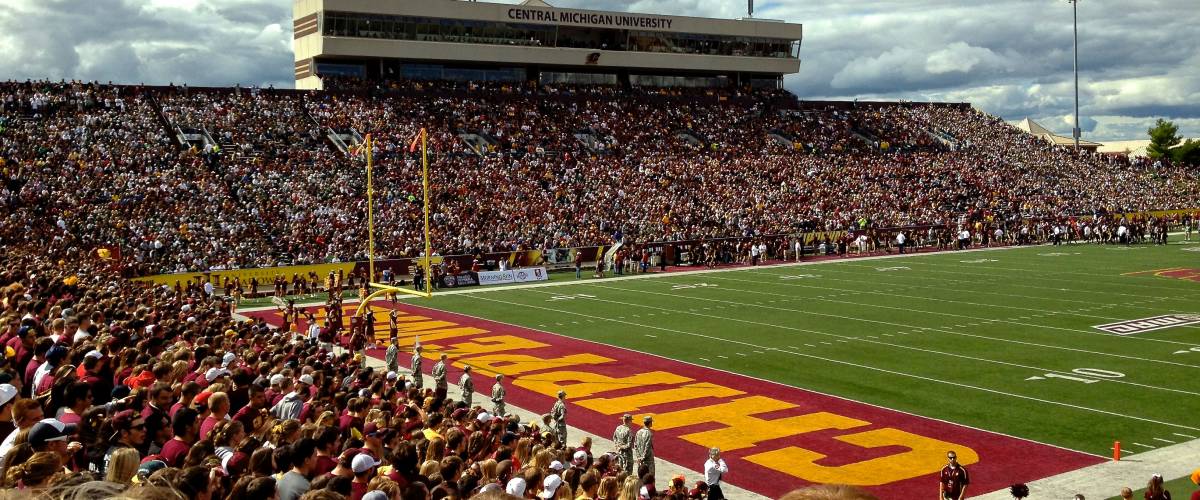 Mount Pleasant, Michigan
With Michigan and Michigan State both just a few hours away, Kelly/Shorts Stadium finds it tough to attract a great crowd.
Attendance is regularly below the FBS minimum. The Chippewas have been having a terrible season, which doesn't help matters. And, some fans say the 46-year-old stadium needs work.
"Could be a great place but the steps are steep with no handrails and they have like five trash cans for the entire stadium," grumbles one Google reviewer.
8. Rice University: Rice Stadium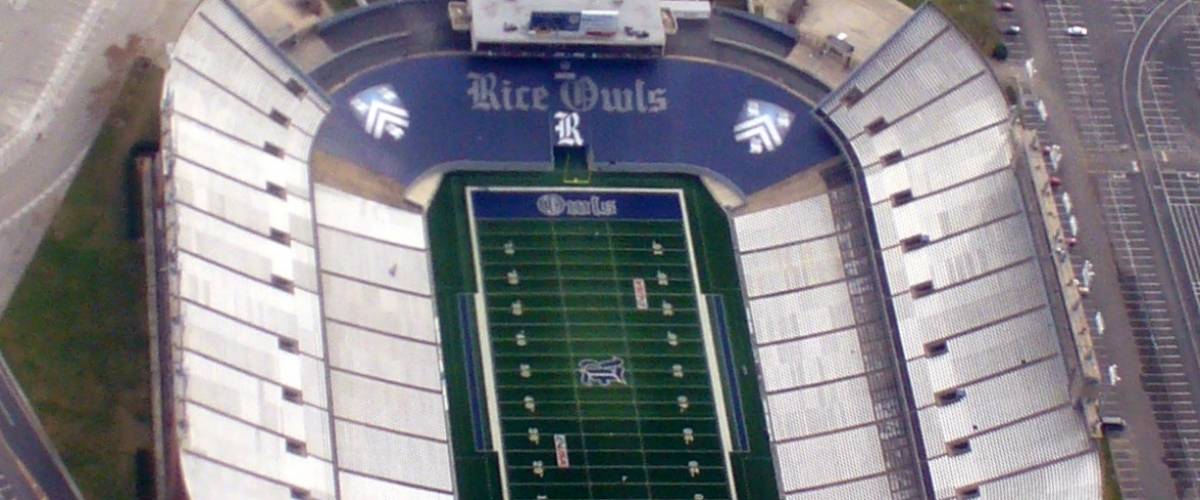 Houston
The Rice Owls play in a 47,000 seat stadium — which is often half empty. That makes for a game day experience that isn't great.
The stadium dates back to 1950, and its upper bowl in particular has been poorly maintained. Fans say upgrading is long overdue.
Says one, reviewing on Google: "A good place to watch a football game, but definitely lacking the amenities we've all come to expect in modern stadiums." Another calls Rice Stadium a "throwback to the '60s."
7. University of Memphis: Liberty Bowl Memorial Stadium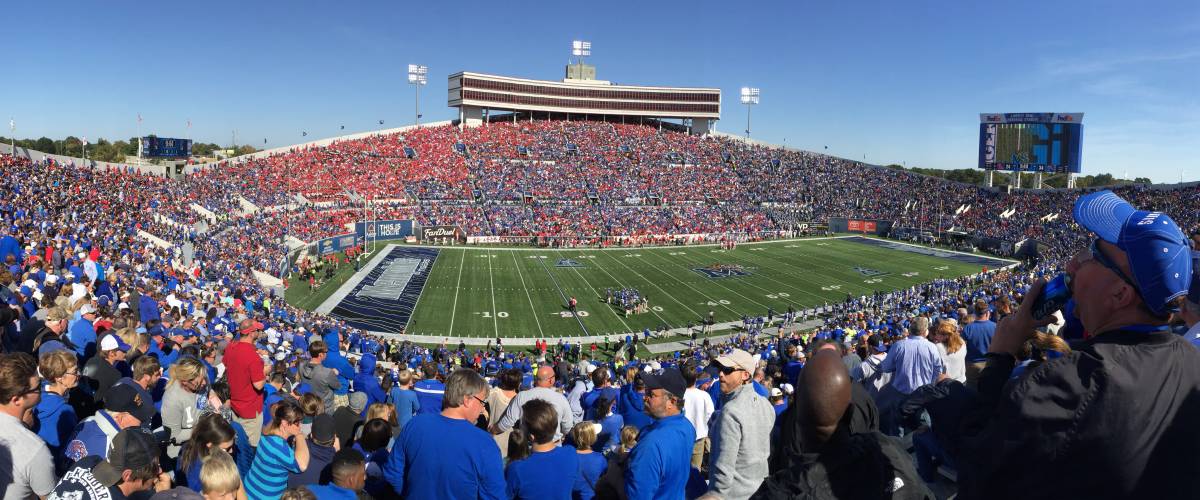 Memphis, Tennessee
The home of the Memphis Tigers looks futuristic — for the 1960s. Liberty Bowl Memorial was built in 1965 and has not been aging well.
Seeing the place half empty only accentuates all the evidence that the place is old. For a typical game, Memphis pulls in less than half of the stadium's capacity, and that is being generous.
Multiple fans reviewing on Google complain that Liberty Bowl Memorial has no emergency plan for lightning. "This is a dangerous, understaffed facility, recklessly close to a very active major train line," says one fan.
6. University of Louisiana at Monroe: JPS Field at Malone Stadium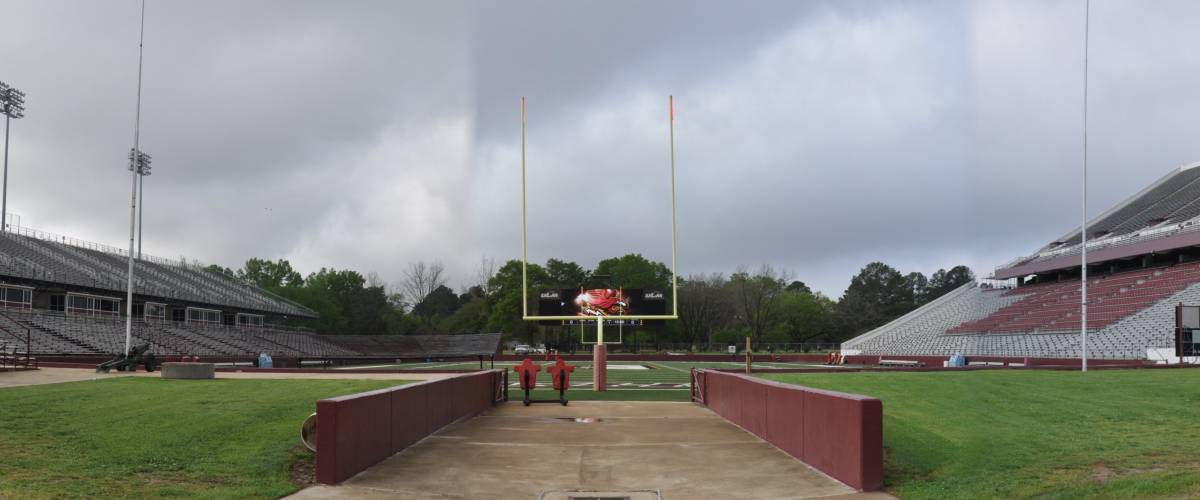 Monroe, Louisiana
Situated deep in the boonies of Louisiana, Louisiana-Monroe has a good football program. But the Warhawks have the unfortunate combination of a small fan base and a stadium that's badly in need of a facelift.
The 40-year-old JPS Field at Malone Stadium is in rough shape, even after recent renovations to the scoreboard, playing field and exterior buildings.
"Run-down and nasty.. smelled like a sewer.. no excuse for this.. put some money back in to your football program," writes one Google reviewer.
5. San Jose State University: CEFCU Stadium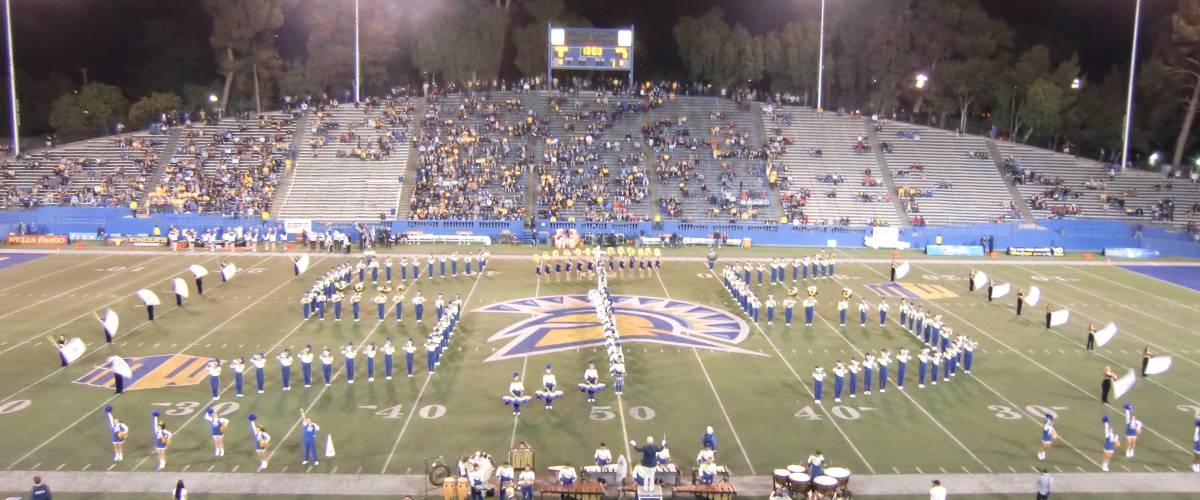 San Jose, California
Since their neighbors include some of the top companies in Silicon Valley, you might assume that the San Jose State Spartans play in a palace. Instead, their stadium is tired, to say the least.
Plus, the team has an Astroturf field. In 2018. Need we say more?
CEFCU Stadium has a couple dozen reviews on Yelp and earns only three stars. "OK. I get that it's old. I get that it's small. But come on, let's put a little money into the concessions," writes one Yelper.
4. Eastern Michigan University: Rynearson Stadium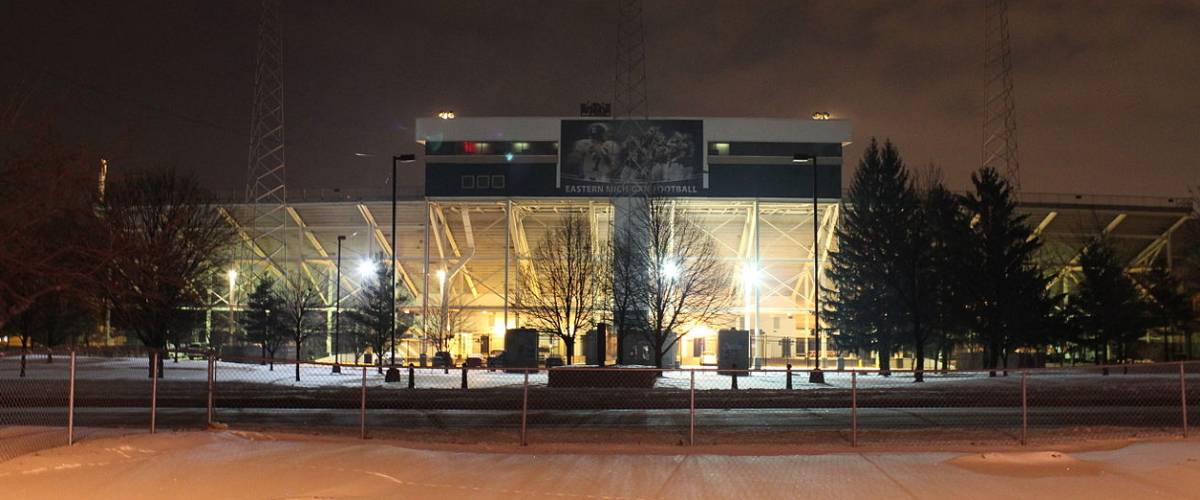 Ypsilanti, Michigan
This nearly 50-year-old stadium has a running track around the football field, giving the place a high-school-esque feel.
One Google reviewer recommends checking out Rynearson if you have an opportunity. "This is probably the worst stadium in Division 1 (FBS) football," he writes. "For that alone, it was worth a visit."
Rynearson used to be packed for Eagles games, but those days are long gone. Now, Eastern Michigan is lucky to get its stadium two-thirds full, even for big rivalry games.
3. University of Texas at San Antonio: Alamodome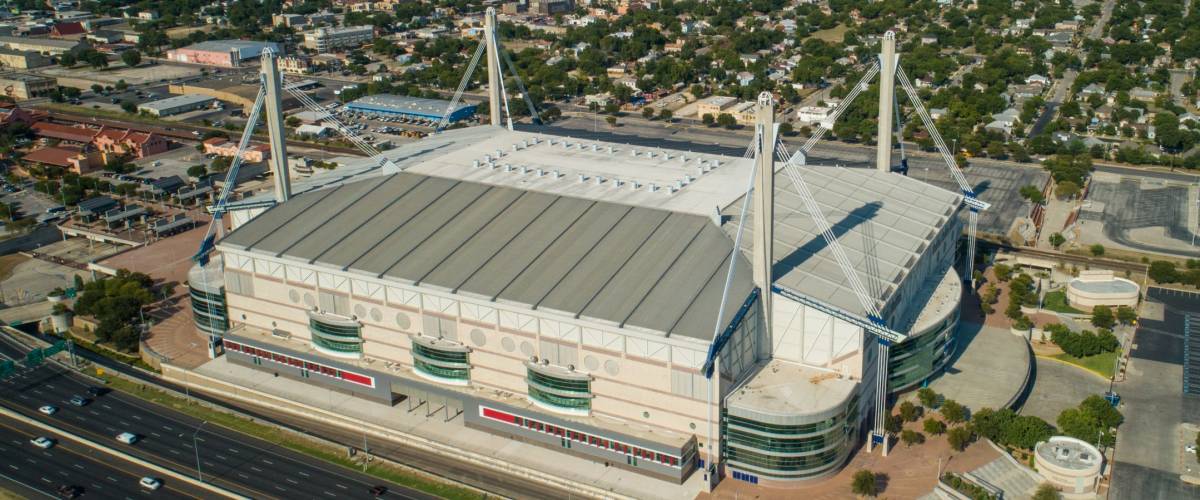 San Antonio
The 25-year-old Alamodome is massive. It has a capacity for up to 64,000 football fans — which doesn't do the UTSA Roadrunners any favors.
This year's home opener drew more than 42,000 fans, though that still meant that about a third of the stadium was empty. The lack of spectators leaves much of the game day atmosphere at the door.
The Alamodome gets just two and a half stars on Yelp. "The grading and angles of the stands create too many blind spots," says one negative reviewer. "I probably would have been better off watching the game from home."
2. University of Hawaii: Aloha Stadium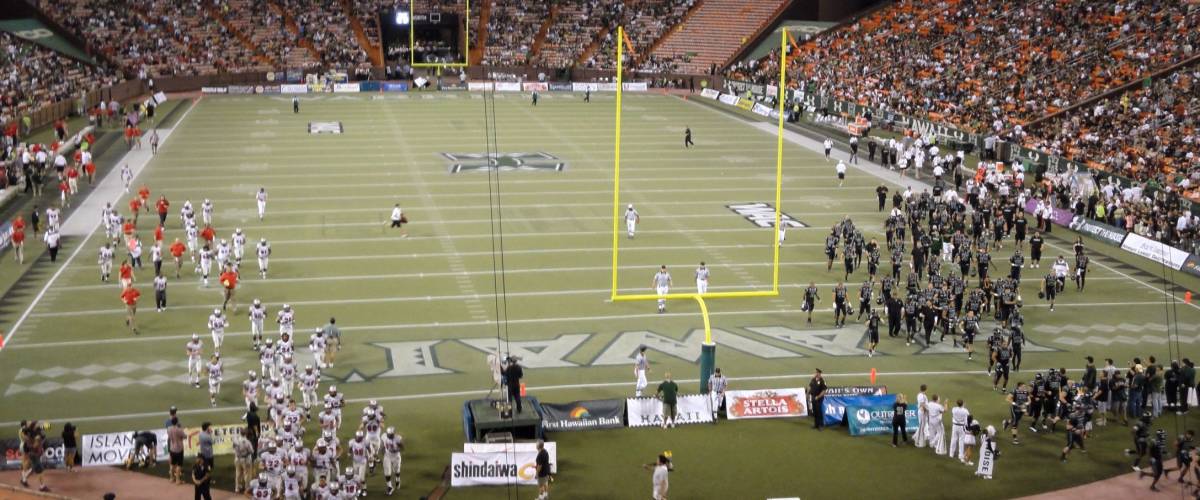 Honolulu
Aloha Stadium used to be something of a crown jewel in Honolulu, but now the 43-year-old venue is looking faded.
In 2016, the venue underwent $1.2 million in renovations, but fans say they don't see much improvement. "The stadium is in desperate need of repairs," one Yelper wrote just recently.
Fans might be more forgiving if they had a better team to cheer for. The Rainbow Warriors have had trouble finishing their seasons with winning records.
1. Vanderbilt University: Vanderbilt Stadium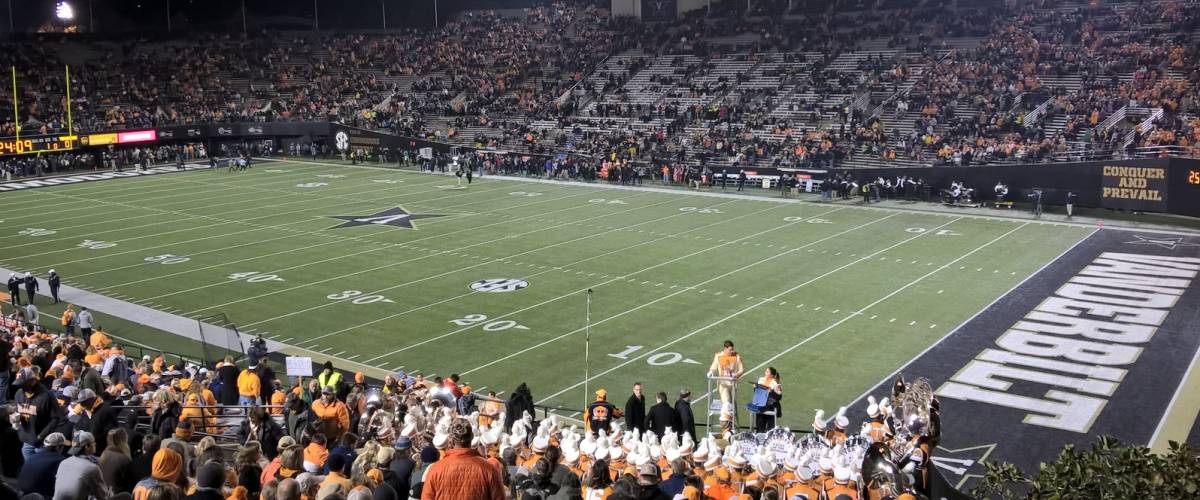 Nashville, Tennessee
For a private university once called one of the most expensive colleges in America, it's somewhat surprising that Vanderbilt doesn't have a better stadium to host their Commodores.
Instead, one of the nation's most beautiful campuses has an ugly stadium built in 1922 that often draws only half-capacity crowds for football. It's our choice for the worst field in the FBS.
"Sad excuse for a stadium," is how one Google reviewer sums the place up. Says another: "It's old and small. Nicer high school stadiums put it to shame."
Did we miss a stadium? Do want to defend your home turf? Let us know why you think another stadium deserves a spot — or why your home stadium needs to some vindication!