We're focusing on those. We count down to our pick for the very worst stadium at college football's top level — the NCAA Division I Football Bowl Subdivision, or FBS — based on attendance, online comments and more.
40. University of California-Los Angeles: Rose Bowl Stadium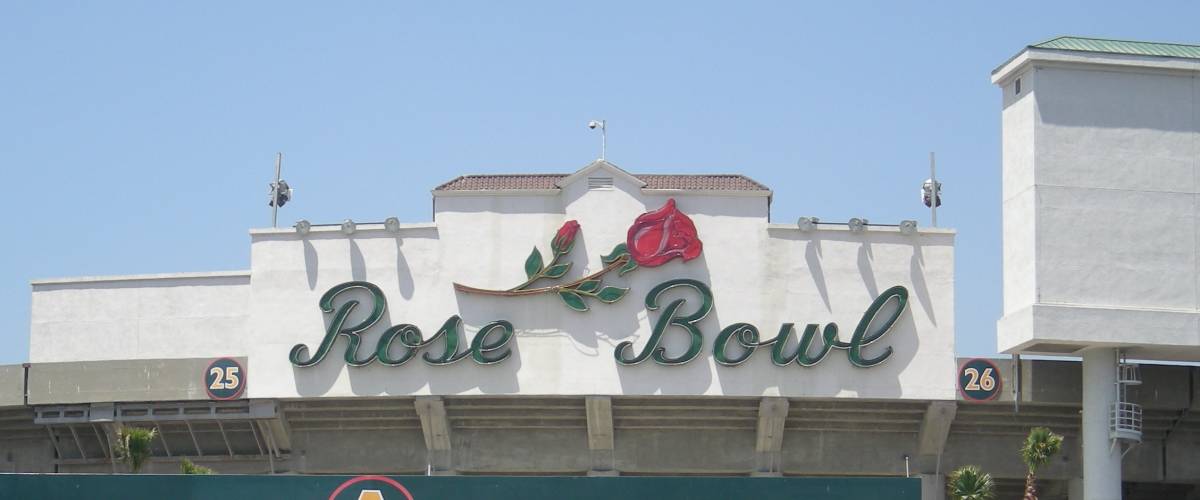 Pasadena, California
One of the more picturesque stadiums in the country, the Rose Bowl is a somewhat creaky venue that's in need of significant repairs.
Home to the UCLA Bruins, the Rose Bowl opened in 1922 and is a National Historic Landmark.
But in the present day, it's known for its horrible parking, cramped concourses and seats, and aging facilities.
As one Yelp reviewer says, "If you must go [to the Rose Bowl], leave your house at least five to six hours before the concert or game begins. Prepare to be irritated at the sheer incompetence of a city and venue that does as little as possible, and generally doesn't give a rat's patooty once they've got your money."
39. University of Maryland: Capital One Field at Maryland Stadium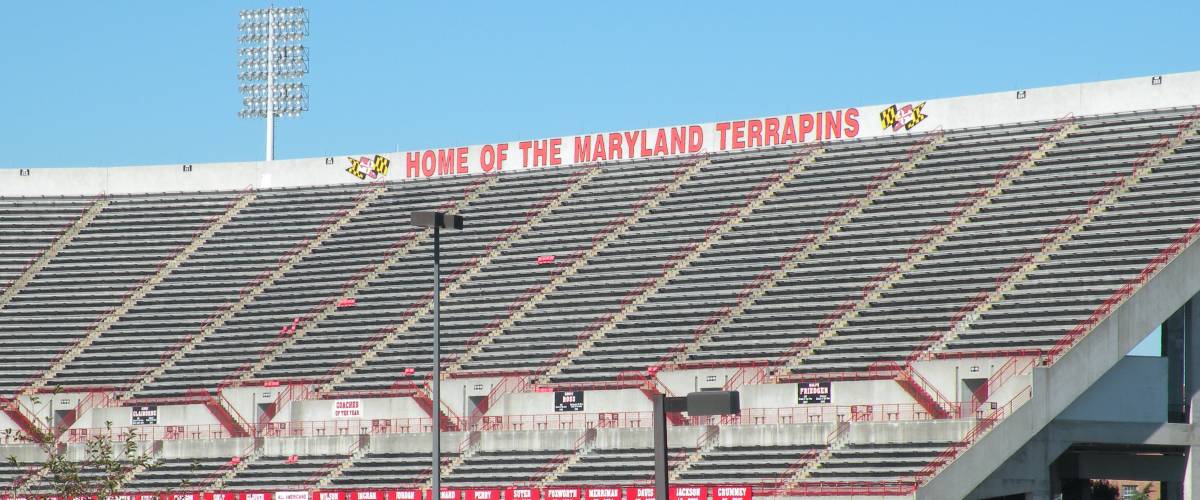 College Park, Maryland
The University of Maryland must decide to either upgrade Capital One Field at Maryland Stadium — or tear it down.
The stadium is in dire need of repair and has been limping along on life support for something like two decades.
"The field itself needed work as a number of players slipped and fell on the rubber crumb field-turf," says one fan, in a review on Google. "This stadium needs a full renovation — or just better facility management."
Couple the lackluster stadium with a program that has struggled in recent years (the Terps had a 5-and-7 overall record in 2018), and you can understand why some fans have been choosing to avoid this place.
38. Marshall University: Joan C. Edwards Stadium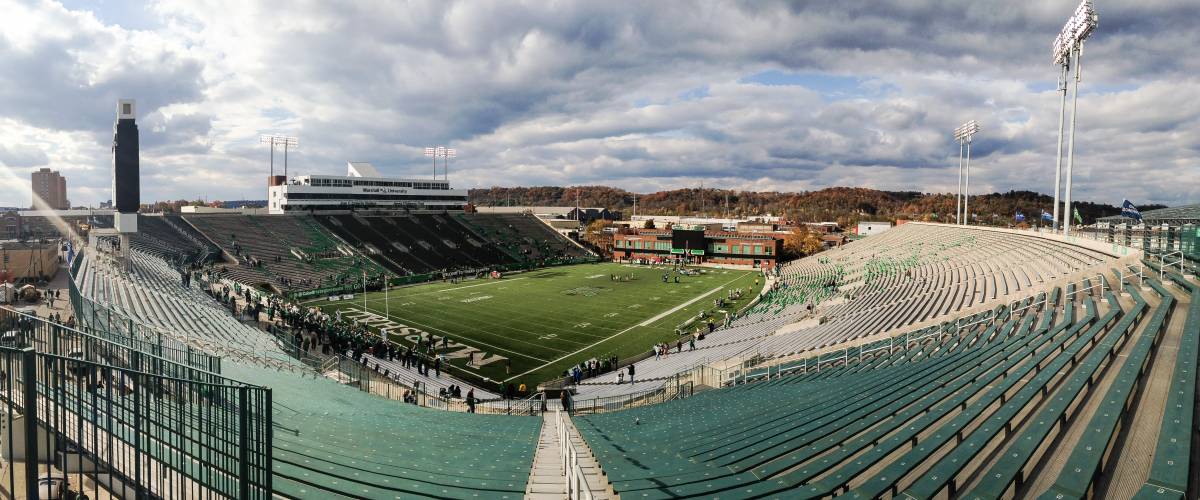 Huntington, West Virginia
Edwards Stadium has a deserving spot on this list due to the overall condition of the stadium, and to the fans who call it home. They're not known for being hospitable toward visiting fans.
"You need to be a tough hombre wearing visiting gear coming into Edwards Stadium on fall Saturdays, as if you're not with the Thundering Herd, chances are you are going to hear about it and then some," says Bleacher Report.
Edwards is a nearly 30-year-old old cookie-cutter stadium that holds around 39,000 people. It has mediocre facilities and is truly nothing special.
But it is one of only two NCAA Division I football stadiums named after women. Joan Edwards and her husband were major benefactors to Marshall; the stadium's playing surface honors James F. Edwards.
37. Kent State University: Dix Stadium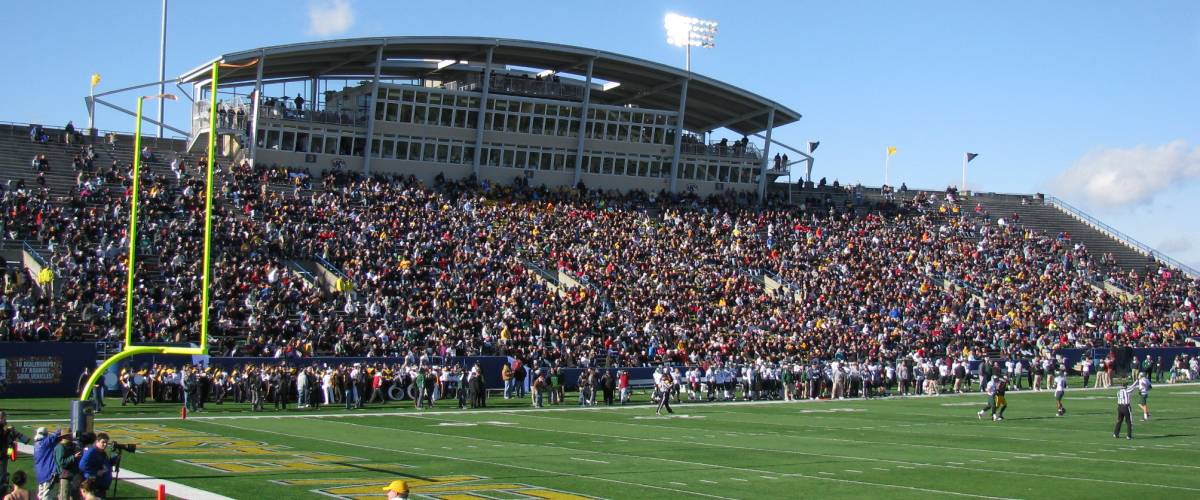 Kent, Ohio
The home of the Kent State Golden Flashes, Dix Stadium takes the conservationist slogan "reduce, reuse, recycle" to heart.
It was built in the late 1960s incorporating parts of the university's old Memorial Stadium, including thousands of the seats.
Dix features a single elevated grandstand on one side, with high-school-esque metal bleachers that replaced wooden bleachers on the east and north sides in the 2000s.
This stadium is not unique, and nor does Kent State deliver a brand of football that encourages large crowds. "The stadium is a very serviceable 1970s era stadium that undergoes constant revision," writes one Google reviewer.
36. Harvard University: Harvard Stadium Boston
A stadium that looks like something out of Roman times, Harvard Stadium opened in 1903 to much fanfare, but today it seems like too much of a relic.
Here's a prime example: Fans still watch the games sitting on concrete bleachers.
Also, the concession choices are humdrum and quite pricey, and the Crimson are just a shadow of the team that dominated at the U-shaped stadium decades ago.
"TERRIBLE" is how one Yelper describes Harvard Stadium. "This stadium is falling around itself, I'm sure Harvard realizes that 40,000 squeezed in there for the Yale game. I'm surprised it didn't burst into tears and just give up and collapse."
35. Temple University: Lincoln Financial Field Philadelphia
Although the Linc is a great facility, Temple struggles to attract the kind of fan base that would make this stadium feel like a real home.
The Philadelphia Eagles play here, too, and the Owls just rent out the place on their game days. As a result, Lincoln Financial Field doesn't have that classic college football stadium feel.
"What's not to love?" asks Yelp reviewer Michael N. "Watching Temple University football in an NFL stadium with a seating capacity of 70,000. Stretch out, occupy an entire section and grab some rays."
Temple has had a struggling program that has failed to draw fans, but the hope is that recent coaching changes can turn around this once-proud program to become relevant once again.
34. University of Arkansas: War Memorial Stadium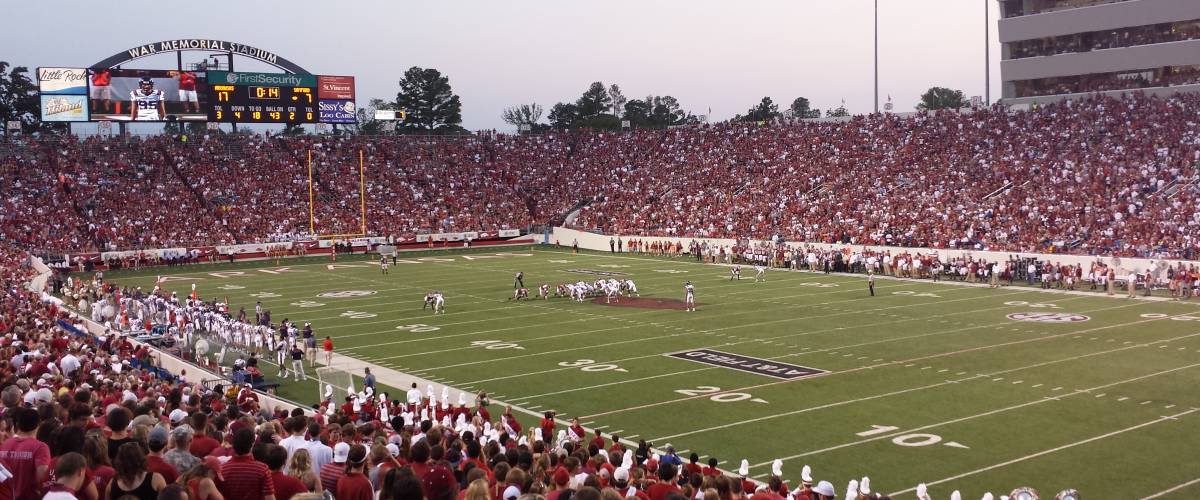 Little Rock, Arkansas
The Razorbacks play most of their home games at Donald W. Reynolds Razorback Stadium in Fayetteville, Arkansas, but they still return occasionally to this more than 70-year-old venue in Little Rock.
Which is horrid, to put it bluntly. War Memorial is in need of tender loving care — and significant upgrades. Certainly more than a new paint job.
Fans say they enjoy that the place has a lot of history, but not that it's small and cramped. "Needs to be redone — it's just a big high school stadium," says one Google reviewer.
The Razorbacks have a deal to continue playing a few games each season at this stadium through 2024.
33. Yale University: Yale Bowl New Haven, Connecticut
Yale has a unique stadium that looks as thought it was built out of a dirt hill. But the football program doesn't have much of a fan base, so the Yale Bowl doesn't offer much game day atmosphere, except during the Harvard-Yale game.
The stadium opened in 1914, and the architect was a member of the class of 1871. It doesn't have locker rooms and forces both the Bulldogs and their opponents to change 200 yards offsite. (It originally didn't have restrooms either. They came along in 1930.)
The Yale Bowl offers limited concessions and food options — for the 50 or so students who show up for regular-season games.
"This place is a dump, but still worth a visit," says one Google reviewer.
32. San Diego State University: SDCCU Stadium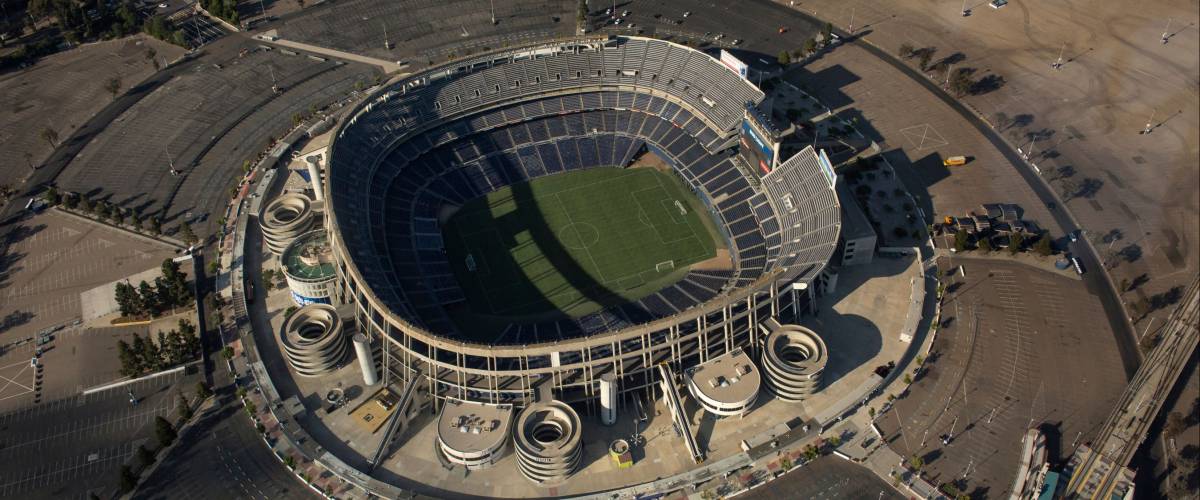 San Diego
Once home to the NFL's San Diego Chargers, SDCCU — short for the San Diego County Credit Union, which bought the naming rights — can hold up to 70,000 fans, but San Diego State struggles to fill even half the seats.
The stadium not only lacks fan atmosphere, but it's also mediocre in terms of concessions and amenities.
It opened in 1967 and for many years was called Jack Murphy Stadium, and then Qualcomm Stadium. Some fans just call it "tired."
As one Yelp reviewer noted, "Worst venue I've ever been to. Dated, run-down. Limited options at concessions — it's laughable. RadioShack from 1982 provided the sound system and 'jumbo'-tron."
31. University of North Texas: Apogee Stadium Denton, Texas
Maybe it's fitting for the home of the Mean Green: Apogee Stadium is one of the only LEED-certified stadiums in the country.
It's relatively new — opened in 2011 — but North Texas has struggled to find its footing in the venue.
The Mean Green lose more than half their home games, though their overall season records have improved since 2015, when they went a dismal 1 and 11.
But the team barely draws 20,000 per game, and parking is the pits. "If you need to park on game day," advises one Yelper, "go to the eastern part of the campus and walk over. It will save you time, anger, and the fear of getting towed."
30. University of Colorado: Folsom Field Boulder, Colorado
Folsom is an average stadium with no major problems but nothing memorable in the looks department. It's just "meh," though the views of the surrounding mountains are beautiful.
The horseshoe-shaped venue opened way back in 1924, and some say the place has failed to keep up.
"The bathroom situation is terrible," says Yelper Mike M. "You either had to cross 40 beer lines to get to the one men's room on this side of the stadium or wait in a 30-minute line for four outhouses. The beer lines were 45 minutes. All of them."
Another negative is Colorado fans' reputation for rudeness. "Some of the fans are horrible to be around, drunk and obnoxious," says a Google reviewer named Kevin. "Deliberately knocked pizza and drinks out of a woman's hands in front of us. Completely classless!"
29. Indiana University: Memorial Stadium Bloomington, Indiana
Memorial Stadium looks fresh thanks to a renovation that was completed in time for the 2018 season. So why does it make this list?
Because the Hoosiers haven't had a winning season in years, which has made for a poor game day experience. The product on the field has been lackluster, meaning fans have been more eager to hang out and drink than watch the games.
"IU football isn't anything to write home about, but the tailgaters (half of which don't make it to the game) will have you thinking otherwise!" writes Yelp reviewer Leila V. "Overall, not an exciting venue.'
Indiana may turn things around in 2019, and that could inject some needed fan atmosphere into this stadium.
28. University of Dayton: Welcome Stadium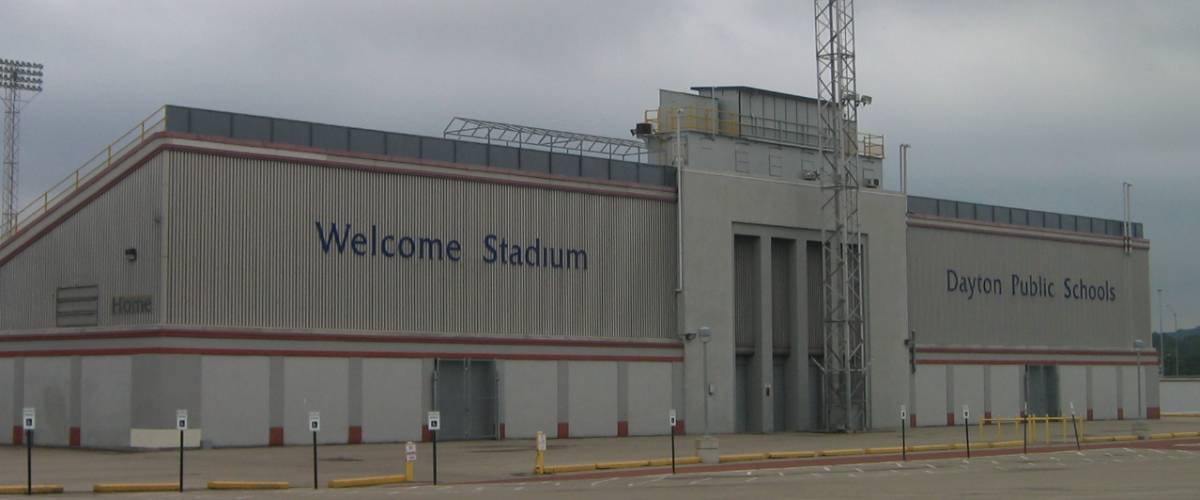 The home of the Dayton Flyers has a high-school feel — because Welcome Stadium was built in 1949 for Dayton, Ohio's high school football teams, who still play here today.
A press box was added when the stadium underwent a $400,000 upgrade in 2008, but Welcome still has limited concessions and two cookie-cutter grandstands with metal bleachers.
Fans say the stadium — which has a capacity of just 11,000 — is dated and in need of work. "It is very dirty. Overly rusty. And gum everywhere," complains one Google reviewer.
But at least parking is never an issue for Flyers fans, because Welcome Stadium is surrounded by thousands of parking spots.
27. Jacksonville University: D.B. Milne Field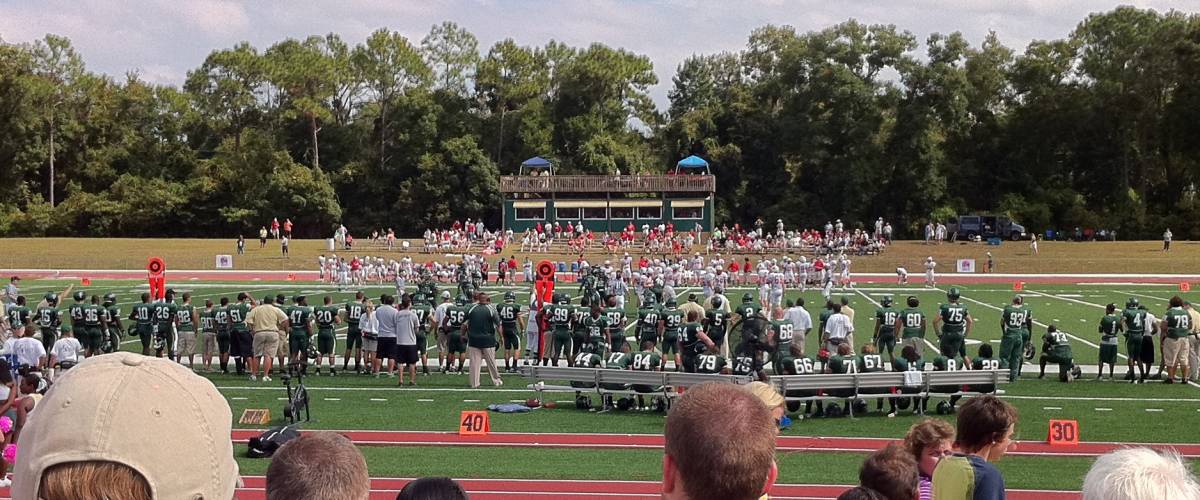 Jacksonville, Florida
You'd think that a school in Jacksonville — Florida's largest city by both population and land area — would have a proper grandstand, but it took until 2014 to add any formal seating here.
Before the renovation, D.B. Milne offered fans only concrete steps on a short hill. The press box was rather limited, and the scoreboard looked old-school.
But even after the improvements, calling this a college football "stadium" is a bit of a stretch.
"Most high school stadiums in Florida are bigger, and there is no character," writes one Google reviewer. "It doesn't help that the largest crowds for games at the one-sided stands are less than half full."
26. Simon Fraser University: Terry Fox Field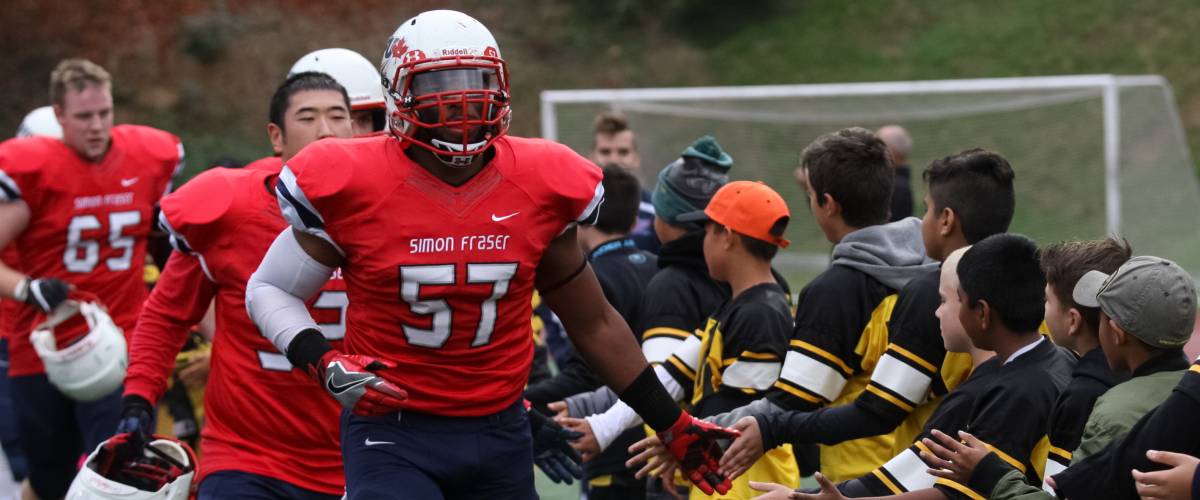 Burnaby, British Columbia (Canada)
Home to the Simon Fraser University Clan, as the football team is called, Terry Fox Field used to leave much to the imagination.
The home field of the only NCAA school located outside the U.S. didn't have a permanent grandstand until just recently. Fans previously had to sit on a steep hill overlooking the playing surface.
Anyone planning to attend a game is still advised to bring a blanket and a jacket, because the stadium is located on the top of a mountain and can be chilly and rainy.
The Clan generally struggle with attendance, but the annual Shrum Bowl with Simon Fraser's archrival, the University of British Columbia, does draw fans in the thousands.
25. University of New Mexico: Dreamstyle Stadium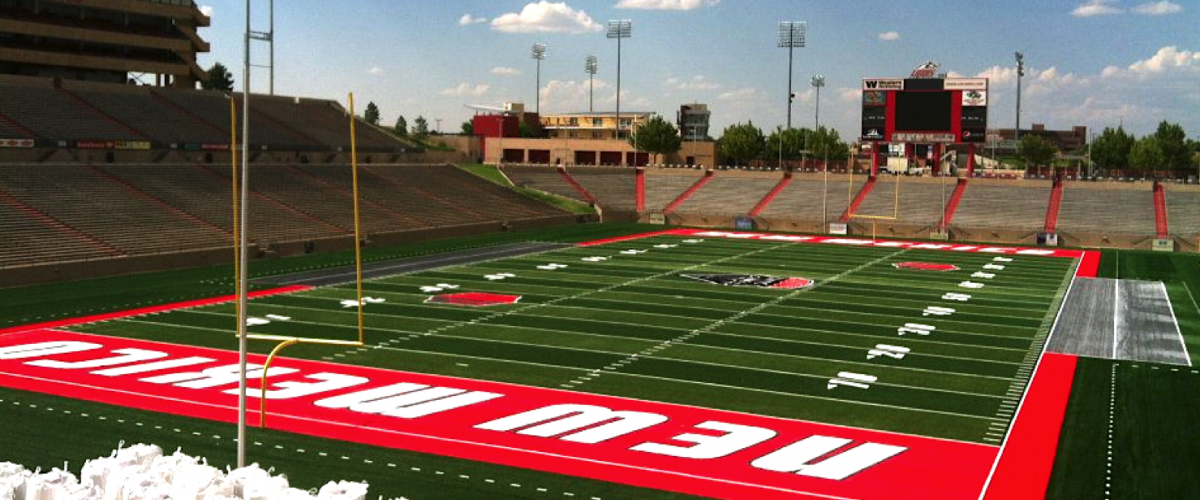 Albuquerque, New Mexico
Home of the Lobos, Dreamstyle Stadium has not seen many wins. The New Mexico program hasn't won a conference title in over four decades, which doesn't make for a great game day atmosphere.
It's an old stadium, opened in 1960, and it gives new meaning to the term "nosebleed seats" because it's situated about a mile above sea level.
The stadium's amenities are just OK, but the views from the top rows during a New Mexico sunset are worth the price of admission.
"It has bench seats, so you might want to bring a cushion. The team you watch there isn't the best either. But it is good for Saturday entertainment," writes one reviewer on Google.
24. Washington State University: Martin Stadium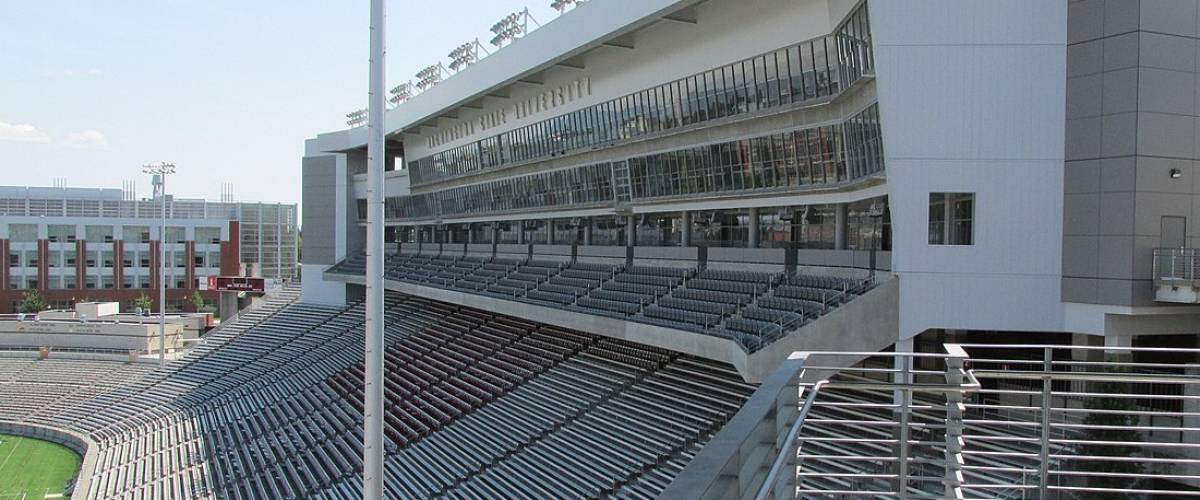 Pullman, Washington
The Cougars have had winning seasons the last few years (they went 11 and 2 in 2018), but their home hasn't been much for fans to cheer about.
The smallest stadium in the Pac 12 conference (with a capacity under 33,000) has been looking sadly dated, even after recent construction.
As one reviewer writes on TripAdvisor, "The seating bowl is completely antiquated. Most of the seats are metal. Metal, in cold-weather stadiums? Sounds like a terrible idea."
However, with more renovations planned, a nationally ranked team and ESPN's College GameDay recently making the trip to Pullman, Martin Stadium could find itself off this list in no time.
23. Duke University: Brooks Field at Wallace Wade Stadium Durham, North Carolina
Though recent renovations to the Blue Devils' nearly 90-year-old stadium added five stories of luxury suites and a mammoth LED videoboard, Brooks Field is just average in many ways.
As one Yelp user remarks, "It looks and feels like an oversized high school stadium. I mean, it seemed nice and all, but it didn't feel like college football."
The more than 40,000-seat stadium is normally only about half full, and the amenities are nothing special.
The team that plays on it typically runs a .500 year, though in the 2018 season Duke had an 8 and 5 overall record and trounced Temple by a score of 56 to 27 in the Independence Bowl.
22. University at Buffalo: UB Stadium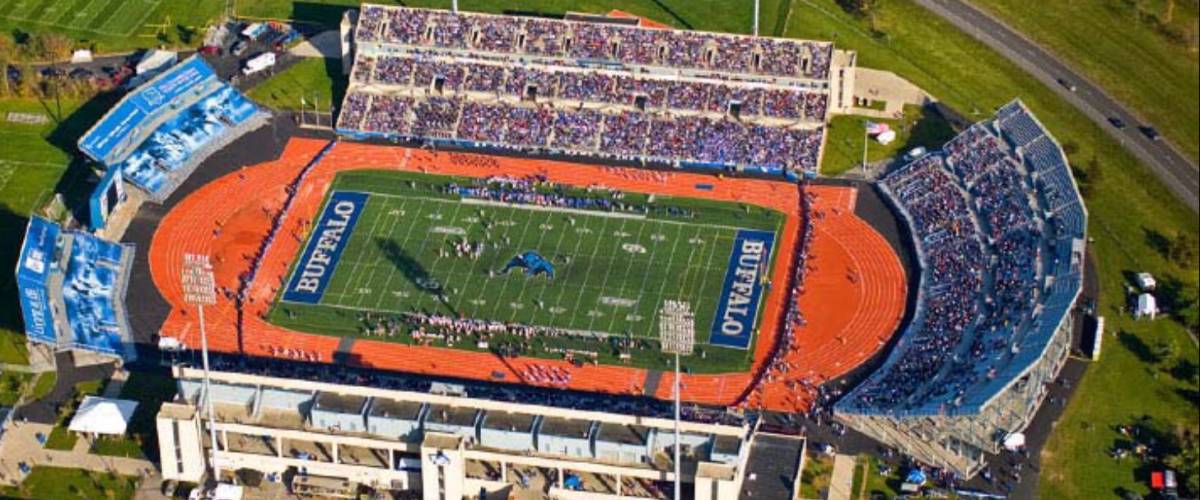 Buffalo, New York
UB Stadium can hold more than 30,000 fans, but the Bulls have drawn fewer than half that number for some games. The team's 25-year-old field may have something to do with the lackluster attendance.
"People rave about how wonderful this stadium is, and honestly it's a load of Bulls," cracks one Yelper, who calls the venue "uncomfortable" and "pretty average."
Another complains about the running track that circles the field. "The track pushes the stands back pretty far, and with all the people the teams bring along to stand on the sidelines you can't see much."
The Bulls say in their marketing that their goal is to provide a more family-friendly football experience at UB Stadium.
21. Northwestern University: Ryan Field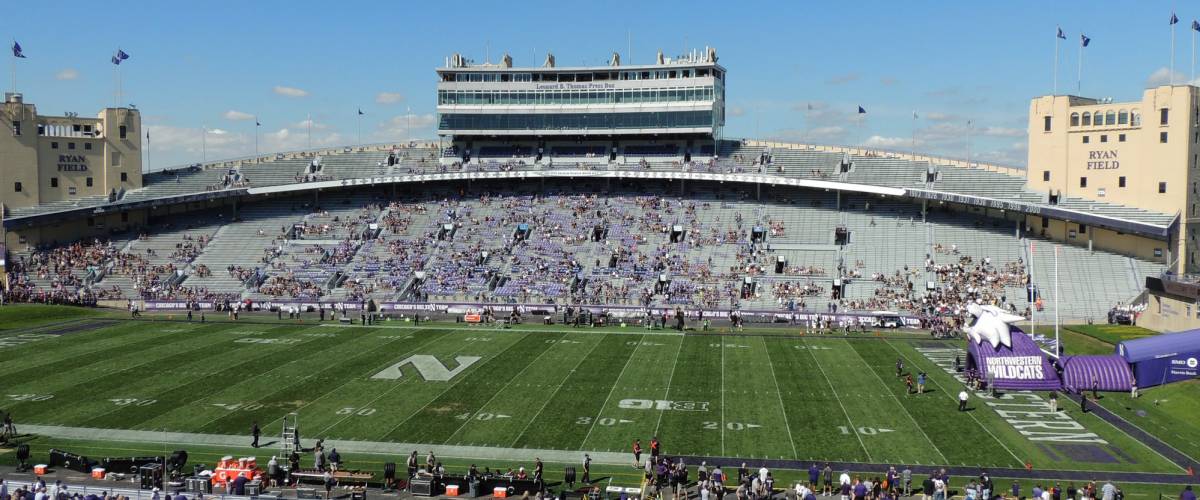 Evanston, Illinois
Northwestern brings some of the best teams in the nation to historic Ryan Field (previously known as Dyche Stadium), and yet the stands are often half-empty.
Home to the decorated Northwestern Wildcats, the stadium is capable of holding more than 40,000 people, but it hasn't been renovated since 1996.
The stadium has some of the best sightlines in the Big Ten, but some fans say Ryan — which opened in 1926 — is old, outdated and is in need of better amenities, including a new Jumbotron.
"Concessions? Oh, they have anything you want to eat — as long as it's a hot dog," writes one TripAdvisor reviewer.
20. University of Kansas: David Booth Kansas Memorial Stadium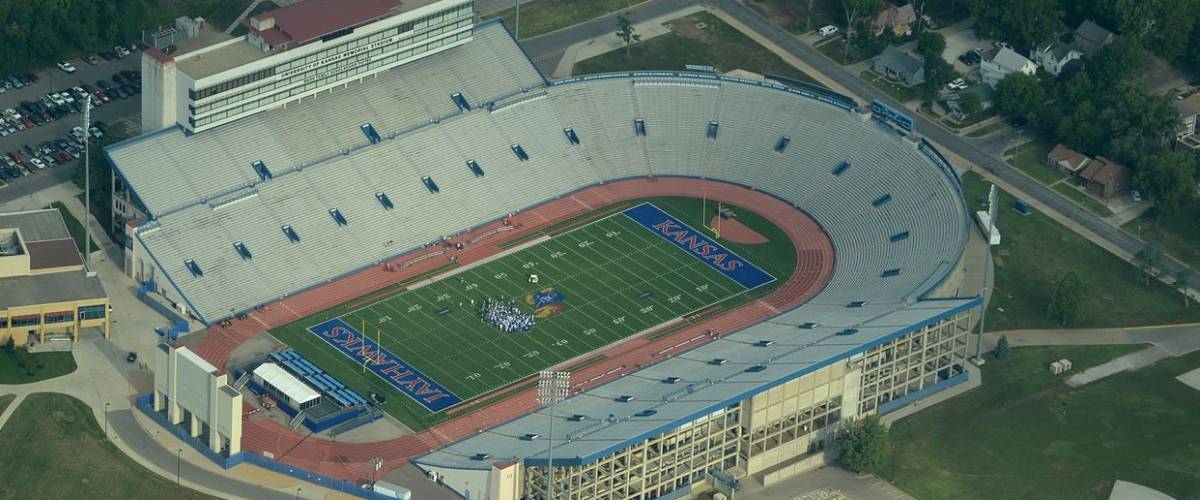 Lawrence, Kansas
Kansas Memorial is one of the oldest stadiums in college football; it was built in 1920 and dedicated to students who were killed in World War I. It has history and gorgeous architecture, but the place needs some attention, fans say.
Writes one, in a Google review: "Very old stadium that badly needs an upgrade. The bathrooms were not even air-conditioned. Uncomfortable bench seating."
Others say the game day atmosphere is lacking and that the concession stands are inconvenient to get to.
It doesn't help that the Jayhawks have gone from a powerful annual bowl team to a powderpuff squad in the tough Big 12.
19. University of Nevada Las Vegas: Sam Boyd Stadium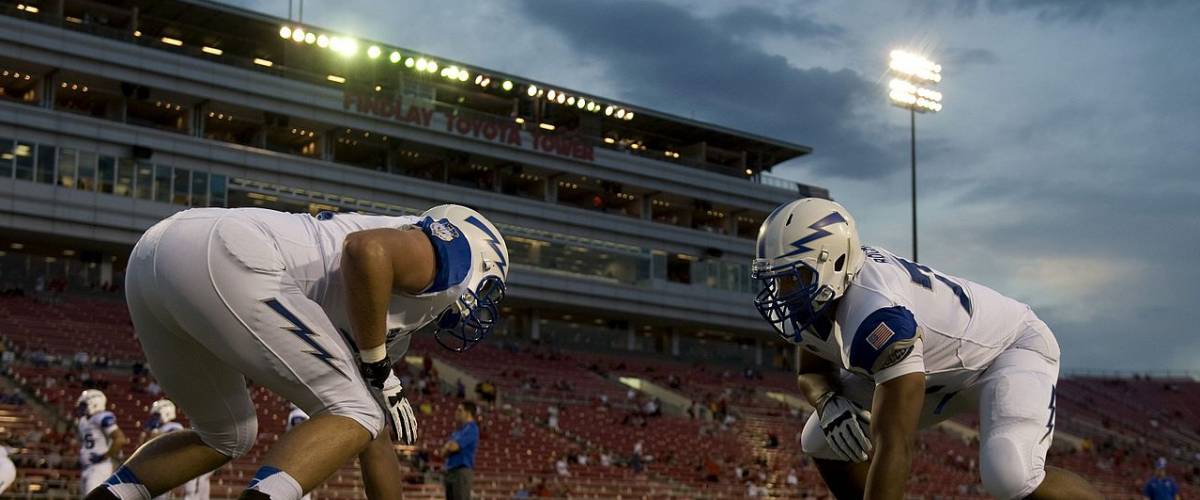 Las Vegas
The home of the UNLV Rebels has been discussed as a possible temporary home for the NFL's Raiders, who are leaving Oakland for Las Vegas. But this stadium, built in 1971, is short on parking, food vendors and other amenities.
"The lines [for] food were 20-40 minutes, and for a cold $6 hot dog," complains one TripAdvisor reviewer. "I would never attend another event at this stadium unless I could arrive by helicopter and eat before I arrived."
The seats are uncomfortable metal benches, other reviewers noted.
And, given UNLV's losing record year over year, game days at Sam Boyd Stadium can feel a little deflated. The Rebels went 4 and 8 in the 2018 season.
18. University of Northern Illinois: Huskie Stadium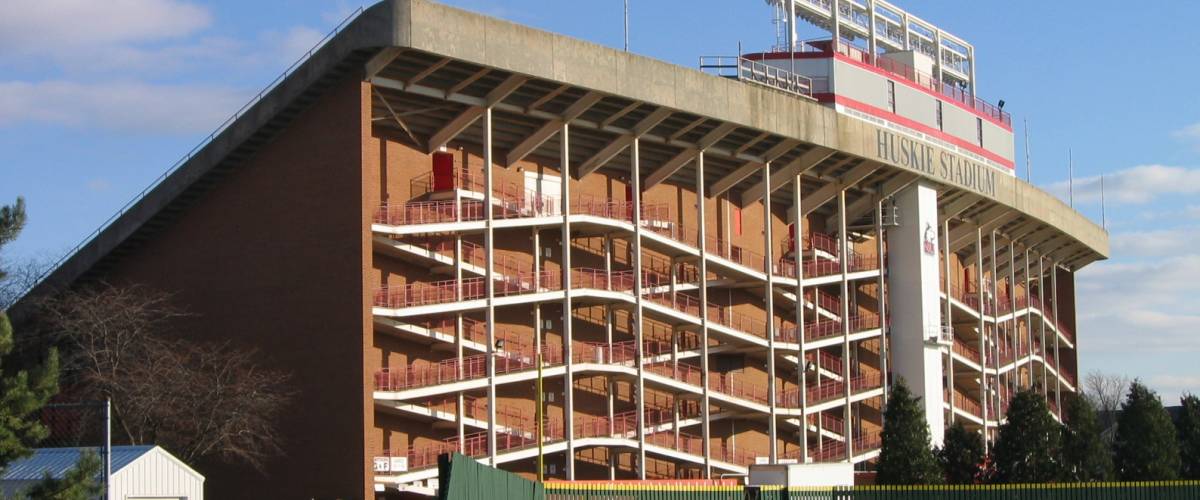 DeKalb, Illinois
The Huskies are a solid team in the MAC, but they have a lackluster stadium to play in. Even fans who have nice things to say about their game experience say the venue needs a refresh.
"Has that old stadium feel. Concessions don't take cards and the ATM was out of money," says one Google reviewer — who still adds, "Overall had a good time."
Other fans remark that the concession stands quickly run out of food, and that the limited restroom facilities tend to have long wait times.
Huskie Stadium is due for some upgrades. It was built in 1965 and has a capacity of around 25,000.
17. University of Tulsa: Skelly Field at H.A. Chapman Stadium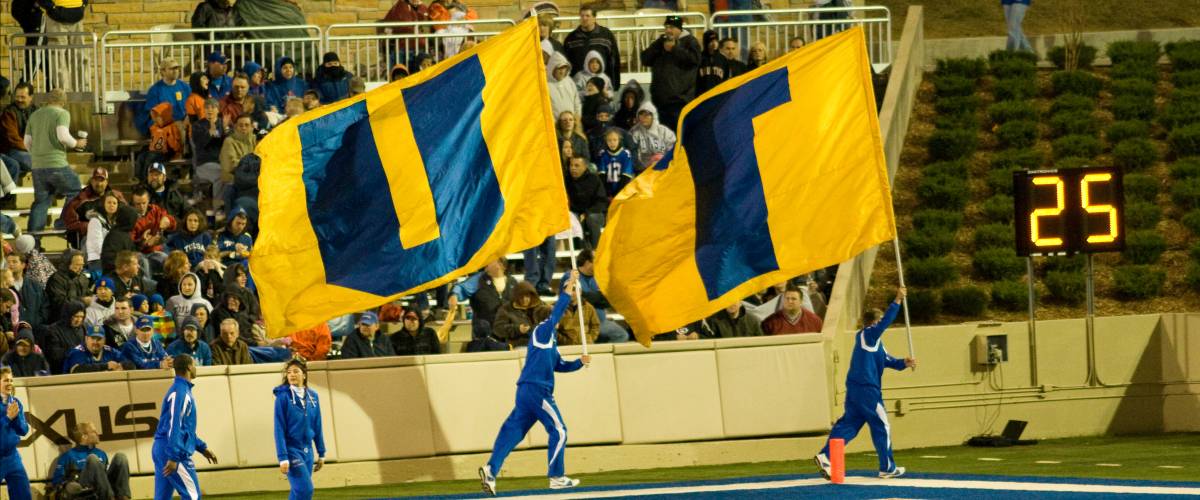 Tulsa, Oklahoma
Admiring fans describe this stadium with phrases such as "great little football field" — which is telling.
One fan writing a Google review even remarks that, "The stadium isn't too big so all the seats have good views of the game."
Skelly Field at H. A. Chapman Stadium has seating for 30,000, dates back to 1930 and lacks modern amenities. And while visitors agree that size doesn't matter, one thing they complain about is an unfortunate parking situation.
Plus, game day spirit has been strained by a couple of bad seasons. The Golden Hurricane won only three games during the 2018 season. "Nice stadium. Would be a 5 star experience if they could win," writes a Google reviewer.
16. University of Massachusetts: Warren P. McGuirk Alumni Stadium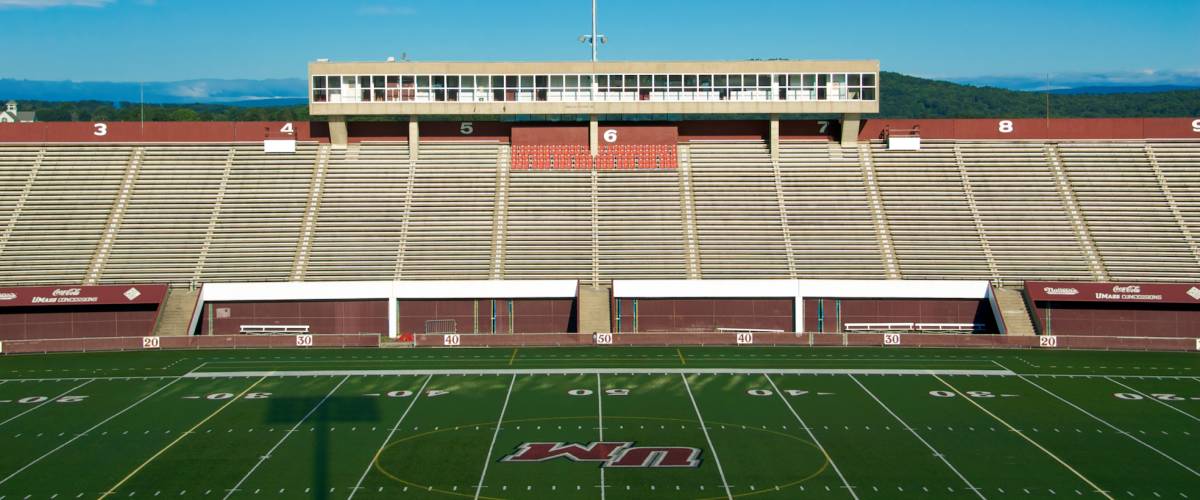 Hadley, Massachusetts
McGuirk Alumni Stadium, built in 1964, is relatively puny — holding only 17,000 fans. You wouldn't be able to tell that the Minutemen are a Division I team, since the place is often a little empty. UMass struggles on and off the field.
It's an OK place to watch a game, but it can be downright miserable in any weather, particularly on cold autumn nights in central Massachusetts.
To make matters worse, the limited bathroom situation forces some fans to use cold port-a-potties.
The more than 50-year-old stadium received a decent renovation in 2014 but is still showing its age. One Google user's review is just one word: "Yuck."
15. University of North Carolina at Charlotte: Jerry Richardson Stadium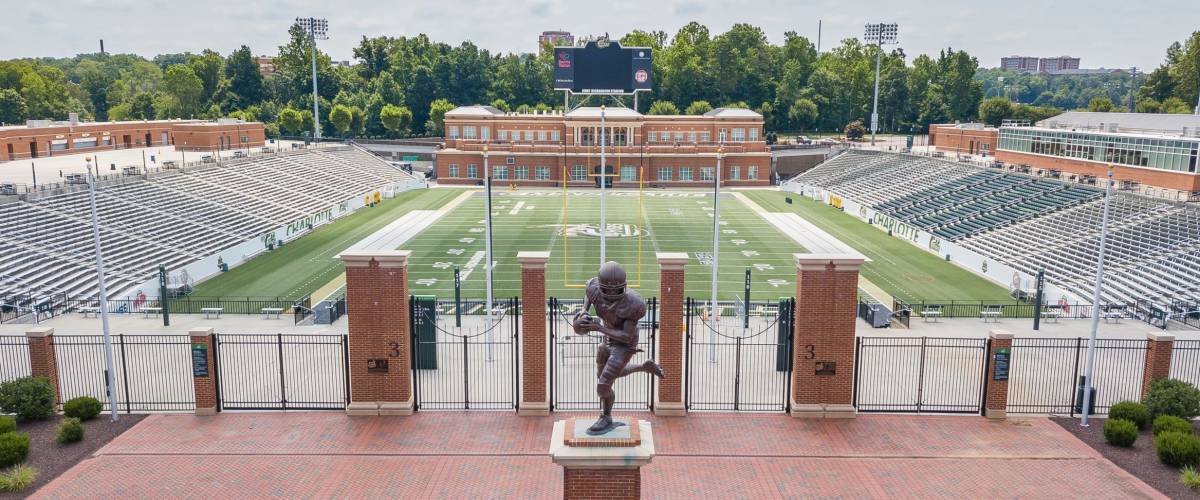 Charlotte, North Carolina
Although the 49ers pack this stadium for their Conference USA games, there are high schools with bigger homes. The stadium — built in 2011 — is well-liked by fans, but its compact size can make things feel a little squished.
With a capacity of only around 15,000, this small stadium is below NCAA standards.
But expansion plans that are under consideration would add luxury boxes and seating for nearly 25,000 more spectators, so the stadium would eventually hold a roaring 40,000 seated fans.
Here's how one fan sees the size issue, in a Google review: "Beautiful stadium, not very big but that makes the experience that much better."
14. Ball State: Scheumann Stadium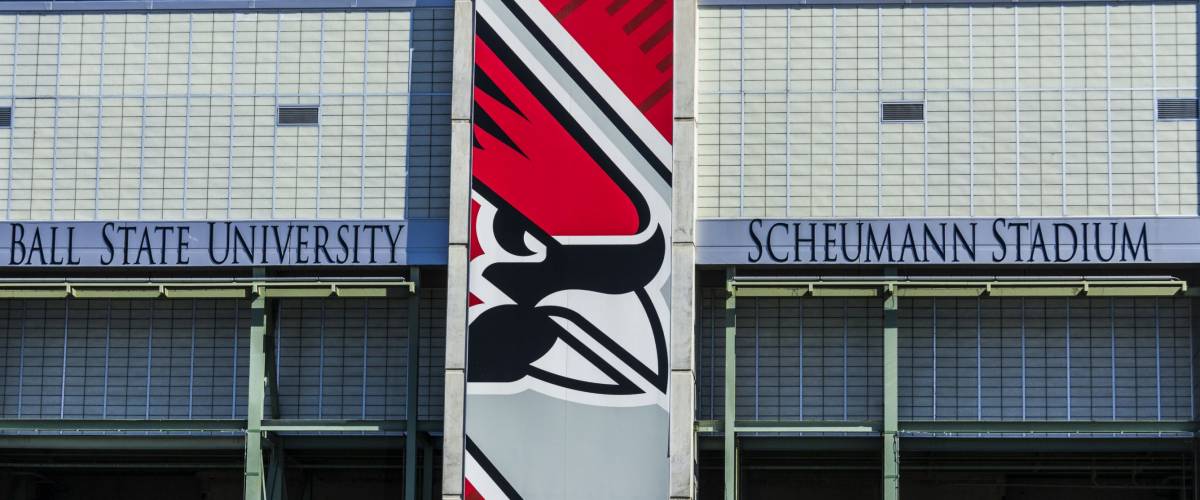 Muncie, Indiana
Scheumann Stadium would never make a Top 10 list from Ball State alum David Letterman.
The nearly 50-year-old venue — which christened its gridiron in 1967 and seats 22,000 people — underwent a major renovation in 2007. Most people agree that Scheumann Stadium doesn't have a bad seat in the house.
But the game day atmosphere can be abysmal because the Cardinals have struggled for years with attendance and have had difficulty attracting top-name players and opponents.
The building itself isn't bad (it even has heated bathrooms), but fans gripe about the parking. "Parking is far and walking necessary," writes one Google reviewer. "Could improve fan participating and hype."
13. University of Akron: InfoCision Stadium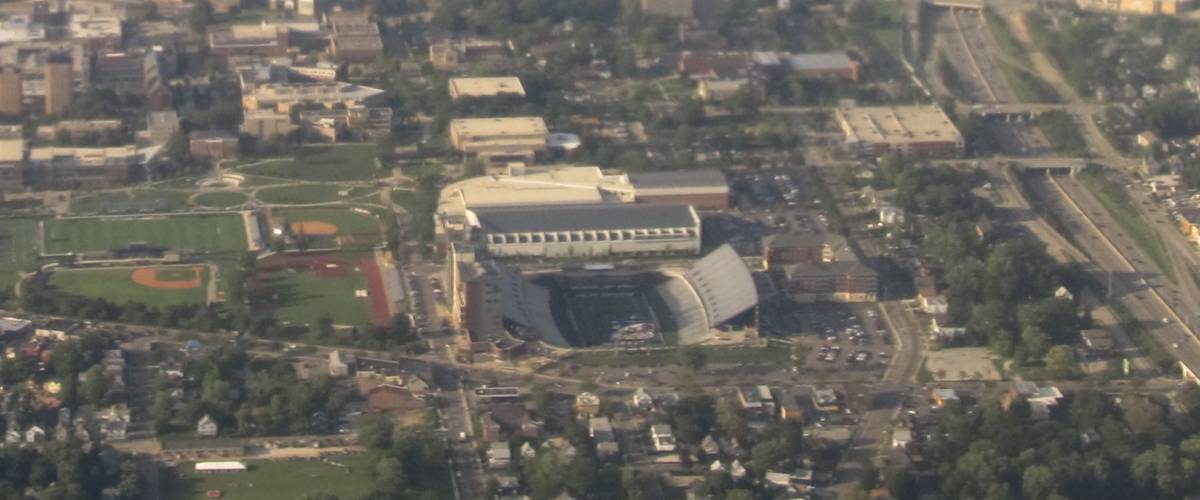 Akron, Ohio
The Akron Zips have been trying to rebuild their attendance numbers that sank following some terrible seasons, including three straight — from 2010 through 2012 — that each ended with only one win and 11 losses.
In 2018, Akron had just a 4-and-8 record. So, fans and team spirit can still be lacking at InfoCision Stadium-Summa Field which was built brand-new in 2009.
Many Google reviewers write about how the lack of fan support can completely ruin the experience.
"I would honestly love going there if they actually had a fan base," says one. "Almost every time I went there it was me and the marching band being the only people in the stands."
12. University of Louisiana-Lafayette: Cajun Field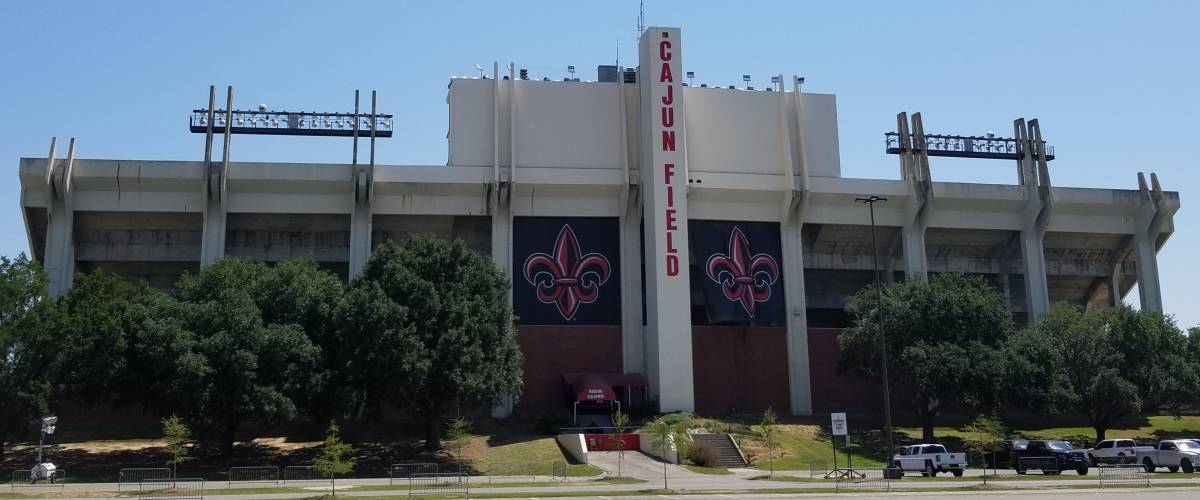 Lafayette, Lousiana
Home to the Ragin' Cajuns, Cajun Field, which seats over 40,000 people, has been known for its lack of a student section, which contributes to a ho-hum game day experience.
The muted enthusiasm levels might help explain the Cajuns' relatively poor attendance numbers in a football-loving state.
While the stadium does get five stars on Yelp, there are only two reviews. "Only thing it could have used was some shade, so hot!" writes one fan.
Others, writing on Google, grumble that the place is too pricey. As one reviewer puts it, "The stadium and the football game itself was nice but $21 to get in, $10 to park."
11. University of Idaho: Kibbie Dome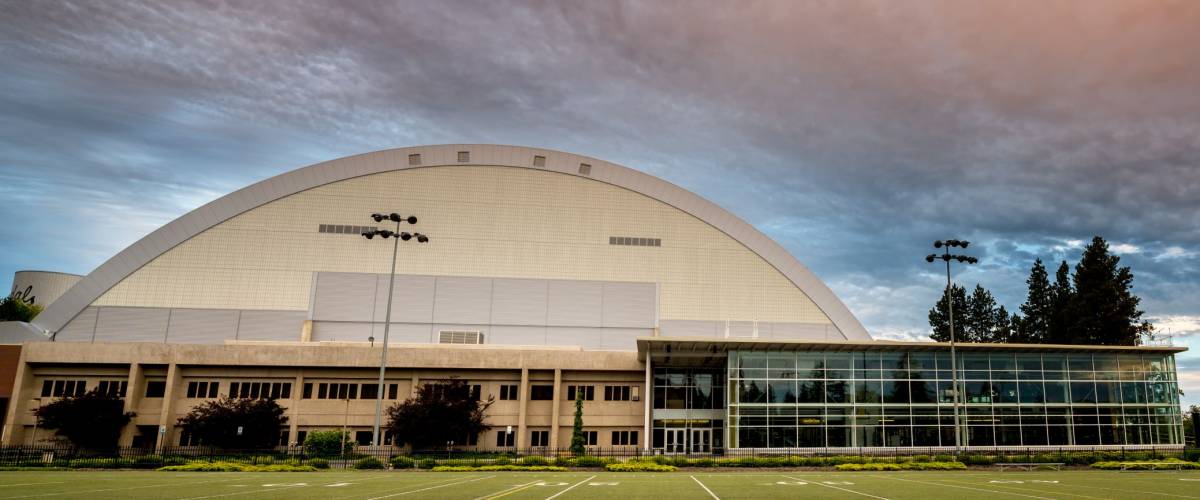 Moscow, Idaho
The Kibbie Dome is one of the most unusual venues in the NCAA. The 43-year-old stadium, which seats fewer than 16,000, has a domed roof made of wood.
An opposing coach once famously said the barrel-arched building looked like "a Campbell's Soup can cut in half."
The stadium is completely indoors, and fans often come away surprised. "It's a giant indoor football field. Very interesting both because of size, and the fact that they felt that our local college team needed this so they could practice," says one Google reviewer.
The Vandals find it hard to attract great talent to a football program in Moscow, in northern Idaho. And, the attendance figures tend to be well below Football Bowl Subdivision minimums.
10. Miami University (Ohio): Yager Stadium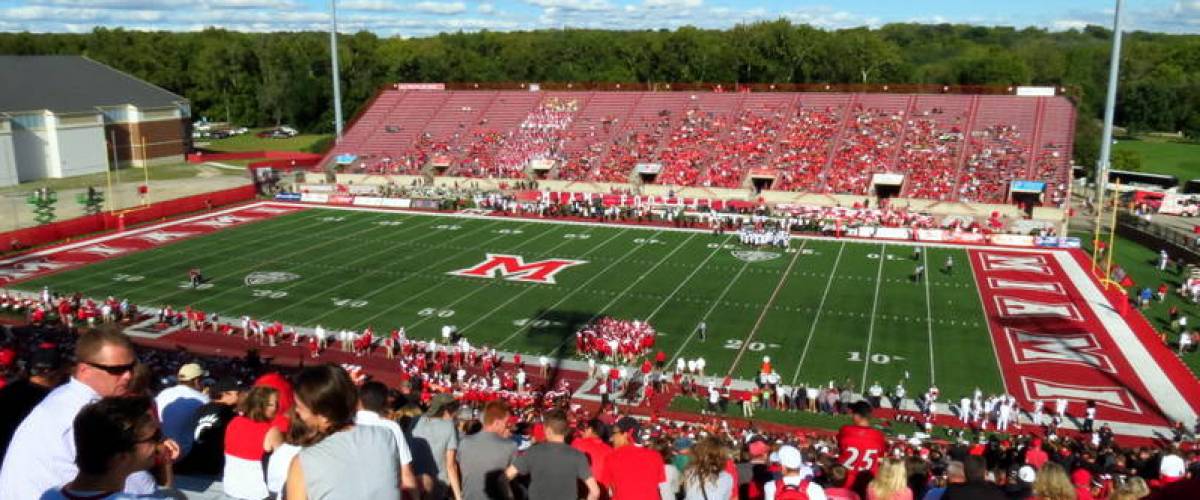 Oxford, Ohio
Miami of Ohio may have an active student body, and a vibrant fraternity and sorority scene. But none of that translates to much excitement for football home games.
Yager Stadium, built in 1983 and last renovated in 2005, has capacity for more than 24,000 fans. But many of the seats are often empty.
The Redhawks haven't had a winning season since 2010, which may be one reason for the team's poor attendance. Their field may be another.
One Google reviewer calls the stadium one of "the blandest" in the Midwest. Another says, and not meaning it in a good way: "The atmosphere reminds you of a high school football game."
9. Central Michigan University: Kelly/Shorts Stadium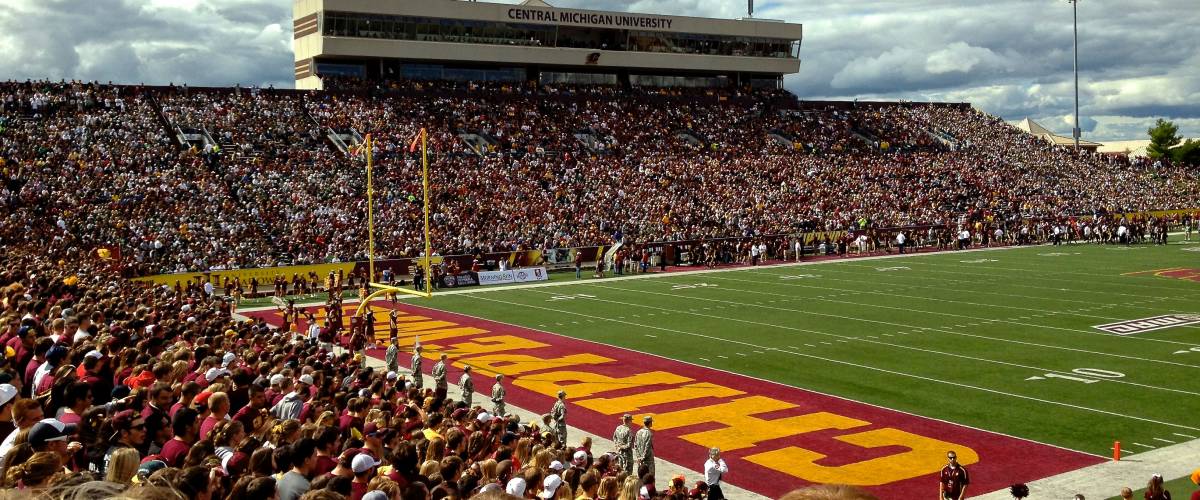 Mount Pleasant, Michigan
With Michigan and Michigan State both just a few hours away, Kelly/Shorts Stadium finds it tough to attract a great crowd.
Attendance is regularly below the FBS minimum, even though the place can seat 45,000. The Chippewas had a pathetic 1-and-11 record last season, which didn't help matters.
And, some fans say the 46-year-old stadium needs work and is potentially dangerous, particularly for seniors "Could be a great place but the steps are steep with no handrails and they have like five trash cans for the entire stadium," grumbles one Google reviewer.
The lack of trash receptacles is puzzling, given that Kelly/Shorts has a decent selection of concessions.
8. Rice University: Rice Stadium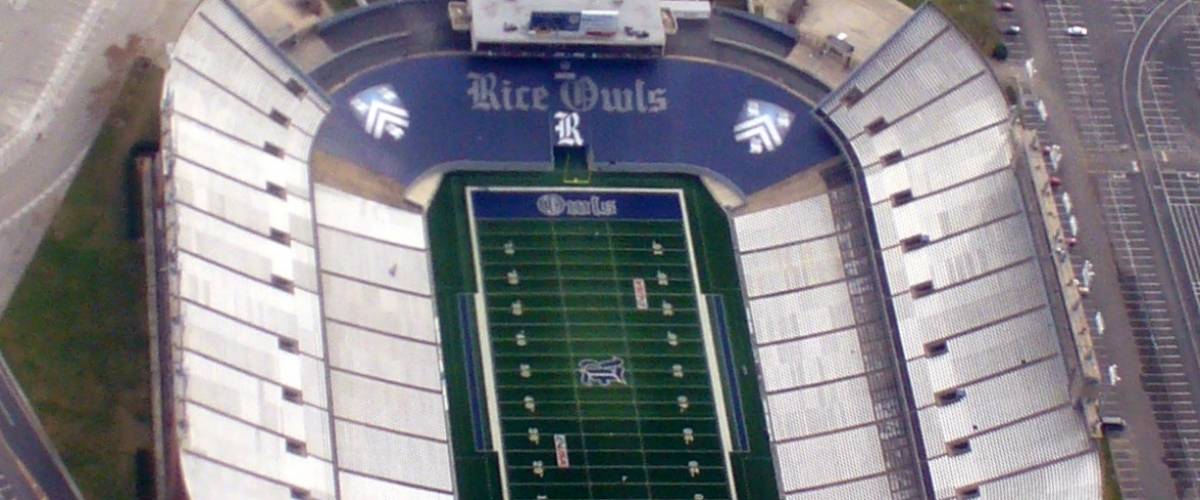 Houston
The Rice Owls play in a 47,000 seat stadium — which is often half empty. That makes for a game day experience that isn't great.
The stadium dates back to 1950, and its upper bowl, in particular, has been poorly maintained. Fans say upgrades are long overdue.
Says one, reviewing on Google: "A good place to watch a football game, but definitely lacking the amenities we've all come to expect in modern stadiums." Another calls Rice Stadium a "throwback to the '60s."
On top of that, there are too few concession stands to serve even the smallish numbers of fans who do turn out. In a capacity crowd, lots of people would go home hungry.
7. University of Memphis: Liberty Bowl Memorial Stadium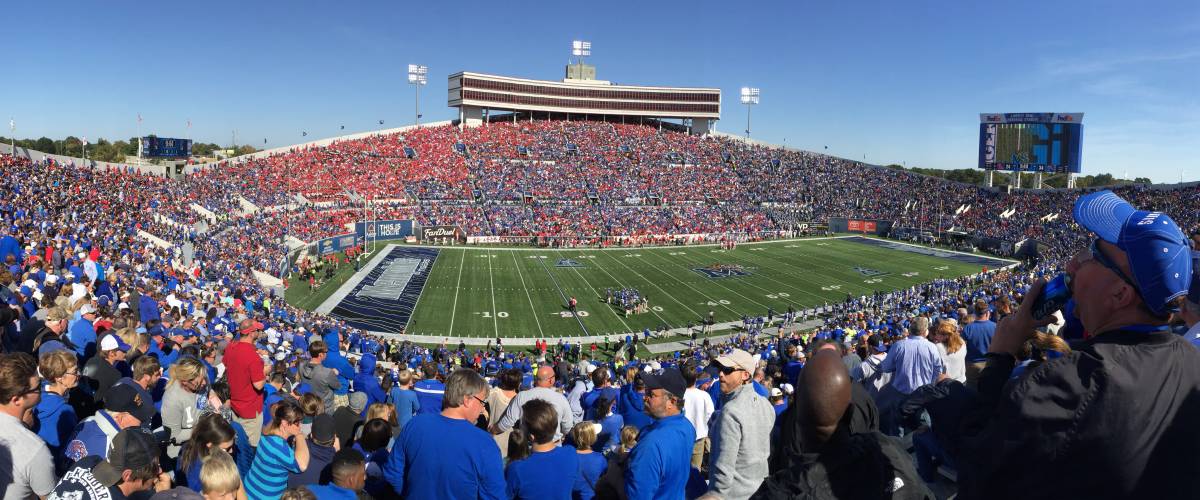 Memphis, Tennessee
The home of the Memphis Tigers looks futuristic — for the 1960s. Liberty Bowl Memorial was built in 1965, and the bowl-like structure has not been aging well.
Seeing the place half empty only accentuates all the evidence that the place is super outdated. For a typical game, Memphis pulls in less than half of the stadium's capacity, and that's being generous.
Plus, multiple fans reviewing on Google complain that Liberty Bowl Memorial has no emergency plan for lightning. "This is a dangerous, understaffed facility, recklessly close to a very active major train line," says one fan.
Another says, "Fans were not allowed to go to their seats due to lightning and were forced to compact themselves in the concession areas. Emergency personnel were not able to freely move through the dense crowds of people."
6. University of Louisiana at Monroe: JPS Field at Malone Stadium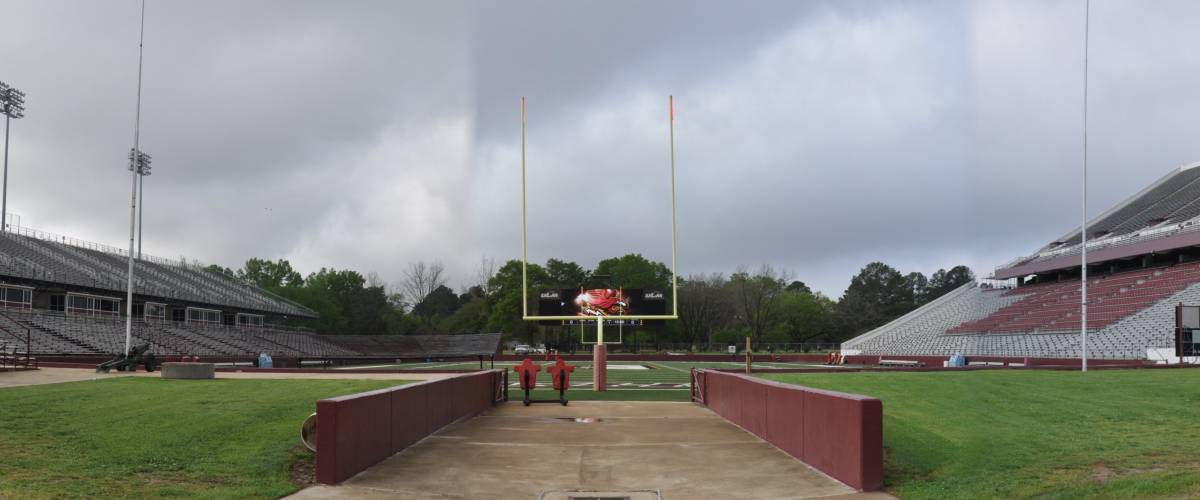 Monroe, Louisiana
Situated deep in the boonies of Louisiana, Louisiana-Monroe has a good football program. But the Warhawks have the unfortunate combination of a small fan base and a stadium that's badly in need of a facelift.
The 40-year-old JPS Field at Malone Stadium is in rough shape, even after recent renovations to the scoreboard, playing field and exterior buildings.
"Run-down and nasty... smelled like a sewer... no excuse for this... put some money back in to your football program," writes another Google reviewer.
And another reviewer says some changes have been unfortunate. "I'm not sure how anyone would think that cutting down ALL of the beautiful shade trees down and killing off the awesome Grove tailgating area would be a great move."
5. San Jose State University: CEFCU Stadium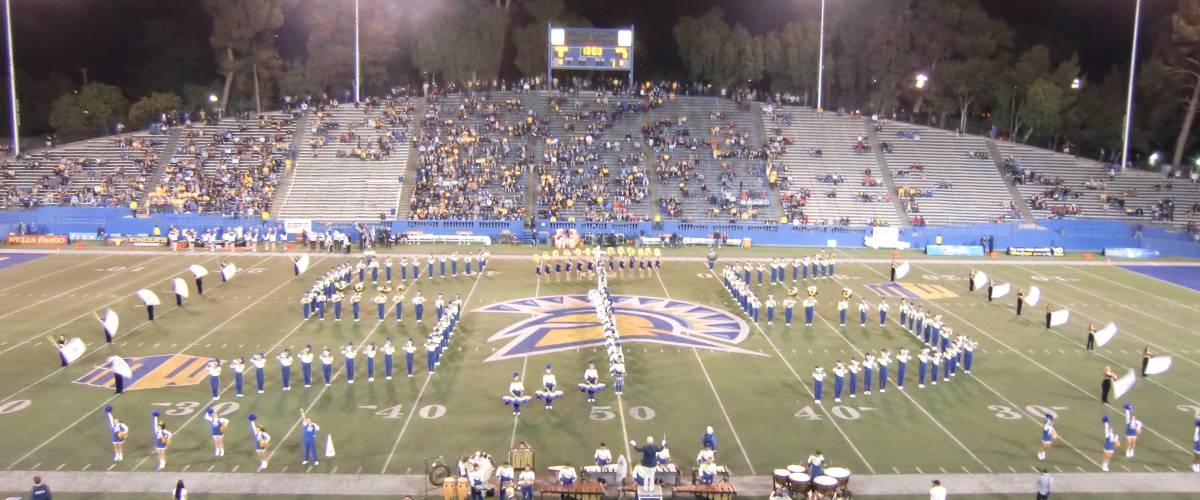 San Jose, California
Since their neighbors include some of the top companies in Silicon Valley, you might assume that the San Jose State Spartans play in a palace.
Instead, the stadium is tired to say the least, seating over 30,000 but not having gotten an ounce of TLC since the 1980s.
Plus, the field is Astroturf, and the seating is fairly inaccessible to fans with physical disabilities, and to seniors. In 2018. Need we say more?
CEFCU Stadium has a couple dozen reviews on Yelp and earns only three stars. "OK. I get that it's old. I get that it's small. But come on, let's put a little money into the concessions," writes one Yelper.
4. Eastern Michigan University: Rynearson Stadium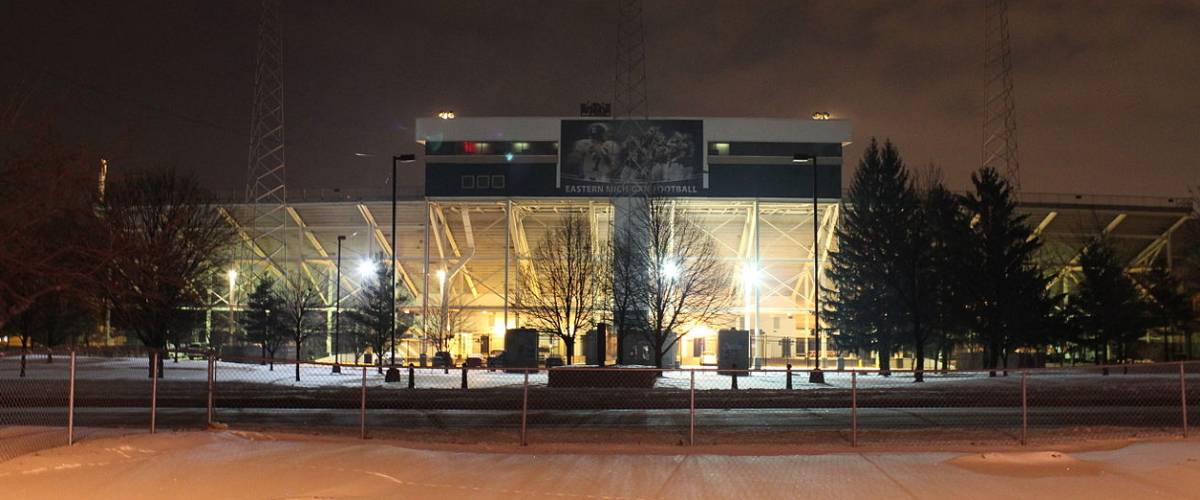 Ypsilanti, Michigan
This nearly 50-year-old stadium has a running track around the football field, giving the place a high-school-esque feel.
The track can make fans feel far-removed from the action on the gridiron.
One Google reviewer recommends checking out Rynearson if you have an opportunity — because you need to see it to believe it. "This is probably the worst stadium in Division 1 (FBS) football," he writes. "For that alone, it was worth a visit."
Rynearson used to be packed for Eagles games, holding up to 30,000, but those days are long gone. Now, Eastern Michigan is lucky to get its stadium two-thirds full, even for big rivalry games.
3. University of Texas at San Antonio: Alamodome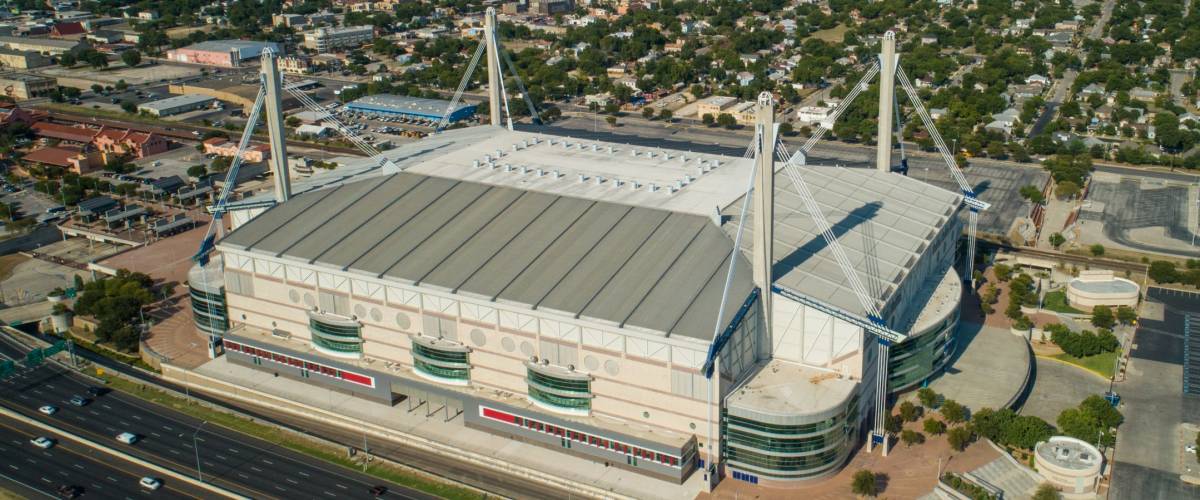 San Antonio
The 25-year-old Alamodome is massive. It has a capacity for up to 64,000 football fans — which doesn't do the UTSA Roadrunners any favors.
Last season's home opener drew more than 42,000 fans, though that still meant that about a third of the stadium was empty.
No matter how large the turnout, having so many empty seats around the stadium leaves much of the game day atmosphere at the door.
The Alamodome gets just two and a half stars on Yelp. "The grading and angles of the stands create too many blind spots," says one negative reviewer. "I probably would have been better off watching the game from home."
2. University of Hawaii: Aloha Stadium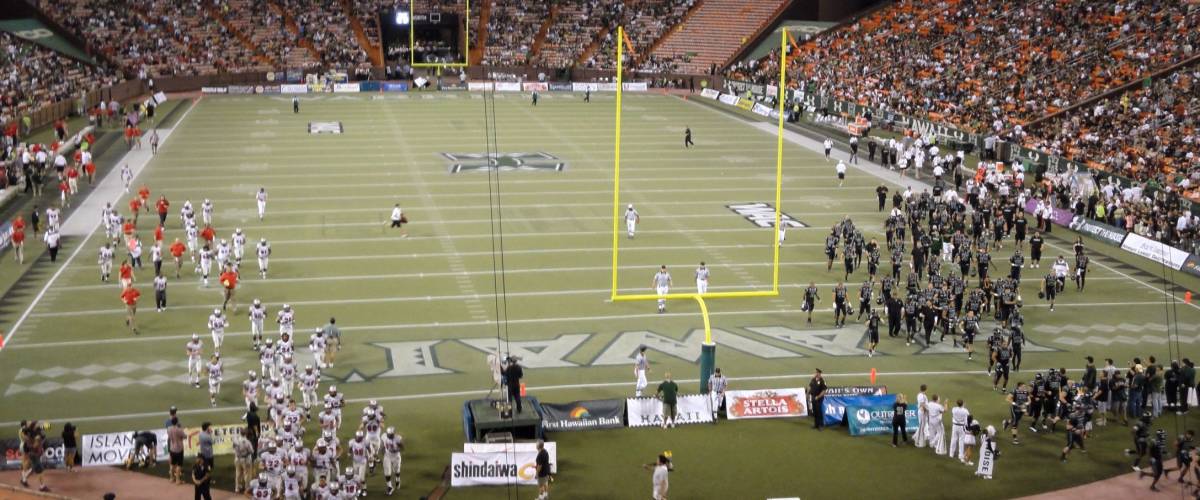 Honolulu
Aloha Stadium used to be something of a crown jewel in Honolulu, but now the 43-year-old venue is looking faded.
In 2016, the venue underwent $1.2 million in renovations, but fans say they don't see much improvement. "The stadium is in desperate need of repairs," one Yelper wrote just recently.
Officials are now planning a complete rebuild of the tired stadium and have released plans for three separate options. Among the proposed changes? Downsizing from a capacity of 50,000 to just 35,000.
Fans might be more forgiving if they had a better team to cheer for. The Rainbow Warriors have had trouble finishing their seasons with winning records, though in 2018 they went 8 and 6.
1. Vanderbilt University: Vanderbilt Stadium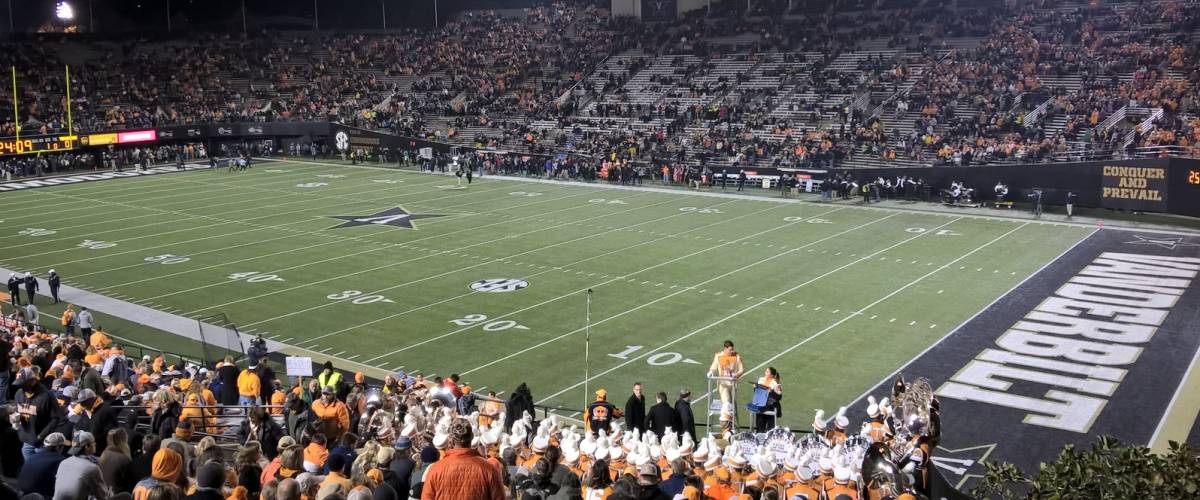 Nashville, Tennessee
For a private university once called one of the most expensive colleges in America, it's somewhat surprising that Vanderbilt doesn't have a better stadium to host its Commodores.
Instead, one of the nation's most beautiful campuses has an ugly stadium built in 1922 that often draws only half-capacity crowds for football. It's our choice for the worst field in college football.
"Sad excuse for a stadium," is how one Google reviewer sums the place up. Says another: "It's old and small. Nicer high school stadiums put it to shame."
Did we miss a stadium? Do want to defend your home turf? Let us know why you think another stadium deserves a spot — or why your home stadium needs to some vindication.