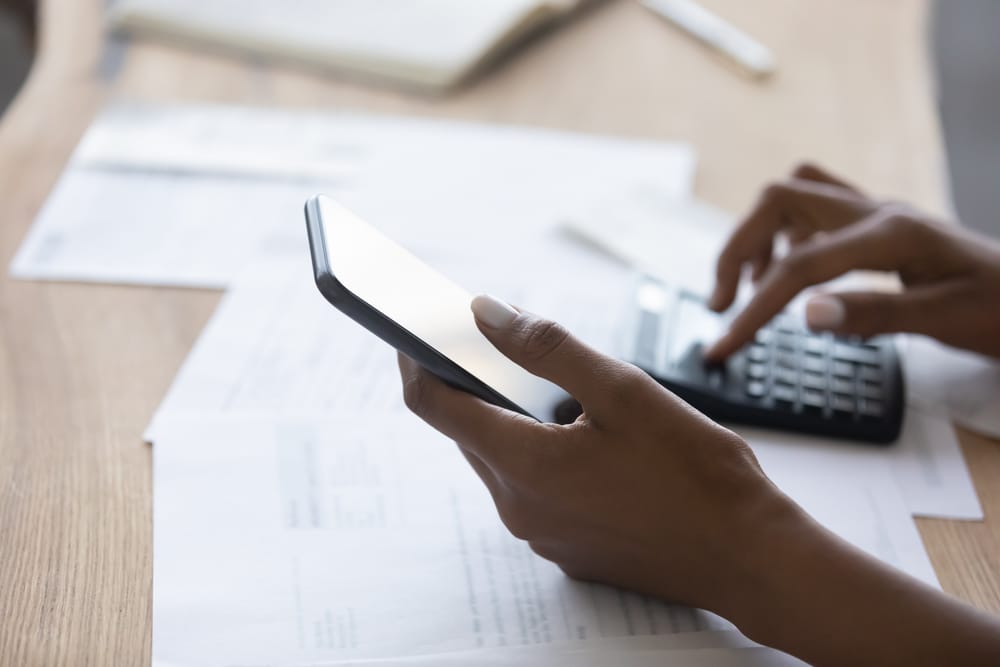 Cash App Taxes review 2023
fizkes / Shutterstock
We adhere to strict standards of editorial integrity to help you make decisions with confidence. Please be aware that some (or all) products and services linked in this article are from our sponsors.
We adhere to strict standards of editorial integrity to help you make decisions with confidence. Please be aware that some (or all) products and services linked in this article are from our sponsors.
A totally free tax service
What is Cash App Taxes?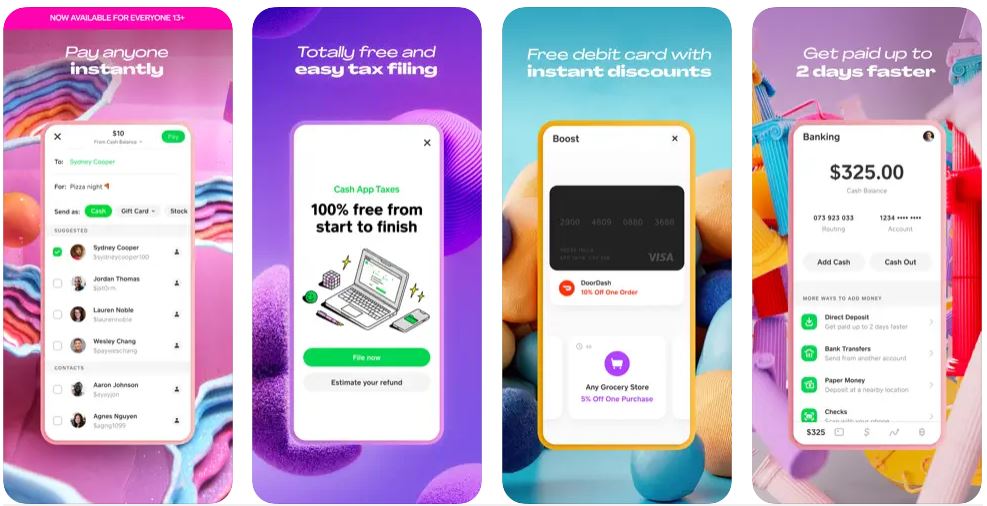 Many of us know Cash App for its peer-to-peer payment products, including the ability to send and receive money in an instant, buy crypto and invest in stocks. But in 2020, Cash App acquired Credit Karma Tax and gave the service a new name: Cash App Taxes.
Cash App Taxes makes it easy to start filing. You answer a few questions about your situation, and the app helps you figure out your filing status and decides which approach to take for your taxes. With tips available in each section to help you understand what's going on, you can be reasonably sure that you're on the right track with your tax preparation.
You can also prepare your state tax return for free using Cash App Taxes. This can be helpful since many other tax preparation providers charge extra to make your state return.
Further reading: Credit score monitoring sites
Who is Cash App Taxes good for?
Cash App Taxes tax preparation can work for most tax situations including straightforward tax returns using just W-2s and Form 1040 as well as more complex returns that need to include other sources of income, additional deductions, or sales of investments, property, or goods (to name just a few examples). Cash App Taxes can accommodate a variety of different filers, free of charge.
Those with extremely complicated, less common tax situations—such as those who have lived in multiple states during the tax year, have foreign income, or have income to report from trusts—won't be able to use Cash App Taxes effectively.
Cash App Taxes also lacks options other providers offer such as partially-assisted filing, full preparation, and tax software download products. For filers who want more customer support, TurboTax, TaxAct, TaxSlayer, and H&R Block could be better choices.
Carefully consider your tax situation and what is likely to work best for you before deciding on using Cash App's tax preparation service.
Cash App Taxes prep features
Free version (for simple tax returns only)
Audit assistance included
Accuracy guarantee
Reimbursement up to $1,000 via gift cards
Filing support
Online help center, Email
Easy import — Skip onboarding steps by importing previous tax information. Cash App Taxes is compatible with TaxAct, H&R Block, and TurboTax, so you can just import your 1040 from those software applications to pre-populate your current tax return.
Mobile filing — It's possible to complete your entire tax return using a mobile device. You can use your phone's camera to snap pictures of essential documents, and everything can be handled in the palm of your hand.
Tax return review — When you finish, Cash App Taxes will automatically send you back to sections you didn't fill out properly or that present red flags. Cash App Taxes checks and re-checks the return before it's filed, reducing the chances that you'll end up with mistakes.
Cash App Taxes plans and pricing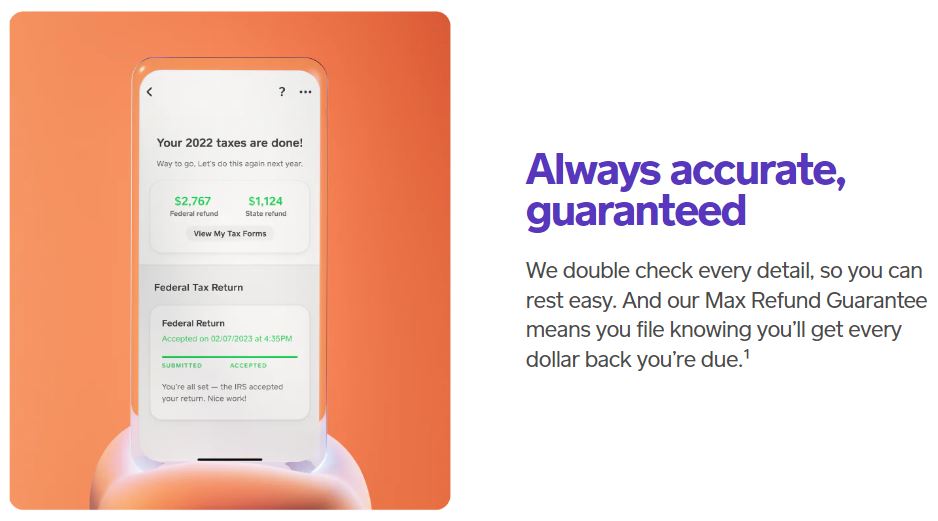 Using Cash App's tax preparation service is entirely free. You do have to sign up for a Cash App account, but you don't have to provide a credit card to do so. You will be subject to credit card, loan, and other offers (Cash App Taxes makes money off these referrals), but you don't have to pay anything upfront.
Cash App Taxes' Maximum Refund Guarantee promises a refund of up to $100 if you receive a bigger refund with a different service and audit defense is free for every filer that qualifies. This includes consulting and review from a specialist as well as communication on your behalf with the IRS.
Because Cash App is free, there are no plans or service tiers. This is very different from how other tax software providers operate. Normally, whether you choose an online plan, software download, or service that includes professional support, you'll typically pay more or less depending on which tier you choose. And often, tax filing platforms include federal tax returns in the base price and cost extra for each state return you need to complete. Many providers have free plans, but these are usually only for the simplest of returns.
Situations supported
Cash App Taxes supports many types of tax filing situations in the same service. Rather than listing every possible situation that works here, we'll sum up the main supported forms here:
* W-2s
* All 1040s except PR and NR
* All 1099s including 1099-NEC
* Schedules 1, 2, and 3
* Schedules A through F
* 1098-C, E, and T
With Cash App Taxes, you can itemize deductions; report investment income including earnings from rental properties; deduct childcare expenses and business expenses; and claim credit for mortgage interest, student loans, and childcare. This probably encompasses the tax needs of many.
Situations not supported
But really, it's easier to cut straight to which situations Cash App doesn't support, and these are mostly specific circumstances that won't apply to the majority of our readers. Here are some of the things Cash App Taxes won't let you do:
* File multiple state tax returns
* Report income earned in other countries
* Report schedule K-1 income from estates and trusts
* 1040 NR and PR
There are also some credits you won't be able to take using this service including the Health Coverage Tax Credit, Form 3800 General Business Credit, and the EIC for non-dependents.
Basically, this service won't be a good fit for people with foreign income, filers who need to complete multiple state returns, or those with trusts.
Sign up to Cash App Taxes
Tax refund options
You can receive your tax refund in these ways:
Direct deposit
Paper check
How to sign up
In order to access the tax preparation service, you need to be a Cash App member. Signing up is fairly straightforward. Using your email address as your sign-in, you'll set up a password and then provide other information, including:
Name
Address
Birthdate
Last four digits of your Social Security number
You'll also have to answer questions about loans or other items in order to confirm your identity. Once you have an account, you can start the process of filing your tax return by choosing the "Tax" option on the navigation menu.
You can file from your mobile device or through the online platform.
Synchronization
While you don't sync your bank accounts, it is possible to pull information into your tax form using other software. TurboTax, TaxAct, and H&R Block forms can be captured and the information imported into Cash App Taxes. Additionally, you can import salary information from ADP and Experian using an employer identification number.
You can provide your bank information on the tax form so that your tax refund is deposited directly into your account if that's how you prefer to receive it.
Cash App Taxes pros and cons
Pros
Completely free. You won't pay anything when you file your state and federal tax returns using Cash App Taxes.
Offers audit defense. Get help if you're audited, free of charge. Many platforms offer only audit assistance, which may include review with a professional but does not include hands-on support as Cash App Taxes does.
Easy to use. Cash App's tax prep is easy to use and the interface is clean. Plus, you get help along the way.
Completely mobile tax filing. With everything completely accessible from your phone, it's easy to file your taxes on your own terms.
Import from other tax prep software. The ability to import your previous information quickly and easily allows you to get a jumpstart on filing.
Cons
Not all forms are available. While most tax situations can be handled by Cash App Taxes, not all of them can. Some important situations, such as multiple state returns, can't be completed using this software. There are also some trust forms that aren't available and Cash App Taxes can't handle the Foreign Tax Credit.
You have to sign up for Cash App. You might not want to sign up for Cash App Taxes and be bombarded with offers and other items.
Customer support. Cash App does not offer dedicated support for taxes, so if you need help, you'll have to go through Cash App's general customer service.
Only online plans. The only way to complete your taxes with Cash App taxes is to use the online platform. You can't download software or pay someone to file for you.
Mobile accessibility
It's possible to complete the entire tax filing process using a dedicated mobile device. You'll just log into Cash App on your phone and navigate to the Tax section to start filing. From there, follow the prompts to import your tax documents and fill out the required forms.
Customer service
Cash App Taxes has an online help center, including a section devoted to tax preparation. It's searchable and can help you answer questions about the process. You can also get member support through email or phone, but you'll go through the same customer support avenues as everyone else using Cash App.
Unfortunately, Cash App Taxes doesn't offer any dedicated support of its own, so you should feel fairly comfortable filing by yourself or prepared to enlist the help of a third-party tax professional if you have questions. Additionally, note that you might not get as much tax help as you would with a company that's completely devoted to tax prep.
Sign up to Cash App Taxes