Buy, hold and build equity
The simple fact is that many people can't afford to buy houses. As mortgage rates hover above 6% and house prices remain high, affordability and demand have suppressed.
And the latest news on home prices will hit any first-time homebuyers or investors particularly hard. The typical entry-level home sold for a record $243,000 in June, up 2.1% from a year earlier and up more than 45% from before the pandemic, according to a report from Redfin.
Olsen thinks real estate investors should adopt a buy-and-hold strategy to ride out the tumultuous market — and build cash flow along the way.
By holding onto your home and putting more money toward paying off your mortgage, you can build home equity — the difference between how much your home is worth and how much you owe on your mortgage.
This is an attractive prospect for the roughly 40% of current U.S. mortgage holders who secured low fixed-mortgage rates of 3% to 4% in 2020 and 2021, when the COVID-19 pandemic drove borrowing costs to historic lows.
Desperate to hold onto their low mortgage rates, they're choosing not to sell their properties, instead building their home equity. This comes with benefits.
First off, you'll likely come away with more cash when you do eventually sell your property — and you can use those profits to increase your down payment and get better mortgage terms for your next real estate venture.
Also, when mortgage rates eventually fall, you can refinance into a lower rate, improving your positive cash flow.
Finally, as you build home equity, you become eligible for a home equity line of credit (HELOC) which generally gives you access to cash at a low rate.
Read more: Americans are paying nearly 40% more on home insurance compared to 12 years ago — here's how to spend less on peace of mind
Stop overpaying for home insurance
Home insurance is an essential expense – one that can often be pricey. You can lower your monthly recurring expenses by finding a more economical alternative for home insurance.
SmartFinancial can help you do just that. SmartFinancial's online marketplace of vetted home insurance providers allows you to quickly shop around for rates from the country's top insurance companies, and ensure you're paying the lowest price possible for your home insurance.
Explore better rates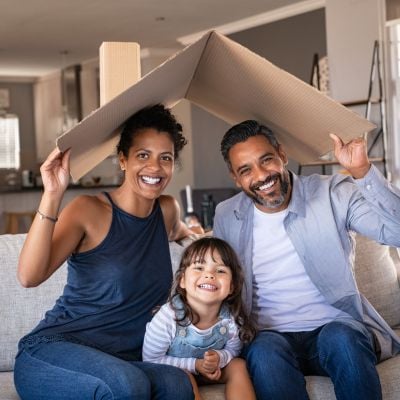 Become a landlord
If cash flow is an immediate issue, you might want to consider becoming a landlord to bring in monthly rent payments that you can put towards your mortgage and other financial goals.
The rental market is hot right now. High mortgage rates have prevented many Americans from making the leap from renter to homeowner, which in turn has meant a rental unit shortage, moving landlords to raise prices.
Rental prices aren't expected to cool in the near future. In fact, U.S. households are now currently "rent-burdened" for the first time ever, spending 30% of their income on rent, according to Moody's Analytics.
As a landlord, you can build up your cash flow over time as rents rise.
The rental income you generate can be set aside for a future down payment for additional real estate investments or be added to your retirement nest egg.
However, keep in mind that becoming a landlord takes work and doesn't always result in positive cash flow. You need to find reliable tenants, collect rent and handle maintenance and repair requests (out of your own pocket).
Generate passive cash flow
If the hassles associated with becoming a landlord and managing a property don't appeal to you, but you are still interested in real estate investments, there are other options.
You can consider buying into real estate investment trusts (REITs) or you can make passive income by investing in properties through a number of new online platforms without needing to take on the mantle of landlord.
REITs make it possible for you to profit from the real estate market without having to buy a house or worry about screening tenants, fixing damages or chasing down late payments.
They're publicly traded companies that own income-producing real estate like apartment buildings, shopping centers and office towers. They collect rent from tenants and pass that rent to shareholders in the form of regular dividend payments.
Essentially, REITs are giant landlords. Some have seriously blue chip tenants, including the U.S. government, while others house e-commerce giants like Amazon and Walmart.
If you're unsure about where to start, there are new online platforms — supported by a team of experts — that will give you access to institutional-quality commercial real estate investments without the leg work of finding deals yourself.
You can browse curated deals or join funds invested in diversified real estate portfolios that will maximize your returns while keeping your fees low.
Sponsored
Follow These Steps if you Want to Retire Early
Secure your financial future with a tailored plan to maximize investments, navigate taxes, and retire comfortably.
Zoe Financial is an online platform that can match you with a network of vetted fiduciary advisors who are evaluated based on their credentials, education, experience, and pricing. The best part? - there is no fee to find an advisor.