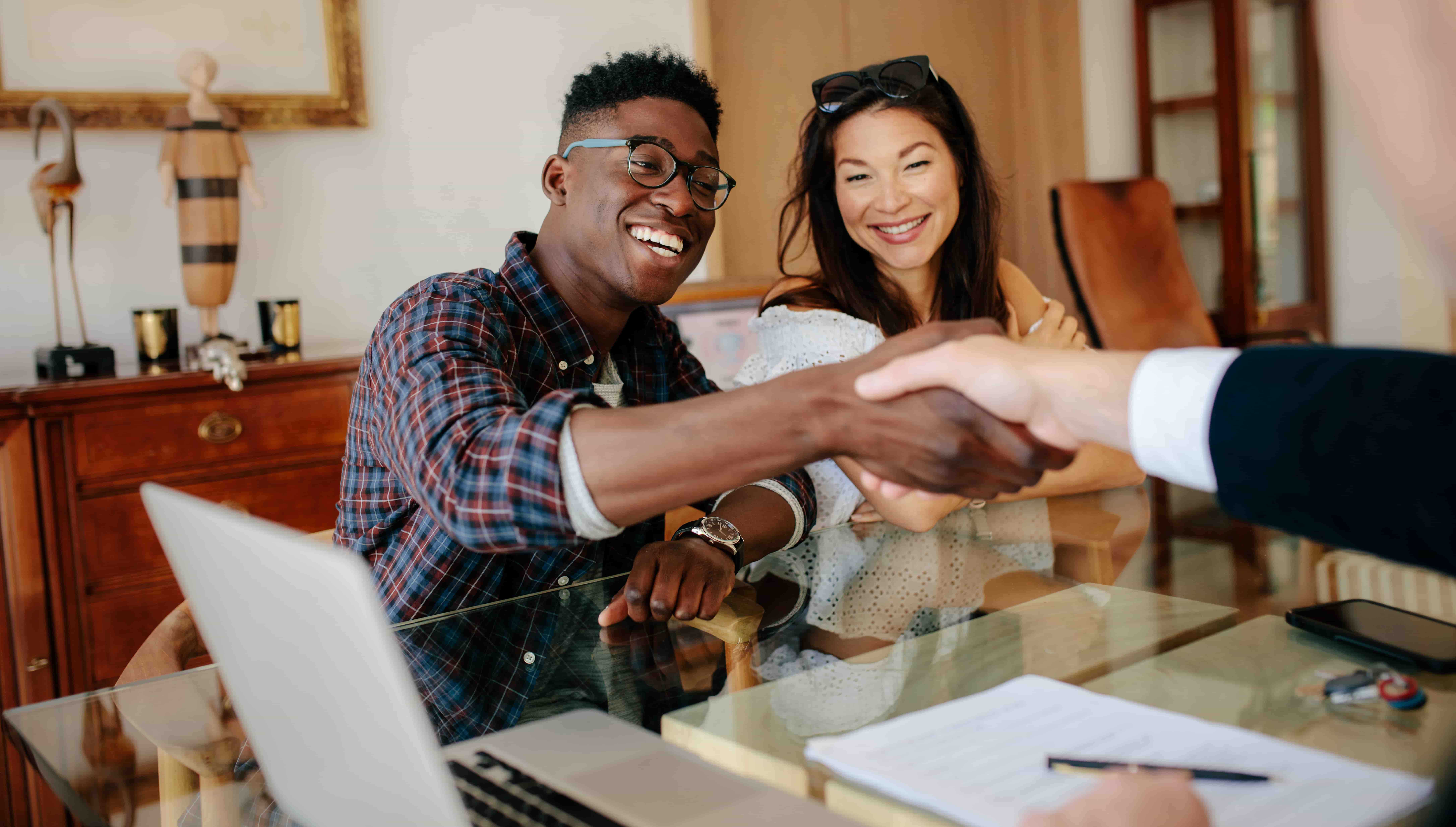 Ark7 review 2023: Invest in fractional shares of rental properties
Jacob Lund / Shutterstock
We adhere to strict standards of editorial integrity to help you make decisions with confidence. Please be aware that some (or all) products and services linked in this article are from our sponsors.
We adhere to strict standards of editorial integrity to help you make decisions with confidence. Please be aware that some (or all) products and services linked in this article are from our sponsors.
Pros
Low share prices so you don't need much money to start investing
Earn monthly cash distributions
Completely passive income
In-depth information about each listing
Ark7 invests in each property so it has a vested interest in investor success
Cons
Limited track record since Ark7 is a young company
No REIT or commercial real estate options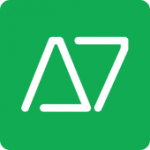 Founded in 2018, Ark7 is a fractional real estate investing platform that lets investors purchase shares of rental homes. The company offers a simple way to add real estate to your portfolio without buying an entire rental property yourself or investing in REITs. And with shares starting at around $20, you don't need much capital to start.
According to its website, Ark7 has already grown to 25,000+ investors and seen over $15 million in property value funded through the platform. It's also paid out $1 million to investors so far in distributions. These distributions are the main attraction of Ark7, and investors get paid monthly distributions from the rental income properties generate.
How does Ark7 work?
Ark7 is similar to companies like Arrived Homes and Landa which let you buy shares of income-generating rentals. With Ark7, you invest in individual properties, not funds of properties like many crowdfunding sites offer. This means you take a more deal-by-deal approach, and getting started with Ark7 is very simple.
Get started with Ark7
Browse properties
You create an Ark7 account with your email or Google account. From there, you can browse open offerings on Ark7's website or with its new mobile app.
At the time of writing, there are 20 properties available to invest in. Properties include single-family homes, multi-family homes, and townhouses. Each listing includes a breakdown of:
Share price
Monthly rent amount
Cash distributions
Total target return (cash distributions plus property appreciation)
Property information (build year, occupancy status, square footage, number of units, etc.)
Neighborhood information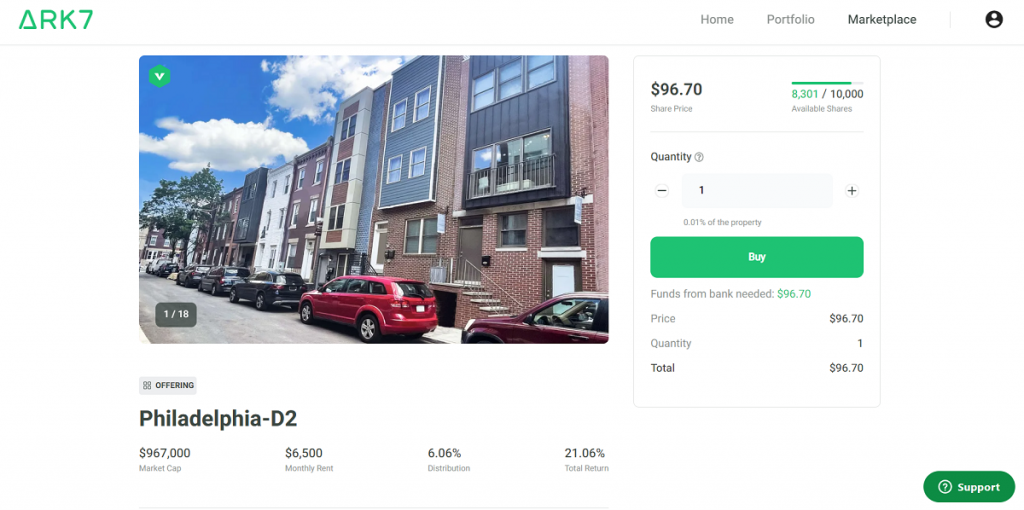 Ark7 provides a financial summary that outlines income and expenses as well for a look under the hood. There's also a "use of proceeds" section that explains where all the money Ark7 raises is going.
Currently, Ark7 owns property in seven markets and is expanding across the United States. It looks for rental properties in high-growth markets and typically owns 1% to 20% of shares in properties it lists. This means Ark7 has skin in the game alongside investors, which is a good thing.
Buy shares and earn income
Once you buy shares in an Ark7 property, you're looking at a completely passive investment. This is because Ark7 manages tenants itself or with various third-party property management companies. In some instances, Ark7 uses some of the capital it raises for renovations and unit improvements so it can charge higher rent. But again, this isn't your responsibility, and you're a passive shareholder.
To actually purchase shares, you link your checking account to your Ark7 account and enter the number of shares you want to buy. One advantage of Ark7 is that shares usually range from $20 to $100 per share. This lets you invest in real estate without much money. And you can now open a Traditional or Roth IRA through the platform through its partnership with Millennium Trust Company.
Once you own shares, you receive monthly cash distributions payments from rental income. According to its website, investors earn approximately 6% annually in distributions. You can't reinvest distributions automatically at this time, but this feature is coming. And you can always buy more shares as soon as you receive your distribution.
Sell shares
You have to hold your Ark7 shares for at least one year unless otherwise specified in a deal. Once a deal is fully funded it will be released to the secondary market in phases and you are free to sell you shares to a willing buyer at that time.
Ark7 fees
Ark7 charges a one-time 3% sourcing fee in exchange for acquiring and listing properties on its platform. It also takes 8% to 15% of rental income in exchange for managing the property and tenants.
The fees are higher than competitors like Arrived Homes charge. And if you compare Ark7 to crowdfunding sites like Fundrise, which charges 1% annually, you're clearly paying more. But this is in exchange for property management of a rental unit that generates monthly cash payments.
Get started with Ark7
Historical performance
Investors can earn with Ark7 through monthly distributions and potential share appreciation. And as of July 2022, Ark7 has seen 6% average annualized distributions from monthly rental income.
This isn't factoring in potential property appreciation, although many of the open offerings are too new for appreciation to come into play. Ultimately, this is a newer player in the real estate investing space, so we need a few more years to see the full picture in terms of returns.
Is Ark7 safe?
Ark7 is a safe investment platform that takes several steps to protect investors. For starters, every property is owned by its own LLC. This protects shareholders from being sued by tenants and from potential issues with other properties. This is a must-have for fractional real estate companies, and limiting your liability is a green flag.
The company is also regulated by the SEC and FINRA.
As for personal security, Ark7 encrypts data with the same security protocols banks and other FinTech companies use.
Just note that your investments aren't SIPC insured like you find with an online stock broker because this is real estate. SPIC insurance protects you if you brokerage company goes out of business. If they cannot replace your principal balance due to lack of funds, the insurance will make you whole.
And, of course, Ark7 doesn't guarantee returns. Risks like lack of tenants, late payments, and property depreciation all pose risks you should take into account.
How do I contact Ark7?
You can reach Ark7 customer support by emailing support@ark7.com or by calling 1-415-275-0701. Phone support is available Monday through Sunday from 8am to 8pm PDT. There's also a one-on-one option to chat with Ark7 support that you can schedule on its website.
Get started with Ark7
Best alternatives
With its low investment minimum and easy-to-use platform, Ark7 makes investing in rental units simple. And the fact it pays monthly cash distributions is a selling point.
However, this real estate investment platform is still growing. If you want to invest in real estate with some companies with longer track records, there are several alternatives worth considering:
Fundrise is our overall favorite pick due to the low $10 investment minimum and lack of accreditation requirements. It also has a secondary marketplace for selling shares unlike Ark7 and charges lower fees.
CrowdStreet and RealtyMogul are also excellent alternatives if you want to invest in individual deals or real estate funds. The minimum investment requirements are much higher, but both companies have a longer track record and more open offerings.
Want Even More Options?: The best Fundrise alternatives for investors.
Bottom line
In recent years, there's been a boom in real estate crowdfunding companies and fractional investing platforms. This is always good news for investors since more competition generally means better services and lower fees.
That said, Ark7 is a new company in a very crowded space. We like its low share prices and the fact that you get monthly payments from rental units. However, like many new competitors in the space, it doesn't have a very long track record and is still expanding to new markets.
If you're looking to invest in fractional real estate, you can dabble in Ark7 if you want some income-generating real estate in your portfolio.