The mortgage loan process
The mortgage process doesn't have to be difficult. You will need to take a number of steps, yes, but if you're prepared you should be able to navigate them smoothly.
If you were preapproved for a loan before you found a home, you already have a jump-start on the process.
The hurdles vary depending on the kind of loan you are seeking, so make sure to familiarize yourself with what's expected based on your loan type.
1. Submit your application
First, your lender will ask you to submit a mortgage application. This is a fairly extensive process that will give the lender a full picture of your financial situation.
What do they want to see? Loan officers, on behalf of your lender, will look closely at your income, debt history, credit report and current assets. Their goal is to ensure you are financially stable enough to repay the mortgage loan.
The lender's consideration of your loan application is called the mortgage underwriting process.
Underwriters work for the lender, and their job is to examine your application and financial history and decide whether to grant you a loan.
They want to ensure you are not receiving more money than you can responsibly repay. They will be fairly particular with your application, but if you are responsive and helpful, most issues can be resolved. More on this further down.
More: Here's what to do if mortgage loan denied in underwriting
2. Get a home inspection Having the home inspected early in this process is crucial. If the inspector finds significant issues, you will need time to renegotiate with the seller.
You may be inclined to eliminate the home-inspection clause from your offer, but you shouldn't do this, especially if you're a first-time buyer.
Professional inspectors are trained to notice problems you wouldn't know to look for. And if serious repairs need to be made, you can use them to renegotiate the property's price with the seller or ask to have the issues resolved before closing.
3. Be ready and responsive
As the underwriters go through your application, you might need to supply additional documents or respond to questions.
They may ask to see more bank statements, for example, or written explanations for past credit issues, late payments on loans or collections/judgments.
If you receive follow-up questions, respond as quickly as possible to prevent delays.
4. Buy homeowners insurance Your lender will require you to buy property insurance, or homeowners insurance, before the deal goes through. This provides coverage for repairs to your home in case of accidents or theft.
Be sure to study your policy thoroughly to determine what's covered. Most standard policies don't cover floods or earthquakes; you'll have to buy special policies to protect against those disasters.
If you live in an area prone to floods or earthquakes, you'll want that coverage. In fact, your lender may require it.
Make sure your policy is comprehensive enough to cover all your belongings and assets. Typically, policies set a maximum dollar amount that can be claimed. Should anything happen to your home, you'll want to know everything is covered.
5. Be patient
We know this is easier said than done. But underwriting takes time. The lender must do a thorough job before your application can be approved.
In addition to reviewing your finances, the lender will also assess the home in question. The property will be appraised to ensure the loan amount is not significantly more than the home is worth. The lender will also compare your purchase price to those of recent sales of similar homes.
Finally, the underwriter will perform a title search to ensure the property has no liens or bankruptcies filed against it that would prevent a transfer of the property's title.
6. Don't mess with your debt ratios Until your loan is approved, it's important to avoid making any large purchases or taking on further debt.
Any major financial changes could alter your debt-to-income ratios and affect approval of your loan.
7. Lock in your interest rate
You have until 10 days before closing to lock in your interest rate with the mortgage lender. If you haven't done this by the 10-day point, get it done.
8. Review your documents
At this point, you should hear whether your loan has been approved. With your interest rate locked in and the inspection, appraisal and title search done, and homeowner's insurance secured, you're nearly finished.
Your lender will provide you with a closing date and a dollar amount that you must bring to your closing; it should be between 2% and 5% of your overall purchase price.
9. Arrange to cover your down payment and closing costs You can either wire the funds for your down payment and closing costs to an escrow account or bring a cashier's check on your closing day. Be sure to allow enough time to visit the bank in person and secure your check.
10. Close on your new home
Your lender will send all the paperwork to your closing attorney or title company. On the day of closing, the documents should be ready for you to sign. Make sure you go through them thoroughly. Use this time to ask any questions about the loan's terms.
You'll also receive the closing disclosure, which will confirm exactly how much you owe. It should be fairly close to the loan estimate you were given when you submitted your initial application.
Once you've signed the documents, you'll be given the keys to your new home.
Stop overpaying for home insurance
Home insurance is an essential expense – one that can often be pricey. You can lower your monthly recurring expenses by finding a more economical alternative for home insurance.
SmartFinancial can help you do just that. SmartFinancial's online marketplace of vetted home insurance providers allows you to quickly shop around for rates from the country's top insurance companies, and ensure you're paying the lowest price possible for your home insurance.
Explore better rates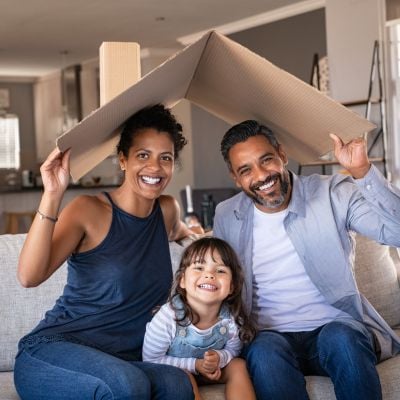 Use our mortgage processing checklist How long will it take? The whole process usually takes about 30 days, depending on your lender. Mortgage companies tend to process loans faster than banks and credit unions.
However, increased demand during late spring and summer can also slow your application. If you're buying during peak season, the process could take 45 to 60 days.
Sponsored
Follow These Steps if you Want to Retire Early
Secure your financial future with a tailored plan to maximize investments, navigate taxes, and retire comfortably.
Zoe Financial is an online platform that can match you with a network of vetted fiduciary advisors who are evaluated based on their credentials, education, experience, and pricing. The best part? - there is no fee to find an advisor.