A down payment can be daunting for first-timers For many of us, buying a home is the biggest financial transaction we'll ever make. Though most people finance the bulk of a home purchase, you'll still need thousands of dollars in upfront costs.
A down payment is typically the largest hunk of cash you'll need. The median down payment for all homebuyers in 2020 was 12% of a home's purchase price, according to the National Association of Realtors. It was 7% for first-time buyers.
You could save and invest to come up with that money — maybe by using a popular app that helps you grow your "spare change" — but you'll likely need help to raise enough cash.
If you're a first-time buyer who needs a financial boost, there are plenty of options available.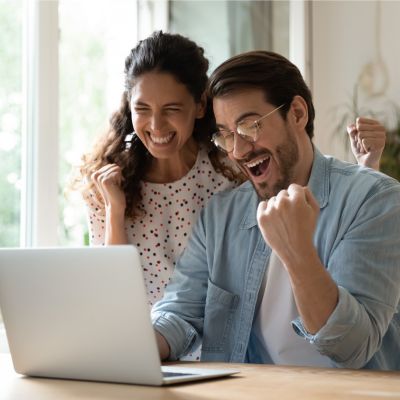 Compare current mortgage rates from top national lenders. Get the best rate for your purchase or mortgage refinance.
Compare Rates
Despite COVID, public agencies are still doling out dollars Every state has a housing finance agency with different programs targeted to people buying their first homes. Cities, counties and other entities also sponsor down payment grants or low-interest loans for new buyers.
If you're unsure whether a program is available in your area, check with a real estate agent or mortgage loan officer, or contact your state's housing agency.
While some housing assistance programs have been suspended due to the pandemic, the majority are still widely available, according to Down Payment Resource, which tracks approximately 2,400 homeownership programs.
Some agencies have even launched new programs to help first-time homebuyers, as housing prices have shot up around the country amid low supplies of homes for sale and soaring demand.
In northeast Oregon, for example, a first-time homebuyer program for military veterans introduced last summer offers up to $15,000 for down payment and closing costs if a homeowner remains in the house at least five years.
Big banks offer big savings Many banks have homebuyer assistance programs targeted toward low- and moderate-income borrowers, and some are expanding their offerings.
Bank of America recently announced it was tripling the funding of its Community Homeownership Commitment program to $15 billion through 2025.
The program offers eligible borrowers down payment grants of as much as $10,000 and lender credits of up to $7,500 that can be used toward closing costs, including title insurance and related fees. No repayment is required.
"It can be challenging to save enough to buy a home, so it's no surprise that we've seen an overwhelmingly positive response to our programs," D. Steve Boland, president of retail at Bank of America, said in the announcement.
Meanwhile, Chase Home Lending is now offering a $5,000 grants to help borrowers with down payments and closing costs in specific communities. This is an expansion of an existing program focused on increasing homeownership among Black and Hispanic populations.
An additional $500 is available for some borrowers who complete a certification course.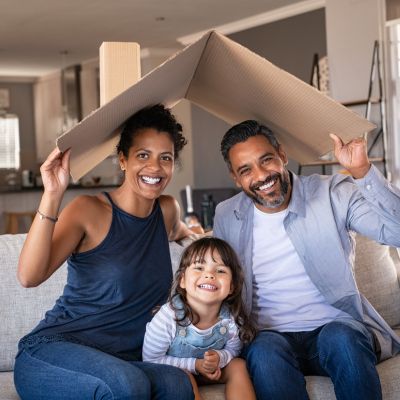 Home insurance is an essential expense – one that can often be pricey. You can lower your monthly recurring expenses by finding a more economical alternative for home insurance.
SmartFinancial can help you do just that. SmartFinancial's online marketplace of vetted lenders allows you to quickly shop around for rates from the country's top insurance companies, and ensure you're paying the lowest price possible for your home insurance.
Explore better rates
Low-cost option for new buyers: FHA mortgages For decades, FHA loans, insured by the Federal Housing Administration, have been the go-to mortgage for first-time buyers because of the program's more relaxed credit standards and low down payment requirements.
These popular loans allow for down payments as low as 3% of a home's purchase price. And, the interest rates on FHA loans tend to be even lower than the historically low mortgage rates on today's typical home loans.
But the FHA requires borrowers to pay a mortgage insurance premium (MIP), which can be considerable. Regardless of your down payment amount, you'll pay a 1.75% fee upfront and then as much as 1.05% of your loan amount each year.
If you make a down payment of at least 10%, the annual MIP can be removed after 11 years. But if you put down less than 10%, your MIP never goes away.
The insurance is there to protect the lender if something goes wrong and you can't make your payments.
Other good loans for first-time buyers Your profession can qualify you for housing help.
Police officers, teachers, firefighters and emergency medical technicians can take advantage of the Good Neighbor Next Door program run through the U.S. Department of Housing and Urban Development, or HUD.
This program, designed to help revitalize communities, offers an incentive in the form of a 50% discount of an eligible home's list price. In return, the borrower must live in the property for at least three years.
If you're a member of the U.S. military or a veteran, you can qualify for a no-down-payment VA loan backed by the U.S. Department of Veterans Affairs.
USDA loans, guaranteed by the U.S. Department of Agriculture, also don't require down payments. They're available in rural and some suburban areas, and lower credit scores are accepted than for conventional loans.
So, how do you get housing help? To take advantage of these programs, you must first qualify.
Depending on the program, borrowers must meet certain income, credit score and geographic requirements. If you're not sure where your score stands, today it's very easy to look at your credit score for free.
Shad Bogany, a longtime real estate agent in Houston, warns that some homebuyer assistance has been taking longer to secure as the pandemic has disrupted work patterns at the various agencies and programs.
"It seems like it's taking longer to process them," he says, "because a lot of people are working from home."
Sponsored
Secure your retirement with a reverse mortgage
If you're low on cash savings and investments but have wealth in your home, a reverse mortgage is a great option for covering retirement expenses.
Mutual of Omaha is a trusted insurance provider that helps you make the most of your home equity.