Ellen Sykes, a broker at Coldwell Banker Warburg in New York City, has been in the real estate industry for 20 years and says she's seen a marked increase in the number of clients helping their adult children purchase homes.
"I've [even seen] what I would call extravagant instances, where people have bought multimillion-dollar apartments for their children — $5 million apartments, actually," Sykes says.
Many parents don't have millions of dollars in cash lying around, but for those who still want to help out, it's helpful to understand what options they have.
More: First-time homebuyer tips
Home ownership may be out of reach for many young Americans
It's becoming harder to qualify for new a mortgage. Mortgage credit availability dropped to its lowest level since 2013 last February, according to the Mortgage Bankers Association.
In addition, housing prices have remained relatively high, while home loan rates are still over 6%.
"If you're buying a home, you're paying a high rate. Home prices haven't adjusted to the rate," says Oleg Tkach, a branch manager and senior loan officer based in Washington State.
The average monthly mortgage bill in the U.S. hit a record-high of $2,563 during the week of March 9, according to Redfin. A year earlier, the typical mortgage payment came to $1,988 per month.
High home prices and mortgage rates have in turn affected the rental market, since landlords charge more when there is greater demand.
And the cost burden may have triggered an increase in multigenerational living — with young adults living longer with their parents — as well as many in need of financial assistance from their parents to purchase their first homes.
Stop overpaying for home insurance
Home insurance is an essential expense – one that can often be pricey. You can lower your monthly recurring expenses by finding a more economical alternative for home insurance.
SmartFinancial can help you do just that. SmartFinancial's online marketplace of vetted home insurance providers allows you to quickly shop around for rates from the country's top insurance companies, and ensure you're paying the lowest price possible for your home insurance.
Explore better rates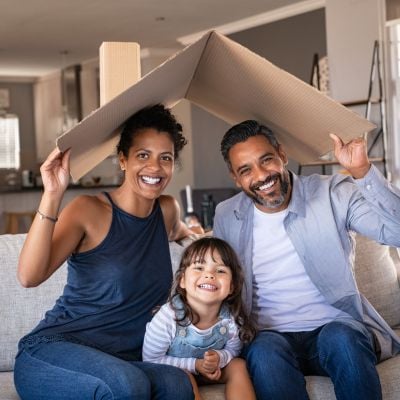 Some parents are providing cash gifts or loans
Parents may choose to help out their kids during the homebuying process by funding the purchase with a cash gift or loan.
Sykes says she has seen this locally in NYC and believes it's a trend that's occurring nationally as well.
Many of the cash gifts Sykes has seen range between $20,000 to $50,000, and some parents even purchase the entire property for their kids.
"It's a way of estate planning," she explains. "Generally, people who have a lot of money tend to like to get rid of it before they die so that the estate isn't taxed like crazy."
But this isn't limited to just higher-income households — some middle-income parents may opt to help out the kids as well.
"I think that the parents have to be united ahead of time," Sykes emphasizes, adding that you need to decide on how much financial assistance you're able to provide and remain firm if your kids ask for more.
She also recommends consulting an accountant to determine whether it's going to be feasible in the long term.
You'll need to file a gift tax return if you're giving your kids anything more than $17,000, according to the IRS. And if you're giving out a loan and charging interest, you'll need to report that as taxable income.
When it comes to providing loans, the transaction could be a "win-win" for both parties, says Charles Sachs, a certified financial planner based in Miami, Florida.
"The idea is parents could put money to work — idle cash, or what have you — and earn more than what they would get on a savings account or a [certificate of deposit]," he explains. "It's helping [the child] get a source of reliable capital — arguably at a little bit lower than the going rate and/or with less restrictive underwriting restrictions."
At the end of the day, a loan needs to be treated as a business transaction. Sykes suggests including a promissory note that details when the loan needs to be paid back and a set interest rate (she recommends a rate between 3% to 5%).
"That's got to be absolutely crystal clear from the beginning," she says. If you're loaning anything over $10,000, the IRS mandates having a written agreement, anyway.
What else can parents do to help out?
Aside from providing cash gifts or loans, parents can choose to help out in other ways.
You could cosign a third-party loan to potentially help your child qualify for a larger loan or lower interest rate or monthly payment. However, this means the lender could come after you if your child defaults on their payments — and your credit score could take a hit.
Tkach says he hasn't often seen parents hold down that loan for the full 30-year term. Instead, the child may refinance into another loan with a lower rate within the next five years or so, when they're able to qualify on their own.
Parents could also buy a home with their child and build equity as a co-owner. If you co-own a home and help pay the mortgage, you can even claim a mortgage interest deduction on your tax form as well.
Sykes says parents can also help by partially or fully paying maintenance fees and taxes on the property.
Need cash? Tap into your home equity
As home prices have increased, the average homeowner is sitting on a record amount of home equity. Savvy homeowners are tapping into their equity to consolidate debt, pay for home improvements, or tackle unexpected expenses. Rocket Mortgage, the nation's largest mortgage lender, offers competitive rates and expert guidance.
Get Started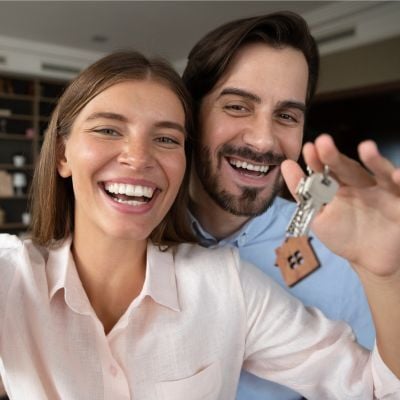 When shouldn't you help out your kids?
If your child is a reckless spender or has bad credit, you may want to think twice before deciding to help fund their first home purchase, suggests Sachs.
"You're betting on the full faith and credit of this individual, of their earnings potential and their willingness to pay," he explains.
You also shouldn't compromise your own finances — especially your retirement plan — to help out your children now.
"It's all very well to hand somebody a down payment — but if you're going to have to [ask] them for help later on, it doesn't make sense," says Sykes. "And then there's the emotional component — they have to decide whether the gift comes with any kinds of strings at all."
Sponsored
Follow These Steps if you Want to Retire Early
Secure your financial future with a tailored plan to maximize investments, navigate taxes, and retire comfortably.
Zoe Financial is an online platform that can match you with a network of vetted fiduciary advisors who are evaluated based on their credentials, education, experience, and pricing. The best part? - there is no fee to find an advisor.