Programs for first-time homebuyers in Utah
Utah Housing Corp's loans can be used to buy a home anywhere in Utah. You'll work with one of the organization's participating lenders to determine which loan and payment assistance programs best suit your needs.
You'll first have to qualify for a conventional, VA or FHA mortgage loan through your lender. To do so, you'll have to meet the standard credit score and debt ratio requirements of your loan type.
Because these programs are intended for lower-income households, you'll have to fall under UHC's income limit of $8,900 per month (or $12,500 in Summit county). The home will also have to serve as your primary residence.
More: Get a free credit score and credit monitoring from Credit Sesame.
FirstHome Loan
This first-time homebuyer loan program has UHC's lowest interest rates on offer. It's made for first-time buyers with credit scores of 660 or higher who also fall at or below the income and purchase price limits.
Everyone in your household over the age of 18 counts toward the annual income limit.
First-time Homebuyer Program Assistance
The Utah legislature recently approved $50 million to assist approximately 2,500 first-time homebuyers and to incentivize builders to build affordable housing across the state. If you qualify, you could receive up to $20,000 which can be used toward your down payment, closing costs and/or a permanent interest rate buy-down.
Once you have qualified with a Utah Housing Participating Lender, the lender will submit a program assistance reservation request.
The program assistance will be available for funding as of early July 2023.
HomeAgain Loan
This mortgage program is designed for repeat homebuyers and first-time buyers who don't qualify for the FirstHome program.
You'll still need a 660 credit score or higher and fall within UHC's qualifying income bracket, but there is no purchase price limit with HomeAgain.
The Mortgage Underwriting Process Explained
A walkthrough of proven steps to getting a mortgage approval.
See Guide
Score Loan
The Score program makes it possible for borrowers who have a less-than-stellar credit history to secure a home loan. You'll only need a credit score of 620 to qualify.
The purchase price and annual income limits apply with this mortgage program as well. You'll also have to complete a homebuyer education course within 180 days of your loan closing.
NoMI Loan
The NoMI mortgage program offers a loan without mortgage insurance, resulting in the lowest monthly payments of any UHC homeownership program.
You'll need a credit score of 700 or higher and you'll need to fall within the set income limits, but there are no purchase price limits with NoMI. And as with the Score program, you'll also have to participate in a homebuyer education course within 180 days of your loan closing.
Down Payment Assistance
If you've qualified for one of UHC's mortgage loans, you may also be eligible for down payment and closing cost assistance. Your participating lender will help you determine how much aid you can access.
Depending on your situation, you may be able to borrow your entire minimum down payment as well as a portion of your closing costs through a UHC 30-year fixed rate second mortgage.
More: How much house can you afford?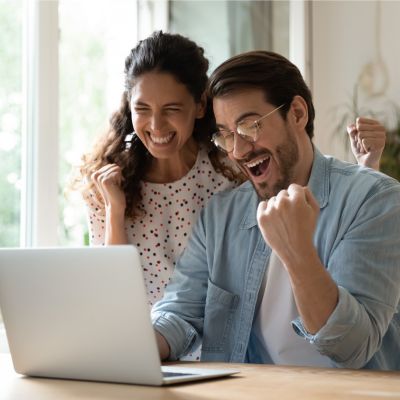 Compare current mortgage rates from top national lenders. Get the best rate for your purchase or mortgage refinance.
Compare Rates
Nationwide first-time homebuyer programs
Getting a "conventional" mortgage through the private market can be tough.
You'll often need a credit score of about 620 and a down payment of at least 5% to qualify. Plus, if you don't put down at least 20% of the purchase price, you'll have to pay extra each month for mortgage insurance.
More: Use these savings accounts to build up your down payment.
That's why many first-timer buyers will prefer to use one of these government-run, nonconventional mortgage options.
FHA loans
In 1934, the government introduced Federal Housing Administration (FHA) loans to encourage homeownership across the country. At the time, only about 40% of American households owned their homes. Since its creation, the FHA has insured more than 46 million mortgages.
FHA loans are easier to obtain than conventional mortgages. The minimum credit score is typically 580, but if you provide a larger down payment, you could qualify with a score as low as 500.
The minimum down payment with an FHA loan is 3.5%, though if you put down less than 10%, you'll have to pay a mortgage insurance premium as well. That can quickly add to the overall cost of your monthly payments.
The FHA's Loan Requirements Explained.
A walkthrough of how to meet the FHA's requirements.
Learn More
VA loans
These loans were introduced by Congress in 1944 to increase benefits to veterans. The act allowed the U.S. Department of Veterans Affairs (VA) to guarantee or insure home, farm and business loans made to veterans by lending institutions.
VA loans are available to active service members, veterans and some surviving military spouses. While they don't require a down payment or mortgage insurance, borrowers will be required to pay a considerable funding fee to get started.
USDA loans
USDA loans also require no down payment and no private mortgage insurance. Guaranteed by the United States Department of Agriculture, they help lower-income rural and suburban Americans become homeowners.
These loans do require you to pay an upfront 1% guarantee fee and an annual 0.35% fee. But when compared to the amount you'll pay in mortgage insurance with other types of loans, you'll probably still come out ahead with the USDA.
That said, you may simply make too much money to qualify for a USDA loan. The current income limits in most parts of the U.S. are $86,850 for one- to four-member households and $114,650 for five- to eight-member households, though the limits may be higher if you live in a county with an above-average cost of living. The USDA's website can tell you the limits in your area.
Next steps to buying your first home
Now that you know your options, it's time to prepare for actually submitting an application.
First, you'll need to make sure your credit score is in good enough shape to qualify for the program of your choice. The website Credit Sesame can help you find out your current score for free.
If your credit isn't quite there, don't despair. You can try contacting an organisation like Credit Strong to help you get the score you need.
Once you're confident in your score, you can start gathering the documents you'll need to prove you've got solid assets and income.
Then you'll finally be ready to get pre-approved for a mortgage and start shopping for your first Utah home.
Sponsored
Secure your retirement with a reverse mortgage
If you're low on cash savings and investments but have wealth in your home, a reverse mortgage is a great option for covering retirement expenses.
Mutual of Omaha is a trusted insurance provider that helps you make the most of your home equity.