Step 1 - Invest $1,000 a month
Jodi's lack of debt allows her to put a large proportion of her income toward savings. Ramsey recommends she set aside $1,000 a month to save for retirement, starting right away. That implies a savings rate of 33% on after-tax income.
A double-digit savings rate is nearly impossible for most Americans. The U.S. personal savings rate was just 3.4% in September 2023, according to the Bureau of Economic Analysis. But Jodi has the advantage of being an empty nester with no consumer debt and no mortgage. Saving a third of her income is feasible.
More: 8 best ways to invest $1,000
Kiss Your Credit Card Debt Goodbye
Having a single loan to pay off makes it easier to manage your payments, and you can often get a better interest rate than what you might be paying on credit cards and car loans.
Fiona is an online marketplace offering personalized loan options based on your unique financial situation.
When you consolidate your debt with a personal loan, you can roll your payments into one monthly installment. Find a lower interest rate and pay down your debt faster today.
Get Started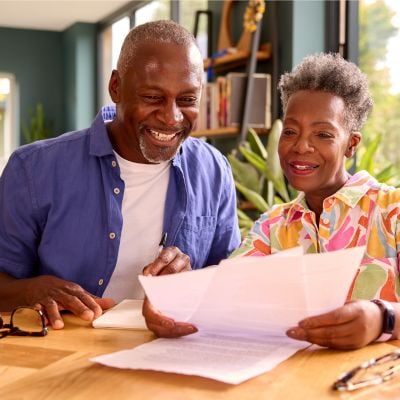 Step 2 - Deploy funds in a Roth IRA
Ramsey recommended a Roth IRA for Jodi's monthly savings. This popular individual retirement account enables tax-free growth. Account holders who have held funds in this vehicle for more than five years can start withdrawing cash tax-free at 59 and a half years old.
Ramsey had a longer time horizon in mind for Jodi. He told her that if she maintains the $1,000-a-month contributions for 15 years, she'll have $500,000 in her Roth IRA at 65.
Step 3 - Focus on investing in mutual funds
The final step is to focus on stocks and mutual funds. Ramsey says his personal mutual fund investments have averaged 12% annually. Meanwhile, the S&P 500 has averaged 10.7% per year since 1957, per Insider. So a double-digit annualized return is certainly possible.
Ramsey estimated that 10% compounded annual growth, having already turned Jodi's monthly $1,000 contributions into half a million dollars, could yield more annual retirement income from capital gains than Jodi's current $36,000 income, enabling a stress-free retirement.
To be fair, past performance is no indication of future returns. The S&P 500 has had some decades with flat or negative returns in the past. Another "lost decade" for stocks cannot be ruled out. Nevertheless, saving $1,000 a month would put Jodi in a much better financial position even without capital gains along the way.
Simply put, it's never too late or too difficult to secure your retirement.
Sponsored
Follow These Steps if you Want to Retire Early
Secure your financial future with a tailored plan to maximize investments, navigate taxes, and retire comfortably.
Zoe Financial is an online platform that can match you with a network of vetted fiduciary advisors who are evaluated based on their credentials, education, experience, and pricing. The best part? - there is no fee to find an advisor.