Finding your net worth
Calculating your net worth is fairly simple: Add up your assets from bank accounts, retirement accounts and investments as well as your house, vehicles and other property, then subtract your debts and liabilities. What's left? That's your net worth.
Understanding that asset total is important because it gives you a clear picture of your financial situation, helping you identify areas where you can improve your finances, like paying down debt or saving more money.
Additionally, knowing your net worth can be a helpful tool for planning for the future, like retirement or buying a house.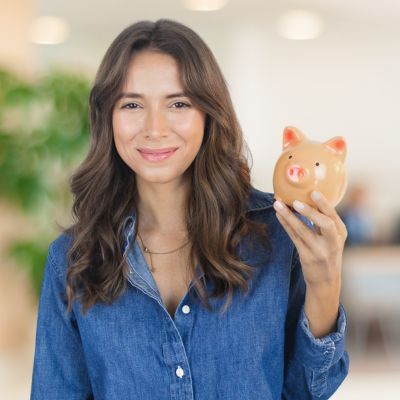 Don't let your money idle in low-interest accounts! Savvy savers are earning up to 10x more interest by keeping their hard-earned cash in a high-yield savings account. Find some of the best options here.
Get Started
How do you stack up?
Before searching for your place in the wealth spectrum, it's important to understand the difference between average worth and median worth. Keep in mind that the average will usually be higher, since that figure is heavily impacted by wealthy outliers whose totals raise the average even if most people in the group have considerably smaller sums.
Average net worth by age
Here's the most recent data from the Federal Reserve, which every three years outlines net worth average and medians by age group:
35 and under: average of $76,300 and median of $13,900
35 to 44: average of $436,200 and median of 91,300
45 to 54: average of $833,200 and median of $168,600
55 to 64: average of $1,175,900 and median of $212,500
65 to 74: average of $1,217,700 and median of $266,400
75 and older: average of $977,600 and median of $254,800
If those numbers leave you feeling a bit behind, don't worry — you're not alone. Millions of people struggle to save money and build wealth. But there are simple and important steps you can take to get back on track and boost your net worth.
Reduce debt, and start living below your means. If you're spending more than you earn, you'll never be able to save money or build wealth. So start by focusing on trimming and erasing debt and cutting back on your expenses. There are many ways to do this, like cooking at home more often, canceling unnecessary subscriptions, and shopping around for better deals on insurance and other services.
Make a budget and stick to it. A budget will help you track your spending and make sure you're not overspending. There are many different budgeting methods out there, so find one that works for you and stick with it. Consider starting here.
Start saving in earnest. Consider putting away a designated percentage of your monthly income in a high-yield savings account, a certificate of deposit (CD), or an investment account. Take advantage of retirement accounts like 401(k)s or IRAs, which offer tax advantages and potential employer matching. Automate your savings by setting up regular contributions, even if they're small. The power of compound interest can work wonders over time, so the earlier you start, the better.
Sponsored
Kiss Your Credit Card Debt Goodbye
Millions of Americans are struggling to crawl out of debt in the face of record-high interest rates. A personal loan offers lower interest rates and fixed payments, making it a smart choice to consolidate high-interest credit card debt. It helps save money, simplifies payments, and accelerates debt payoff. Credible is a free online service that shows you the best lending options to pay off your credit card debt fast — and save a ton in interest.