'Lazy girl job'
Judge defines a "lazy girl job" as a flexible remote position that's non-technical, high-paying and doesn't require extreme efforts or difficult performance goals. She used examples of job titles like "customer success manager" and "marketing associate" that fit the lazy job category.
"There's a lot of jobs out there where you could make, like $60-$80K," she said. "Pretty comfortable salaries [while not doing] that much work and be remote."
Flexibility is another key part of the lazy job role, Judge says. Jobs that don't have a fixed start or end time are great for remote workers who need flexibility, particularly single women and parents.
"I worked for a job that never told me to start at 9 am," she said.
Many of the video's commenters appeared to be on her side.
"I'm only accepting the soft life, period," one wrote.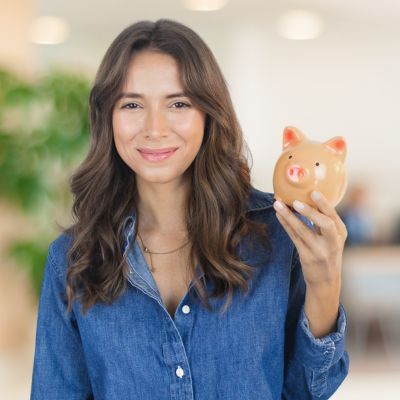 Don't let your money idle in low-interest accounts! Savvy savers are earning up to 10x more interest by keeping their hard-earned cash in a high-yield savings account. Find some of the best options here.
Get Started
Not so easy
However, not everyone thought lazy girl jobs were as easy as described.
"They are physically 'easy' but mentally draining," one commenter wrote. Another one said they would rather do jobs that involved "lifting heavy stuff" than do any of the jobs Judge described in her video.
The pushback highlights how some jobs are more flexible and less labor-intensive, but much more mentally involved. Software engineers, marketing experts and brand strategists may earn more money while doing less physical activity, but that doesn't mean the job is necessarily "easy" or suitable for everyone.
Some of these ideal lazy girl jobs may also require additional schooling for some of Judge's audience. According to an August 2022 analysis by advocacy group Opportunity at Work,, 70% of new jobs required a bachelor's degree, but only 50% of workeres had one. This can create an issue for those looking to make a switch.
The future
Lazy girl jobs may not be as lucrative or easy in the future, as some of these roles could be susceptible to automation.
A recent study by OpenAI, the creator of ChatGPT, revealed that jobs with higher salaries, higher educational requirements and information processing were overexposed to disruption from artificial intelligence.
According to its report, auditors, accountants and public relations specialists were among the most vulnerable to AI replacement.
In fact, Judge claims to be using ChatGPT to streamline searches for lazy girl jobs. The disruption may have already started.
*Correction, Sept. 12, 2023: The quote, "I'm only accepting the soft life, period," was originally misattributed to Gabrielle Judge. It was in fact stated by a TikTok user commenting on her video.
Sponsored
Kiss Your Credit Card Debt Goodbye
Millions of Americans are struggling to crawl out of debt in the face of record-high interest rates. A personal loan offers lower interest rates and fixed payments, making it a smart choice to consolidate high-interest credit card debt. It helps save money, simplifies payments, and accelerates debt payoff. Credible is a free online service that shows you the best lending options to pay off your credit card debt fast — and save a ton in interest.